NNNN BAD DEVELOPERS NNNN
EXPOSING DEVELOPERS WHO FAIL TO APPRECIATE AND RESPECT COMMUNITY, ENVIRONMENT AND SPIRIT OF THE LAND
Marina Proposed for Beaumaris Bay
Beaumaris Conservation Society Link
No Beaumaris Marina Petition Site
Feb 20 2015: World-Class Fossil Site in Beaumaris Threatened By Marina Expansion


A hideous stupid plan. Whose idea was this?

A monstrosity planned on the eastern coast of Nerm.

The existing scenario.
August 27 2014: Beaumaris Yacht Squadron Defends Controversial Marina Plan
"The fossils located at the Beaumaris beach are somewhere between four and 10 million years old. We are blessed in Melbourne to have a fossil site within 24 kilometres of the city."
August 14 2014: Environment Groups Unhappy as Large Scale Beaumaris Marina Resurface
I'm thinking about starting a dirt bike club in Beaumaris. I'd like to build a cliff top club house and turn the cliff top tracks into a foreshore reserve motor X circuit. How about a lease for me? What's the difference? Park your boat at home or at a commercial storage facility or, if the BMYS has $21m to throw around they should buy their own land. Why should this exclusive little club have a private facility when tens of thousands of other boating enthusiasts use public facilities? This club is a ridiculous anachronism. The area should be revered for it's exceptional natural values, internationally significant fossil bed and association with the Heidelberg School (Australia's impressionist art movement). The marina proposal is a joke. Is it April 1st?
December 28 2013: Beamaris Fossil Sheds Light On Ancient Seals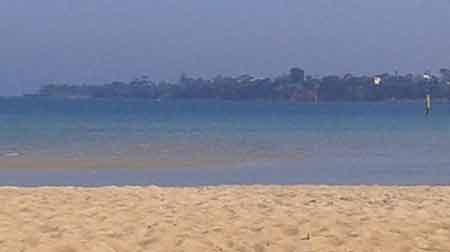 Looking towards the proposed development site from the beach