NNNN BAD DEVELOPERS NNNN
EXPOSING DEVELOPERS WHO FAIL TO APPRECIATE AND RESPECT COMMUNITY, ENVIRONMENT AND SPIRIT OF THE LAND
Central Equity (Mount Martha Victoria).
"Sefton Grange Estate, Mt Martha, very classic, very coastal, very now…isn't it time you discovered for yourself what all the fuss is about?"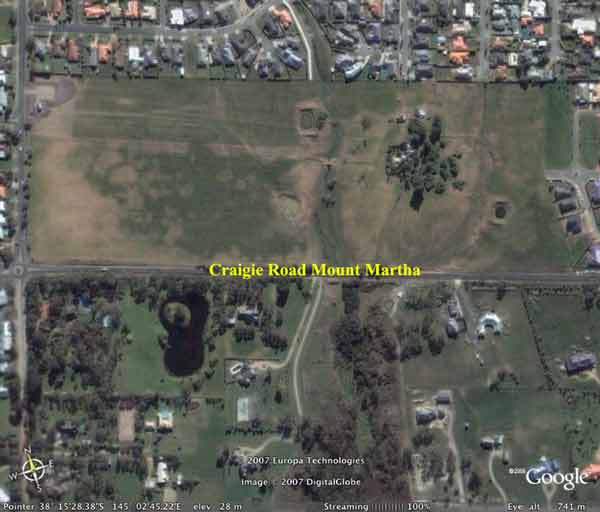 Central Equity site off Craigie Road Mount Martha.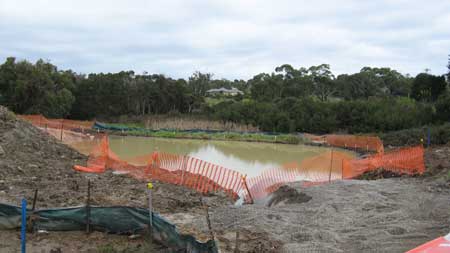 Latest May 18 2008: This is what the Sefton Grange development has done on land that is zoned PCRZ. This occurred over the week-end so now the water has to be pumped out and treated so that it doesn't get into Harrap Creek which is only metres away. Who is doing the monitoring of the water quality of the creek? They have just been granted another permit from the Council to remove 350m2 of Vegetation beside Harrap Creek because the erosion problems caused by their 'development' of Harrap Creek on their site. More vegetaion removal will only compound the issue.We have lost part of a creek, but why are we losing more.
Shame them, for the crime that they have committed-the loss of OUR CHILDREN'S environment.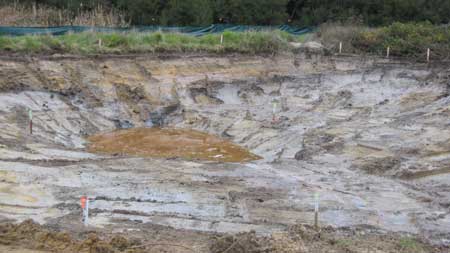 Same shot just after the recent rains started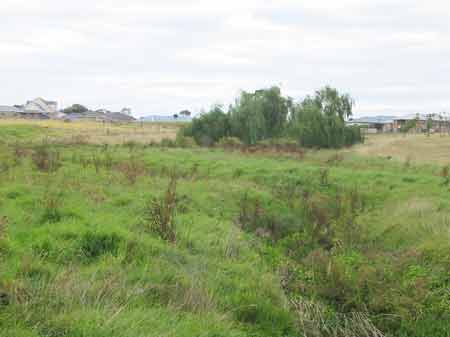 Flood Plain: This is an early shot of Harrap creek taken March 2006. This is looking from Craigie Road.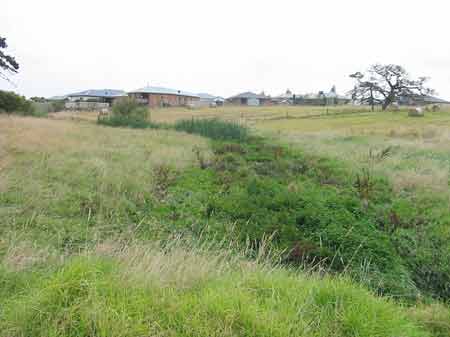 Another shot of Harrap Creek, January 2006.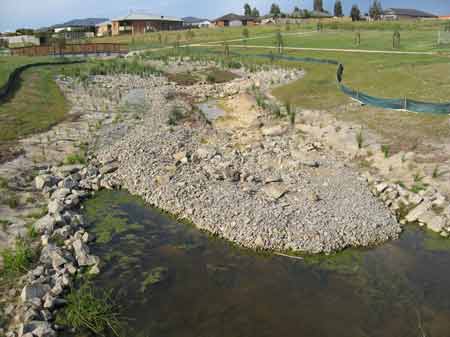 'Sensitive restoration works planned for Harrap Creek'. After taking out the creek bed and bringing in truck loads of material to build it again they covered the creek bed with weed mat, which when it rained floated away (next photo). So to keep the matting in place they covered the creek bed with rocks, which when it rained shifted and filled in the pools. So we are now left with twisted weed mat not covering the creek bed and moving rocks with each rain event that we have.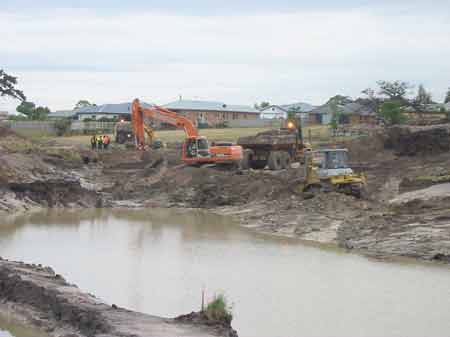 This is the excavation work photo for the same spot of the last two photos.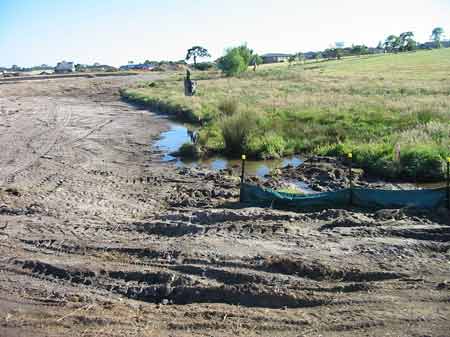 This photo was taken October 2006 when Central Equity started to remove the old creek bed. They didn't save any of the frogs or fish and in the next shot you see the dumping of the creek bed and the sea gulls eating all the frogs and fish.The smell from it was revolting.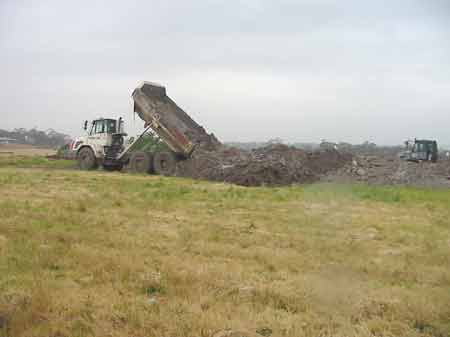 Creekbed: This photo is of one the many truck loads scrapped from the botttom of Harrap Creek, complete with frogs and fish and dumped. The seagulls had a ball and it stunk. It was dumped onsite and later removed. They ended up scraping up to 3 metres deep in some spots because it was flood plain. They didn't take core samples first to see what the creek bed was like they just went in and dug, and dug and dug. Then they had to bring in truck loads of clay material to fill in the great big hole so that the could make a solid base to build the creek again!
November 2006: Central Equity built a temporary by-pass channel below the old flood plain, but when it rained it didn't work. It took them two weeks from the first photo to get to this and with each rain event (remember we're in drought) the developer dicharged silt laden sediment into Harrap Creek on the other side of Craigie Road and subsequently into Balcombe Creek.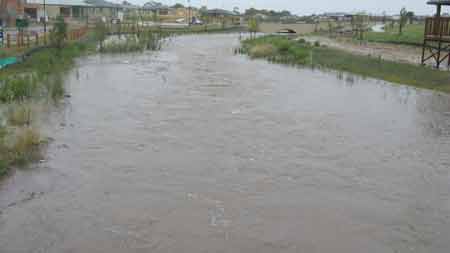 This photo was taken December 2007: When it rains the water comes rushing through, unlike when it was in it's natural state and a flood plain. It has shifted the weed matting and rocks washed away plants and the erosion is incredible. In some spots nearly 2 feet deep. Melbourne Water are presently getting them to revise the plans, which they signed off on and it has to be done again. When the developers applied for the permit they didn't have to show how it was going to be achieved or for that matter if it could be done it was all 'conceptual'.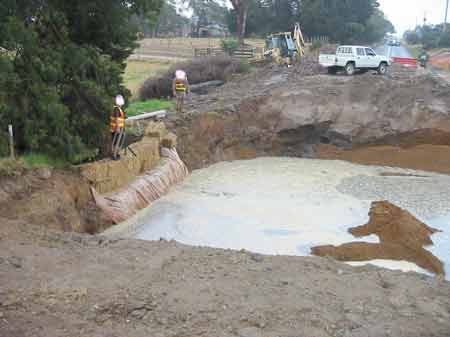 Another rain event gone horribly wrong at Harrap Creek. The temporary channel broke it's banks and sediment laden water flowed into Harrap Creek. This wasn't the first time nor was it to be the last.
"Whether it's taking a walk along a meandering trail to Craigie Beach, contemplating the picturesque views across to "The Briars" Park, or enjoying the beautifully landscaped, centrally located parkland adjacent the rejuvenated Harrop (sic) Creek, Sefton Grange Estate is sure to provide the lifestyle you've always aspired to."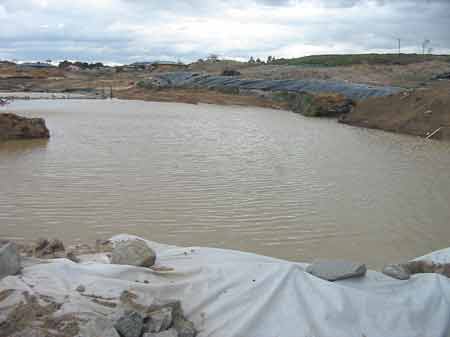 State and Local Policies regarding protection of Streams was arguably ignored by Town Planners at Mornington Peninsula Shire, VCAT and the developer.
Clause 15.01 – Protection of catchments, waterways and groundwater
Clause 15.01-1 Objective To assist the protection and, where possible, restoration of catchments, waterways, waterbodies, groundwater, and the marine environment. Catchment planning and management (includes:) Planning and responsible authorities should consider the impacts of catchment managementon downstream water quality and freshwater, coastal and marine environments and, where possible should encourage:
- The retention of natural drainage corridors with vegetated buffer zones at least 30 metres wide along waterways to maintain the natural drainage function, stream habitat and wildlife corridors and landscape values, to minimise erosion of stream banks and verge sand to reduce polluted surface runoff from adjacent land uses.
- Measures to minimise the quantity and retard the flow of stormwater runoff fromdeveloped areas.
-Measures, including the preservation of floodplain or other land for wetlands and retention basins, to filter sediment and wastes from stormwater prior to its discharge into waterways.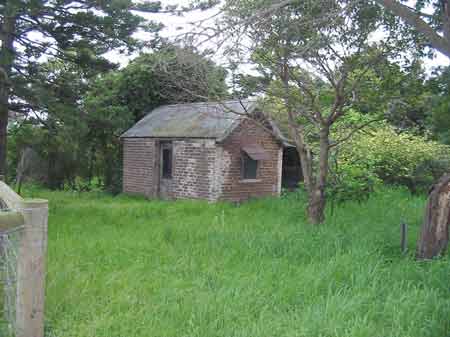 These two photos are the before and after shots of a 100 year old creamery that was on 131 Craigie Rd. Community tried to save the building and surrounding trees and get the developers to have that area for a park. When that failed we asked if the creamery could be relocated to another area so therefore be taken down with the view to being rebuilt. They came and smashed it down before neccessary paper work had been done and we were left with rubble and broken bricks. We now have a crass monument to remember the early settlers and the indigenous people.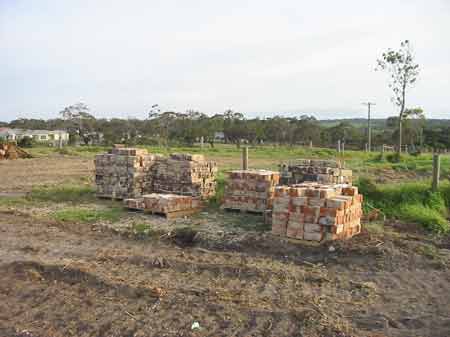 What happened to the Creamery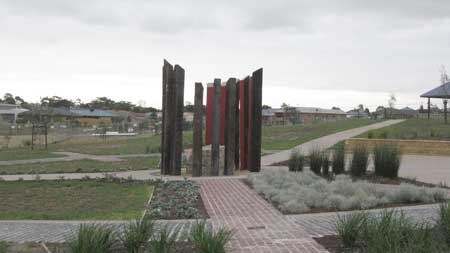 A message to Bad Developers: The new monument has many mistakes. A One line inscription with three mistakes! Presently the inscription reads, "Elisbeth Jean (Betty) Dyke died on the 4th May 2007 in the late 1920's the Dyke family established one of the peninsula's most successful dairy farms on this site supplying cream and preserves to the local area." Firstly, Betty's name was spelt Elsbeth, not Elisbeth. Secondly, she passed away 25th May 2004, not 4th May 2007(Central Equity had purchased the land long before that and had already started work). Thirdly, the family did not purchase the land till 1938 from the Marriott family who ran it as a successful dairy farm. Apparently Council officers are concerned that the wooden poles pose a safety issue due to splintering. It saddens locals that whilst residents wanted the 100 year old creamery retained on site to commemorate the past history Central Equity refused reducing it to rubble, but now state that it was the most successful dairy farms on the Mornington Peninsula. Apparantly the rain garden needs to be re-done it isn't working as well.
Pencilling in the Past (Mornington Peninsula Leader 21/7/08)
Families & Charities Claim to Rich Recluse's Millions (Mornington Peninsula Leader 21/7/08)
Charities Battle for $15m Elsbeth Jean Dyke Fortune (Herald Sun 21/7/08)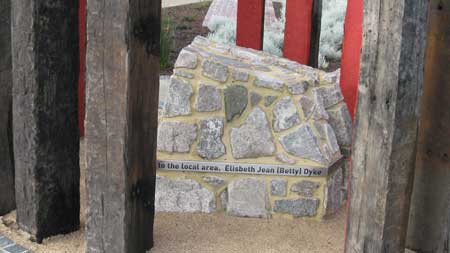 These four photos (below) were taken Tuesday 24 June 2008 after the developers made yet another mistake and works had to be stopped by Melbourne Water due to silt laden water being discharged into Harrap Creek again.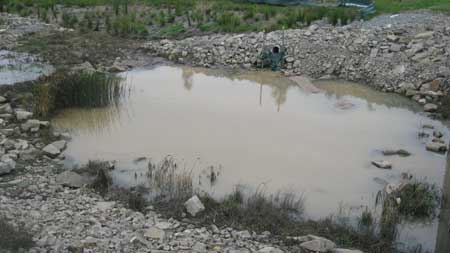 Harrap Creek. Note sediment laden water.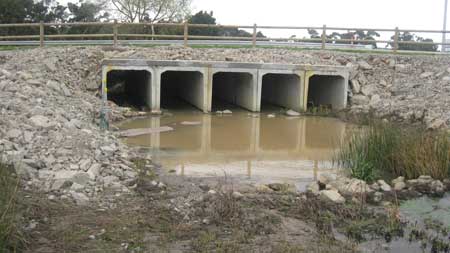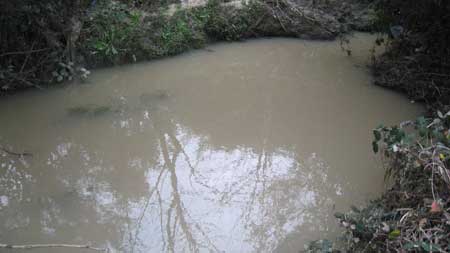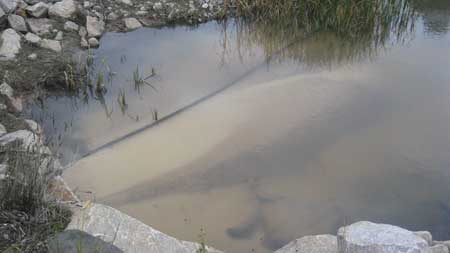 More information on Central Equity and Sefton Grange here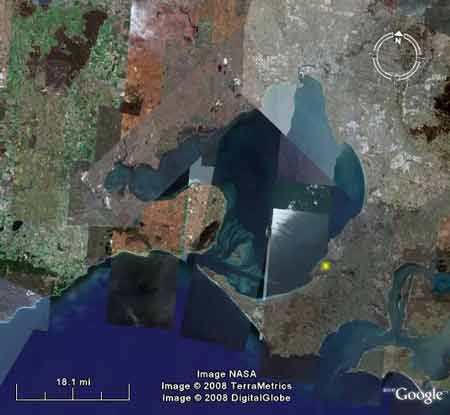 Location of Development in relation to Port Phillip Bay (Nerm)
November 22 2008 Updates
In this week's local paper, The Mornington & Southern Peninsula Mail 19 November, in the real estate section (Domain page 45), Central Equity have a half page advertisement for The 'Harrap Creek' Release. The photo has most likely been enhanced and taken at such an angle so that the creek is looking 'good'.
Also, Melbourne Water have apparently been in negotiations with CE's consultants, trying to resolve the necessary redesigning of Harrap Creek. Cost appears to be the overriding factor. Erosion due to poor design, fast flows (which are a drowning hazard-previously this area was flood plain) shifting rocks, exposed & lifting weed mat, severe silting from the rain garden, which isn't working are all part of this "picturesque valley".
The Mornington Peninsula Shire Council has also refused to accept handover of Central Park which consists of the rain garden (Bio-retention Trench) because of design faults that include it collapsing in several spots, erosion problems at the entrance and it's not achieving what it was designed to do, which was to treat the storm water flows prior to discharge to the western watercourse (Harrap creek). Presently the water rushes through the rain garden and spills over the side into Harrap Creek without filtering the water. It has to be re done and every time it rains the untreated water has gone straight into the creek. They've known for a year that it wasn't working and still nothing has been done.
The large hole dug on Public Open Space is still left as it was 5 months ago with only orange safety webbing erected to stop someone falling in and drowning. With Osborne primary school only metres down the road a real possibility of occurring. Farm fencing with barbed wire is still onsite in Central Park beside Craigie Road. And still Central Park is littered with rocks, a danger to maintenance crews and residents using the park.
On another note: The court case involving the family and neighbors is still in court. The Historical Title Search states that four people got the land after Betty Dyke died and then sold it to Central Legal. Brian Kollias, the Solicitor was also a beneficiary of the Will. He later committed suicide. Maybe the land is cursed! Land transferred from Betty Dykes Estate to Brian Kollias and 3 others on 2/12/2004 she had died 25/5/2004. It was then transferred to Central Legal Services and a caveat was lodged 22/2/2005.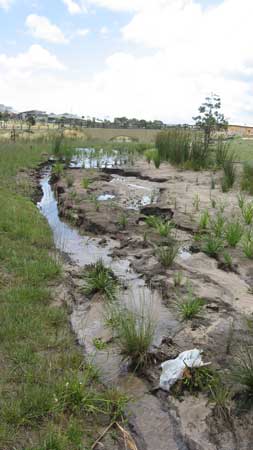 November 2008: Holey Rain Garden. Erosion problems continue to plague this development.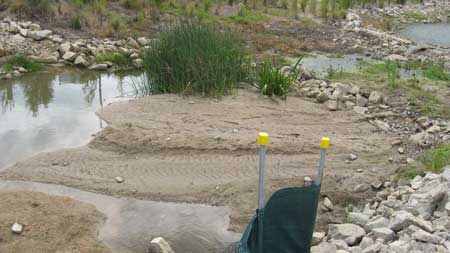 November 2008: Silt from Holey Rain Garden blocking Harrap Creek
ditto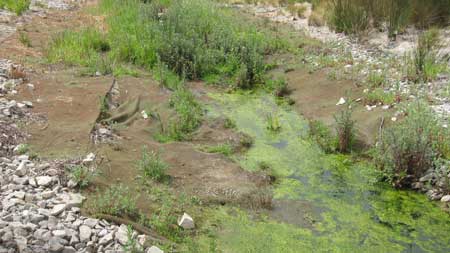 November 2008: Exposed weed mat Harrap Creek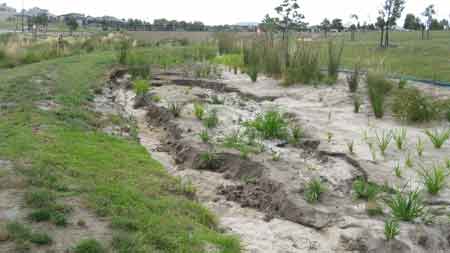 January 2009: Holey Rain Garden
January 2009: Silt in Pond
January 2009: Mount Martha Rain Garden and Harrap Creek(Balcombe catchment), one year on and still nothing's changed. The function of the rain garden hasn't been achieved nor has any attempt been made to fix it. Harrap Creek downstream has suffered because of this and no doubt to the detriment of Balcombe Creek and Estuary. Melbourne Water are presently waiting for the consultants to get back to them with redesigns for the degraded creek, but these talks have been going on for a year. As you can clearly see from the photo's the creek is filling up with silt, the rocks and weed matting have shifted and erosion problems in some parts is over two feet deep. The council also won't take possession of the parklands due to the many problems and safety issues problems and Melbourne Water won't sign off on it as well. On Public Open Space(Craigie Road Bushland Reserve) we have a huge hole that has been created by the developer because of the flows and 9 months later nothing has been done.Basically the section of Harrap Creek running through Sefton Grange is a mess and should never have happened and Tanti Creek at the back of the Becton development is just as bad. Tanti and Harrap Creek are good example's of Mornington Peninsula Council's disregard for Local and State policies regarding setbacks from Creeks and look at the result.