NNNN BAD DEVELOPERS NNNN
EXPOSING DEVELOPERS WHO FAIL TO APPRECIATE AND RESPECT COMMUNITY, ENVIRONMENT AND SPIRIT OF THE LAND
Hancock Victorian Plantations Threatening Strzelecki Cool Temperate Rainforest
July 1 2006
July 4, 2006: For more detailed information on Hancock and the Strzeleckis see Hancock Watch which is currently offline - should be online in a few days.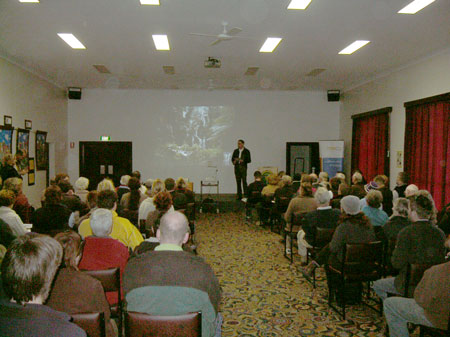 July 1 2006 Churchill, Gippsland : Strzelecki Forest Community Forum. Over 150 people attend this important meeting to give support to the Strzelecki Cores and Links Reserve. The Victorian Government is currently in negotiations with Hancock Victorian Plantations about a buyback of key Strzelecki rainforest catchments.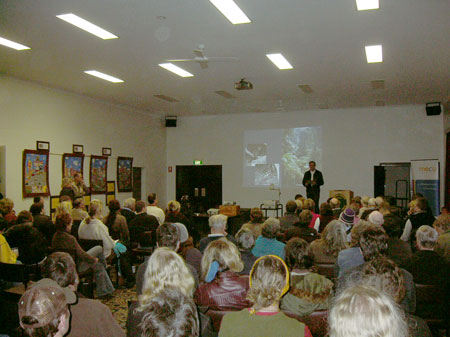 Ditto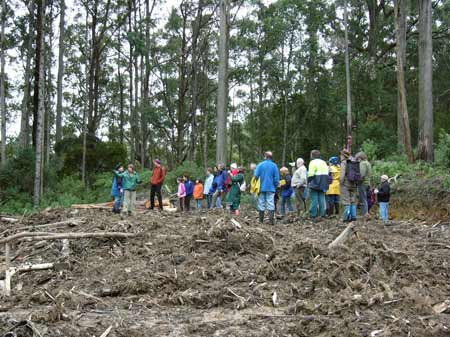 July 1 2006: Strzelecki Ranges/Morwell River East Branch - Parish of Wonyip. After the community forum, about 30 people attended a forest tour into the Strzelecki Ranges. Here the tour is looking at issues surrounding cool temperate rainforest buffers.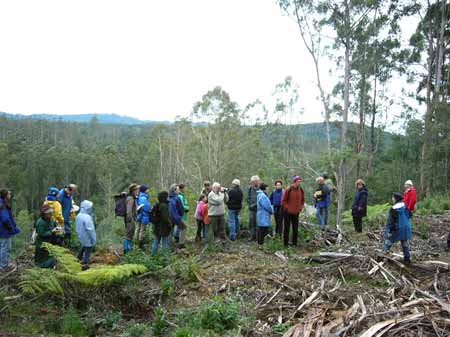 Ditto.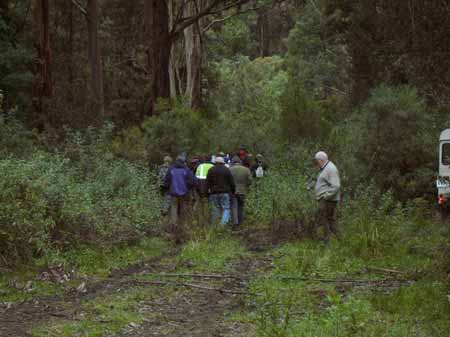 July 1 2006: Strzelecki Ranges/College Creek- Parish of Jumbuk. Entering the College Creek catchment to look at threats to cool temperate rainforest. College Creek lies inside the Cores and Links Reserve. The Reserve is approximately 8500 hectares in size. Hancock are planning to log almost a quarter of this reserve in the next few years. Logging could commence after July 1 2006.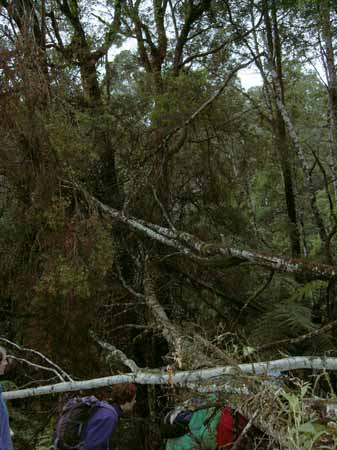 July 1 2006: Inappropriate buffers on Myrtle Beech trees in cool temperate rainforest in College Creek. Here is an example of Silverv Wattle falling into Beech tree, leaving the Beech susceptible to the disease Myrtle Wilt, which enters through wounds in trees.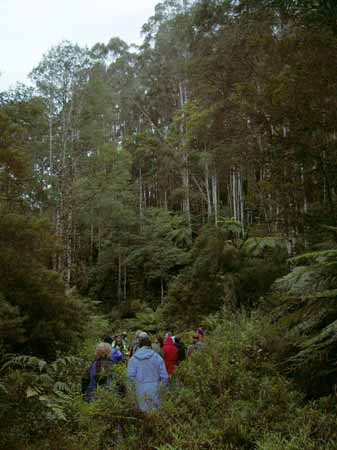 July 1 2006: Walking the buffer of the College Creek cool temperate rainforest on land leased under the 1961 and 1966 Wood Pulp Agreements.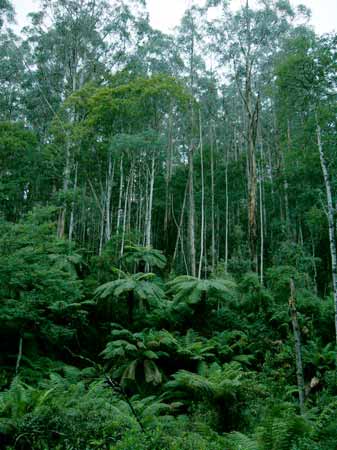 July 1 2006: The eucalypt forest in this photo will be logged with the retention of only 20 metre buffers on cool temperate rainforest. Such buffers would be a breach of the Code of Forest Practice if this site was located on "public land".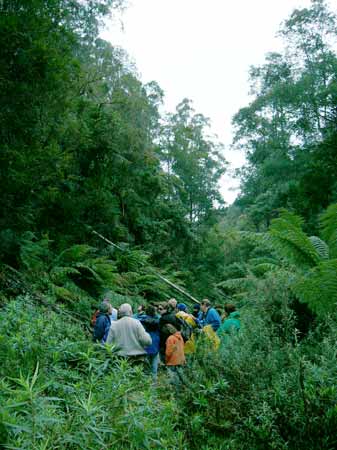 July 1 2006: Inside the cool temperate rainforest buffers of College Creek.