HAZELWOOD COAL: AN INDUSTRIAL DINOSAUR

Hazelwood Mine Fire Feb 2014: Photo Keith Pakenham

Proximity of Morwell to Hazelwood mine. Some homes are 500m from coal mine. Interesting that in 2011 the Baillieu Liberal Government imposed tough 2km restrictions on wind turbines, but have remained mute about the proximity of coal mines to thousands of people.
The inquiry heard the EPA was called in to help with the emergency response to the fire on 11 February – two days after the blaze started in the open cut brown coalmine – and first transmitted reliable data from a 24-hour reading on 14 February. It also heard there was a week-long gap between air quality data being recorded at East Morwell and Morwell South where conditions were more severe.
FOUR substantial fires have previously broken out at Victoria's Hazelwood open-cut coal mine in the past decade, all of which have prompted reviews and recommendations, an inquiry into the latest blaze has heard. Counsel assisting the inquiry Melinda Richards said blazes occurred in 2005, 2006, 2008 and January 2012 before this year's fire, which burned for 45 days in the Victorian mine in the Latrobe Valley. "Each of these fires was the subject of review, which made recommendations," Ms Richards told the opening day of the inquiry. "They were all ignited from sources inside the mine. "Fire is a commonplace event in an open-cut coal mine." She said there were approximately 100 small fires in the Hazelwood mine each year, mostly in operational parts of the mine.
Meanwhile, Victoria's chief health officer, Rosemary Lester, says there is no certainty that people exposed to the Hazelwood coal mine fire will not contract serious illness. Dr Lester was in Morwell yesterday to ask residents what they would like included in a 10-year health study on their exposure to the fire. She says she would like the study to span longer than a decade but the Government could not sign a longer contract. Dr Lester says there is no certainty that residents will not experience long-term health effects like cancer, heart and lung conditions. "We want to be able to improve future planning and response to any similar event, heaven forbid that anything like this will happen again, but we want to make sure that we learn from this experience and make sure that any response to a future experience, that we take that opportunity to learn," she said.
Late last year, GDF SUEZ/AE made a critical decision to defer major capital expenditure intended for upgrades and maintenance at their Hazelwood power station – some of this money originally marked for substandard equipment. A source has also confirmed there was no backup generator for the mine's fire system, that its redundancy plan relied upon another mains power. "Power redundancy to ensure pumps and motors are operational in a disaster is achieved by having a second standalone power source. Two power lines for redundancy in the event of fire is definitely not standard practice – it's not what any competent operator would have in place." The unsatisfactory fire prevention practices at Hazelwood highlight the company's inadequate audit regimes, which have failed to identify risks at the mine and power station. While the company denies any breaches of compliance, The Saturday Paper understands there is considerable panic within its ranks. The Saturday Paper also understands that GDF SUEZ/AE's financial modelling revealed something else, perhaps more significant to this story: the full rehabilitation costs to the site would reach half a billion dollars, a figure inadequately offset by the $15 million bond paid in 1996 and never reassessed by the Victorian government. The enormous cost sat uneasily with their average yearly profits of $200-$300 million, and within the inner sanctums of the company a cynical calculation was discussed – to mothball the plant rather than fully shut it down, in order to escape the costs of rehabilitation.
One firefighter had to have surgery and 22 stitches in his hand after a small cut became infected. The occupational hygienist who carried out the independent test was horrified because it revealed extreme levels of E-coli and other dangerous bacteria which could get into small cuts and cause septicaemia.
On Sunday, the DEA, an environmental campaign group of doctors and medical students, warned the burning coal was creating an abnormally high level of particle PM2.5, which has been classified as a class one carcinogen alongside tobacco smoke and asbestos. PM2.5 is formed in a number of ways, particularly in fossil fuel combustion, Dr Merryn Redenbach, research and liaison officer for DEA said. "In general in Australia we have a daily average exposure advisory limit of 25 micrograms per metre cubed per day," said Redenbach. "But there have been peaks of around or over 500 since the fires began at Hazelwood." In the immediate short term, exposure to the high levels of PM2.5 was a danger to vulnerable groups such as young children, the elderly, and people with pre-existing illnesses including heart and lung diseases, Redenbach said. "For example on days when particulate matter is higher, we see more hospital presentations with heart failure, heart arrhythmias," said Redenbach. "Long-term exposure of PM2.5 is associated with increased mortality rates, but also with rates of lung cancer."
People aged over 65, preschool-age children, pregnant women and anyone with a pre-existing heart or lung condition have been urged to leave Morwell South, the residential area closest to the mine.
Victoria's top health officer has defended the decision to wait until almost a month after the Hazelwood coal mine fire began to upgrade the health warning for Morwell South.
But experts are warning that severe air pollution from the coal mine fire should be taken far more seriously because it bears comparisons to a 1952 coal smoke disaster. In that event, Londoners were blanketed in black coal smoke and smog for several days, killing an estimated 12,000 people. Queensland University of Technology Professor Lidia Morawska, an expert on air pollution, said it isn't right to classify Morwell's smoke pollution as a short-term event and therefore as having little impact on health. "The London fire duration is comparable to the Hazelwood fire," she said. "There are many examples of health impacts due to much shorter exposure to combustion products than this fire." Adrian Barnett, a QUT associate professor in health, said the dangers of coal smoke have been known for years due to epidemiological studies on the London smog. "If I lived in the area I would move my family away until the fire was out," he said.
THE elderly, young children, pregnant women and people with lung problems are being advised to leave the worst-affected area near the Hazelwood coal mine fire, in a major escalation of the crisis in Victoria's Latrobe Valley. The move comes amid growing alarm in Morwell over rising carbon monoxide levels, ash and smoke from a fire that's been burning for almost three weeks. Authorities are advising vulnerable residents in the southern part of Morwell to move temporarily, with the fire in the open-cut mine expected to continue to blanket Morwell in thick smoke and ash for at least another 10 days. However angry locals heckled Victoria's Chief Health Officer Rosemary Lester during her announcement, which she says follows consistently poor air quality in Morwell South.
"We've often been seeing 800 micrograms per cubic metre here - that's some of the highest readings we've ever seen from an ongoing incident," Mr Innis said. He said a reading of 1500 micrograms had been recorded over the weekend. A three-day tyre depot fire in Tasmania was the only time Mr Innis could recall PM 2.5 readings at this level. A monitoring trip out to Glengarry on Monday (20 kilometres from the Hazelwood fire) recorded 150 mg/m3 - a revelation Mr Innis said was "quite surprising". While PM 2.5 monitoring commenced in Morwell on 12 February, three days after the Hazelwood fire started, hourly readings have only began making their way to the EPA's public website since Monday afternoon. (PM 2.5 reading for Morwell between 2 and 3 pm yesterday sat at 170.3 mg/m3) A World Health Organisation report 'Health effects of particulate matter' released last year concluded there was "no evidence of a safe level of exposure or a threshold below which no adverse health effects occur". In the same year a study funded by the European Union found prolonged exposure at all levels of particulate matter increased the likelihood of lung cancer. While EPA, along with the Department of Health, have deemed the microscopic particles within the coal ash blowing across the region the area of greatest concern, Victoria's Chief Health Officer Rosemary Lester has remained adamant there was no evidence to suggest short term exposure to PM 2.5 would lead to long-term health issues. "At this stage we are still focused on the short-term impact of the coal dust, and there is no evidence to show (short term exposure) can affect your health adversely." While Dr Lester denied suggestions there was a "complete knowledge gap" on the long term impacts of PM 2.5 exposure, she said the government was still seeking national and international advice as to what constituted 'short-term' exposure. However she reiterated previously warnings against vulnerable people exposing themselves to the coal dust. "We've been saying this all along - these conditions can cause problems for people with pre-existing health conditions and those people need to seek respite," Dr Lester said.
The EPA's air quality index for Morwell South, adjacent to the mine, was 1113 between 11- 12 noon today. Anything more than 150+ is considered '' very poor''. This is also more than twice the level of Shanghai's worst smog which came in at 500. Residents say they are suffering from chest infections and nose bleeds as the smoke shows no signs of letting up. Many are calling for the evacuation of the town as fears mount around the long-term risks associated with prolonged exposure to carbon monoxide from the smoke. However Victoria's chief health officer Rosemary Lester said while an evacuation plan had been created, moving the 13,000 residents out of the town was not necessary at this stage. Lester said the department was working with the Environmental Protection Authority to monitor air quality, which was "poor" but not dangerous. "We are constantly monitoring that and we haven't gone anywhere near what we would regard a level to trigger talk about evacuation," she said. "We don't believe there's a necessity to evacuate; we are saying to people if you can get out of town for a short period of time that's fine." The Department of Human Services said around 150 Morwell households had been given financial assistance to help them escape the smoke, using the money for short-term accommodation, V/Line and bus tickets and petrol. "This is all about taking a short break, getting respite," it said. A respite centre has been set up at the Moe Town Hall while more than 25,000 masks have been made available to local residents. However residents have criticised the Napthine government for not evacuating the town and are planning to protest on Sunday.
Chief health officer Dr Rosemary Lester says she has been seeking advice on whether the fire has become a long-term exposure event for residents because it has been burning for three weeks. But that was proving difficult, she said, because long-term smoke inhalation studies involve big-city air pollution, not coalmines. "It's an unusual situation," she said on Thursday. "We do remain concerned about the level of smoke in the air. The levels have been very high and continue to be very high. We don't know how much longer it will go on for." Lester said carbon monoxide levels were nowhere near the level required to evacuate the town, but she couldn't rule out calling for such a measure if the fire kept burning.
But they face a daunting task as figures released exclusively to the Herald Sun reveal the area is home to the state's most prolific firebugs. In five years detectives have laid 350 charges on Latrobe arsonists, 85 of those in 2012-13. Lead investigator Detective Sen-Constable Jason Benbow said police were focusing on a group of well-known arsonists.
Locals have complained of headaches, nausea, dry throats and sore eyes because of the fire, and some have left town to stay with relatives or friends in other communities, such as Bairnsdale. About 25,000 face masks have been made available, at least 185 residents have visited the health assessment centre in Morwell, and 60 residents have visited the respite centre in Traralgon.
One of the most experienced asbestos lawyers in Australia is advising Latrobe Valley residents to document their health problems amid the smoke crisis. Slater and Gordon practice group leader in respiratory disease Steve Plunkett said smoke-affected residents should document their exact symptoms, how they were exposed and the amount of dust in their homes. Mr Plunkett said Valley residents were "absolutely, without a shadow of a doubt" justified in their health concerns over the Hazelwood open cut fire. "I've been doing respiratory disease for more than 30 years and any foreign particle dust is bad for you," Mr Plunkett said. "It's brown coal, it's got all sorts of carcinogens in it. "It seems to me if it did turn out to be bad for people's health, that authorities might have a case to answer in not acting quicker."
The Department of Health Victoria's chief health officer Dr Rosemary Lester last week moved to reassure the community, saying she did not expect to see significant long-term health impacts as a result of the air quality situation. "For them to be saying it's safe is nonsense, because they don't even know what's in it," Mr Plunkett said. "It wasn't that long ago (people) were saying asbestos was fine and we all know what a debacle that turned out to be." Mr Plunkett said if the smoke was found to be harmful, the department's comments could be found to be negligent.
The Morwell-based lawyer said his firm had received multiple phone calls from residents concerned because "they don't know what they're breathing in". "I myself am worried about it," he said. Mr Plunkett said air purifiers were operating in the Slater and Gordon Morwell office on George Street. Maurice Blackburn Gippsland principal Gino Andrieri agreed concerned residents should keep records. "It is a prudent measure, because if something eventuates and they're diagnosed, the nature of these sorts of medical issues can occur years down the track," Mr Andrieri said. He said it was difficult to say whether claims would likely be made in future. "You first have to prove something has been done wrong. How have the fires been managed? Could they have been put out earlier? Could the community have been warned earlier?" Mr Andrieri said. "If something is arguably done wrong, you then still need to prove the smoke exposure has played a part in diagnosis and that's where records become very important." He said along with documenting exposure and symptoms, concerned residents should visit their doctor.

THE management of the Hazelwood mine and its regulation by government is expected to come under fierce scrutiny in coming weeks, as questions arise over the mine's fire preparedness prior to the current emergency.
With limited progress being made 10 days into the firefight, frustrations are peaking over the mine's conditions before the fire outbreak on 9 February, with stakeholders and observers labelling the affected site's former state as "an unacceptable fire risk".
Numerous firefighter and mining insider sources have agreed in separate interviews with The Express the combination of unused mine batters left exposed to the elements for decades without rehabilitation, and the lack of firefighting water pipelines in the affected mine area, had largely inflamed the current blaze.
Another inside source described the removal of water mains in the late 1990s and early noughties from the affected section of mine the symptom of "blatant cost cutting" and a lasting legacy of the privatisation of the power industry.
"If they had adequate pipelines in place, they wouldn't be this deep into the situation as they are now - they have taken a big risk here, and it's come back to bite them and everyone in the community," the source said.
Only 400 metres south of the Morwell township, the fire has entrapped residents in an unrelenting cloud of raw coal fire smoke, broken air pollution records and thrown the community into a public health emergency.
With a 1.2-kilometre, 300-millimetre water main line still hastily being constructed by mine operator by GDF Suez Australian Energy to the firefront, and windy conditions still to come, the CFA has predicted the firefight will last weeks.
Construction, Forestry, Mining and Energy Union mining and energy president Luke van der Meulen said on ongoing regime of cost cutting at the operation had created an "negligent risk to the community".
"The company is operating in a financially constrained time and will always try and do the things that Hazelwood does - but the only thing that prevents that is regulation, which clearly hasn't been going on here," Mr Van der Meulen said.
"The government has been asleep at the wheel for a long time, and I think there has been far too cozy a relationship between regulators and these power corporations and no one from the community gets a look in to this."
However a spokesperson for GDF Suez said the fire preparedness of the mine had nothing to do with cost cutting.
"GDF SUEZ Hazelwood has a comprehensive fire prevention and protection strategy in place in the Morwell mine to protect this critical infrastructure," the spokesperson said.
"It is important to remember that this fire started outside the mine in quite extraordinary weather conditions that posed a threat, not only to the mine but to large parts of the surrounding farmland and communities."
However Monash University environmental engineering senior lecturer Gavin Mudd said mine management should have been far better prepared for the risk of fire spread from neighbouring grassfire.
"That entire section of mine has been unused for years - decades in some areas - it should have been completely rehabilitated by now with a clay or soil cover - the question is whether they've been allowed to constantly defer the capping of those mines under their mining licence requirements," Dr Mudd said.
"Either the regulation on the mine in terms of rehabilitation is far too lax, or the policing of it is just not happening - but either way there's clearly been a major stuff up somewhere."
Attempts by The Express to clarify which regulatory authority was ultimately responsible for policing the suitability of fire services in the mine were unsuccessful, receiving different responses from different government departments.
A spokeswoman for Energy and Resources Minister Nicholas Kotsiras said all arrangements relating to fire prevention at mines were regulated by fire authorities. Fire Services Commissioner Craig Lapsley said emergency authorities had input into the development of occupational health and safety plans and the associated emergency management plans - which covers fire fighting infrastructure within the mine - but it was regulated by WorkSafe.
A spokesman for the Victorian WorkCover Authority said the mine operator was required to have an emergency response plan in place for issues such as fires, developed in conjunction with the emergency services and the local council.
"The VWA may review this plan as part of its regulatory function," the VWA spokesperson said.
In response to rehabilitation concerns, the GDF Suez spokesperson said the company was "comfortable" it had worked closely with the State Government in adhering to mining licence requirements.
"Pipelines have not operated in the northern batters area of the mine for 40 years or more as this is not an operational area of the mine. Some inoperative pipelines were removed to enable rehabilitation programs to proceed," the spokesperson said. "Rehabilitation of the Morwell mine is an ongoing process, with some of the areas on the northern batters where the fire has been burning already rehabilitated."
However the spokesperson could not clarify how much of the dormant section of mine had been rehabilitated.
Environment Victoria's acting chief executive Mark Wakeham said the whole situation called for a public inquiry into what had contributed to the incident's severity and its impact on the community.
"There seems to be a persistent and patented culture of failure in regulation of the oldest mines in the Valley, where the regulator appears ill-equipped or disinterested in doing anything about it," Mr Wakeham said.
"The public deserves to know whether it's the company's failing to meet requirements government has set for them or whether the government is not setting adequate benchmarks for the operation.
" Mr Kotsiras' office said all government agencies were entirely focused on putting out this fire and dealing with the impacts on the community, and government would assess and review the incident after the situation was brought under control.

Image ABC
Morwell residents could be exposed to elevated levels of the dangerous gas carbon monoxide for weeks, the CFA has warned, after levels spiked in the township on Saturday.
With the Hazelwood open cut fire predicted to last weeks, carbon monoxide created by the blaze could continue to linger in residential areas in calm weather, according to a CFA update issued yesterday.
"(When there are) no winds to disperse smoke... it is possible that this will happen again until the fire is out," the CFA bulletin stated.
Anxiety swept through much of Morwell's population on Saturday after a carbon monoxide alert warning was issued at 12.59pm for the town, recommending residents west of McDonald Street and Maryvale Road to shelter indoors.
Residents were advised to ensure all external doors, windows and vents were closed, and to switch of heating and cooling systems.
At 3.30pm the 'watch and act' alert was downgraded to an advice level, notifying residents it had become safe to ventilate houses, however with thick smoky conditions prevalent throughout the afternoon, social media was alight with concern as to whether it was safe to do so.
Carbon monoxide is an invisible odourless by-product of burning fuel and exposure symptoms include tiredness, headaches, dizziness, nausea and confusion, according to the Victorian Government's Better Health website.
With the CFA predicting "at least several weeks of work ahead" in the fight to extinguish the blaze, emergency services HazMat technicians will continue to monitor carbon monoxide levels in Morwell and issue further warnings if and when required.
About 20 firefighters are now believed to have attended hospital with exposure symptoms or concerns after working at the open cut blaze, which has become a carbon monoxide sinkhole since the fire broke out on 9 February.
When asked last week if residents would be at risk to the increased carbon monoxide levels, emergency and monitoring authority spokespeople said on a number of occasions the Morwell township would not be affected.
Meanwhile, with the absence of wind at the weekend, the lingering smoky conditions reached some of their worst levels since last Sunday, creating a thick plume over the town and reducing visibility at some points to less than a kilometre.
Air monitoring data from the Environment Protection Authority showed air quality index ratings were blown off the charts at the weekend, with Morwell returning a reading of 459 on Saturday between 3pm and 4pm, more than three times the threshold for its worst quality rating, 'very poor'.
Living with emphysema, 77 year-old Maryvale Crescent resident Ron Beveridge said his ability to cope with the worsening conditions was "bloody shocking".
"All this bloody smoke is killing me - I'm seizing up in the back of the throat and the house smells bloody terrible," Mr Beveridge said, adding a recent heart bypass operation was not helping. "When I heard about (the carbon monoxide) on the radio I closed all the windows and locked the doors to stop it coming in, but I'm in these commission flats with three-inch wire vents you can't close, so it would have still been getting in."
While Mr Beveridge said he had been coping throughout last week, the worsening conditions - which he described as "a thick London fog descending over Morwell" - had become unbearable.
"The nights are the worst - I got up to have a sleeping tablet (Saturday) night and that didn't even work - I had to plant a fan beside the bed just to make it easier to breath," he said. "On top of all this, the dog has been annoying... me because I haven't been able to take him for a walk for three days."
A CFA community information bus was set up in Morwell yesterday to answer residents' concerns.
EPA field operations group manager Elizabeth Radcliffe advised residents they could conduct a smoke assessment themselves, without need for any monitoring equipment.
"If you can see 20 kilometres in front of you the air quality is good. If you can only see 10km in front it is poor and that is the stage when alerts are issued," Ms Radcliffe said. "If visibility is less than 1km then (the air) is hazardous and you should be limiting your exposure as much as possible."
Signs of smoke irritation include itchy eyes, sore throat, runny nose and coughing, while worsening symptoms may include wheezing, chest tightness and difficulty breathing; children, elderly and those with pre-existing illnesses are more vulnerable.
Poisoning conditions in Hazelwood mine (Source: Latrobe Valley Express Feb 13 2014)

THE nightmarish firefight at the Hazelwood open cut suffered a serious setback yesterday after seven volunteer firefighters were taken to hospital for carbon monoxide poisoning.
With the battle against two major coal mine fires within the Morwell open cut expected to last weeks, the firefight's operational processes and protocols were undergoing a major procedural overview yesterday afternoon.
The firefight, led by the CFA, was dramatically scaled back as a result of the hospital admissions, with priority being placed on protecting critical infrastructure within the mine.
Incident controller Peter Lockwood confirmed the affected firefighters had been operating within the mine without breathing apparatuses, which had until yesterday been an accepted part of the firefight's procedure.
"We are very, very concerned by the fact that this has occurred," Mr Lockwood said. "This type of fire is unique - these carbon monoxide-rich environments are not something which happen everyday."
However Mr Lockwood said firefighters had fought a similar coal mine blaze at Hazelwood in 2008 without widespread BA use, and avoided any adverse health impacts.
He said all firefighters were now being tested for carbon monoxide exposure before and after shifts, and extra breathing apparatus equipment was being sourced from across Victoria.
However it was unknown yesterday afternoon where the volunteers were from.
Lighting on Sunday, after the Hernes Oak fire spotted before the south westerly wind change, the Hazelwood fire has established in two separate locations within an inactive section of the mine.
An 800-metre long fire remains alight along the mine's northern batter wall, and a separate fire on the eastern batter stretches some 500 metres.
GDF Suez Australian Energy head of generation Luc Dietvorst said while the situation had been brought under control following "really bad" circumstances on Sunday, extreme care was being taken to ensure the eastern batter fire did not spread into the operational sections of the mine.
The Express was given first hand access to the response area yesterday when accompanying Premier Denis Napthine as he visited the Incident Control Centre perched above the mine's eastern rim.
Standing among the staging area where about 15 CFA appliances were parked at the ready, visibility into the mine was at a minimum; the mine's smoky abyss was broken only momentarily as a skycrane regularly flew in to water bomb the eastern batter with water sourced from the Hazelwood Pondage.
Dr Napthine described the scene as "very eerie", however noted the calm and organised response from the emergency authorities.
"They are dealing with a very serious and complex issue here in the mine... however I am pleased to hear the affected firefighters have been discharged from hospital," Dr Napthine said.
While power generation was crippled on Sunday when SP AusNet electricity supply issues brought the mining operation to a standstill, yesterday saw the restoration of six of the station's eight generation units.
Mr Dietvorst said the two remaining generation units were expected to fire up today.
United Firefighters Union secretary Peter Marshall said the hospital admissions highlighted the "very real danger" Victoria's firefighters faced in protecting the community.
"My understanding is they will make a complete recovery, however it is extremely traumatic to suffer this type of experience," Mr Marshall said.
"Oxygen depravation is the equivalent of being smothered, and it is the equivalent of a slow lingering death."

September 13, 2009: Hundreds of Protesers Converge on Hazelwood

September 13 2009: Hundreds of people take direct action at Hazelwood. Shut this dinosaur down.

September 13 2009: Smile, you are on candid camera. Vic cops adding images of protesters to police database.

September 13 2009: Police guarding this relic of an obsolete and doomed technology.

September 13 2009: Police again filming citizens outside the most polluting coal fired power station in the western world.


September 13: Gunai Elder Robbie Thorpe welcomes protesters onto Gunai country by conducting a smoking ceremony. Burning eucalyptus leaves drives away bad spirits. Robbie was welcoming protesters onto his country and welcomes their actions to shut down Hazelwood. Where is the Gunai permission for the Coal Mine to operate on Gunai country?

September 13: Robbie Thorpe gets the fire going, to start smoking ceremony, with confused police looking on.

Hazelwood is the industrial world'smost greenhouse polluting power station, per unit of energy. Now Victoria is faced with the proposition of expanding the life of this dinosaur by five years. If approved the expansion would perpetuate Victoria's reputation as Australia's worst greenhouse polluting state and totally wipe out the greenhouse savings made by other Bracks Government policies.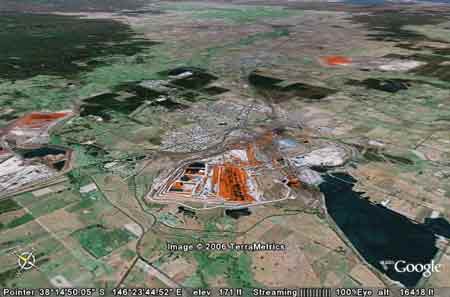 Hazelwood in the foreground, located in Victoria's Latrobe Valley, with Hazelwood dam on the right. Loy Yang B, in the distance is 70% controlled by International Power.
Approximate location of Hazelwood Coal on the Australian mainland (in yellow).
REPRIEVED BY STATE GOVERNMENT? ACCORDING TO THE AGE 14/2/05; "THE STATE GOVERNMENT WILL ALLOW AUSTRALIA'S WORST GREENHOUSE POLLUTING POWER STATION TO OPERATE FOR ANOTHER 20 YEARS. THE DECISON WAS MADE BEFORE FINDINGS ON ITS ENVIRONMENTAL ASSESSMENT HAVE BEEN PROPERLY ASSESSED. . . "HAZELWOOD WILL CONTINUE THROUGH TO 2031" ENERGY MINISTER THEO THEOPHANOUS SAID. . . HAZELWOOD WAS BUILT IN THE 1960S. IT IS THE STATE'S OLDEST POWER PLANT AND PRODUCES 18 PER CENT OF VICTORIA'S ENERGY. FOR EVERY MEGAWATT IT GENERATES, HAZELWOOD PRODUCES ABOUT 1.54 TONNES OF GREENHOUSE GAS"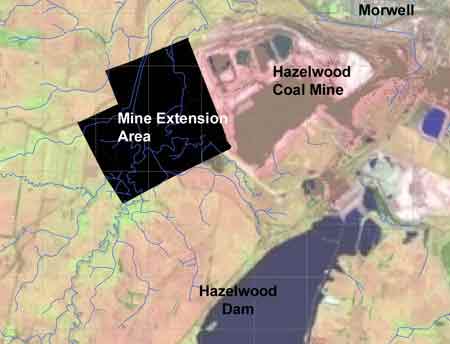 Recently approved mine expansion at Hazelwood could see the existing open cut double in size.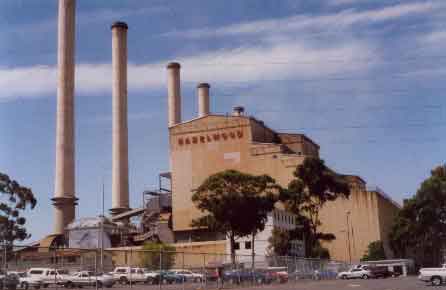 Victoria rates as the worst greenhouse polluting state in Australia per person and also boasts the country's most greenhouse intensive power station, Hazelwood in the Latrobe Valley.
Before the State Electricity Commission (SEC) was privatised Hazelwood, which relies on out-dated technology, was set to be scrapped. Now Victoria is faced with the proposition of expanding the life of this dinosaur by five years.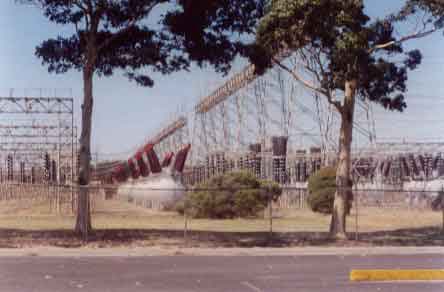 The Bracks government must refuse approval for the expansion of Hazelwood because it:
*would emit an extra 85 million tonnes (Mt) of greenhouse pollution - akin to putting 20 million cars onto Victorian roads for one year;
*would wipe out all of the greenhouse savings made by other Bracks Government policies;
*would not create a single job;
*is not needed for Victoria's energy supply;
*discourages new investment in renewables, energy efficiency and gas;
*flouts the views of the voting public who overwhelmingly supported environmental policies at the last election;
The expansion would perpetuate Victoria's reputation as Australia's worst greenhouse polluting state.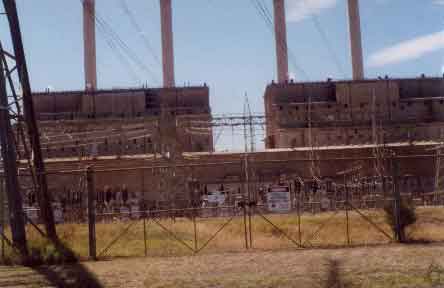 What is proposed for Hazelwood?
When Hazelwood power station was sold the effective brown coal reserves in the mining license were sufficient to operate the plant until 2022.
International Power, the UK-based company that owns 92% of Hazelwood and recorded a $236 million profit in Australia last year, now wants to extend Hazelwood's life until 2027.
It also wants to;
*relocate the Strzelecki Highway, the Morwell River, Eel-Hole Creek and Wilderness Creek.
*obtain a new brown coal mining license to extend its life.
*use coal from its current mining license for a new coal-to-diesel plant.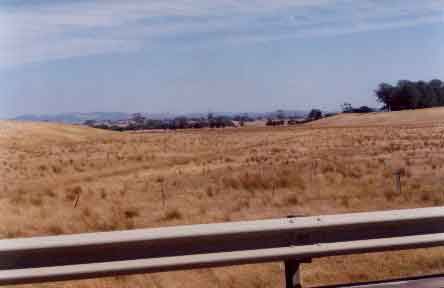 Photo above: Morwell River depression crossing under the Strzelecki Highway. Most of the land in this photo is planned to be mined for the Hazelwood expansion.
Why the Hazelwood expansion is a problem
Hazelwood produces more greenhouse pollution than any power station in Australia, per unit of energy.
It also relies on old, 1950's technology. So obsolete is the power station the SEC planned to shut it down in 2005.
According to the company's own 2002 Environment Report:
*Hazelwood's greenhouse gas emissions increased by more than 56% between 1996 and 2001.
*In 2001 the power station emitted more than 17.7 Mt of CO2, (which is equivalent to the greenhouse pollution produced by four million cars).
A five year expansion to the life of the power plant would therefore result in additional C02 emissions of more than 85 Mt.
This would totally wipe out the greenhouse savings made by other Bracks Government policies. The coal to diesel plant would make matters even worse. Producing and burning diesel from brown coal generates more than eight times the greenhouse pollution caused by burning 'normal' diesel.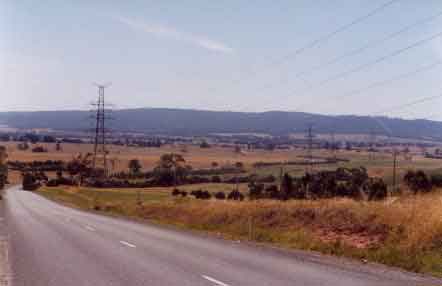 Photo above: The Morwell River catchment, most of which in this photo, will be mined for coal under the current Hazelwood expansion plans. The Haunted Hills are in the background, most of which are now under plantations and owned by the US insurance firm John Hancock Financial Services. Wilderness Creek flows from the Haunted Hills.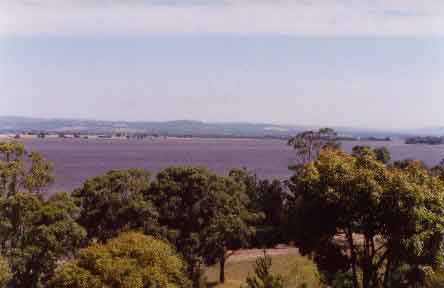 Photo above: Hazelwood Pondage. An artificial dam located south of Hazelwood power station. Hazelwood Pondage is sourced from cooling water recycled through the power station (sourced from Blue Rock Dam?), geothermal bore water pumped from the Morwell River Open Cut and rainwater runoff.
Hazelwood tops international list of dirty power stations - July 13, 2005
(http://www.wwf.org.au/News_and_information/News_room/View_news/223)
Victoria's outdates Hazelwood power station is the most polluting of all power stations operating in the world's major industrialised countries.
WWF has collected data on large-scale coal-fired power stations from 30 industrialised countries including Australia, Europe and the US.
The 40-year-old power station in Victoria's Latrobe Valley spews out an astonishing 1.58 million tonnes of carbon dioxide every month.
Hazelwood produces more carbon dioxide per unit of electricity delivered than the dirtiest coal-fired power stations in other leading industrialised nations - including the USA, Germany, Canada, Mexico, Czech Republic, United Kingdom, Japan and Italy.
| | | |
| --- | --- | --- |
| Country | Most Polluting Station | CO2 intensity (Mt/TWh) |
| Australia | Hazelwood, Victoria | 1.58 |
| USA | Edwardsport, Indiana | 1.56 |
| Germany | Frimmersdorf | 1.27 |
| Canada | H.R.Milner | 1.25 |
| Mexico | C. TG. Portes Gil, Rio Bravo | 1.18 |
| Poland | Belchatow | 1.09 |
| Czech Republic | Prunerov | 1.07 |
| Japan | Niihamanishi | 1.02 |
| UK | Cockenzie | 0.99 |
| Italy | Porto Tolle | 0.78 |
Hazelwood is owned by UK company International Power and was built in 1964 using technology from the 1950s.
"In many ways Australia can be regarded as a modern country that plays a leading role among industrialised nations but not when it comes to electricity generation," says WWF-Australia Climate Change campaign manager Anna Reynolds.
Despite receiving a $500 million upgrade over the past eight years, pollution from Hazelwood increased by 2.7 per cent between 1998 and 2004, according to a study by Environment Victoria (Greenhouse Pollution Intensity in the Victorian Brown Coal Industry).
Greenhouse gases such as carbon dioxide are building up in the atmosphere and causing a dramatic increase in the Earth's temperature.
Currently power stations are the world's biggest source of greenhouse gas emissions - yet in Australia their emissions are still not substantially regulated.
"Greenhouse gas pollution from coal-fired power stations like Hazelwood is driving global warming," Anna says.
"What this means for Victoria and much of southern Australia is that the climate will become drier with huge pressure on water supplies and endangered species." The Victorian Government has stated its intention to reduce the State's greenhouse gas emissions by up to 8.3 megatonnes a year by 2012.
Yet deliberations are currently being held to decide whether to extend the life of Australia's - and one of the world's - most polluting power station to 2031.
The additional pollution this would cause (an estimated 340 million tonnes of carbon dioxide) is the equivalent to putting an extra eight million new cars on the road. . .