BHP-Billiton INC
Olympic Dam (Roxby Downs)
"BHP plans to send a train from Olympic Dam to Darwin every day of the year once the mine is operating, and Genesee & Wyoming has recently been spruiking to American investors about the potential for increased business along the railway from mining projects." (The Age Feb 15 2012)

Distance from Olympic Dam to Darwin? 2100km 'as the crow flies'. (red line on map)

Roxby Uranium and Copper mine on right. 70 million tonnes Radioactive tailings dump (growing at 10 million tonnes per year), on left.
World's 5th largest copper resource and world's NUMBER ONE uranium deposit. Already accounts for 40% of world's known uranium resources with 1.5 million+ tonnes of radioactive material. Purchased from WMC in 2005 for $9.2 billion. BHP are planning a $7-$10 billion expansion.

Location of Roxby Downs to Point Lowry, site of proposed desal plant


Approximate location of Roxby Downs Uranium Mine (in yellow).
GENOCIDE INCORPORATED
Olympic Dam (Roxby Downs)
"In July 2005, mining giant BHP-Billiton acquired the massive Olympic Dam (Roxby Downs) mine formerly owned by Western Mining Corporation (WMC). Operational since 1988.
BHP-Billiton plans a $5 billion expansion, which will treble the mine's output and make it the world's largest uranium mine.
Since opening, the mine has produced over 60 million tonnes of radioactive tailings waste, a figure currently growing at a rate of 10 million tonnes per year.
Eighty percent of the radioactivity of the original ore remains in the tailings, as well as a range of other toxic materials. Uranium tailings contain over a dozen radionuclides, the most important being thorium-230, radium-226, radon-222 (radon gas), and the radon progeny including polonium-210.
A large number of bird deaths recorded in a 2004 survey attests to the toxicity of the tailings.
The tailings waste is stored on site at Olympic Dam with no plans for its long-term management.
The radioactive tailings dams were the focus of a 1996 parliamentary inquiry following revelations that five trillion litres of liquid tailings waste had leaked over a period of several years.
The mine's use of Great Artesian water - over 30 million litres per day - has adversely effected the region's fragile mound springs by reducing their water flow.
BHP-Billiton has inherited legal privileges under the SA Environment Protection Act, the Water Resources Act, the Aboriginal Heritage Act and even the Freedom of Information Act." Source: Yellowcake country? Australia's uranium industry. A Beyond Nuclear Initiative 2006.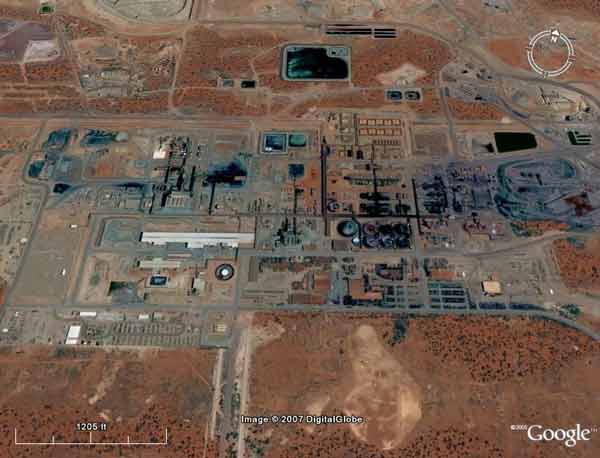 Images of Roxby Downs in central South Australia - poisoning the land & water for thousands of years.
Excellent links about this Very Very Bad Development
ROXBY DOWNS (OLYMPIC DAM)- COPPER URANIUM MINE -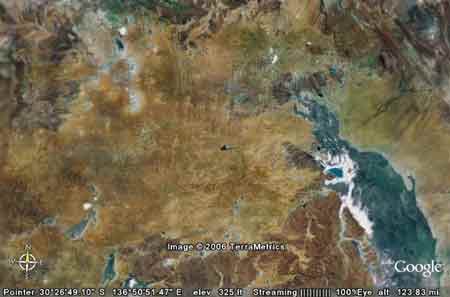 Roxby Downs from 123 miles in the air - like a black cancer on the Australian landscape.
Uranium Mining produces the raw material for the nuclear industry, it is used to generate electricity in nuclear power plants or to make nuclear weopons.
Both of these uses have outcomes, which present real threats to the environment and to people's health everywhere. The mining of uranium has always been controversial, drawing widespread opposition from community organisations and people across Australia for over thirty five years.
Olympic Dam is owned and operated by BHP Billiton. The mine is located near the township of Roxby Downs in South Australia. Copper, uranium, gold and silver are the principle minerals being mined. Uranium mining has long-term environmental effects. Every mine has waste ore called tailings. The tailings contain 80% of the radioactivity of the original ore and remain radioactive for over 200,000 years. Over the lifetime of the uranium mine at Roxby Downs it is estimated that there will be a 30-metre high, 1000 hectare pile of radioactive tailings left. The Adelaide CBD covers 260 hectares.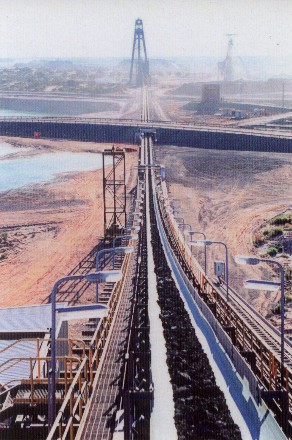 Mound Springs: The mine is licensed to draw 42 million litres of water every day to process the ore. The water is drawn from the Great Artesian Basin (GAB), which is located 120 km's north of the mine.
The GAB is a vast, ancient body of water that lies underground and supports many mound springs. The mound springs are unique arid land habitats that have world-class natural and cultural significance. They support rare and delicate micro flora and fauna, many species which are endemic to a particular spring. They also have high cultural significance to the Arabunna, traditional custodians of the land in which these mound springs are located.
Since water extraction for the mine began in the area known as Lake Eyre South, many of the surrounding mound spring complexes have experienced reduced flows, or ceased flowing altogether.
Tailings are stored in large dams called Tailings Retention Systems (TRS) and contain other industrial wastes from the mining process, which are highly acidic and toxic.
The TRS do not isolate these wastes from the environment and continually leak, discharging millions of cubic metres of contaminants into ground water.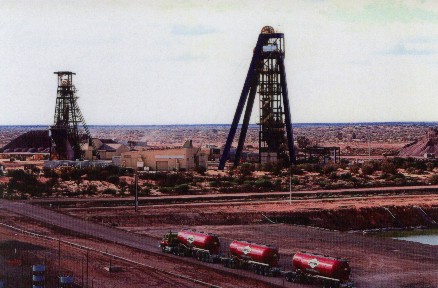 Radiation: Uranium tailings contain over a dozen radioactive materials which are all harmful to living things. The most important of these are thorium-230, radium-226, radon-222 (radon gas) and the radon progeny, including polonium-210. If these tailings are left on the surface and allowed to dry out, radioactive sand can blow in the wind and be deposited on vegetation far away, entering the food chain. Or it can wash into rivers and lakes and contaminate them.
Uranium tailings are constantly producing large amounts of radon gas through the decay of radium in the tailings. This gas can travel thousands of kilometres in a light breeze in just a few days. As it travels, it continually deposits solid radon progeny on the ground, water and vegetation below.
Radon also dissolves readily in water, and can be transported by ground water into wells and streams.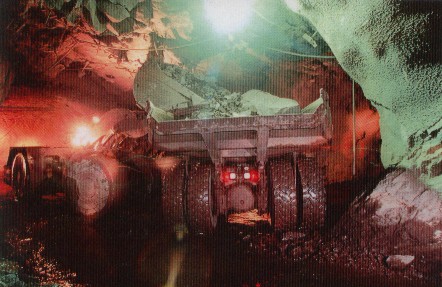 Workers: Over the years the permitted levels of radiation exposure for workers and the public have dropped dramatically as research, particularly from radiation biologists, indicates harmful effects still exist at much lower exposure levels. An examination of the table on the below reveals how drastically permissible radiation exposure levels have been reduced over time.
| | | |
| --- | --- | --- |
| Year | Workers | Public |
| 1900 | dose unregulated | dose unregulated |
| 1925 | 500 msv per year | |
| 1934 | 300 msv per year | |
| 1950 | 150 msv per year | |
| 1952 | | 15 msv per year |
| 1957 | 50 msv per year | |
| 1959 | | 5 msv per year |
| 1987 | | 1 msv per year |
| 1990 | 20 msv per year averaged over 5 years | |
How long will it be before today's acceptable standards are proven just as dangerous for workers?
Mining uranium and mineral sands creates radioactive dust and radon gas. When breathed into the lungs, the dust and gas release their radiation at close range where it does the most damage to the lining of the lung and increases the risk of developing cancer. Radiation exposure can affect men and women's reproductive health and is also associated with lower testosterone levels, chromosomal abnormality, skin, lung, kidney and bone cancer and bronchitis and emphysema.
Epidemiological studies have revealed that young men working as uranium miners have a greater risk of birth defects than the general population and older men have an increased risk of cancer. Often the effects of radiation exposure can be delayed.
All exposure presents a risk to the health of people and the planet.
Risk is not confined to workers alone. Uranium mining continually increases the level of background radiation the community is exxposed to. People's skin, clothes and vehicles can be contaminated through being physically near the source of radioactive material. Because of potential accidents, there is also a real concern about the transportation of radioactive material by trucks from the mine to the port.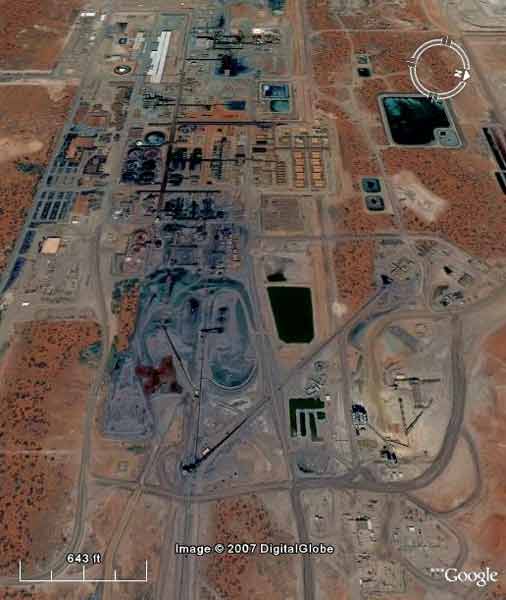 Recent spills at the Olympic Dam Mine.
There have been hundreds of spills and accidents at the Olympic Dam mine over the life of its operation - here's just a few.
15 Dec 2003: 145,000 litres of process solution containing uranium, spills after a new selection of fibreglass reinforced plastic pipe failed.
20 Oct 2003: An estimated 110,000 litres of radioactive mine process water was spilt during an uncontrolled accident from one of the tailings ponds. The spill has involved the release of an estimated 32 kilograms of uranium. The spill occurred following winds of up to 75km an hour that created waves that washed process liquid over the wall.
16 Oct 2003: 110 cubic metres of process liquid spilt at the hydrometallurgical plant.
20 Aug 2003: Spill comprising an estimated 63 cubic metres of tailings solids and liquid.
19 Feb 2003: WMC Resource reported a spill of approximately 210 cubic metres of process liquid. This liquid is produced as part of a process which seperates copper and uranium from the crushed ore.
10 Dec 2001: 427,000 litres of process leaching slurry containing approximately 430 kilograms of uranium spilled from a holding tank.
21 Oct 2001: One million litres of kerosene were involved in the blaze at the solution extraction area of the processing plant. The kerosene is contained in two open air holding tanks, and is used in extracting copper and uranium oxide. The huge fire burned for several hours. Damage has been estimated at $20 million.
20 Jan 2000: Three workers were in the underground mine when explosives detonated. Although not injured, it represented a major breach in blasting safety procedures.
24 Dec 1999: Part of the solvent extraction plant where copper and uranium is extracted caught fire. The fire could be seen as far as 25km away at nearby Andamooka. The investigating team did not inspect the site until 4 days later. The fire caused approximately $10 million damage.
14 Feb 1994: WMC reported that up to 5 million cubic metres of liquid had leaked from the tailings ponds. The leak had been happening for at least 2 years before this report. The revelation prompted a South Australian Inquiry which found that there were deficiency in the orginal design and inadequate supervision of the TRS, and inadequacies in regard to reporting of the leak.
For more details contact the Anti-uranium Collective at Friends of the Earth Melbourne.
Po Box 222, Fitzroy, 3065. (03) 9419 8700. foe@foe.org.au http://www.foe.org.au
The following article originally published by Perth Indymedia
http://perth.indymedia.org//?action=newswire&parentview=19728
Above the Law? Roxby Downs and BHP Billiton's Legal Privileges
by Peter Burdon 2006-05-19
In Central South Australia BHP Billiton enjoy the power to override a host of South Australia's most important aboriginal rights, environmental protection and freedom of information legislation in relation to their Olympic Dam operation. This legal power extends over a 1.5 million hectre stretch of land and covers their uranium mining operations. Roxby Downs and BHP Billiton's Legal Privileges
Friends of the Earth Adelaide, May 2006
What would you say if you were told that a large portion of South Australia is subject to an entirely different set of laws to the rest of the state? How would you feel if you knew that those legally responsible for this land consume more energy and water, create more waste and dangerous material and extract more resources than any other body in South Australia?
Over 20 years ago the South Australian Government enacted the Roxby Downs (Indenture Ratification) Act 1982 (Indenture Act). In a single document the Government legislated that some 1.5 million hectares in central South Australia, including the Roxby Downs mine and surrounding areas, would be exempt from some of our most important environmental and indigenous rights legislation.
The Indenture Act provides BHP Billiton the legal authority to override the:
• Aboriginal Heritage Act 1988
• Development Act 1993
• Environmental Protection Act 1993
• Freedom of Information Act 1991
• Mining Act 1971
• Natural Resources Act 2004 (including the Water Resources Act 1997
This decision undermines community expectations that corporations should be regulated to limit the potential damage they can cause and to ensure they remain accountable for their actions. It also challenges the South Australian Government's expressed commitment to the "strictest environmental standards" for the Roxby Downs/Olympic Dam mine. Such sweeping legislative power is unprecedented and inconsistent with modern practices and government promises.
The Indenture Act and Aboriginal Heritage
The inclusion of the Aboriginal Heritage Act 1988 (AHA) in the Indenture Act has significant consequences for issues of equality and questions how seriously our State Government treats Indigenous rights and interests. The AHA is the key legislative enactment aimed at protecting Indigenous heritage in South Australia.
Prior to the operation of Native Title in the early 90s the AHA governed most government/Indigenous relations concerning land and cultural heritage. The Act continues to play an important function for Indigenous cultural heritage. However, under the Indenture Act the traditional owners of the land surrounding Roxby Downs, the Kokatha, Arabunna and Barngarla peoples, are now forced to deal with BHP Billiton to have their heritage recognised. As ACF nuclear campaigner David Noonan noted, BHP Billiton is [I]n a legal position to undertake any consultation that occurs, decide which Aboriginal groups they consult and the manner of that consultation.
As the commercial operator and proponent of expansion within these areas, [BHP Billiton is] in a position of deciding the level of protection that Aboriginal heritage sites received and which sites they recognised. Through the Indenture Act, the government has abdicated its responsibility to address Aboriginal Heritage issues in relation to the Roxby Downs mine.
They have placed BHP Billiton in a legal position to:
• Ignore the provisions of the 1988 Act designed to protect Aboriginal heritage
• Determine the nature and manner of any consultation with Indigenous communities
• Choose which Aboriginal groups to consult with
• Decide the level of protection that Aboriginal Heritage sites receive
• Decide which Aboriginal Heritage sites they recognise
As owners of the Olympic Dam mine, BHP Billiton clearly cannot participate in decisions concerning the recognition and protection of Aboriginal sites without a gross conflict of interest.
Freedom of Information
In October 2002 Premier Mike Rann and the Minister for Administrative Services, Jay Weatherill, signed the 'Citizens Right to Information' charter. This Charter commits the Government of South Australia to making information in Government documents and records readily accessible to the citizens of South Australia. Contained within this document is a promise that the "South Australian Government is committed to attaining the highest standards of openness and accountability ."
To fulfil this promise the Charter directs citizens to the Freedom of Information Act 1991 (FOI) and provides information about how to use the legislation. On this point Friends of the Earth campaigner Joel Catchlove notes, Freedom of Information legislation is an indispensable element of any society represented by a government. The legislation promotes government accountability and fosters informed public participation in government.
Legally, the FOI consists of rights and obligations concerning access to and amendment of, information in the hands of government. The principal right conferred is a general right of access to a document of an agency or an official document of a minister.
The other basic rights and obligations which FOI confers or imposes are, in summary:
• The obligation of the responsible minister to publish certain information, including: a statement setting out the organization and functions of agency; a statement of the categories of the document that are maintained in the possession of the agency; and a statement of any information that needs to be available to the public concerning particular procedures of the agency in relation to obtaining access to documents.
• The obligation to make available for inspection and purchase documents that are used by the agency in making decisions, such as manuals containing guidelines and practices. Under confidentiality clause 35 of the Indenture Act, BHP Billiton have veto power over information relating to activities undertaken within the 1.5 million hectares covered by the indenture.
Mr Catchlove notes: There is thus a massive portion of South Australia where mining giant BHP Billiton operates which is not subject to open public review or discussion and the fundamental tenancies of representative government have been laid to waste. The government promises openness and accountability with one hand and takes it away with the other . This fact was also commented on by Hedley Bachmann in his 2002 report to the State Government on reporting procedures for the South Australian uranium industry.
In his report Bachmann recommended:
In order to allow the release of information about incidents, which may cause or threaten to cause, serious or material environmental harm or risks to the public or employees, the government should revise and appropriately amend the secrecy/confidentiality causes in the legislation . The Bachmann report addressed a range of transparency or secrecy clauses contained in legislation relating to uranium mining.
At the conclusion of his work the State government amended two pieces of legislation to comply with his recommendations. They were the
• Radiation Protection Act 1982: Section 19
• Mines and Workers Inspection Act 1920: Section 9
While the veto power held by BHP Billiton remains intact, citizen confidence and faith in the South Australian government cannot. South Australian citizens have a right to know exactly what actions, decisions or activities our representatives and corporations are undertaking, particularly in such a high-risk operation as the Roxby Downs uranium mine. The mine consumes more resources than any other enterprise in the state and has the potential to serious damage the health of South Australian workers and South Australia's natural heritage. Many natural wonders, which are of deep significance to the land's Traditional Owners, come under the Indenture Area. Responsible, accountable governments and corporations should have no need for secrecy, and in a project the scale of Roxby Downs, there is too much at stake to maintain it.
Environmental Protection
At 2006 levels of operation, the Roxby Downs/Olympic Dam uranium mine is licensed to take 40 million litres of water a day from the Great Artesian Basin (GAB). The GAB is a vast and ancient body of water that lies deep under the surface of central Australia. It begins in far north Queensland and is a source of water for many pastoral properties and habitats, including the fragile and unique mound springs in South Australia's arid north. Currently BHP Billiton extracts 33 million litres a day from the GAB and farmers, environmentalists and traditional owners have reported dramatic reductions in water pressure threatening and sometimes extinguishing rare ecosystems.
Under the Indenture Act, BHP Billiton is not required to pay for this water. The radioactive waste tailings dam at Olympic Dam amounts to 60 million tonnes and is growing at 10 million tonnes annually. The tailings dam has been plagued by spills – most significantly in 1994, when the mine operators admitted some five million cubic litres had leaked from the dams over two years. Environmental audits provided to the Rann Government continue to emphasise that the mine tailings are inadequately managed and "an issue of real concern" requiring "the implementation of urgent remedial measures ".
BHP Billiton has no long-term plans for the management of these tailings, which because of their radioactivity may remain dangerous for thousands of years. When all valuable resources have been extracted BHP Billiton simply plans to 'cap' the tailings dump with soil.
Additionally, Olympic Dam consumes more electricity than any other body in the State, ten percent of the state's production, effectively making it SA's single biggest producer of greenhouse gas.
The Indenture Act provides an override to the Environmental Protection Act 1993 (EPA) and the powers and functions contained within. The EPA was enacted to provide for the protection of the environment and the establishment of an Environmental Protection Authority to monitor and enforce compliance with the Act.
The key objective of this legislation is the avoidance of 'environmental harm', a term that is defined in the legislation to mean any harm or potential harm to the environment, of whatever degree or duration. Potential harm includes risk of harm and future harm. The legislation imposes different penalties for offences causing environmental harm.
The most heavily penalised offence is the offence of causing serious environmental harm by polluting the environment intentionally or recklessly and with knowledge that serious environmental harm will or might result. A lower penalty is imposed where a person, by polluting the environment, causes serious environmental harm. The Environmental Protection Authority is charged with enforcing these provisions.
The Authority has the power to:
• Serve notices on people violating the EPA and order them to comply.
• Place conditions on licences and other environmental approvals.
• Impose or vary a condition of an environmental authorisation.
• Demand financial assurance to be made where there is a high risk that operation will result in environmental harm. This money is used to counteract resulting environmental or community damage.
• Require an organization to prepare a plan of action in the event of emergencies that might arise out of the operation.
These provisions are South Australia's most important and strongest environmental safeguards and they are absent from BHP Billitons Olympic Dam operation. In fact, under the Indenture, Primary Industries and Resources South Australia (PIRSA), is responsible for overseeing the project's environmental standards. As a government body dedicated to promoting mining, PIRSA has a clear conflict of interest in this role.
Friends of the Earth Campaigner Sophie Green notes: Whether you support the mining operations at Olympic Dam or not commonsense dictates that where a massive project is being undertaken which has the potential (and indeed likelihood) of damaging vast portions of the environment, our strongest environmental safeguards should apply. We are only asking that BHP Billiton be held to the same standard as every other corporation in Australia .
In reviewing the conditions surrounding the massive 1994 leak, Dr. Gavin Mudd emphasises that the Indenture Act essentially prevents the mine from environmental responsibility and "until the [Indenture] Act is revoked entirely there can be no truly independent, external environmental assessment of the impacts of Olympic Dam ".
Legal accountability and guarantees of BHP Billiton's environmental performance are crucial, particularly in light of the proposed expansion of the Olympic Dam mine into the largest open cut mine in the world. The scale of this operation and the associated risks threaten damage to the environment on a scale we have not yet seen.
Ms Green notes, Our Government is playing a dangerous balancing game with promises on one hand and contrary legislative action on the other.
Actions speak louder than words and its time we demanded more from our representatives . Take action With BHP Billiton seeking a four-fold expansion of their Roxby Downs/Olympic Dam uranium mine and the Indenture Act due to come up for review in the next 18 months, now is a crucial time to act for government and corporate accountability.
Friends of the Earth Adelaide's Clean Futures Collective is committed to promoting intelligent, socially and environmentally sustainable alternatives to the nuclear and fossil fuel industries. As part of its commitment the Clean Futures Collective is currently working to form alliances with individuals or groups who share our concerns and demand recognition of Aboriginal heritage, the free flow of information and the protection of the environment.
Write to Premier Mike Rann and the ministers listed below to express your concern about BHP Billiton's legal privileges and urge them to amend the Indenture Act. Below is a form letter for your use and if you would like an electronic copy sent to you please email the address below.
For more information, contact Peter Burdon at peter.burdon@foe.org.au or on 0401 751 285.
Dear Mr. Rann, I'm writing to express my deep concern regarding the legal immunity granted to BHP Billiton's Olympic Dam mine through the Roxby Downs (Indenture Ratification) Act 1982.
While I welcome your commitment to the "strictest environmental standards" for Roxby Downs, such standards cannot be guaranteed while BHP Billiton's operations at Olympic Dam are given precedence over the Freedom of Information Act 1991, the Environment Protection Act 1993, the Natural Resources Act 2004 (including the Water Resources Act 1997) and the Aboriginal Heritage Act 1988, among others.
Furthermore, by allowing Primary Industries and Resources South Australia (PIRSA) to oversee the mine's environmental standards is unacceptable. PIRSA exists primarily to promote mining in this state and therefore has a serious conflict of interest. Environmental oversight should be granted to the Environmental Protection Authority (EPA) and other independent regulatory bodies.
The most certain way to ensure the "strictest environmental standards" for BHP Billiton's Olympic Dam mine, and the transparency to maintain them, is to make the mine subject to the same laws and responsibilities as every other corporation in Australia.
I seriously urge you to repeal the Roxby Downs (Indenture Ratification) Act 1982 and to push for the removal of the conflict of interest in PIRSA's responsibilities for environmental oversight of mining operations.
Yours sincerely,
Premier Mike Rann GPO Box 2343, Adelaide SA 5001 Phone: 08 8463 3166 Fax: 08 8463 3168 premier@saugov.sa.gov.au
Hon. Paul Holloway Minister for Mineral Resources Development Parliament House Adelaide SA 5000 Phone: 08 83032500, 08 8237 9100 Fax: 08 83032597 ministerDTED@state.sa.gov.au
Hon. Gail Gago Minister for the Environment and Conservation Parliament House Adelaide SA 5000 gago.office@parliament.sa.gov.au
Hon. Jay Weatherill Minister for Aboriginal Affairs and Reconciliation GPO Box 2269, Adelaide SA 5001 Phone: 8303 2926 Fax: 8303 2533 cheltenham@parliament.sa.gov.au
Hon. Iain Evans Leader of the Opposition Shadow Minister for Sustainability and Climate Change
Hon. David Ridgway MLC Shadow Minister for Environment and Conservation
Mitch Williams Shadow Minister for Mineral Resource Development Shadow Minister for Aboriginal Affairs and Reconciliation
www.geocities.com/olympicdam
You pay for and conserve water - why doesn't BHP?
Friends of the Earth Melbourne newsletter Autumn 2007 Michaela Stubbs
As Melbourne residents experience tighter water restrictions, the papers are filled with stories of people whose livelihood is at stake due to drought and the water levels in our reservoirs drop to exceptionally low levels. We were sure that if the people only knew that BHP is licensed to use up to 42 million litres of water a day, equivalent to the daily drinking water requirements for the entire population of Australia, they would be up in arms about it. Currently BHP are turning around 33 million litres of water into toxic radioactive tailings (waste from the mine) every day. Under aa special agreement with the SA government, BHP (and previous owners of the mine WMC) have never paid a single cent for this water.
BHP's water use made the front page of the Sydney Morning Herald in February this year when the PM's plan to take control of the Murray Darling Basin put him on a collision course with the water thirsty miner. Mr Howard wrote in a letter to all the premiers "I seek your agreement...to establish proper entitlements, metering, pricing and reporting arrangements for water extracted from the Great Artesian Basin."
The article reported that if the miner were to pay the same water rates as the average Sydney householder its daily bill would be $52,000. All other users of the aquifer are subject to a management plan for the basin but BHP is exempt. When Mr Howard was asked whether the new arrangements would apply to the mine he said "Everybody's got to make a contribution to solving this problem." BHP responded saying it would resist such a move. Certainly when we toured the mine last year they were quite adamant that they should not have to pay for water and that it would impact on operations at the mine, but with an 8.5 billion dollar profit recorded for 2006, it is pretty shocking to think that whilst most Australians pay for and are trying to conserve water BHP Billiton are pouring our precious resources into one of the most dangerous, polluting industries known.
Save the Mound Springs
The Great Artesian Basin (GAB) is a finite, precious and public resource - and the environment that depends on it - is under enourmous pressure and threat. The immediate effects on the local environment are very clear. The fragile and unique Mount Springs complex occurs at the southern edge of the GAB where water is forced up to the surface, it forms what is known as a mound spring, a source of life in the semi arid regions of South Australia - the driest state on the driest continent on earth. Each spring has a unique mineral content and is host to ancient life forms, some of them endemic to a single spring. These springs are sacred to Arabunna traditional custodians who are trying to protect them. Olympic Dam's water use has caused reduced water flow to the springs and some of them have dried up completely.
A planned expansion of the mine will increase the daily water requirement to 150 million litres, but BHP has said it would build a desalinisation plant to provide for the increase while maintaining its current draw from the basin. There are concerns about the potential impacts on marine life and fishery operations of a proposed desalinisation plant in the Spencer Gulf region of South Australia. The plant would produce up to 120 million litres of water daily, most of it for the planned expansion of the Roxby Downs mine.
Links: www.unesco.org/water/water_celebrations/index.shtml
http://www.smh.com.au/news/national/bhp-alarm-over-pms-river-plan/2007/02/01/1169919474127.html
Guy Woods (Department of Parliamentary Services), December 4, 2006, "Water requirements of nuclear power stations'> Research Note no. 12. 2006-07, ISSN 1449-8456.
The green minefield March 5, 2007 Age Newspaper
As the debate on nuclear power gathers momentum, Wendy Frew turns the spotlight on the "cleaner" energy's production frontline - uranium mining.
OLYMPIC Dam, 560 kilometres north-west of Adelaide, is a mine like no other in Australia.
Hidden under South Australia's dusty red plains is a Tolkien-like labyrinth of tunnels carrying monster trucks and an underground train that transports hundreds of tonnes of mineral to the surface every day.
Above ground, the copper, gold, silver and uranium gouged from Australia's largest underground mine are processed in a mega metallurgical complex that sprawls across the arid countryside.
The millions of tonnes of waste material — much of it radioactive — that is left behind piles up in giant open-air tailings dumps that can reach as high as 30 metres and cover hundreds of hectares of land.
Those who have seen the radioactive waste say it has the consistency of powder, and as it dries, it takes on a range of colours from a rusty red, to sulphur yellow or salty white.
The mining consumes millions of litres of water every day and a huge amount of electricity. It generates an estimated 1 million tonnes of greenhouse gases every year, and has displaced many square kilometres of native vegetation to make way for the processing plants and tailings dumps.
The uranium is used to generate power in a nuclear reactor, power that Prime Minister John Howard says is "cleaner and greener than just about any other form of energy".
But in the rush to embrace nuclear power as a way to combat climate change, the damage uranium mining does to the environment seems to have been all but forgotten.
Australia has some of the world's best and biggest uranium reserves and the industry represents a rich seam of export dollars and regional jobs. Mine operators are already gearing up to expand existing mines, which will further boost outback economies in the Northern Territory and South Australia. Supporters say expansion of the industry would also mean a guaranteed long-term supply of fuel for generating electricity should Australia ever decide to abandon coal.
However, environmentalists and scientist say those benefits must be weighed up against the industry's reliance on a fuel that will eventually run out, that generates highly toxic, long-lasting waste, both when the ore is mined and the yellow cake processed in a power plant. It is waste that contaminates water and soil.
"Any nuclear industry would be 20 years away," says Australian Conservation Foundation campaigner David Noonan. "We don't see any reality in the attempt to get nuclear power up in Australia but we are worried about the expansion of the uranium industry … we would just become a quarry for the global nuclear industry."
Australia has three operating uranium mines: Olympic Dam and Beverley in South Australia, and the Ranger mine in the Northern Territory. It is difficult to comprehend the scale and breadth of the operations at Olympic Dam. The BHP-Billiton mine is open to visitors but in such an isolated location few Australians would have taken the tour. Few would have any inkling of what it takes to get uranium out of the ground and the complex and expensive task of managing the contaminated rock and water waste, and the rehabilitation of the land that must be done after a mine has closed down. The massive mineral deposit 350 metres below the surface contains the world's largest known uranium ore body and the world's fourth-largest remaining copper deposit.
The mine's rock waste and coarse tailings are used as mine backfill. Fine tailings material is dumped above ground in an area that covers about 400 hectares.
Doses from radiation remaining in the tailings are as low as reasonably achievable and much less than levels considered acceptable, as determined by international standards, according to BHP. The waste is extensively monitored and the results reported on a regular basis to South Australian Government regulators, it says.
BHP is still developing a final rehabilitation plan for the tailings storage at the end of the mine's operational life.
Despite those assurances, the tailings dump is a major concern for people such as the ACF's Noonan.
In 1994, the then mine owner, Western Mining Corp, revealed that up to 5 million cubic metres of contaminated liquid had leaked from the tailings dams, a potential threat to the quality of groundwater immediately below the dams.
The industry's Uranium Information Centre says studies undertaken demonstrated that the pollutants in the seepage were quickly adsorbed on to clays and limestone in the soil and rock under the tailings dams. Because of the low permeability of the rock, there was "no potential harm to the groundwater resource".
The tailings dumps don't represent a risk to workers or the environment, according to spokesman for the UIC, Ian Hore-Lacy.
"If you have radioactive tailings then you just cover them with more cover … the level of radioactivity is negligible," he says.
"You could set up camp and live on top of them for a year and not get any serious radioactivity, not that that is recommended."
But Noonan says the risks associated with tailings will only grow because of BHP's $5 billion expansion plans for Olympic Dam.
The expansion, which is likely to see the underground mine converted to an open pit, would be one of the biggest of its type in the world and require the removal of a million tonnes of over burden every day for four years, according to the company.
The company will have to drill and blast its way down 350 metres before it even reaches the ore body.
Friends of the Earth has estimated the expanded dam would probably contain the largest uranium tailings repository on earth.
In a submission on the expansion plan's draft environmental impact statement, Friends of the Earth said the tailings storage facilities would be so big they would be among the largest structures on earth.
"The main problem is that the integrity of the (facility) must actually be guaranteed not for a mere 200 years, nor even for 1000 years … we would need to reasonably assure containment of the tailings for a minimum of 230-300,000 years," wrote Friends of the Earth.
"This is five times as long as Aboriginal occupation of Australia, which is in turn longer than any other human group has survived. It is a period of time in which major climatic and, indeed, geological changes can be expected to take place, not to mention changes in land-use, population, etc."
Olympic Dam's expansion would also mean the mine's current water use would surge from 35 megalitres a day (taken from the Great Artesian Basin at no charge to the company). Another 120 megalitres a day will be needed for the expansion, which would be produced by a desalination plant the same size as the one planned for Sydney.
At the Ranger uranium mine in Kakadu National Park in the Northern Territory, the issue is not too little water but too much.
After several days of record-breaking monsoonal rainfall, mine operator Rio Tinto subsidiary ERA stopped mining last Tuesday and the processing plant was closed a day later. Widespread flooding is also making it difficult to get into or out of the mine and the nearby town of Jabiru.
As the Federal Government described it in 2005 "the operation of a uranium mine and mill in a region which is World Heritage-listed, subject to seasonal extremes in rainfall typical of monsoonal climates and which represents at least 40,000 years of habitation by the Aboriginal people, provides many environmental challenges".
The Ranger lease covers 7860 hectares, of which about 500 hectares are directly disturbed by mining.
"Water management at Ranger is seen as an intractable and growing problem," ACF's Dave Sweeney says.
"The area around the stockpiles, the processing facilities and the tailings corridor (where slurry is piped from the mill to the tailings dam) is a restricted release zone and all the water that falls in those areas has to be managed because it becomes contaminated."
Water is shunted around the site, from the pit after heavy rainfall, through retention ponds and in the giant tailings dam. Ranger has built a $25 million plant to help make sure all the water is treated.
MANAGING water is the No. 1 issue for the mine, says ERA spokeswoman Amanda Buckley. Much of the mine operator's time and energy was expended coping with the large amount of water on-site and driving in heavy rain represented a higher risk to workers than exposure to radiation.
But Buckley says ERA had invested heavily in water infrastructure and the mine operated under the toughest regulations in Australia.
"If you ask the technical people they will say it is like other kinds of mines, such as copper and nickel," says Buckley about the environmental hazards at Ranger.
"You are digging the ore out with the same kind of equipment, all the processes are the same. The difference is the radiation but it is not a very high level of risk (for workers)."
Buckley explains the mine often closes after heavy rainfall but this week's deluge posed no environmental issues.
UIC's Hore-lacy says Australian regulations for uranium mine operations and worker safety are so high you could never get a really harmful level of radioactivity. He dismissed the 1994 tailings dam leakage at Olympic Dam as more of an engineering than an environmental issue.
Australian standards are high compared with many overseas mines, says lecturer in engineering and uranium mining expert at Monash University, Dr Gavin Mudd.
"But we still cannot answer the fundamental questions about rehabilitation (of land after mining ceases), and we still have accidents. So, from a scientific point of view it is still not good enough."
The Rum Jungle uranium mine, about 64 kilometres south of Darwin, is one example of how not to manage a site, say critics. At Australia's first large-scale uranium mine the dams, which were meant to prevent acidic materials and heavy metals used in the milling process from reaching rivers and streams, frequently overflowed during the wet season. Years after the mine closed down in 1971, the environmental damage it caused has still not being fully repaired.
Mudd supported ERA's investment in a sophisticated water-treatment facility but he said it had not been without its problems because of the nature of some of highly contaminated water it had to deal with. He is also concerned that tailings being dumped back into an old mine pit could leach out because the upper parts of the pit walls were permeable.
The academic, who has visited many existing and disused mines here and overseas, remains sceptical about rehabilitating land after uranium mining has ceased because of the industry's poor track record.
"You need to keep an eye on the old uranium sites to see how they are being rehabilitated and how water was used, so that you can draw conclusions about current mines," he says.
"Give me 100 years and then let's see how good today's standards are."
He says that because Ranger is planning to extend the life of the mine out to 2011 more room will be need for the tailings.
"Tailings dams are not cheap to build … and it is going to be a huge problem rehabilitating them."
Melbourne Age - Letters 10/9/07 Count water in nuclear equation
If Gordon Drennan (Letters, 7/9) wants facts on water consumption for nuclear energy, then he must not ignore the 155 million litres per day for expansion of BHP Billiton's Olympic Dam mine - almost three times the average recommended daily intake (World Health Organisation) of drinking water for the entire population of Australia. Currently sapping 35 million litres a day from the Great Artesian Basin, BHP remains exempt from even paying for this water, unlike you and I, despite their record profit.
We must also not overlook the parliamentary research paper of December 4, 2006, which acknowledges that a nuclear power plant would require, per megawatt, "up to 83 per cent more water than for other power stations".
Adam Dempsey, Parkville

21 Feb 2004: Peace Walkers arrive in Melbourne. Walkers left Roxby Downs in December 2003 to spread the message of the terrible legacy of the Uranium Industry. The walk will conclude in Hiroshima (Japan) on August 6 2004. A journey spanning several thousand kilometres.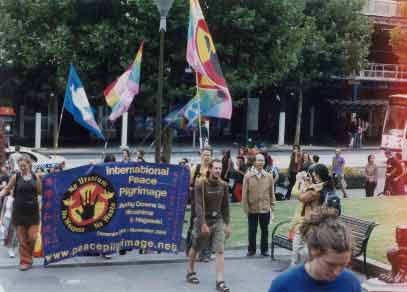 21 Feb 2004: Peace Walkers arrive in Melbourne. Walkers left Roxby Downs in December 2003 to spread the message of the terrible legacy of the Uranium Industry. The walk will conclude in Hiroshima (Japan) on August 6 2004. A journey spanning several thousand kilometres.
BHP Billiton red-faced as radioactive samples turn up outside camp Barry Fitzgerald The Age April 18, 2007
BHP Billiton has been embarrassed by the shock discovery of three kilograms of radioactive material outside a contractor's accommodation camp at its Olympic Dam mine — the world's biggest uranium deposit — in the far north of South Australia.
A box containing 10 jars of uranium oxide, the main ore for uranium, was found at an undisclosed location around the camp. The jars are the type that BHP sends to customers for test work and that are later returned. The material has a value of about $700 in official markets.
It was not known yesterday whether the incident was theft, a slip-up or something more sinister. "Inquiries are under way to identify the person or persons responsible," BHP said. The samples were being held in a "secure" location pending police forensic investigation.
The Australian Safeguards and Non-Proliferation Office has asked BHP Billiton to conduct an audit of its sample collection. The discovery of the material outside the confines of the mine's security and health control systems sparked outrage within anti-nuclear groups.
The incident comes shortly before the ALP's national conference on April 27 at which Labor leader Kevin Rudd and key shadow ministers will push to overturn the party's longstanding ban on new uranium mines. The party will vote the day after the 21st anniversary of the Chernobyl disaster, a disaster often referred to by those in the party opposed to an expansion of the Australian industry.
Australian Conservation Foundation spokesman David Noonan said that if the the world's biggest mining company couldn't control radioactive material at its mine site, why should it be trusted to "spread it around the world". "They should have to show what level of certainty they can show in accounting for their own material," Mr Noonan said.
He asked how much more material was unaccounted for and what margin of error the company had in its accounting for the material. "There is the potential for health impacts from such an incident," Mr Noonan said. "If uranium oxide gets into the drinking water supply, if it's ingested, if it gets in through an open wound, it is a health issue."
BHP reported the discovery of the unaccounted material to South Australian and Federal Government authorities. "Radiation measurements taken on discovery of the samples confirmed levels near natural background and that the samples would not constitute any health risk to members of the public," BHP said.
Olympic Dam produces about 5000 tonnes of uranium a year. BHP plans to triple production in the next decade to more than 15,000 tonnes at a cost of $10 billion. The mine is also a big producer of copper. http://tinyurl.com/yyufk5