FOR MORE DETAILED INFORMATION ABOUT TREATED TIMBER ALSO SEE HEREMarch 2005 APVMA bans CCA timber for certain applications
June 29 2012: New Restrictions In Place For Arsenic Treated Timber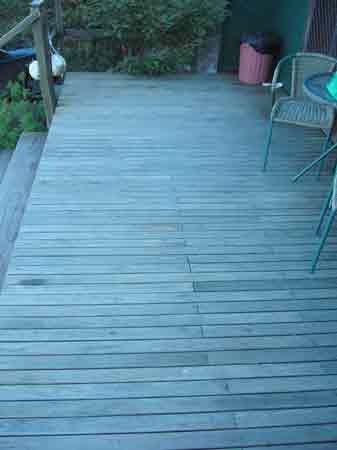 Treated pine decking. How many homes in Australia have this decking and how many Australians have been exposed to CCA by playing, lieing, standing and lounging on treated pine decks?
South Australian EPA Media Release 15 February 2006.
Auspine Limited convicted and fined over breach of licence
South East Company Auspine Limited has been convicted and fined $40,800 in the Environment, Resources and Development Court for contravening an EPA licence condition at their Kalangadooo timber presevation plant.
The maximum penalty for such an offence is $120,000.
The company pleaded guilty to not installing a roof over a concrete drip pad used for storing timber treated with Copper, Chrome and Arsenic.
The roof should have been constructed by 1 September 2004.
During rain events, the drip pad roof would reduce the amount of stormwater that becomes contaminated by excess chemicals being washed from the treated logs.
Her Honour Judge Cole in her remarks said there was no real expression of contrition on behalf of Auspine and there has been little effective action taken to comply with the licence condition.
EPA Chair and Chief Executive Dr Paul Vogel said the judgement sends a significant message to industry and the community that the EPA is acting as a responsible regulator.
This judgement also serves as a timely reminder to companies of their obligation under the EPA Act to take measures to protect the environment.
Timber Treatment Plant/CCA Disasters
Coffs Harbour (NSW) (2005)
APVMA Review Recommendations (March 2005)
10.1 Label Directions
It is proposed that CCA labels be varied by:
i. requiring that timber treatment facilities be designed and operated to meet appropriate Australian Standards (AS/NZS 2843.1:2000 and AS/NZS 2843.2:2000).
ii. not permitting uses of CCA timber treatment products for timber intended for use as garden furniture, picnic tables, exterior seating, children's play equipment, patio and domestic decking, and handrails.
iii. specifying that CCA products may be used for preservative treatment of timber and timber products intended for the following end uses: piling and other structure foundations, residential construction, industrial and commercial construction, rura and farm use, fencing, poles, landscaping timbers, fresh and salt water structures, signage and boat construction.
iv. requiring each timber piece treated with CCA (except specific circumstances where supplied and therefore marked as a pack) to be legibly and durably marked (at least to the point of the first person who uses the treated timber) with a treating plant identification number, hazard class and chemical number, as well as the statement:
"TREATED WITH COPPER CHROME ARSENATE"
v. including more detailed instructions for application, mixing and vacuum/pressure operations, management of freshly treated timber, management of liquids, sludge or waste material containing CCA residues of wildlife, fish, crustaceans and the environment, and storage and disposal...

Treated pine stored in open at CCA plant Budgeree Central West Victoria.
Armidale (NSW) (Australia's worst CCA disaster?)
CCA Contaminated Site Housing Development at Martin Street Armidale
Summary: Residents of the Martin St housing development discovered they were living on a highly contaminated site in January 1990. After nearly four years of investigation, community lobbying, ongoing health problems and an extensive media campaign, a buy-out option was negotiated in late '93.
Author: Mariann Grinter
History: The Martin St Armidale site in northern New South Wales (NSW) was for many years a wood treatment plant using the Copper Chrome Arsenic process. It was subsequently rezoned and developed as housing estate in the late 1980's. Prior to the urban subdivision of Martin St, the Armidale papers had carried numerous reports of spills and accidents at the site. Both the Local Council and the then regional State Pollution Control Commission were aware of the history of the wood treatment plant. Yet, the Council approved the urban subdivision and 26 families bought land on the estate. The on site contamination became obvious when house piers were sunk into the ground and a black creosote-like ooze bubbled to the surface.
Sampling: After the initial discovery of the contamination in January 1990, surface soil sampling in April, detected levels of Arsenic up to 3800 ppm, Chrome at 1950 ppm and Copper at 1000 ppm. Also detected in 14 soil pit perimeter samples at the site were a number of polycyclic aromatic hydrocarbons (PAH) in the range of 14- 14,605 ppm (approx aver. 2,457 ppm). There was no question this was a highly contaminated site with levels far, far in excess of those considered safe for human health.
Health: Three and a half years later, little action had been taken, health effects were already apparent and no clean up had been carried out. The resident's blood showed the presence of copper, chromium, DDT and Arsenic (testing was not sufficient to accurately measure arsenic exposure). Health effects reported by the residents varied from severe contact dermatitis, respiratory problems, nosebleeds, visual damage, stomach aches, diarrea, breathing difficulties and skin disorders, behavioural disturbances in children.
The residents, still living on the contaminated site prepared for their court case in September '93 where they hoped to prove liability against Armidale Council.
The Federal Government's earlier promise of intervention in January 93, was realised when they introduced Sir Lawrence Street to negotiate between the parties. A buy-out option was agreed upon in late 93 and the majority of residents have moved from the estate.
It had taken approximately 3 years and 10 months to resolve the plight of innocent home-buyers who through no fault of their own purchased contaminated housing blocks.
Remediation is now being investigated.
References: Personnel correspondance with residents January 1991 - December 1993.
Selected quotes from Alec Finlayson Pty Ltd v. Armidale City Council and Basia Holdings Pty Ltd. (Federal Court of Australia (1994).
"1. ... the Council re-zoned certain land, formerly in an industrial zone, as residential land; subsequently granted development applications for subdivisions of the land for dwelling purposes ... the subdivisions were seriously contaminated with a combination of creosote (which contains polycyclic aromatic hydrocarbons, toxic organic compounds known as PAHs ...) and copper chrome arsenate ..."
"2. ... In 1967, a substantial area of land at Armidale, between a street known as Martin Street ... was zoned for industrial uses. That year, the Council approved plans for the building of structures on the land in order to accomodate the operation of a timber treatment plant in which telephone poles, and some other timber items ..., were to be impregnated with creosote ... The application was made by Arthur H. Hasell and Company Pty Ltd (Hasell)..."
"3. The focus of these plans, and of the intended activity, was a pressure cylinder 72 feet long, having an inside diameter of six feet ... It was to have hydraulically operated doors at each end, and was to be equipped with bogies to carry logs, poles or other pieces of timber into it, on rails, and out of it at the other end after impregntation. There was to be 140 feet of external track at each end of the pressure cylinder to carry the poles. Two creosote tanks, one of 10,000 gallons capacity and the other 12,000 gallons capacity, were to be provided ..."
"4. ... Council's final inspection took place on 7 June 1968 ... However, on 22 July 1968, the Council wrote to Hasell, referring to a visit by its officers that day, and advising 'it will be necessary to provide a creosote arrestor as stated in Council's building permit of 24th October, 1967 to prevent creosote from entering any water course or private lands'. On 22 August 1968, there was a conference ... Minutes of the meeting record that 'Mr Crawford (Council's Health and Building Inspector) spoke of the creosote finding its way onto a grassed area on the opposite side of the street, and the need to prevent a (recurrence)'; that 'a site inspection indicated that creosote spillage from either end ... of the cylinder was finding its way into the storm water system'; that further inspection showed 'surface water was mixing with creosote spillage', and that Hasell's representative 'indicated that there had been a considerable spillage of creosote as a result of an error when handling the impregnation equipment". It was agreed that 500 gallon concrete tanks were to be fitted to the surface water sumps, designed to enable creosote to be skimmed off the surfaces of the water in the tanks. The ground level was to be graded (plainly, it had not been concreted ...), and work was to be done at the southern end of the cylinder "to prevent surface water coming in contact with creosote laying (sic) under at the end of the cylinder".
"5. Unfortunately, either this work was not all carried out, or it proved inadequate. At a meeting of Council on 26 May 1969, a report was requested "concerning the escape of creosote". ... It indicated that in February 'creoste was finding its way to the creek ... this creek, known as Martin's Creek, was some two to three hundred metres away, and the original escape had been many months earlier. Undoubtedly, it must have been a major spillage ... On June 24, the creek had been found free of creosote."
"6. However, shortly after 14 August 1969, the Council received a letter of that date advising there was 'a pool of creosoty water in the unmade road ... east of Martin Street'. This was an unmade road which extended, from a point in Martin Street about opposite the treatment works, down the slope in the direction of the creek. ... A (Council) report followed on 22 September, which asserted that 'the waste disposal from the pole impregnation plant is continually under review and that further attempts are being made to prevent even the smallest quantity of creosote entering the main watercourse'. ..."
"7. But Council's file shows that the situation was not in fact rectified. There were complaints again, in August 1970, that whenever it rained 'creosote flowed into the creek'. An inspection by Mr Crawford on 16 September 1970 was noted as showing 'creosote oil not removed from pond since last told to do work'. Mr Crawford noted the presence of 'creosote in creek and globules remaining over surface". He specifically noted that Hasell was responsible."
"8. It was also in September 1970 that the question was raised of the proposed use in the plant of copper chrome arsenate, and Hasell was advised to make an application to Council."
"9. On 12 October 1970, Council again wrote to Hasell advising that '(c)reosote was entering the water course', and requiring pits and ponds to be cleared 'at least twice a week so that creosote does not enter the water course'."
"10. On 28 October 1970, the Council approved plans for the installation of two new tanks to contain Tanalith (described as copper chrome arsenic salt) ... the plans suggest that one of them was considerably larger than the larger of the creosote tanks. Council's approval was given subject to the condition that '(d)etails of the disposal of the excess water and salts (be) supplied to Council for approval'. The imposition of this condition gave rise to a letter from Hasell of 13 November 1970, in which it was stated: 'Excess water and salts will not pose any problems. This preservative is totally different to creosote in that it does not require heat, so no fumes are released, and it becomes fixed in the wood cells so it cannot 'run off' or leach out. The only free solution released is when the cylinder doors are opened and approximately 15 gallons runs out into the cylinder door sumps and is pumped back to the storage tank.' ..."
"11. In February 1971, an inspection of the pond on the other side of the road from the treatment works resulted in a letter from the Town Clerk to Hasell of 12 February 1971, which referred to 'a small quantity of creosote oil on the surface' and stated that 'maintenance was needed to the area' ... on 26 January 1971, the Medical Officer of Health of the New South Wales Department of Public Health at Tamworth had written to the Town Clerk referring to samples of water collected from Dumaresq Creek and Martins Gully on 8 April 1970 which, he said, 'were highly polluted by waste water discharged from the Armidale City Gas Works and Hasell's Timber Impregnation Works'. A government analyst's report had previously been forwarded to the Council. It should be pointed out that Martins Creek ... runs into Dumaresq Creek at a point some one to one and a half kilometres away. Dumaresq Creek is the major stream of the city of Armidale. Minutes of a meeting of a Council Committee include the recommendation 'that the Medical Officer of Health be advised that Hasell Impregnation Ltd intend to take legal action regarding their waste products and the Gasworks will cease making coal in six months time' ... Plainly, the problem was seen as still unsolved."
"12. On 16 March 1971, the Town Clerk wrote to Hasell indicating that no advice had been received, and stating that a 'recent inspection of the area revealed that insufficient maintenance was given to the collection of the creosote in the small ponding area'. ...
"13. An inspection report signed by Mr Crawford and dated 6 May 1971 states: 'Large pond opposite not given maintenance for some time. Creosote on surface to outlet. Old 44 gallon drum nearby - water dark brown to black'. The Town Clerk sent a letter to Hasell of 10 May 1971, referring to these and other matters, and directing Hasell 'to tidy up the area, maintain the premises to prevent creosote spillage ... '."
"14. In November 1972, Hasell (now under the control of Allen Taylor and Company Limited) applied for Council's approval to use an area of about eight acres, on the other side of Martin Street from the plant, as an "Air Seasoning yard" for hardwood poles. The application contained the statement: 'It is not proposed to store any treated timber on the area.' This application resulted in petitions being presented to Council, which were said (without denial) to be supported by 227 signatures, objecting to the expansion of the plant and referring (inter alia) to 'the seepage of industrial waste into Martins Gully, which eventually finds its way into Dumaresq Creek (as) a problem which should be of paramount importance'. The Council granted the development consent requested by the company, on 29 November 1972, 'for a period of two years'. In the event, the use simply continued for the life of the timber treatment works."
"15. On 14 May 1973, there was submitted to the Town Clerk a report of the Town Planner concerning a proposed Interim Development Order No. 2 (I.D.O. No.2). This report indicated that land including the site of the treatment works was being considered for re-zoning as residential land ... Consideration of I.D.O.No.2 dragged on for some time. On 16 April 1974 there was a meeting with a Mr Nichols, a representative of the State Planning Authority, attended by members of the Council and by Mr Hegarty, at which Mr Nichols stated (according to the minutes) that he 'considered that area for rezoning to residential from industrial in vicinity of Hassels (sic) Impregnation appeared not to be suitable for area ...' ...".
"16. On 1 October 1974, the then Minister for Planning and Environment of New South Wales issued a document entitled 'Principles and Procedures for Environmental Impact Assessment in New South Wales ...'"
"17. On 14 October 1974, the Council made formal application to the State Planning Authority of New South Wales, asking it to recommend to the Minister, for gazettal, the proposed new I.D.O. No. 2 for the City of Armidale, including the proposed change of zoning of land in the vicinity of Martin Street to residential. Minutes and reports which are in evidence show that this was regarded by the State Planning Authority as controversial in view of the existing industrial use. As at 28 February 1975, according to the documents, it was understood the land on the opposite side of Martin Street from the treatment works was being used 'for storage of treated poles', notwithstanding that permission to use this area had been based on an assurance the use would not use treated poles ... At a meeting of Council held on 21 April 1975, Mr Nichols 'explained to Council that careful consideration would have to be given to future consequences of rezoning area to residential in view of their future compatibility with residential development.' ..."
"19. On 22 April 1975, the Council wrote to the New South Wales Planning and Environment Commission, which by then had replaced the State Planning Authority, reaffirming its proposal to re-zone the land in question ... On 5 September 1975, I.D.O. No.2 was finally gazetted. As gazetted, the interim development order provided for the land in the vicinity of Martin Street to be included in a residential zoning ..."
"20. On 26 September 1975, there was forwarded to the Council a petition by residents of the area near the impregnation works, signed by a very large number of people, which referred to the 'smell which pervades our houses when the wind blows in our direction for if we ... leave our windows open our homes are impregnated and it is a very nauseating odour which also has an action on nose and throat', and as well to problems of noise and dust. The result was an inspection of the plant by Mr Crawford with a representative of the State Pollution Control Commission. The Commission wrote on 12 December 1975 to the Council. ... 'agreed that the odour emanating from the premises could be a nuisance at times to residents in the vicinity',and the letter added: 'Run-off from the premises drains into Dumaresq Creek through a waste water treatment system installed on the premises. However, the Commission is currently investigating the quality of this surface water emanating from the premises, and should it be found to be unsatisfactory, action will be taken by the Commission to ensure that the quality is upgraded to an acceptable standard.' ..."
"21. But on 13 December 1976, there was an escape, attributed by the Council's City Health and Building Surveyor, Mr Crawford, to vandalism, of about 3000 gallons of copper chrome arsenate. This occurred when the cylinder was opened after it had been about half filled with the solution by some person unknown. The doors could not be closed against the rush of such a large quantity of liquid, and it poured out, entered the drainage system, and heavily contaminated a section of Martins Creek ... pumping out of the pond across the road from the treatment works and disposal in the Council's waste disposal area. The top 18 inches of sediment left after the pumping out of the pond was also removed by backhoe and transported to the city dump."
"22. ... Mr ****, who did give evidence, insisted that the Tanalith did not flood the plant site, except perhaps to a minor extent, but flowed directly through the drainage system. I found it quite impossible to accept that evidence. It was directly opposed to an eye-witness account ... The drainage system was not designed to cope with a flow of 3,000 gallons from a cylinder of a diameter of six feet, and I am quite satisfied there must have been an extensive flow of the solution over the gravelled surface in the vicinity of the cylinder. Of course, it is plain that a very large quantity of the solution eventually found its way into the pond, and even into Martins Creek". (The Council failed to call upon their staff member who was most knowledgable of the spills).
"23. ... a minute of the State Pollution Control Commission dealing with the incident contains the statement: 'An inspection of the premises had been carried out by Mr *** (an officer of the Commission) approximately a week before the incident, as a result of which it was proposed to serve a notice under the Clean Waters Act on the Company to improve the drainage system'. It is apparent, therefore, that pollutants had in fact been continuing to escape prior to the disaster on 13 December 1976. Indeed there is no indication at all in the evidence that either the hope expressed by the Council in 1971 or the assurance it had given the petitioners on 11 February 1976 had ever been more than empty words".
"24. On 31 December 1976, the State Pollution Control Commission sent a formal notice to Hasell requiring it (inter alia) to do the following things:
a) Within 60 days of the date of this notice construct a bund around the impregntation and storage facilities, with a capacity to hold the total volume of treatment liquids stored on the premises. The bund shall be fitted with a pump well and shall not contain drainage valves. ...
d) Within 60 days of the date of this notice cease discharging wastes, other than uncontaminated stormwater, from your premises to nay waters."
Earth bunds were constructed in 1977 in response to this notice. It would appear that the completion of the bund walls probably effectively prevented further spillages escaping from the treatment works. However, there is nothing to suggest that the features of the operations which had produced these spillages in the past were remedied in any way, and the inference is that continuing spillages were absorbed in the treatment area, being unable to flow past the bund walls".
25. ... Evidence was also given at the hearing by a Mr. A.R. Bracken, now a security officer at the University of New England, who was employed by Hasell during the period from early in 1972 until May of 1977 ... For much of the time, he was employed as one of three fork-lift operators, but he also operated the pressure cylinder. He described the treated poles as "dripping" after they came out of the process, and as continuing to do so for a considerable time. ..., the area occupied by Hasell received a quantity of creosote as well as some Tanalith... He said also that when the doors of the cylinder were opened, the creosote or Tanalith would run out into little sumps at either end. It was not pumped back out of the sumps. As far as Mr bracken knew, the liquid used to seep out and ended up in the pond, which he described as a "little dam across the street".
26. Mr Bracken described the filling of the creosote storage tanks from tankers. Creosote was pumped from tanker to storage tank, and sometimes the pumping would continue after the tank was full so that there was an overflow. It was different with Tanalith, which used to come in 44 gallon drums in powder form. The drums were then lifted onto a platform, to be tipped into the mixing tank which contained water. Sometimes, Tanalith powder was spilled, particularly if there was a heavy breeze.
27. One of the jobs done by Mr Bracken, although it was also done by others, was the getting rid of waste creosote and Tanalith. The waste came from the cylinder. It was tipped into 44 gallon drums stored nearby. Mr Bracken described a process of washing the cylinder with detergent, when there was a change-over from use of creosote to use of Tanalith, and vice-versa. The sludge, when the drums were full, was picked up by a fork-lift and dumped elsewhere on the plant site. He personally used four or five different locations on the site where he frequently tipped out the drums, but he noticed that other workmen tipped drums elsewhere on the site as well as in the spots he used. Asked to mark the various areas on a plan, Mr Bracken said:
"It was rampant, you know, they used to tip out in various places here and there, just odd drums. I wouldn't say it was exactly tipped out in those five locations. There was different places where I used to get a drum when that area was mostly full, I used to just drop a drum in between wherever I could."
He used to drive in between the stacks of poles to tip drums. Eight or nine drums were used, and when were all full they were tipped, about three or four times a month. The drums usually contained both Tanalith and creosote. This went on throughout the time he worked at the plant. As he said "that is the only way they got rid of the liquid". Creosote was also cleaned from the pond across the road into 44 gallon drums.
28. Mr Bracken described how the logs which had been treated continued to drip. It depended somewhat on the species of timber. Blackbutt, in particular, absorbed a considerable quantity of liquid, and then dripped. He used to stack logs with the fork-lift. To do that, he might transport them several hundred yards across the site while they were still dripping. Some of the poles had holes in them, which would fill with liquid, and when the pole was turned during stacking the liquid would run out. Rain, of course, would also wash some of the liquid off it it had not completely dried. Mr Bracken said you would see the colouring around the stacks. The creosote was observable on the ground. From time to time, when the operation of the fork-lifts had made holes i the ground, truck loads of gravel would be spread over the inequalities to restore the working surface. This, of course, would result in the burying of creosote and copper chrome arsenate previously lying on or near the surface.
30. ... I think the most probable conclusion from this is that the creosote accumulated in the arrestors installed when the plant was originally commissioned was not skimmed off, and the result must have been that over a period of time they ceased to function effectively. That fact would help to explain why the pond or dam across the road was hardly ever free of creosote. It must also have received quantities of arsenic, which would have been less obvious. It is, indeed, not suggested that the arrestors, designed as they were upon the principle that creosote floats on the surface, would have been effective against arsenic contained in the water.
31. Mr Bracken was the workman who opened the southern door of the cylinder on the occasion when there was an escape of some 3,000 gallons of Tanalith. He said "it just gushed out" and "flooded the whole area". He described it as "an enourmous amount", the force of which almost knocked him over. Of course, if the statement in the contemporary records that the cylinder was "half fill(ed)" is correct, there would, as a matter of simple calculation have been over 6,000 gallons in it, and the figure of 3,000 gallons estimated as the quantity which escaped, despite Mr Bracken's eventually successful attempts to re-close the cylinder, does not seem to be exaggerated. Asked where the liquid escaped to, Mr Bracken said:
"Well, it went wherever the ground was level, I suppose, it just went all over the place, all that area there and up through, up along the cylinder, in through the workshop, over the road, in and around these poles. But they did not go up hill because there was a grade off the slope, it wouldn't have went up the slope."
32. ... It was demonstrated that in some areas the contamination was very heavy. On at least two of the allotments into which the site has now been divided, it has been found necessary to lay a membrane in the soil in an attempt to contain the contaminants. After rain, a creosote scum has been observed on the surface of the ground. The odour of creosote has given a resident headaches, and caused other residents and visitors to the area to complain of the "terrible" smell of a burning sensation in the back of the nose. Digging, on one lot in particular, revealed significant quantities of visible creosote.
33 ... Contamination of the site is patchy, and is particularly heavy at various places in the vicinity of where the cylinder was, and where it is assumed sumps were located. There are also patches of contamination corresponding with areas where the dumping of the contents of 44 gallon drums filled with waste creosote and Tanalith may have occurred. It is probable that some of these patches of contamination were in fact caused in this way. Arsenic and PAH are present, in the main, in the upper layer of gravelly ground, which could have been removed and replaced before the land was subdivided. Once houses were erected, the problem was magnified. Arsenic and PAH are carcinogenic as well as toxic, and where both are involved there may be a synergistic effect, presenting a particular hazard in areas in which young children may play. It is known that some young children eat significant quantities of dirt (the phenomenon has a name - it is called pica, from the Latin word for a magpie); young children generally absorb dirt to an extent which was estimated in one scientific paper tendered in evidence at 100 mg. per day (but an elaborate study by John K. Hawley, of the Bureau of Toxic Substance Assessment, New York State Department of Health, put the figure at 160 mg. per day for children aged 2 1/2 years - and that is in the harsh climate of New York, where children might be expected to be outdoors less than in Australia; and vegetables grown in backyard gardens may take up substances from the soil. Of course, in sufficient quantities, pollutants may inhibit the growth of plants, and there was evidence that in some of the areas in question here grass and trees would not grow, or the grass was patchy and the trees were stunted. ... there is evidence that turning over the soil has revealed visible creosote, and the offensive smell of creosote has invaded homes on the land. One of the problems for any remediation is that the contamination varies greatly in intensity from spot to spot, so without removal of the entire upper layer of the ground in the area, it would be difficult to be confident that strong concentrations of PAH or arsenic or both had not been bypassed...
34 ... a careful Town Planner, who had ascertained those facts, would not have permitted the development of any of the land in question in this case for residential purposes without prior investigation and remediation. He would have borne in mind that children wander throughout the vicinity of their homes, so as to be exposed to contaminants on neighbouring properties and in parks; and therefore remediation could not properly be delayed until after the subdivision, when work on one part of the area could be rendered useless because similar work had not been done elsewhere.
35. At some stage in or shortly after 1979 or 1980, the timber treatment works was relocated in a different area of Armidale, and the operations which had been carried on upon the site since 1968 came to an end. On 29 October 1982, the land was conveyed for a consideration of $65,000 to the second respondent, Basia Holdings Pty Ltd. On 3 May 1983, permission was sought of the council for the use of the land as an overnight truck storage depot. Consent was granted on 14 July 1983, apparently on the basis that the application conformed with an existing industrial use. The documentary evidence suggests that, at the time, re-zoning for light industrial purposes was under serious contemplation.
36. Then, on 4 July 1984, after some discussions with officers of the Council in the early part of that year, Basia Holdings Pty Ltd submitted a development application, under s. 77(3) of the Environmental Planning and Assessment Act 1979 (NSW), in relation to the land being the former site of the timber treatment works. The development for which consent was sought was described as: "Subdivision into 9 Lots of (sic - scilicet as) part of an overall proposal to subdivide the property." The proposed development was described in an accompanying document, submitted by a consulting surveyor on behalf of the company Basia Holdings Pty Ltd as a "STATEMENT OF ENVIRONMENTAL EFFECTS", as providing "a residential area for 40 home sites together with an internal roading system and a Public Park." It was stated: "The soil appears to be a clay based and through previous industrial use has nearly a full cover of consolidated gravel. There are no unique features associated with the land and there has been no known reserve of minerals." The surveyor also stated, under the heading "Engineering" "The land is considered physically suitable for residential living. ... Drainage will be out of the subdivision and into the natural watercourse of Martin Gully and there will be no detrimental effect to other properties." ...
38. On 23 October 1985, Basia Holdings Pty Ltd sold to the applicant the residue of the land which was the former plant site ...
39. A further development application was lodged on 31 October 1985, referring to the earlier approval, and seeking devlopment approval for the second stage of the subdivision. Again no objection was raised by any department of the Council ... Development consent was given on 29 November 1985, and notified on 4 December 1985, for what was described as "the 27 lot subdivision ... nor ... , was there any mention of any problem of contamination of the site or possible contamination of the site by creosote or Tanalith.
40. In very general terms, the nature of the previous use of the land, including the fact that it had involved the application of creosote to timber, was known to the director of the applicant, ***, but the details were not known to him, and he had no reason to suspect that the site itself had been contaminated. Development of this land for residential purposes had already been the subject of final development approval, so far as the nine lots of the first stage, which fronted Martin Street, were concerned, and tacitly the development of the whole area, subject to a suitable subdivisional plan, had already been approved, before *** was introduced to the site...
41. Following the approval of the second development application, the plan of subdivision was also approved, and it was registered on 9 December 1985. Thereafter, settlement of the purchase of the land took place on 3 February 1986. Subdivisional works proceeded during the latter half of the year and into the following year, their completion to the Council's satisfaction being notified by it on 15 April 1987.
42. On 27 November 1987, the applicant made a further development application to re-subdivide lot 14 of the subdivision so as to create new lots 14 and 26. This was approved on 15 December 1987.
43. On 22 October 1987, the applicant had contracted to purchase what was in the evidence "the East Martin Street property" for a price of $48,000. This was the property on the other side of Martin Street, which had been used for the drying of poles during part of the period of operation of the treatment works. Settlement of this contract took place on 26 June 1988. The land was bought for the purpose of further residential development.
44. The applicant constructed and sold homes on three of the lots in the first stage of the 27 lot subdivision. The sales of these three lots all took place in the period April to July 1988. Other lots in the first stage of the subdivision were sold as land, and building contracts were entered into in respect of the construction of housing upon ten of the lots. On 21 September1988, a development was approved to subdivide lot 22 into two building blocks which became known as lots 30 and 40. From about October 1988, the applicant commenced selling blocks of land in the second stage of the 27 lot subdivision. Seven of the 12 lots were sold. The applicant has been unable to sell the balance of the blocks.
45. During the period between 6 September 1988 and 20 February 1989, the applicant purchased a further five lots from Basia Holdings Pty Ltd, being lots 1,2,5,6 and 7 of the first stage of the subdivision which had been carried out by Basia Holdings Pty Ltd. Four of these lots were resold. Three duplexes and a house were built on them under contract by the applicant.
46. Mr Finlayson, the applicant's director, first became aware of the site of the former treatment works was affected by contamination in February 1990, when a statement was made on television by the Mayor of Armidale. On 1 March 1990, a letter was received from the Council stating that, in order to determine the extent of the contamination, soil sampling would have to be undertaken at one of the lots. The applicant authorized this to be done, and it also terminated a building contract on which it had expended approximately $8,000 entering into a fresh contract with the client to build an identical residential building elsewhere.
47. During the hearing, there was admitted into evidence a formal admission by the Council, expressed in the following terms:
"Subject to the reservation in paragraph 4 below Armidale City Council, for the purposes of the determination of the proceedings, (other than the matters the subject of the orders for seperate determination - the damages questions) admits:
1. That at all times since 1 January 1973 some of the parcels of land referred to in the Schedule below were potentially contaminated with PAH's (sic) from creosote and arsenic from CCA levels that -
(a) exceeded background levels;
(b) required some action - either of investigation, evaluation, or remediation - in connection with any residential use of the land.
2. That at the time of the subdivision applications in 1984 and 1985 some of the parcels of land in the Schedule that were the subject of the residential subdivisions were in fact contaminated with PAH's from creosote and arsenic from CCA at levels that -
(a) required some action - either of investigation, evaluation, or remediation - in connection with any residential use of the land,
(b) would have been discoverable at the time.
3. The Armidale City Council admits that, if the issues of duty and breach are determined against it, the admissions in 1 and 2 above are insufficient to establish that Alec Finlayson Pty Ltd suffered some damage sufficient to complete a cause of action.
4. The Armidale City Council reserves -
(a) its denial of the existence of any relevant duty of care owed by it to Alec Finlayson Pty Ltd in respect of the loss claimed;
(b) its ability to contend that any failures by it to consider the potential contamination of the land was not a breach of nay such duty of care; and
(c) its denial of any reliance by Alec Finlayson upon either, any action taken by the Council, or any omission or inaction by the Council...
49. ... the is powerful circumstantial evidence to show that the Council, through its officers, was well aware of the contamination of the site ... and that those officers simply failed to apply their minds to the question whether the contamination ought to be investigated, in order to ascertain its extent and to determine whether it required remediation. Time and time again, the Council had received complaints about pollutants emanating from the site. At meetings of the Council ... detailing the consequences for the land and waters, up to a kilometre and a half away, of the spread of creosote and copper chrome arsenate from the treatment works. It is not believable that the Council's officers thought the pollution only began outside the boundary of the land. Unfortunately, it is all too believable that they gave no consideration to its implications in relation to the site itself, since, over a period of many years, they did nothing effective about its implications for the adjoining land, the residential environment, Martins Creek and Dumaresq Creek.
50. My conclusion that no serious attempt was made to remedy the situation is supported by a number of considerations. First, the fact is that the pollution went on for years until the State Pollution Control Commission (SPCC) issued a directive; it then ceased in respect of the area outside the site, so far as the evidence goes, immediately and permanently. In other words, effective measures were perfectly possible. The bund which the SPCC required the operator to construct was a simple and obvious measure. Secondly, there is no indication in the Council's own documents which were tendered in evidence that anything was done during the previous years to insist that the situation be truly remedied. The picture presented by the Council's own documents is of a series of defensive reactions to complaints. Assurances were given, but were not followed up. The continuous pollution of the pond across the road from the treatment works demonstrated that something was wrong, but not only was it allowed to go on for years; more significantly, there is no indication from the Council's records of a serious attempt to ensure that the problem was actually remedied, rather than palliated... Thirdly, the Council was made unmistakably aware of the serious potentialities of the operations carried upon the site on at least two occasions when very major spillages of, in the first case, creosote, and, in the second case, copper chrome arsenate, occurred.
51. As a matter of inference from these circumstances, and in the light of the evidence which provides their setting, it seems to me overwhelmingly probable that the officers of the Council knew that the substances used in the treatment of the poles and other timber regularly escaped from the supposedly closed system involving the cylinder; they knew that the operations were not being conducted with appropriate care to avoid the escape of contaminants; and they knew that waste materials were disposed of on the site. As to the last matter, the evidence is that Hasell was instructed by Mr Crawford to skim off creosote from the pond regularly, and that it in fact did so from time to time. The scum of creosote and water must have been disposed of somewhere. Similarly, the sumps were designed to be skimmed off. It must have been obvious that either the scum from the sumps also required to be disposed of or,
TO BE CONTINUED
Mordialloc (Vic) 1991
Mordialloc/Chelsea News April 16, 1991
Page 1: EPA terrorises us: timber firm by Melissa Cranwell
A Mordialloc timber treatments company claims an EPA order to clean its premises is an example of the State Government 'terrorising industry'.
The EPA served a clean-up notice on Timber Protim Treatment on April 5 after soil samples taken at the site in February revealed contamination.
The two samples were taken at the Governor Road site after a complaint that CCA was flowing from the plant on to Governor Rd, but a company spokesperson said there was no CCA on the site.
The contaminants identified by the EPA were liquid petroleum hydrocarbons and pentachlophenol.
The spokesman said he could not understand why contaminants had been detected because the Protim plant was "leakproof".
The only explantations for the find, he said were:
-sabtotage (someone intentionally pouring chemicals on the site);
-someone disposing of a small amount of residue in the garden area near the plant, or;
-A plant leak during past operations "but these seem highly unlikely", he said.
"The EPA are not serving the community by doing this. They are just sensationalising rather than trying to work with us" he said.
He regarded the EPA approach as one of "terrorising industry".
With the EPA order came a $290 invoice for the preperation and enforcement of the notice - an invoice the company refuses to pay.
The company spokesman said the company had not asked the EPA to investigate the site and while Timber Protim Treatment would comply with the clean-up order it was not prepared to pay the EPA's costs as well as its own.
The Protim plant treats radiata pine from Australian solar plantations to make it suitable for use. This is an alternative to using imported timber from tropical rainforests.
The company, which has been in Mordialloc for more than 40 years has already complied with part of the EPA order to employ environment consultants to prepare a full report on the area concerned.
The clean-up order to the company said "'environmentally hazardous substances' had been found on your premises. Your premises has been listed on the authority's register of contaminated sites," the order said. "Removal of your site from the register will depend on a satisfactory investigation - clean-up report.
Mount Gambier (1995)
More Details of this event coming soon.
Border Watch 10 March 1995 CSR acting on new EPA directives
Works are continuing at CSR Softwood's Mount Gambier plant to comply with requirements handed down by the Environment Protection Authority after a hazardous chemical spill.
At the same time, the company is negotiating with the EPA as to how to meet the requirements within imposed deadlines.
A quantity of 2.7 percent copper chrome arsenate solution escaped into groundwater when more than 15,000 litres of the liquid was spilled from a storage cylinder at CSR Softwoods. The chemical found its way underground via a drainage bore on the site.
The EPA consequently issued a notice to CSR Softwoods under the Water Resources Act to take measures to ensure this sort of spill could not happen again. The company was directed to convert the drainage bore to a production bore.
Also, it was required to srill a series of observation bores near the drainage bore to monitor groundwater contamination.
Further, the company was directed to construct bunding sufficient to contain 120 percent of the capacity of the 65,000 litre CCA storage cylinder. An existing sump beneath the cylinder can contain around 30,000 litres. The drainage bore has now been converted to a production bore and is operational pumping groundwater from the area where the contamination occurred.
CSR Softwoods, Regional Manager, Mr Bill Howley, said from Melbourne that testing from this bore would continue, but he did not have results on hand. He emphasised groundwater testing had been going on at the plant for five years. "It has not started with this spill."
A replacement drainage bore has been drilled about 100 metres north-west of the other one and is expected to be operational from today. The EPA has instructed the company to drill the required observation bores by March 15.
Meantime, new bunding is still in the planning stage. Mr Howley said this would be a significant project, but not huge, and he did not yet have final costings. "We're going ahead and trying to get it completed within very tight time constraints," he said.
Negotiations were continuing with the EPA as to meeting a March 30 deadline. Mr Howley pointed out that "previous arrangements" at the site did meet existing regulations. "What's being asked are significantly increased requirements to help provide greater protection of the underground water in the area," he said.
These requirements fell in line with draft standards for all timber treatment plants in Australian and New Zealand. "We are trying to co-operate fully with these people," Mr Howley said.
TO: Minister for the Environment and Natural Resources
FROM: Senior Water Quality Officer, OEPA
SUBJECT: Question without notice in the Legislative Council about the CCA spill in Mt Gambier at CSR Softwoods
DATE: 14 March 1995. THROUGH: Manager, Monitoring and wastewater, OEPA Executive Director, OEPA Chief Executive, DENR The attached reply is suggested to the Parliamentary Question Without Notice (QWN 29/95) asked by Hon. Terry Roberts, Member of the Legislative Council and Opposition spokesman for the Environment and Natural Resources on 8 March 1995.
Question
What changes has CSR made to its current work and confinement practices at the discharging and holding areas for dangerous chemicals that it uses; and will it make sure that such a spill will not occur again?
Suggested answer
Softwoods Holdings Ltd, trading as CSR Softwoods, was issued a Notice under Sections 55 and 56 of the Water Resources Act on 1 March 1995 requiring the following range of clean-up and prevention actions at their timber treatment plant on Millicent Road, Mt Gambier:
*convert the drainage bore which allowed up to several thousand litres of CCA to accidently spill into the unconfined groundwater aquifer, into a bore to be used as a source of water for making up the CCA solution to process strength for timber treatment (this was aimed at ongoing extraction of groundwater which could be contaminated with CCA);
*establish bunding around the existing CCA pressure cylinder to provide 120% containment capacity, excluding any sludge volume which may accumulate within the bunded area from time to time (this was aimed at avoiding groundwater pollution problems caused by any similar accidents at the site in future);
*ensuring that any vehicle travelling into and around the drip pad area, where timber is allowed to stand for three days immediately after treatment with CCA, does not lead to ongoing contamination of other areas on the site (it is likely that vehicles with CCA contaminated tyres have caused small ongoing quantities of CCA to be transported to other areas where rainfall and runoff to drainage bores has lead to elevated levels of copper, chromium and arsenic in groundwater monitoring bores on the site).
In addition, the company has been asked to investigate the nature of cavities in the limestone walls of drainage bores located near the CCA pressure cylinder to help determine where further observation bores should be drilled to allow sampling of groundwater which has been potentially contaminated by the CCA spill on 22 February 1995, and to undertake sampling and analysis of water in the new bores for copper, chromium and arsenic according to sampling frequencies recommended by the Office of the Environment Protection Authority.
Following the commencement of the Environment Protection Act in May this year the company will also be required through licencing under the new Act to undertake ongoing monitoring of groundwater underneath the site and perform such improvements in the design and management of their CCA timber treatment process as necessary to ensure that rainfall draining off the site into the groundwater system is producing water with CCA concentrations no higher than drinking water standards.
Question
What potential for damage is there to both the confined and unconfined aquifer in the area?
Suggested answer
The Softwoods Holdings Ltd site, like most parts of Mt Gambier, is directly underlain by soil and sedimentary strata which allow for ready movement of rainfall and runoff into subsurface layers and ultimately the unconfined aquifer.
Therefore, it is susceptible to contamination from accidental chemical spills and industrial sites, stormwater runoff from roads and other hard areas, and general percolation of rainwater carrying pollutants from soil surface to subsurface into the aquifer.
The unconfined aquifer which occurs at much deeper levels below ground is not susceptible to pollution from these types of sources in Mt Gambier because it is overlain by a blanket of clay and other material which does not allow for ready downward leakage of water from the unconfined aquifer.
The CCA spill at Softwood Holdings Ltd discharged into a drainage bore containing karstic features which allowed for ready movement of the CCA into underground cave systems.
This has made recovery of the CCA and monitoring of its impact on groundwater quality difficult. However, due to vast quantity of water present in the unconfined aquifer the rate of dilution will be very great. The likelihood of groundwater below the site eventually reaching Blue Lake and the travel time for any copper, chromium and arsenic contamination to get into the lake is very difficult to predict due to the complex nature of the hydrogeology of the area.
Overseas research and water monitoring in the Mt Gambier region indicates that:
*the copper in CCA is unlikely to migrate far in groundwater due to the formation of chemical complexes with organic matter in stormwater and carbonates in limestone;
*chromium in CCA is likely to be quite mobile in groundwater; and
*arsenic in CCA is quite mobile but some forms may be absorbed and/or form chemical complexes with organic matter and a wide range of materials in clay and limestone.
Softwood Holdings Ltd has been monitoring groundwater quality, including copper, chromium and arsenic concentrations, for five years at various locations around their site and, as indicated in my answer to the previous question, will be required to intensify the monitoring in the vicinity of the bore where CCA was accidently discharged on 22 February 1995.
Industrial chemicals such as CCA have never been detected in the Blue Lake. This may be ascribed to the high dilution and/or natural chemical attentuation processes which I have briefly outlined. However, there is no room for complacency about the potential for pollution of the Blue Lake and the unconfined aquifer in general. Groundwater monitoring at specific industrial sites in Mt Gambier, across the unconfined aquifer within the region and in Blue Lake itself will be continued by this government and where necessary remediation will take place or alternative water supplies arranged.
Border Watch p3 21 March 1995 Extensive cave network has cavities... UNDERGROUND WATER THREAT
The timber treatment chemical spilled at CSR Softwoods last month could have escaped rapidly into underground caves, according to the Environment Protection Authority.
The EPA's Emergency Response Co-ordinator Phil Hazel, said video cameras in several drainage bores at the site had revealed an extensive underground cave system. He said a large number of cavaties were found in the walls of the bore believed to have carried several thousand litres of copper chrome arsenate solution to groundwater.
This happened in an accident, on February 22, when more than 15,000 litres of the liquid were spilled from a storage tank at CSR Softwood's Lakeside plant. The company began pumping water from the bore that night, but within 30 minutes it had run dry, with sediment plugging the hole.
Mr Hazel said holes had been found just above the level where the sediment was. This gave the impression that the chemical had escaped into the cave system and into groundwater, and could already be remote from the entry point.
Mr Hazel believed the CCA had probably moved north-west and south-east from the bore hole, as this was the direction the cave system ran. He said three or four more "observation bores" would be drilled for an accurate assessment of the cave system and to show the level of groundwater contamination.
"It's thought that the CCA went down the hole and spilled into the cave system quite rapidly," Mr Hazel said.
"We are trying to investigate the impact on the groundwater in the cave system."
The drilling of the observation bores is being co-ordinated by Mr Jeff Lawson of the Department of Mines and Energy in Mount Gambier.
Meantime, CSR Softwoods is likely to spend more than $50,000 to meet bunding requirements handed down by the EPA. "The company is having to spend a fair amount of money," Mr Hazel said.
"They told me $50,000 or more, and were having to reassess their entire CCA timber treatment process at that site."
The EPA issued a notice to CSR Softwoods last month, under the Water Resources Act, to take certain measures to ensure this type of spill would not happen again. One of the requirements was to install bunding sufficient to contain 120 percent of the capacity of the 65,000 litre CCA storage cylinder. An existing sump beneath the cylinder can contain around 30,000 litres. Mr Hazel said he understood CSR Softwoods was looking at options for spending "a bit more" than $50,000 and upgrading to a more modern facility. He explained the company currently had limited space near the CCA cylinder for treated timber to dry on a drip pad.
After three days, the timber was being moved to another site for the chemical to fix properly. An investigation continues into whether the State Government should take legal action against CSR Softwoods for breach of the Water Resources Act. Mr Hazel said Mr Richard Talbot, from the Attorney-General's Department, had been interviewing a number of people about the chemical spill's impact on the groundwater.
These included CSR Softwoods staff, and personnel from the Department of Mines and Energy and Environment and Natural Resources. Mr Hazel said it would probably take three months to assess whether the government would pursue any court action. Mr Talbot would undertake primary assessment of the evidence, to go to the Crown Solicitor's office.
Anonymous letter written to Executive Director of the EPA, Mr. R. Thomas. 10/3/95
Dear Mr Thomas,
I write to express my personal concern about the recent spill of CCA solution at the CSR Softwoods, Lakeside Mill.Rather I should say, concern that the circumstances should have made this possible.
I realise the EPA is set upon a lengthy and detailed program aimed at improved care and responsibility through requirements for E.I.P's etc and good though that this is, I cannot accept an incident such as that should ever have happened.
Having spent much of my work life about that and many other mills I can say 'normal', good management would have prevented such a serious spill. I am puzzled why your inspectors and CSR have never made sure bunding beneath cylinders or stock tanks is equal to containing full loads of the cylinders/tanks or that plant maintenance and operating procedures were adequate enough to prevent spills from going into public drains.
The ABC television and press reports, pardon me saying so, give a distinct impression that there is sympathy to CSR by the EPA and this 'unfortunate' incident was an accident not worthy of penalty.
Given the ability and knowledge CSR and other like companies have from years of running such plants, it is absolutely inexcusable for them to lose control and pollute like that.
Equally, such offenders should not be given opportunity to shelter behind an EPA busy with (much welcome) reforms. There are still laws in force and there are others like me now waiting to see application of these laws to such offenders.
Yours Faithfully
For information regarding potential impacts on Mount Gambier's drinking water supply click here.
Wood Treatment Facility Contaminates Louisiana Community
According to a September 5, 2001 report by the Environment News Service (ENS), Bossier City, Louisiana, home of the former Lincoln Creosote Plant, has some of the highest levels of chemical contamination, cancers and birth defects ever documented in the United States.
ENS reports that the Lincoln Creosote plant is now a Superfund site on the National Priorities List of the most hazardous sites in the country.
Like many wood treatment facilities, it was operated adjacent to a residential area, exposing hundreds of people to toxic chemicals. During its 30+ years of operation, the plant produced telephone poles and railroad ties, treated with creosote, copper-chromium arsenate (CCA) and pentachlorophenol (PCP). Neighbours of the plant believe their health problems, including sterility, birth defects and several forms of cancer, are a direct result of the wood treatment facility.
Others argue that these diseases are merely chance, or the result of bad genes. However, Dr. Patricia Williams, a medical professor from Louisiana State University found that the incidence of leukemia in Bossier City from the late 1970s to the mid-1990s is as much as 40 times higher than normal populations. She also discovered that incidences of birth defects are 300 percent higher that those recorded during a comparable time period in Osaka, Japan, the site where the U.S. dropped an atomic bomb during World War II.
Although a lawsuit involving 2,100 current and former residents was settled out of court with Lincoln Creosote last year, many of the plaintiffs were disappointed because they received no funds for future medical monitoring expenses and no compensation for their children and grandchildren who suffer from secondary exposure, reported ENS.
Bossier City resident Michael Davis, who worries about his daughter Brittany who started menstruating at age six and still suffers from growth hormone deficiency, asks, "Why was consideration not given to children not living at the site but bearing the weight of the effects?" Beyond Pesticides has published two reports on the health risks linked to exposure to CCA, penta and creosote.
Poison Poles examines the toxic trail left by these chemicals through manufacture, use and disposal. Pole Pollution focuses on EPA's health risk of penta. Both reports are available on Beyond Pesticides' website. http://www.beyondpesticides.org/
"The company, Hyne & Son currently operate a treatment facility at Granville, Maryborough. Some time ago they had a 7,000 litre spill at that site and have placed signs in the adjacent block saying do not enter, Environmentally Controlled Site. A more appropriate notice would read, Environmental disaster. The neighbours bore, across the road, has green water coming out of the taps. A house block down below the Environmentally Controlled Site is known to be contaminated. The Granville plant is located at approximately Latitude (South) 25E32'53" and Longitude 152E43'0".
Dartmoor Background: Applied for licence in June 1973. Licence issued by EPA (Licence Holder "Dartmoor Properties" . . . July 1976 - EPA inspects premises at Dartmoor. Discovered company using CCA treated shavings in boiler fuel. EPA pointed out breach in licence. " During our inspection we noted that the emissions from the boiler were a little darker... When asked what fuel was being used in the boiler, **** said bark, sawdust and some treated shavings. **** and myself quickly pointed out to **** that the use of CCA treated shavings as boiler fuel was not permitted, and was in breach of Schedule A condition of the companies licence. **** said that there will be no more burning of treated shavings, as the parent company in Mount Gambier is going to use the treated shavings in the manufacture of particle board". 8Dec 1977 - Company applied for transfer of licence from old company name (Dartmoor Properties Pty Ltd) to new name "Softwoods Dartmoor Limited". Dec 1980 - Schedule B licence inspection carried out. Plant - 3 cyclone systems and one wood-fired boiler. Wood waste sent to S. Australia for board manufacture. Dec 1984 - EPA issues draft amended licence (19/12/84). Amended licence includes emissions to land. Some objections from Shire of Portland to disposal to land. May 1987 - Complaint (resident, Dartmoor) re: black soot from boiler stack at pine mill. Long running problem. July 1987 - Complaint (employee, pine mill) re: soot and particulates from boiler. August 1987 - Inspection of premises. Complaints substantiated by photos of soot on pool cover etc. *** pointed out non-compliance with licence conditions 10 and 11. Matter discussed with Softwoods P/L and complainant (employee). Sept 1987 - EPA sends letters to Softwoods, requesting action (within 21 days) re: complaint of soot/particles. Oct 1987 - Softwoods reply to EPA with plans for modifications (prepared by "Steam Research and Development Service". CSR go ahead with work/upgrade.
On 28th October 1996, a leak in the base of the 2.5% copper chrome arsenate (CCA) storage tank was discovered. Suspicion of the tank was raised when a loss of 6,000 L of CCA was recorded over the weekend (26-27 October 1996), no prior loss of CCA from the tank was evident. On the morning of the 28th October a loss rate of 150L/hr was recorded. The tank was promptly emptied, cleaned and inspected, an estimated 6-7,000 L of 2.5% CCA solution was lost overall. The tank consists of a cylinder, approximately 5 m in length and 4 m diameter, which is buried vertically (ie the base of the tank is 5 m below ground level) with the top end open. The leak occurred in the floor of the tank and appears to be the result of corrosion.
CCA Leak Dartmoor (from EPA FoI Request)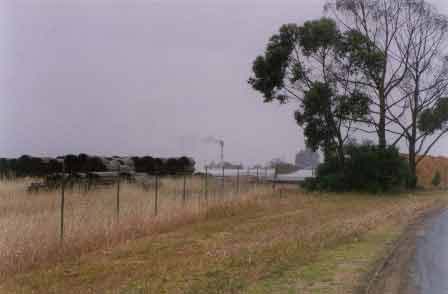 Dartmoor - Victoria. The GTFP timber mill which was the site of a toxic leak occurring in 1996 when the mill was under the management of CSR. 8000 litres leaked from a storage cylinder into groundwater. Fears were held that the towns water supply would be contaminated. Note wafting smoke from chimney at the mill. In the past CCA sawdust and scrap wood was burnt in furnaces at the mill.
31 Oct 1996 - Melbourne 3LO Peter Couchman 8.41AM interview with Dr Graham Rouch, Victoria's Chief Health Officer, regarding possible contamination of Dartmoor's water supply.
Peter Couchman: . . . Well, we've got news this morning of an apparent serious contamination of the water supply at Dartmoor in the south-west of Victoria . . . But the residents there were letterboxed by the Department of Health yesterday afternoon warning them that they shouldn't use water from the town supply, or even the Glenelg River at Dartmoor for drinking, cooking, bathing or even gardening.
Now, the notices handed out by the health department say that it believes the water supply may have been contaminated by a poisonous solution of copper chrome arsenate. The local council, I understand, is trucking in water today to the residents. But there appears to be a connection here with the disappearance of more than six thousand litres of copper chrome arsenate from an underground storage tank in the CSR timber treatment plant at Dartmoor . . .
Couchman: How do you lose six thousand litres of copper chrome arsenate?
Rouch: Well, this was from an underground storage tank that has apparanetly sprung a leak . . . this quantity has gone missing and is assumed to have leaked into the ground . . . We have here a problem of uncertainty rather than an actual demonstrable hazard to people, and I'm afraid that uncertainty may not be easily resolved in the short term.
Couchman: Why, because the tests will take some time?
Rouch: Well, we may well find the water supply clear today - I hope that is the case - but we can't say where or how this material is travelling underground. Everything depends on the particularities of the geological formation.
Couchman: So I take it then that you're working on the assumption that this six thousand litres of copper chrome arsenate has leached into the underground system, may take some time to find its way through to goodness knows where; so that you'll have to keep a watch and ... probably people will not be able to use their water supply in Dartmoor for many, many months.
Rouch: Well, we can't answer that just yet. There will be immediately drills. . . bores drilled in the vicinity of the tanks to determine where the material has gone, at what level and where it may be moving; but I can't imagine that we're going to get immediate answers that'll give us a high probability at this stage.
Couchman: OK. Can you tell me more about these underground tanks that are containing this poisonous solution?
Rouch: Well, I can't really. These seem to have been in place for many years, so obviously this is a recent phenomenon of a pinhole or something of that sort that's developed in one of the tanks.
Couchman: ... are these tanks checked and inspected on a regular basis?
Rouch: Well, I can't answer that. We are dealing here with our collegues in the Environment Protection Authority, and these matters you really will have to put to them.
Couchman: ... is a planning permit issued for an underground storage of potentially... well, not just potentially, but of a poison... highly poisonous and toxic solution like this?
Rouch: Well, obviously that's again a question you'll have to put to the EPA. Our concern at the moment is that we really have to find out if there is a genuine risk to the water supply. There is obviously a fair degree of distance in terms of depth between the two. This artesian supply is at some ninety metres, for the town. But ...and the stratum might be well sealed off. But these are all uncertainties that may be difficult to resolve in the short term...
1/11/96 - CCA Leak Dartmoor
1. Softwood Holdings a CSR subsidiary (CSR) operates a timber preservation plant at Dartmoor near the South Australian border. This plant uses copper chrome arsenate (CCA) solution as a preservative. This material is highly toxic.
2. CSR reported to EPA on 28 October 1996 that between 25 October 1996 and 28 October 1996 about 6000 litres of a 2.5% solution leaked from an underground tank. The extent of contamination is unknown. The remaining CCA has been removed from the tank.
3. A bore on CSR's premises supplies 40 households 500 metres away with drinking water. EPA informed the local council of the spill and the need to check bore water supplies and advised the Department of Human Services. The Department of Human Services activated DISPLAN. Residents were advised not to drink water from the bore and alternative water supplies were arranged by the Council.
4. The water bore is 80 m deep and in a 90 degree different direction from the expected flow of groundwater at the leak site. The water table is 30 m below the ground.
5. Soil samples around the tank have been taken and groundwater monitoring bores are to be installed to assess the extent of contamination.
6. Installation of bores should commence 4 November 1996.
7. The extent of clean up will depend on the seriousness and extent of contamination - contaminated soil may be removed for off-site disposal and groundwater may need to be pumped to the surface for treatment.
8. EPA has directed CSR to include a test bore between the site of the leak and the drinking water bore, to enable detection of contamination, and to sample the nearby creek to see if it has been contaminated.
9. EPA, the Department of Human Services, CSR and the local council are working together to assess sampling results, determine the ongoing sampling program and assess the potential risk to the public health and the environment.
10. EPA has taken further samples of bore and creek water and is investigating the incident to determine if there have been offences under the Environment Protection Act.
11. Preliminary results of bore water sampling show background levels of Chromium and Arsenic.
12. A meeting of agencies and the company is to be held this afternoon.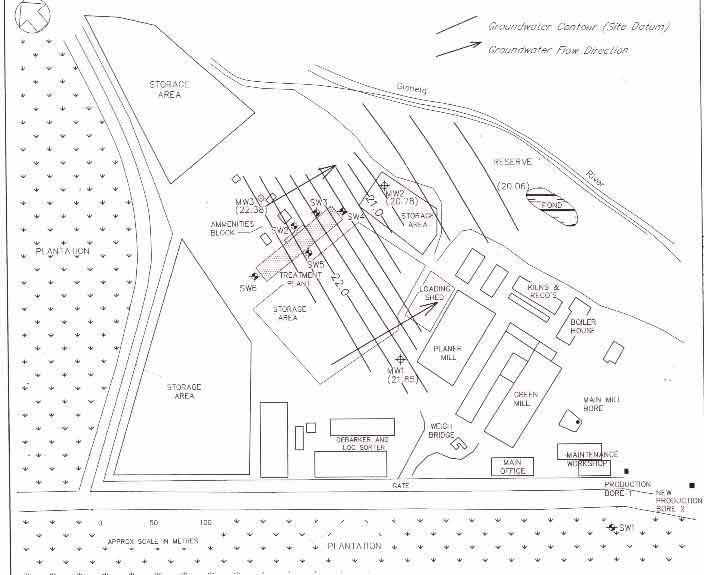 Dartmoor - Victoria. Map of the GTFP sawmill showing direction of groundwater drainage.
8 Nov 1996 - Dartmoor Public Health warning removed.
Recommendations that Dartmoor residents do not use water from the CSR bore, private bores and springs have now been lifted. This decision was reached after a taskforce met in Melbourne today to consider the public health aspects of the copper chrome arsenate (CCA) spill at the CSR Timber Products plant in Dartmoor.
The taskforce included representatives from the EPA, the Department of Human Services (Public Health and Disaster Support and Recovery), State Displan, SES, Glenelg Shire Council, CSR, Woodward Clyde, the State Chemistry Laboratory, and a range of consultants with expertise in ground water issues.
Results of some investigations carried out over the last week have only just become available today. These investigations have shown that groundwater is moving eastwards towards the river and not towards the CSR bore. Therefore contamination of the CSR bore and private bores is extremely unlikely.
However, CSR has started operating a new bore on its site which will provide residents with water tonight. This bore is over 100 metres away from the current CSR bore and further away from the site of the CCA spill.
All testing to date has shown no contamination of groundwater . . . Residents are advised that they may now use water from the CSR and private bores and springs to the south and south-east of the town. This water can be used for drinking, cooking, washing and gardening purposes.
However springs alongside the CSR plant should not be used . . .
Dept of Human Services.
TIMBER TREATMENT COMPANY FINED FOR CHEMICAL SPILLS 24 October 2001
A Bayswater timber treatment company has been fined $30,000 and its director placed on a 12-month good behaviour bond by the Ringwood Magistrates' Court for causing environmental hazard and failing to obtain relevant environmental approvals.
TW Timber Pty Ltd was convicted and fined $12,000 on each of two counts of causing an environmental hazard, and $6,000 for failure to obtain a Works Approval from EPA Victoria before commencing operations at its site.
The company's director, Garrie James, also charged for the Works Approval offence, was placed on a 12-month good behaviour bond. Both the company and Mr James pleaded guilty.
The environmental hazard charges relate to two spills of a copper, chromium and arsenic solution (CCA) from the Bayswater premises last year.
EPA prosecutor, Max Costello, told the court that on 25 May 2000 a mixing tank valve left open overnight caused more than 20,000 litres of CCA to flow from TW Timber's premises into neighbouring factories and the stormwater system, which led to Bungalook Creek. EPA officers discovered that the valve had not been fitted with an automatic cut-off switch and that the factory's bund (spill containment wall) was cracked.
Following the spill, EPA issued a Pollution Abatement Notice to TW Timber requiring the company to fit a cut-off switch and fix the bund to ensure that no waste contaminated waters could leave the site and enter the stormwater system in future.
On 28 August, failure of a pressure valve caused a second discharge of CCA from TW Timber. Staff attempted to clear the discharge by using a fire hose, causing the diluted CCA to again flow off site. The Court was told that, in breach of the
Environment Protection Act, T W Timber had built its treatment plant without a works approval from EPA. A Works Approval for a similar CCA timber plant showed that EPA had required various spill prevention items, such as shut-off valves and proper bunding, to be included in the design.
Speaking after the prosecution, EPA Chairman Dr Brian Robinson said if the company had obtained the relevant works approval from EPA as required, such spills could have been avoided. "It is not enough for companies to clean up after these sorts of incidents. They have a clear responsibility to ensure they do not happen in the first place," he said. "EPA's works approval process exists to ensure that companies have the necessary safeguards in place so that, from day one, their operation is effectively managed from an environmental perspective."
"Industry shares its environment with its local community and, as such, companies have a responsibility to ensure that their operations do not impact adversely on their neighbours. By ignoring EPA's Works Approval process and failing to have appropriate safeguards in place TW Timber had disregarded its obligation to its neighbours," said Dr Robinson.
EPA VICTORIA TAKES ACTION ON CREOSOTE AFTER LORNE INCIDENT 19 December 2000
EPA Victoria will contact foreshore committees across the state to advise them on the use of creosote treatment in waterways, following a recent incident in Lorne's Erskine River. In September EPA started receiving calls from people concerned about a sheen on the Erskine River. The sheen appeared following the installation of creosote-treated boardwalk poles.
EPA south-west regional manager Tony Robinson said that since September EPA officers had inspected and sampled Erskine River regularly. He said the sheen had almost disappeared by December and elevated levels of tar chemicals in the water in October had dropped off substantially by December. Treating timber with creosote prolongs its life and protects it against attack from marine parasites. Creosote is a coal tar derivative that has a black colour and a characteristic smell. Direct contact with the treated timber can cause skin irritations.
Mr Robinson said EPA would work with the Lorne Foreshore Committee of Management and the Department of Human Services to ensure human contact with the creosote-treated pylons was minimised. "EPA will be writing to foreshore committees across Victoria to advise them that they should consider whether creosote treatment is necessary in each application, particularly in estuarine locations," Mr Robinson said. "EPA is also holding discussions with the Australian producer of creosote-treated timbers about overseas best practice guidelines."
Overseas guidelines recommend that timbers undergo post-treatment weathering prior to installation to reduce the amount of creosote remaining on the surface. Although an Australian Standard advises that creosote treatment is suitable for use in Victorian marine waters, EPA warns that failure to take precautions such as weathering before use could result in environmental damage and large penalties under the Environment Protection Act. Mr Robinson said EPA would continue to monitor Erskine River during the coming months. MEDIA ENQUIRIES: Lawana Crimeen, EPA Information Centre Telephone: (03) 9695 2703, 0401 140 862
CSR fined $240,000 over pollution from particleboard plant 26 October, 2001
CSR was today fined $240,000 and ordered to pay $100,000 costs in the Land and Environment Court after pleading guilty to negligently polluting groundwater near Tumut, following a case brought by the NSW Environment Protection Authority (EPA). EPA Director General, Lisa Corbyn, said the court heard how the company discharged the liquid from its industrial process lines to an earth dam known as the `Blue Dam'.
"This water contained toxic chemicals which leaked into the groundwater and then contaminated the spring in an adjoining paddock, making it unsuitable for stock grazing," said Ms Corbyn. "The contaminated groundwater from the Jepsen Avenue factory, also leached into Rifle Range Creek, where it killed aquatic creatures and streamside plants.
"From as long ago as 1989, the company realised that it was desirable not to use earthen dams in the effluent treatment process. "Although the company knew the dam was leaking by 1992, it did not do any testing of the groundwater and didn't replace the dam until 1995." Justice Pearlman said the offence was "very serious" and had resulted in "actual harm which lasted for a period of years". The fine is the second highest ever for an offence under environmental legislation in NSW.
Handing down the penalty, Justice Pearlman took into account the fact that the defendant had undertaken a multi-million dollar remediation project and had shown remorse over the incident. The company has been working very hard since that time to improve its environmental systems as well as to deal with the results of this particular incident. It has replaced the dam with a concrete one and set up a system which is attempting to treat the contaminated groundwater so that springs coming from the groundwater are not contaminated. The company has also set up a new effluent treatment system which recycles some chemicals back into the production process. This saves money, as well as reducing the stress on the environment.
Ms Corbyn said it had cost the company over $4 million to set up the new effluent system and to begin cleaning the groundwater. "These funds would have been so much better spent in preventing the pollution in the first place," she said. "This case sends a clear message to industry that groundwater is a vital consideration in any pollution control system. I would advise any company which currently contains dangerous wastes in earth dams to immediately take action to replace them with more modern alternatives," said Ms Corbyn. Further information: Susan Everingham (02) 9995 5347 all hours.
Pilks Pine punished for poor copper chromium arsenate handling 5 June 2007
http://www3.environment.nsw.gov.au/npws.nsf/Content/dec_media_070605_01
In the Land and Environment Court last month (25/05) Colenden Pty Ltd trading as Pilks Pine was fined $25,500 and ordered to pay $18,000 in costs after pleading guilty to water pollution under the Protection of the Environment Operations Act 1997.
This followed an incident in late 2005 at its Lowanna timber treatment plant west of Coffs Harbour. Pilks Pine admitted that on the evening of 30 November 2005, waste water contaminated with copper chromium arsenate (CCA) burst a corroded storage tank. The leak continued until the morning of 1 December 2005, with at least 1000 litres of waste water polluting an onsite dam and a downstream creek.
The Court heard how the leak was caused by valves being left open overnight allowing the corroded tank to fill before bursting, after CCA solution had being transferred between various tanks at the plant. The leak was only discovered when staff returned to work the next morning.
Following the incident, officers of the Department of Environment and Climate Change (DECC), as it is now known, ordered Pilks Pine to clean up the site which involved isolating and treating contaminated soil on site and removing it to a licensed landfill as well as treating all contaminated water and sludge remaining in the onsite dam.
Lisa Corbyn, DECC Director General, said the Court's decision sends a clear message that the community expects not to be put at risk by poor handling of hazardous materials. "CCA is a hazardous substance used as wood preservative and contains arsenic, chromium and copper compounds," Ms Corbyn said.
"Both arsenic and chromium compounds can produce serious adverse human health effects including cancer," she said. "Fortunately in this case no environmental damage was evident in the Little Nymboida River, which flows into Nymboida River and is also the main source of drinking water for the Clarence Valley." "This incident, however, could easily have been more serious and highlights why it is so important that operators take all aspects of hazardous material handling very seriously."
http://www3.environment.nsw.gov.au/parks.nsf/dec_contacts/c259?opendocument
CCA
CCA (copper-chromium-arsenic) is the most widely used timber preservative treatment in Australia. CCA is used when timber must withstand exposure to persistent dampness.
There are two types of CCA treated Radiata available: water-based treatments (also known as PermaPine) and oil-based treatments (also known as PROCCA, or Tanalith Gold).
Copper chromium arsenate (CCA) treatment plants were established in Australia in the late 1950's and the treatment is still used extensively today. There are about 130 CCA plants in Australia.
For many years the timber industry has presented CCA treated timbers as a virtually maintenance free product, when a more correct description would be low maintenance. CCA treated timber is not protected against the effects of the weather unless painted or coated. Coating may be required because Radiata Pine treated with water-based CCA continues to absorb water. If water is absorbed, this may lead to some expansion, warping and twisting of the timber. Such movement is usually not a problem in applications such as fencing, landscaping, marine piles and playground equipment. It can be a problem in applications such as decking and weatherboards, where dimensional stability is required.
Oil-based CCA treated Radiata absorbs far less water. This means less swelling, expansion and warping of timber. Tanalith Gold Radiata Pine is commercially available as decking and weatherboards.
CCA is more suitable than LOSP treated timber for in-ground applications. CCAs are more tightly chemically fixed within the wood structure and will leach lower amounts of chemicals into the soil. Experiments conducted by CSIRO have indicated that 3.5 per cent of CCA chemicals are leached after one month of constant exposure to running water. Loss of active elements from oil-based CCA treated Radiata is approximately half that from water-based CCA treated Radiata.Beware of freshly applied CCA that is still wet. This means that the wood preservative has not yet 'fixed' to the wood and, therefore, may pose a hazard.
Another common source of exposure is from sawdust. The inhalation of CCA sawdust and vapour should be avoided at all times. Comfort (1993 p42) reports the case of two workers in the USA constructing picnic tables from freshly treated CCA using power tools in a small non-ventilated room. Both workers suffered a number of medical problems, including nose bleeds, heaviness of the chest, ithching and burning of the skin and stomache ache. The possibility of long-term effects from exposure to CCA formulations does exist, therefore workers should minimise exposure to these preservatives.If you must handle CCA wear normal safety clothing (i.e. Gloves, overalls, and safety footwear).
Another issue of concern is that there is currently no ecologically sustainable way to dispose of unwanted CCA treated timbers, offcuts and sawdust. For example, burning results in the emission of highly toxic fumes, and if the wood is buried, chemicals leach into the surrounding soil. The industry's recommended method of disposal requires burial in a sealed landfill. We are currently using over 100,000 tonnes of CCA preservatives throughout the world each year. The use of CCA is creating, at best, a stockpile of millions of cubic metres of hazardous waste we do not know what to do with. At worst, our use of CCA is polluting our waterways and poisoning our ecosystems.
White powder sometimes is found on the surface of CCA treated timber. This is sodium sulphate, a by-product of the fixation process, and it is supposedly harmless (Occupational Safety and Health Service 1992). If necessary, this white powder can be brushed or hosed off. If the treatment process has not been well controlled, however, bright green deposits may be found on the surface of CCA treated timber. These are a form of copper arsenate, which is toxic (Occupational Safety and Health Service 1992). Green deposits are unlikely, but if they are detected, the finding should be reported to the distributor or manufacturer. Care should be taken not to inhale any dust generated from the deposits.
Arsenic and Copper are EPA listed chemicals. CCA open burning is bad news/not to be used as mulch, compost or woodchip fuel. Must be disposed in double-lined landfill. Arsenic poisoning can occur at the foot of CCA poles in vineyards. Some plants can absorb/uptake arsenic eg lettuce and mustard greens if planted near CCA structures. Beets, beans also absorb. (Levi et al 1974) analysis of grapes grown adjacent to stakes showed no increase in arsenic chromium or copper. (Forest Products Journal), 24 (9): 97-98. http:europa.eu.int/comm/enterprise/chemicals/markrestr/arsenic/consultation.htm
CREOSOTE
Cresote is a heavy duty timber preservative, traditionally used in industrial applications such as bridge and wharf timbers, electricity poles, railway sleepers and marine pilings. The traditional creosote treatment gave timber a black, oily appearance and a strong tar-based odour. This vapour could irritate the eyes and skin. A newer creosote treatment, known as PEC creosote (pigment emlusified creosote), is dry to touch, more resistant to leaching out of timber, and releases less vapour. It is light brown in colour rather than black.
Creosote typically contains over 150 chemicals, some of which are known carcinogens (Occupational Safety and Health Service 1992). Creosote products are banned for domestic use in the USA because of suspicions about carcinogenity and birth defects. Given such concerns, workers applying traditional creosote, or the more recent PEC creosote, should take precautions to avoid long and short term exposure. Disposal of creosote-treated wood is another major problem with this toxic timber.
According to the South Australian EPA "Creosote contains a variety of poly-aromatic hydrocarbons (PAHs). PAHs are carcinogenic and are potential soil and groundwater contaminants. Unless incinerated with controlled residency time and high temperature, creosote can release these volatile organic chemicals on combustion".
According to the website chemlink, Creosote is produced as a component of oil refinery tars and from BHP coke ovens. Koppers Australia at Newscastle NSW purchases crude tar from BHP supplemented by imports (one third?) of these tars. Koppers produces binder pitch, creosote oils, napththalenen & crude tar acids.
PENTACHLOROPHENOL
"Over the past 30 to 40 years various synthetic chemicals have been used to stop fungal and bacterial attack of freshly sawn timber, to prevent sapstain and for the permanent preservation of timber from decay caused by attacks from fungi, bacteria, mites and insects. One of the most widely used was the anti-sapstain pesticide pentaclorophenol (PCP) and the industrial timber preservative, salt sodium pentachlorophenol (NaPCP)...
It has been estimated that about 70% of all sawmills (in NZ) have used PCP. As with many other industrial processes, treating timber with chemicals such as PCP produces toxic waste. But because such timber treatment is a silent, unassuming polluter, marked less by roaring discharge pipes and bellowing smokestacks than by slow seepage and toxic run-off, the environmental effects have largely escaped public scrutiny.
During manufacture PCP is also known to have been contaminated with "a large number" of toxic impurites such as polychlorodibenzo-dioxins and furans, some of the most toxic substances known. Dioxins, of which there are 210 variants, are known to persist and bioaccumulate in living tissue by passing up food chains. Often dioxin levels bio-magnify in living tissue many thousands of times higher than in the surrounding environment. Before it was banned (in New Zealand) in 1988, some timber treatment workers were exposed to extremely dangerous levels of PCP/dioxins. No epidemioogical health studies have been done to assess the health of timber treatment workers, although the Wood Industries Union of Aotearoa is conducting a survey of affected workers.
As well as contaminated timber treatment sites throughout the country there an unknown number of dump sites containing contaminated waste. PCP and dioxin from these sites are known to be leaching into ground water, travelling off-site, persisting in the environment and accumulating in food chains ...
Scientists have known PCP is toxic and lethal to humans for approximately 60 years... Despite the known hazards, other organochlorine chemicals perhaps as toxic as PCP such as carbendazim, oxine-copper and chlorothanlonil are still being used in the forestry industry ..." The Deadly Legacy - Toxic Waste PCP Greenpeace NZ 1992.
LOSPS
LOSPs (light organic solvent preservatives) are solutions of fungicides that may also contain insecticides and water repellent waxes or resins dissolved in an organic solvent. LOSPs are mainly used to treat machined Radiata Pine or hardwood components so as to reduce the penetration of moisture and increase stability. LOSP treated timbers are designed primarily for external building situations (e.g., decking, fencing, outdoor furniture etc.). Once treated, a post-treatment (eg an organic oil or a non-toxic paint) can be applied to the finished product.
Where the treated timber has been cut or drilled, any exposed surfaces should be coated with a water-repellent preservative. LOSP treated timbers are not suitable for in-ground applications. Unlike CCAs, the LOSPs do not chemically fix within the wood structure. If used in the ground, LOSPs leach into the soil. They should not be used for applications such as food cupboards. LOSP treated Radiata Pine is also known as DuraPine, Vascol-treated Pine or Protim-treated Pine. LOSP treated Hoop Pine is also available.
Protim is produced by the company Osmose and includes Permethrin. Clich here for more information about Permethrin.
The health hazards associated with the use of LOSPs vary according to the brand formulation used. The most likely expsoure to any hazard occurs during application. Workplaces should have a system of safety precautions in place to ensure that all workers avoid any possibility of direct contact with LOSP solutions and their concentrates, as well as avoid breathing vapours.
ACQ*
Warning: According to the Australian Pesticides and Veterinary Medicines Authority (APVMA), the only registered ACQ timber treatment available in Australia is registered to Osmose. ACQ is regarded as a Schedule 6 Poison. According to the APVMA website, the constituents of ACQ are; 272.399 g/L Copper Ammonium Carbonate and 56.400 g/L Didecyl Dimethyl Ammonium Chloride (DDAC). According the the Pesticides Action Network DDAC is listed as being toxic. see here.
ACQ (ammoniacal copper quaternary ammounium compound) has recently been introduced to the Australian market. It has been promoted as an alternative to CCA, particularly in terms of being safer to store and apply. The United Kingdom based Timber Trades Journal says that initial studies have shown that ACQ performs as well as CCA, with the added benefit of low mammalian toxicity and a lower environmental impact (Timber and the Environment Supplement 29/1/95).
However, in the same article they caution that, "...further studies are necessary in order to determine its long term performance" (p33). As with CCA, there has been little research into safe methods of disposing of unwanted ACQ treated timber.
Ammoniacal Copper Quaternary: Copper Oxide (CU o) (not less than 45%). Didecyldimethylammonium chloride (DDAC) not less than 30%. Concentrations vary according to the level of treatment and the species involved. ACQ may lose more copper to the aquatic environment than CCA or ACZA. Can't burn ACQ as copper residues may be left. Copper costs more. Recycled copper can be used. ACQ 5% more in price than CCA? DDAC and copper; potentially toxic to aquatic organisms if released before or during application or through leaching of treated wood. DDAC has a fairly high acute toxicity to some fish and aquatic invertebrates. It can also bind tightly to river sediments which although potentially reducing direct water exposure, can increase its persistence in the environment. Http://www.floridacenter.org/publications/Altchem_final_draft.pdf
COPPER AZOLE PRESERVATIVE
Copper Azole Preservative use a copper and organic azole co-biocide as active ingredients and is commonly known in Australia as Tanalith E. It provides protection against decay and insect attack. Current approval has been granted for hazard classes H3 and H4 which cover the great majority of above ground and in-ground applications for construction, external decking, landscaping and agricultural use. The copper used in the preservative comes largely from recycled scrap metal. Tebuconazole (chlorinated).
Tanalith E is produced by Koppers Arch Wood Protection (Aust) Pty Ltd. It is a Class 6 poison and its formulation is Aqueous concentrate. Tanalith E consists of; 63g/l Copper Acetate, 572g/l Monoethanolamine, 10.8 g/l Boron (B) present as Boric Acid, 166.0 g/l Copper as Copper Carbonate and 6.4 g/l Tebuconazole (a fungicide).
ANTISAPSTAIN CHEMICALS
Some timbers may be treated with antisapstain chemicals to protect the timber from mould, sapstain and decay fungi. Antisapstain chemicals are normally applied by passing the timber through a chemical bath or a spray tunnel. There are a number of formulations used presently. Some are moderately to highly toxic to fish. Most however, are safer than those commonly used up until the 1980's (eg lindane, chlordane and sodium pentachlorphenate). Care must be taken to avoid direct contact of fume inhalation.
Inorganic Boron
Treatment Chemicals
Tebuconazole
Propiconazole
Didecyldimethylammonium chloride (DDAC)
Alkyl Dimethylbenzyl ammonium chloride (ADBAC)
Isothiazolinone Tri-butyl-Tin
WINE INDUSTRY DILEMMA
Vineyards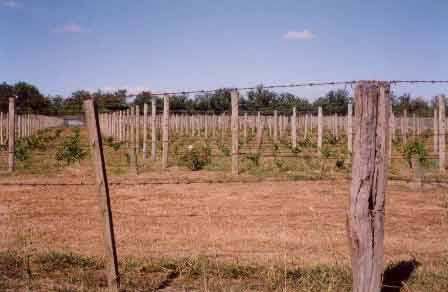 The biggest user of treated pine in Australia is the wine industry. This is especially the case in South Australia. Noone has worked out a way to safely dispose of the timber once used, much of it being stockpiled on vineyards and farms where it is often burned.
TREATED TIMBER - WHY ALL THE FUSS?
(Article kindly provided by Anthony Amis - Friends of the Earth Forest Network Melbourne - January 04).
People may recently have learnt about the controversy surrounding the use of treated timber. For instance the Age Newspaper ran a front page article on December 23 2003, entitled 'Cancer Alert on Treated Timber', whilst 'A Current Affair' have featured two stories on the treated pine industry in the past 6 months. Most of the concern has been generated by the use of Copper Chrome Arsenate (CCA) timber in children's playgrounds. This issue hit main stream media in the US and Canada about 2 years ago, with the Australian media taking a little longer to catch on.
CCA is an impregnation process where timber, mostly pine, is treated under pressure with a solution consisting of Copper, Chromium and Arsenic. The timber is treated so that it doesn't rot and is protected from insect and fungus. The solution is supposed to impregnate the wood and is supposedly fixed to the timber. However recent tests conducted in the US have shown that the chemical solution leaches and this has also been proved in Melbourne, where swipe tests conducted by the Croydon Conservation Society in early 2003 revealed that a treated pine playground in Croydon leached 710 micrograms of arsenic, 630 micrograms of chromium and 670 micrograms of copper in only one metre of timber!
Arsenic is a known carcinogen, and fears have been raised that children playing on these structures could ingest arsenic if they put their hands in their mouths after playing on playgrounds or treated pine house decks. So serious is the problem that the Federal Government regulator, the Australian Pestcides and Veterinary Medicines Authority (APVMA) is considering banning CCA timber in applications such as, timber playgrounds, house decks and fences in early 2004.
The issue that hasn't been discussed by the media is that treated timber remains toxic and cannot be landfilled or burnt when it needs to be disposed. This ultimately means that after the timber has reached its use by date after 30-40 years, the timber needs to go somewhere. The only problem is that noone really has a solution to this burgeoning waste problem - a problem that will only worsen over the next decade as potentially millions of cubic metres of treated pine reaches its use by date. At least 50% of treated timber is used for posts and poles. The biggest users of treated pine in Australia is the wine industry. This use has escalated over the past decade with the expansion of the industry.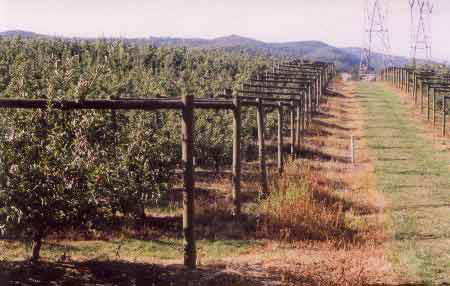 Treated pine posts are also used with other crops - in this case apples.
In regards to vineyards (Australian Pesticides Veterinary Medicines Authority December 2003 Technical Report p74) the average life expectancy of vineyards is between 20-30 years, often meaning that large percentages of the CCA treated posts have to be removed/destroyed. 15% of posts are replaced each year in NSW, but almost all of the 13.2-26.4 million posts will have to be replaced by 2030 in NSW alone! How is the wine industry attempting to deal with this issue? What impact is this huge use of treated pine posts having on the heath of agricultural/viticulture workers who have the responsibility of replacing and using CCA timber each day? (the same could be said about fence builders and house builders, timber yard workers, treatment plant workers who have to lift, carry and work with CCA timber most days of the year). Given that all of these posts will most likely leach CCA into soil what impact will such a large amount of CCA treated pine posts have on the health of soil etc in vineyards? 26 million posts is a large amount of leachate entering wineyard soils.
Current treated pine pole disposal methods for the wine industry have included burning the waste. This is an extremely dangerous exercise, not only for the people tending the fire, but anyone downwind of the fire itself. Vineyard operators have been fined for burning their waste timber in Victoria and elsewhere. A practice which sullies the industries name. Workers in vineyards are also at some risk when working with the treated timber. Splinters and hand wounds allow arsenic to enter the body and can cause arsenic poisoning - as well as the ingestion of arsenic caused by arsenic on hands etc.
"The greatest potential for environmental harm is considered to be from leaching or preservation chemicals from the treated timber to the soils thereby impacting on soil quality, surface water quality and possible groundwater quality"
"…increased amounts of preservative chemicals are likely to result in environmental impact from landfills unless these landfills are suitabely engineered. Impact on surrounding groundwater and soils is likely to occur if these levels were exceeded and leachate from the landfill contained significantly high levels of PAH's, pyrene, PCP, chromium, copper or arsenic"
1. Chromium and Arsenic leaching from landfills has recently been detected in Florida and is a major environmental worry. http://www.gainesvillesun.com/apps/pbcs.dll/article?AID=/20030907/LOCAL/209070333 Tests conducted by Friends of the Earth in late 2002 at a timber yard in Port Melbourne revealed arsenic, chromium and copper in the soils - leading to claims that the site was contaminated. Wine growers who use treated pine posts and who store their discarded posts on site may in fact be contaminating their properties, leading to potential problems in the valuation of their land!
Pollution problems at treatment facilities are another major headache with many spills occurring over the past 2 decades. A major spill in Mount Gambier in 1995 threatened that towns water supply (and possibly still threatens water quality). The water supply at Dartmoor in western Victoria had to be shut down in 1996 after an inground tank holding the CCA solution, rusted and 8000 litres escaped into the ground. A housing development in Armidale NSW had to be dismantled after it was learnt that houses had been built on a contaminated site that was once used for treating timber. In 1993, Greenpeace New Zealand identified over 600 contaminated sites where the timber treatment pentachlorphenol had been used. The treatment sites were contaminated with Dioxins. The wine industry by associating itself with such a polluting industry is leaving itself wide open for criticism and potential boycotts. Not to mention ethical considerations such as the fact that most of the arsenic used in CCA is sourced from mines operating in China, a country well known for human rights abuses. It would be a far safer option for the industry to opt for more environmentally friendly timber treatments and alternatives.
On a more positive side, it would appear that grapevines and grapes do not absorb arsenic, meaning that leachate from CCA treated poles in vineyards will not be a problem for grapes (as it can be in other plants) "A study of the uptake of metals from grapevines in proximity to CCA-treated timber has shown no evidence for accumulation of metals in leaf and stem tissue over a 3 year period" (Levi, Huisingh and Nesbitt 1974).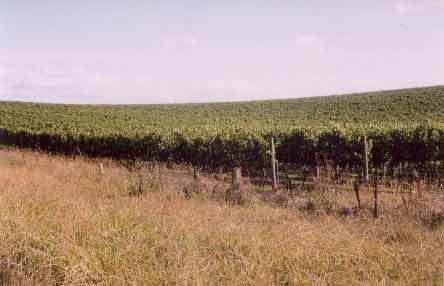 Vineyard in the Yarra Valley near Melbourne.
THE ALTERNATIVES
The best alternative would be natural hardwood fence poles and posts. But the major problem here is that overexploitation of the native forests of Australia has led to a situation where the removal of any old growth trees or logging in high conservation value forests must be avoided at all costs. Redgum fence posts for instance are not an environmentally friendly alternative unless they have been grown in an agroforestry context. Most durable plantation species grown in Australian plantations are grown for woodchips and not sawn timber. The current burgeoning bluegum plantation industry could be a possible alternative, although fenceposts from bluegum plantations will have to be planned prior to planting and due to the young age of the plantation wood may have to be treated with chemicals. Young bluegum will also most likely warp and crack if cut at a young age.
Creosote treated pine poles must be avoided at all costs due to the myriad of chemicals that constitute this treatment. Likewise LOSP's Light Organic Solvent Preservatives) can contain nasty chemicals such as Tri-butyl -Tin).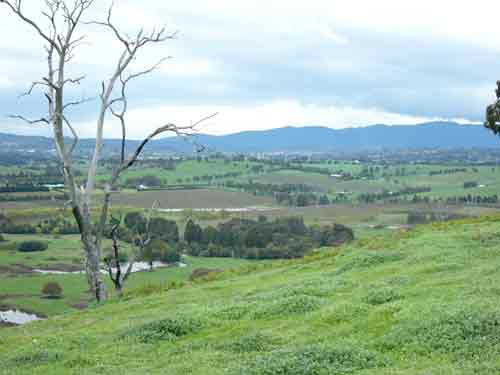 September 04: Vineyards (in distance) in the Upper Yarra Valley near Henley Flood Plain (eastern Melbourne). These vineyards can also be sprayed with toxic chemicals.
The most widely acknowledged 'environmentally friendly' alternative to CCA is another treatment called ACQ (Ammoniacal Copper Quaternary) and is also used on pine poles. ACQ consists of not less than 45% copper oxide, which is often sourced from recycled copper and not less than 30% Didecyldimethylammonium (DDAC). ACQ is far from perfect, as it can leach more copper to the aquatic environment than CCA and copper is extremely toxic to fish. There is still problems with disposing ACQ as it cannot be burnt due to copper residues. But by and large ACQ is less toxic than CCA and it is increasingly being used as an alternative in the United States, although it is relatively difficult to come by in Australia and it will cost more than CCA. At this stage Friends of the Earth is unsure if DDAC will be problematic for grapevines.
A company called OMNIPOL make recycled plastic posts in South Australia, although these posts cost about $1 more than CCA posts. This idea has merits as the poles will last indefinately and can be used over and over again.
Boron salts and Lanolin may also provide some possible alternatives to CCA. Lanolin (wool grease) is a natural oil and may the best of all possible treatments for timber but further research would need to be carried out to determine its potential - including tests to determine whether the lanolin has been contaminated with dioxin laced sheep dips. An Australian company Lanotec may provide further details about the exciting potential of Lanolin
CONCLUSION
The Australian wine industry needs to become proactive in working towards developing environmentally friendly timber treatments. The industry needs to put pressure on companies who supply and produce treated timber to switch away from CCA and onto more environmentally friendly alternatives such as ACQ and Lanolin. The wine industry needs work with companies that currently produce alternatives and use their purchasing power to create markets for non-toxic forms of timber treatments. They should boycott the use of CCA and companies that produce CCA timber and actively buy from companies making the alternative products. If the industry continues to sit on its hands about this issue, it could very well be inviting severe criticism and possible boycotts on its products.
In the mean time FoE supports these recommendations outlined in the 1999 Sinclair Knight Merz report on treated timber in South Australia;
*Wineries/vineyards should become involved in developing a nationwide Code of Practice for land care. The Code of Practice must address the bulk storage of treated timber and the curtailing of site burial and other methods of disposing treated timber products which are potentially harmful to the environment.
*Individual wineries,vineyards should be encouraged to develop their own environmental management plans. If they already have such plans they should be developed so as to incoporate consideration for the appropriate disposal and storage of treated timber.
*The EPA should consider advising wineries who are unaware of alternatives to treated timber that there are benefits in using these products such as an improved "greener" image for the winery.
1. Review of the Lanfill Disposal Risks and the Potential for Recovery and Recycling of Preservative Treated Timber - Sinclair Knight Merz Pty Ltd - November 1999. (http://www.www.environment.sa.gov.au/epa/pdfs/timber.pdf)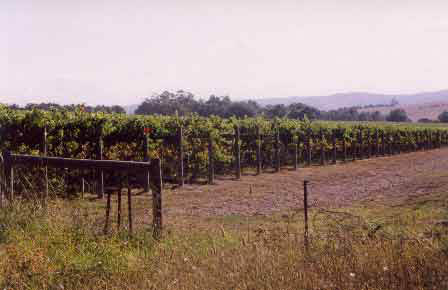 More Vineyards in the Yarra Valley.
The Australian & New Zealand Grapegrower and Winemaker April 2004 (Ryan Publications)
CCA REVIEW IMPLICATIONS FOR VITICUITURE
Tony Smith and Dr Mahabubur Mollah Primary Industries Research Victoria. Department of Primary Industries - Mildura
What is CCA-treated timber?
Most vineyard owners are familiar with CCA-treated timber; timber treated with a copper, chrome and arsenate (CCA) salt treatment that makes it less susceptible to rot, fungi, termites and other wood-boring insects. CCA-treated pine posts have been used extensively for trellising in vineyards across Australia and overseas, as well as for domestic building, landscaping and outdoor furniture. The life of timber products can be significantly lengthened as a result of CCA treatment.
What is the issue?
The Australian Pesticides and Veterinary Medicines Authority (APVMA), national registration authority for agricultural and veterinary chemicals, has undertaken a review of CCA chemical products used to treat timber. APVMA controls the registration, labelling and supply of agricultural and veterinary chemical products. The review was encouraged, no doubt, by the USA and European Union reviews of CCA-treatments. These reviews were initiated due to concerns about the potential exposure of humans (children in particular) to elevated levels of arsenic and chromium from CCA-treated timber structures, including playground equipment, decks and outdoor furniture. The US Environmental Protection Agency has made no conclusion about the risk to the public from CCA-treated timber products, but is of the view that any reduction in exposure to arsenic is desirable. Subsequently in the USA, CCA-treated timber products are being phased out for use in domestic situations such as decking, outdoor furniture and playground structures.
Why are there concerns about the CCA review?
The Australian wine industry is susceptible to changes in legislation or regulation regarding CCA-treated timber, due to the significant volumes of treated pine used as trellis posts in established vineyards. In 1999, a report prepared for the South Australian EPA found that wineries were the largest purchaser of preservative treated timber in South Australia, mostly CCA-treated timber. Estimates based on ABS statistics for the area of vines planted indicate that there are between 60 and 120 million posts currently used for trellising in Australian vineyards. Approximately 75% of these are CCA-treated timber posts.
What are the recommendations of the APVMA?
The APVMA released a draft review in December 2003 for public consultation, on which comments were sought until 29 February of this year. The draft review has made five key recommendations.
CCA timber treatment products be declared Restricted Chemical Products. It is in the public interest to ensure that supply of these products will be restricted to suitably trained persons.
CCA product labels be varied to recommend that timber treatment facilities be designed and operated to meet appropriate Australian Standards (ANZEC guidelines 1996, and AS/NZS 2843.1 2000).
Product labels be varied so that uses of CCA timber treatment products are not permitted on timber intended for use in structures such as picnic tables, decking, handrails and children's play equipment.
Product labels be varied to include more detailed instructions for application, mixing and vacuum/pressure operations, management of freshly treated timber, management of liquids, sludge or waste material containing CCA residues, protection of wildlife, fish, crustaceans and the environment, and storage and disposal.
Registrants be required to generate worker exposure data in relation to risks associated with arsenic and chromium (VI) in CCA.
It is expected that the review will be finalised by mid 2004.
What are the implications for viticulture?
So what does all this mean for vineyard owners and managers? As such the APVMA is recommending that no new CCA-treated timber should be used for domestic use (Recommendation 3). There is no such recommendation relating to the use of CCA treated timber in viticulture or other horticultural production. The APVMA states that there is no evidence to preclude use of arsenic-treated timber products where there is no frequent physical contact, such as telegraph poles, rural fence posts or other structural timbers." Many grapegrowers will sigh with relief at this outcome; the continued use of CCA-treated posts in vineyards is assured.
Recommendation 1 seeks to declare CCA-treatments as Restricted Chemical Products. A Restricted Chemical Product may be declared under the Agricultural and Veterinary Chemicals Code Act 1994, and the Agricultural and Veterinary Chemicals Code Regulations 1995. A product can be declared a restricted chemical product if the APVMA advises that it is in the public interest for the product to be declared restricted. This recommendation will tighten controls on who will be able to conduct CCA-treatments of timber, and will prescribe a level of training that is deemed necessary to reduce the risk of poor treatment, or environmental problems (leaks, spills) resulting from the treatment.
2 will result in greater accountability a! environmental responsibility for operators of timber treatment facilities. However, the costs of improving the design operation of timber treatment facilities to meet Australian Standards will be hefty. Ultimately, consumers will bear this cost through price increases for CCA-treated timber.
Recommendation 4 really has few implications for viticulture as it refers to the actual chemicals used for the treatment of timber not the treated timber itself. This recommendation will ensure that labels are updated to provide a safer and more environmental responsible handing of CCA timber treatment chemicals.
Recommendation 5 provides that registrants be required generate worker exposure data in relation to risks associated with arsenic and chromium in CCA. This may necessitate the testing monitoring of contractors or workers that install CCA-treated posts in vineyards, especially where they are required to cut or drill posts.
How many posts do we have to deal with?
As vineyards age, the relatively brittle CCA-treated pine posts are susceptible to breakage under machinery impacts in vineyard. Anecdotal evidence suggests that due to wear and tear, natural decay, the annual replacement rate of posts in a vineyard may be as high as 15%. Within five years, six million posts, require disposal annually, equivalent to over 120,000m3 approximately twice the annual amount of waste deposited in landfill catering for a population of 60,000 people. If vineyards are to be replanted after 25-30 years, a significant volume of CCA-treated posts will require disposal should they be found unsuitable for reuse. Assuming that a vineyard has a span of 25 years, there will be a peak around 2024 at which time somewhere between eight and 16 million obsolete posts will require disposal within the year, in addition to the six million posts requiring disposal as a result of annual breakages. Based on conservative estimates, that equates to the landfill volume required to dispose of a year's waste from a population of 140,000 people.
How do I dispose of old CCA treated posts?
The most significant problem associated with the use of CCA treated posts is the disposal of broken or obsolete trellis posts. Burning of CCA-treated products has been prohibited for a decade in some states, as it has been acknowledged that the smoke produced constitutes an environmental and human health hazard. Landfilling CCA-treated timber products is regulated in both New South Wales and South Australia, thereby restricting disposal to licensed or authorised landfills that are lined and/or have an appropriate leachate management system. Even if authorised to receive CCA-treated timber, it is at the discretion of the landfill operator as to whether they shall accept it. In Victoria too, it is at the discretion of landfill operators whether they will take CCA-treated timber. Research is seeking to find acceptable ways to dispose of CCA treated timber, and to recover the arsenic, chromium and copper components from the timber. The Centre for Risk, Environment and Systems Technology and Analysis (CRESTA) at the University of Sydney has undertaken a review of thermal disposal options for the management of CCA-treated timber wastes. They have found that thermal treatment of CCA timber wastes is a technically feasible solution that should be pursued further. Recently the Victorian Department of Primary Industries (DPI) - Mildura, and CSIRO Forest and Forestry Division at Clayton South, Victoria, jointly proposed a number of concepts for extending the service life, and for the environmentally benign disposal of old CCA-treated posts. Australian grape industries should support research into disposal options for CCA-treated posts.
What are the alternatives to CCA-treated posts?
Untreated hardwood, creosote-treated pine and hardwood, precast concrete, old rail line, steel and plastic are among the materials that have been used for trellis posts in Australia. Some of these posts are suitable alternatives to CCA-treated pine posts. The first phase of a collaborative project between DPI Mildura, CSIRO Clayton South, Queensland Forest Research Institute and others is nearing completion. One of the aims of this project was to evaluate the suitability of plantation thinnings (irrigated with drainage and industrial wastewater) as vineyard posts. Posts manufactured from various tree species and alternative preservation treatments were tested for bending strengths and surface defects. Preliminary results have shown that radiata pine treated with Alkaline Copper Quaternary (ACQ) might be an alternative to CCA-treated radiata pine. Posts from some hardwood species (mostly eucalypt species) treated with ACQ or Pigment Emulsified Creosote (PEC) also seem to be suitable for vineyard trellising. The project team has planned to conduct accelerated decay tests on all the posts tested in phase one. The results from these tests in conjunction with the bending strength and surface defects will be used for final recommendations regarding the suitability of plantation thinnings as vineyard posts. It is expected that results from the accelerated decay tests will be available in the next 18-24 months.
Summary
The continued use of CCA-treated posts in vineyards is assured. Estimates indicate that there are 60 to 120 million posts currently used for trellising in Australian vineyards. Approximately 75% of these are CCA-treated timber posts. There will be a peak around 2024 at which time between 14 and 22 million posts will require disposal within the year, equating to a landfill volume required to dispose of a year's waste from a population of 140,000 people. Wood preservative companies and scientists in Australia are investigating alternatives to CCA-treated pine posts Australian grape industries should be supporting further research into alternative treatments for timber that are equivalent to CCA treatments. Australian wine industry should be supporting research into disposal options for CCA-treated timber.
EPA South Australia statement on the wine industry and treated pine. By G.Scott (Aug 2004).
The Environment Protection Authority (EPA) appreciates that the proper disposal of copper chromated arsenic (CCA) treated timber ('permapine') is a growing concern and is working in cooperation with the wine industry (SAWIA), and other stakeholders, in developing a management plan.
The EPA is aware that some viticulturists may be engaging in the practice of burning copper chromated arsenic (CCA) posts, particularly during the process of vineyard clearing ('pulling').
The EPA would like to reinforce that burning CCA treated timber, creosote and other treated timber is an unacceptable practice.
CCA treated timber contains copper, chromium and arsenic compounds. Of particular concern is the product of combustion, arsenic trioxide and arsenic pentoxide. (Arsenic trioxide gas is released at temperatures as low as 200oC.) The gases readily solidify into an amorphous ash. The ash resulting from the combustion of CCA treated timber contains extremely high concentrations of arsenic. Arsenic is a recognised carcinogen, mutagen and potential teratogen. The ash presents a high potential risk to human health, can contaminate soil, and can also potentially pollute ground water; ash contamination can therefore make the land unsuitable for vine production. The ash is attractive to stock due to the salty taste and can result in their death.
Creosote contains a variety of poly-aromatic hydrocarbons (PAHs). PAHs are carcinogenic and are potential soil and ground water contaminants. Unless incinerated with controlled residency time and high temperature, creosote can release these volatile organic chemicals on combustion.
When vineyard clearing is being undertaken, care should be given to seperate treated timber from vines and other material so that it is not burnt in stockpile waste. The treated timber (both new posts and waste) should be safely stored or disposed of to avoid soil and water contamination.
Under the Environment Protection Act 1993, 'General environmental duty' [section 25. (1)] 'A person must not undertake an activity that pollutes, or might pollute, the environment...' The burning of preservative-treated timber would constitute an act of pollution.
EPA ISSUES FINE AFTER BURNING OF TREATED PINE LOGS 31 July 2001
A Melbourne based landowner has been issued with a $1200 fine by EPA following the burning of treated pine logs on a premises in Etiwanda Avenue, Mildura. EPA issued the fines after working in close partnership with Mildura City Council staff. The landowner lit eight individual fires in May this year, consisting mainly of grapevines, which also contained a number of treated pine posts.
"This is a very serious matter, said EPA's North West Regional Manager John Williamson. "Burning treated pine creates an environmental hazard, as the smoke and ash from this material can contain highly toxic chemicals including arsenic and chromium compounds."
Mildura Rural City Council has also taken action against the landowner for lighting the fires without a permit. The landowner had applied to council for a permit to burn off, but this was refused on the grounds that the land was neighbouring a residential area. "Such burning, without an appropriate permit, is irresponsible and potentially dangerous." Mr Williamson said. "Burning waste is never a good option but when it is unavoidable for practical reasons it is essential that those burning waste check with their council to see whether a permit is needed before burning off. They also need to check that materials such as treated pine posts and plastic don't end up in their fires."
Unwanted treated pine posts can be reused and are often sought after by local vineyards. Treated pine posts that cannot be reused can be deposited at the Mildura landfill. Mildura landfill in Ontario Avenue is open between 7am and 4:45pm Monday to Friday, and 10:00am to 4:45pm Saturday and Sunday. Any person who wishes to burn off in the irrigated area within the municipality of Mildura Rural City Council must obtain a permit and must conduct the burn in conjunction with the conditions of the permit. EPA's fines for pollution offences rose significantly last year. Fines of up to $240,000 can now be applied to those polluting the atmosphere. Media Enquiries: Tim Grech (03) 9695 2703 or 0401 140 862
WHAT TREATED TIMBER IS USED FOR
APPENDIX D - AS 1604
GUIDE TO HAZARD* CLASSIFICATIONS FOR VARIOUS END USE APPLICATIONS
*generally speaking the higher the hazard class the more timber preservative is required.
(Informative)
Table D1
HAZARD CLASSIFICATION
| | |
| --- | --- |
| TIMBER PRODUCT APPLICATION | HAZARD CLASS |
| Battens Interior | 1 and 2 |
| Battens Exterior | 3 |
| Beams laminated interior | 1 and 2 |
| Beams laminated exterior, and interior high risk | 3 |
| Boat building - decks and superstructure | 4 |
| Boat hull | 6 |
| Cattle grid | 5 |
| Cladding | 3 |
| Compost bin | 3 and 4 |
| Containers - plants | 4 |
| Cooling tower Structure | 5 |
| Cooling tower Fill | 5 |
| Crib Walling | 5 |
| Decking Bridge | 5 |
| Decking Wharf | 5 |
| Decking Patio | 3 |
| Drain linings | 5 |
| Droppers - fence | 3 |
| Fascia Board | 3 |
| Fence Palings | 3 |
| Fence Fence Rails | 3 |
| Flooring - interior | 1 and 2 |
| Framing - house - wall - subfloor | 2 |
| Furniture - garden | 3 |
| Gate | 3 |
| Glasshouse timbers | 4 |
| Horticultural timbers | 4 and 5 |
| Jetty components Fresh Water | 5 |
| Jetty components Salt Water | 6 |
| Joinery - exterior | 3 |
| Landscaping timbers | 4 |
| Lattice | 3 |
| Marina timbers | 6 |
| Mushroom boxes | 4 |
| Oyster-farming timbers | 6 |
| Pergola timbers Above ground | 3 |
| Pergola timbers In-ground | 4 |
| Piles Building foundation | 5 |
| Piles Fresh Water | 5 |
| Piles Marina | 6 |
| Poles Building | 5 |
| Poles Utility | 5 |
| Posts Sawn | 4 |
| Posts Guard Rail | 4 and 5 |
| Posts Horticultural | 4 and 5 |
| Posts Fencing | 4 and 5 |
| Seed boxes | 4 |
| Shingles | 4 and 5 |
| Slipways - marina | 4 |
| Spa pools | 4 |
| Stumps - sawn - house | 5 |
| Trellis | 3 |
| Veranda Floors | 3 |
| Veranda Supports in ground | 5 |
| Veranda Supports out of ground | 3 or 4 |
| Weatherboards | 3 |
| Wet process factories | 4 |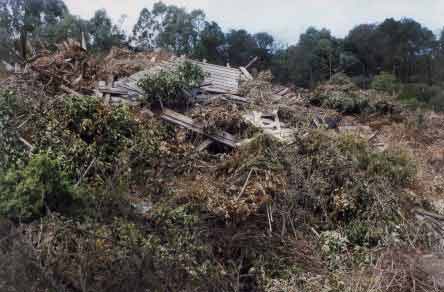 March 03: Treated pine being turned into garden mulch at the City of Nunawading Waste Transfer and Recycling Centre in Eastern Melbourne. After being dumped, this old treated pine fence will be woodchipped and the woodchips/mulch sent to council gardens and home gardens throughout this municipality. How many people realise that the supposed harmless mulch purchased from their local council could contain CCA arsenic impregnated woodchips and sawdust? This mulch may then be spread onto vegetable gardens etc - not to mention arsenic possibly being absorbed by people working with this material. Better education of council staff is required to divert old CCA pine from mulch piles. One problem is that treated pine often fades to grey after a certain amount of time, meaning that it can be difficult to differentiate between treated and untreated pine.
Submission to the Australian Pesticides and Veterinary Medicines Authority regarding The Reconsideration of Registrations of Arsenic Timber Treatment Products (CCA and Arsenic Trioxide) and their Associated Labels.
Feb 27, 2004 Friends of the Earth (Melbourne) Forest Network PO Box 222, Fitzroy, 3065 Ph: (03) 9419 8700 Fax: (03) 9416 2081
This brief submission will highlight issues surrounding the December 2003 APVMA Technical Report and other information that has recently come to hand. Friends of the Earth would like to confirm that we are opposed to the use and production of CCA timber treatments throughout Australia. We are of the opinion that CCA should be banned from use in Australia. For past information regarding our position regarding CCA please go to our previous submission to the APVMA in 2003.
APVMA Technical Report Issues that need clarification.
1) According to LaPresse Newspaper May 17 2002; Treated Timber can become more toxic with age. The APVMA Technical Report has failed to mention this issue in its Technical Report. "Treated wood is not classified as hazardous waste because up until now, the industry said it only used arsenic V (pentavalent arsenic or arsenate- less toxic, but still a carcinogen), and we always presumed that new wood leached less than old", Bill Hinkley, head of the Florida Department of Environmental Protection, explained in an interview. "High levels of arsenic are leached for the first six months and they stabilize at a lower level for four to five years", confirmed Tony Ung, a wood researcher at the University of Toronto. But Dr. Tim Townsend, professor of Environmental Engineering at the University of Florida, tested CCA-treated wood weathered for at least ten years. He presented his results May 13 to a technical advisory committee on which Bill Hinkley sits, who reports: "He discovered that the old wood emits much higher levels of arsenic III (highly toxic trivalent arsenic or arsenite) than As V, well above the limit for non-hazardous waste. As it ages, the wood's lignin decomposes and releases the chemicals." Dr Townsend only found As V in new wood and he does not know how it converts to As III. He also discovered that when used in alkaline conditions (pH above 8), for example in contact with concrete, treated wood emits large quantities of highly toxic hexavalent chromium, made popular by the film "Erin Brockovich".
2) The Technical Report states on page 18; "However, the aggregate exposure which includes all other sources apart from food may be high for some children depending on their age, geographical location, housing environment and daily activity". How do we know how much CCA people and children are really exposed to? For instance how much CCA is a baby exposed to in a house made of CCA timber? Many thousands of Australians live in houses with treated pine decking. This would mean that the exposure rate for these people would be way above 'average'. Likewise in homes that have treated pine cubby houses or homes that have treated pine decking surrounding swimming pools/spas where the water is treated with chlorine - making CCA exposure - especially in summer a huge issue. The APVMA Technical Report has not even suggested studies that have looked at chlorine and CCA issues.
3) The Technical Report quotes on page 18/19; The Joint Expert Committee on Food Additives (JECFA) data is 21 and 15 years old. Surely more up to date information is at hand?
4) The Technical Report quotes on page 21 issues surrounding Playground-related exposure. Frequency of playground use is stated to be 156 days per year (3 days a week). I would suggest that many thousands of Australian children are exposed to this level and possibly 2 to 3 times more if they are living in houses with treated pine decking. Frequency of Decking use in some cases could be 365 days per year (7 days a week), with longer amounts of play time.
5) The Technical Report quotes on page 22; 'in the absence of Australian data on soil content of arsenic in different playgrounds, a value of 30 mg arsenic/kg soil was selected. This figure may be woefully low considering children playing in houses with treated pine decking and even fencing. I would suggest that the amount of play time for children would be far greater in their homes than in treated pine playgrounds. I have also heard of children licking timber in treated pine playgrounds and children licking treated pine decks and fences.
6) Considering the above inaccuracies of the Technical Report, the Total daily arsenic intake levels as printed on page 23 are in my opinion too low. The table entitled Total daily intake of arsenic from all sources does not include arsenic from decking and other sources as I have pointed out above. A more accurate table for people living with treated pine decking etc where children will be crawling and running often with bare feet, would read (0.27 figure sourced from multiplying playground calculations by 2.3. 365 days per year playtime not 156 days):
SUGGESTED TOTAL INTAKE OF ARSENIC FROM ALL SOURCES
| | |
| --- | --- |
| Non - Playground | 0.50 ug/kg |
| Playground | 0.12 ug/kg |
| Homes/Schools etc | 0.27 ug/kg + |
| Total | 0.89 ug/kg bw |
7) This calculation would then alter the following statement to, "The above estimate indicated that the total intake of a child is ~0.9 ug/kg/d. Of this, ~40% intake is from playgrounds, schools and homes. . ."
8) Friends of the Earth would disagree with the statement of the APVMA Technical Report on page 25; that "…there was no compelling evidence from the available data to conclude that there was likely to be an unacceptable risk to public health from exposure to arsenic from CCA-treated timber". We do not agree that any level under 2ug/hk/d is safe. No amount is safe to all users.
9) Studies on CCA treated decks (APVMA Technical Report p36) show that deck residues may vary substantially. (APVMA Technical Report p157) also confirms variations between treated boards.
10) In regards to vineyards (APVMA Technical Report p74) the average life expectancy of vineyards is between 20-30 years, often meaning that large percentages of the CCA treated posts have to be removed/destroyed. 15% of posts are replaced each year in NSW, but almost all of the 13.2-26.4 million posts will have to be replaced by 2030 in NSW alone! How is the wine industry attempting to deal with this issue? What impact is this huge use of treated pine posts having on the heath of agricultural/viticulture workers who have the responsibility of replacing and using CCA timber each day? (the same could be said about fence builders and house builders, timber yard workers, treatment plant workers who have to lift, carry and work with CCA timber most days of the year). Given that all of these posts will most likely leach CCA into soil what impact will such a large amount of CCA treated pine posts have on the health of soil etc in vineyards? 26 million posts is a large amount of leachate entering wineyard soils.
11) In regards to sources of Australian arsenic (APVMA Technical Report p75) it is our belief that most of the arsenic used in Australia is imported from Chile and China and is a by-product of the mining industry. What occupational health and safety issues surround the mining industry in China in regards to arsenic? We would argue that Australian consumers are feeding an unsustainable industry which could be causing massive health issues amongst mining workers in China and Chile.
12) In regards to (APVMA Technical Report p82) what % of CCA plants use steam heating treatments and what happens to the sludge by product from these plants. We have heard that in many instances it is dumped.
13) In regards to (APVMA Technical Report p84) how much longer does CCA take to properly dry in cooler climates such as Victoria and Tasmania? Or southern Australia in winter months. Does anyone monitor the 'wetness' of recently treated pine before its reaches the market?
14) Our experience is that CCA timber yards and treatment facilities have very poor environmental standards. Go to the town of Ballan and have a look at the CCA plant in that town! Many plants we have seen were established prior to 1996 and in many CCA plants that we have seen, CCA is simply stored on bare ground after treatment. We agree with the APVMA that "…full compliance with the guidelines/standards cannot yet be relied on" and we would argue that in our experience there are probably more CCA plants still operating that were built prior to environmental standards being drafted in 1996, than there are newer plants established after 1996.
15) CCA should definitely not be used for furniture (APVMA Technical Report p87). What about offgassing of CCA in enclosed spaces including retaining walls, framing decking etc. (see appendices)
16) CCA is used nationally and therefore should be treated as a national environment issue.
17) In regards to landfill studies, what research has been conducted on older landfills in Australia regarding leachate of copper chrome arsenate? How many landfills are currently operating in Australia without clay capping layers as recommended by researchers (APVMA Technical Report p98)? "A number of old and existing landfills are situated in close proximity to each other in the Clayton South area about 20 km south-east of Melbourne. The leachate from these landfills is polluting high quality groundwater aquifers. This threat to groundwater resources is triggered by the landfills being located above unconsolidated sandy aquifers. Another aspect which further complicates the issue is that sand mining in the area has artificially depressed the groundwater. Given these conditions each landfill has a different type of containment system and the groundwater monitoring requirements vary for each. The main issue now is to establish the severity of the environmental impacts and how to protect the groundwater resources in this area from these impacts..." EPA Vic.
18) Rural landfills in towns with large CCA plant facilities must be assessed immediately.
19) Heavy contamination of CCA treatment plants is commonplace and the APVMA should also look at PCP (Pentachlorophenol) contamination of timber treatment yards. In 1993 Greenpeace New Zealand wrote the report 'The deadly legacy' in which it states that 600 sites in New Zealand were contaminated with PCP largely from timber treatment facilities. This is also likely to be a huge issue in Australia.
20) In regards to (APVMA Technical Report p122) many hardwoods in Queensland, NT and NSW are treated with CCA. What leaching studies have been made available for these durable species? The denser the timber the harder it is to treat.
21) In regards to (APVMA Technical Report p128) a public education campaign needs to occur regarding the problems of using bleach on treated timber and its potential to leach Chromium.
22) The public will require information on which are the best sealants, coatings and stains in regards to environmental friendliness and effect of 'holding' CCA within treated timber. APVMA should recommened such sealants etc.
23) APVMA apparently won't deal with issues regarding disposal problems of CCA timber. 'APVMA has no regulatory authority over existing CCA treated timber structures' (APVMA Review Summary - March 2003) This is not good enough. This will be a massive problem over the next decades and the disposal issues are another reason why CCA timber shouldn't be produced in the first place. APVMA should not expect other agencies to deal with the disposal problems of CCA and clear recommendations need to come from the APVMA regarding assessment of existing CCA structures, such as house decks etc. Given that the APVMA is likely to only ban CCA use in playgrounds and decking etc there will still most likely be a huge CCA industry in Australia producing CCA poles etc. Disposal of these poles will still need to occur despite what the APVMA recommends for decking etc.
24) Numerous CCA contamination issues have occurred in Australia; the worst probably being Armidale in the 1970's. Mount Gambier 1995 (SA), Dartmoor 1996 (Vic) and Ringwood 2000 (Vic) are other instances - although these are but the 'tip of the iceberg'. See website; http://www.baddevelopers.green.net.au/Docs/treatedtimber.htm
25) Copper can be highly toxic to fish and any new CCA facility in locations where Environment Protection Biodiversity Conservation Act species are located should have to go through an EPBC process. This should also occur where CCA timber is being used in the vicinity of streams/rivers which threatened fish species. For instance the Yarra River has three fish species listed under the EPBC Act: Macquarie Perch, Australian Grayling and Murray Cod. These species could be put at risk by indiscriminate use of CCA timber in the Yarra River catchment. Most of the Yarra River - where CCA is used - has a trigger level of 95%. Friends of the Earth argue that the entire River needs to be granted the 99% trigger level because of the endangered species within its waters. CCA Runoff pollution can occur in the Yarra River through decks, boardwalks, jetties etc. Australian Water Quality Guidelines for Fresh and Marine Waters - November 1992.
Copper The concentration of total copper in fresh waters should not exceed 2-5 ug/L, depending on water hardness. The concentration of total copper in marine waters should not exceed 5 ug/L Natural sources of copper in aquatic environments include weathering of copper minerals and native copper; however anthropogenic activities can release significant amounts of copper to the environment (McNeeley el al. 1979). Copper is commonly found in the +II state in natural waters. The composition of the various copper species depends on pH and the presence of inorganic and organic ligands in the water. As an essential element, copper is readily accumulated by plants and animals; bioconcentration factors ranging from 100 to 26,000 have been recorded for various species of phytoplankton, zooplankton, macrophytes, macroinvertebrates and fish (Spear & Pierce 1979). The toxicity of copper in fresh waters increases with decreasing water hardness and dissolved oxygen concentration. High concentrations of chelating agents (e.g. humic acids, amino acids) and suspended solids lead to lower copper toxicity, presumably by complexation forming less available forms of copper (Alabaster & Lloyd 1982). Acute toxicity data for freshwater species in forty-one genera are available (USEPA 1985c). At a hardness of 50mg/L, the values ranged from 17 ug/L for Ptychocheilus to 1,000 ug/L for Acroneuria. Skidmore and Firth (1983) found the acute toxicity of copper for ten Australian species ranges from 200 ug/L to 7,800 ug/L, and Bacher from O'Brien (1990) reported that acute toxicities for Australian species ranged from 40 ug/L to 21,000 ug/L. Chronic values for fifteen freshwater species ranges from 4 ug/L upwards (USEPA 1986). Changes in fish behaviour have been demonstrated at concentrations as low as 4 ug/L (CCREM 1991). A size effect has been shown for bluegill, guppy and rainbow trout, with juveniles being more sensitive than adults (Chakoumakos et al. 1979; Tsai & Chang 1981). Fish and invertebrates seem to be about equally sensitive to the chronic toxicity of copper in fresh waters. The sensitivity of a number of species of freshwater plants that were tested was similar to those of animals (USEPA 1986). Protection of animal species appears to offer adequate protection of plants. CCREM (1991) recommended a guidleine for copper based on hardness, with concentrations ranging from 2 ug/L to 6 ug/L. USEPA (1986) recommended a criterion based on a formula requiring a value for water hardness. Hart (1982) established a criterion of 5 ug/L for filterable copper in soft waters with low complexing capacity.
26) The summary of fish toxicity studies (APVMA Technical Report p179) provides no information on the details of Australian species. Therefore in areas where CCA is used where there are endangered fish species, or species listed under the EPBC, the APVMA has drawn upon no research to determine CCA's potential impacts on these species. CCA spills in the Yarra Catchment as what happened in Ringwood in 2000 could have had disastrous impacts to native fish in the Yarra. This lack of information is stated on (APVMA Technical Report p 194) "From these values, chromium and copper appear more toxic to aquatic organisms than arsenic".
27) It is Friends of the Earth's contention that poorly located CCA plants need to be shut down immediately (APVMA Technical Report p199).
28) Friends of the Earth disagrees with the following sentence (APVMA Technical Report p205); "Incineration should only occur in very controlled facilities where release of arsenic to the atmosphere is minimized and the potentially highly toxic ash is processed and disposed of appropriately'. Our organisation is opposed to the incineration of CCA waste, because no safe method of disposal has been determined.
29) See websites: www.noccawood.ca and www.bancca.org
Appendix 1: Recent email from Deborah Barrie.
Hi Everybody, I am sure that you all remember me telling you the story of a family from Ottawa who became ill after their cca deck was installed. Here is the news link to that story.
The Sierra Club compiled a report on the deck and it can be found at this link.
Pictures of the deck wood can be found at this link. I have now obtained the final report complied by the Ontario Ministry of Environment.
While the report makes no mention of the chemicals other than their quantities it is clear that several serious issues have been found. The first being that the chemical formula is not according to the Standards for cca wood in it's A,B or C formula. This wood appears to have a great deal more arsenic than it should have.
The second issue of concern to me was when I read some of the other metals and minerals in the wood. Aluminum and zinc were both present in the break down of this deck. Arsenic when mixed with aluminum or zinc forms arsine gas and the deck was located over the homes intake air pipes where it could be drawn into the home. As I went to this home last summer and reacted myself I now believe this clearly explains why seeing the doors and windows were closed to the deck. I reported my reaction to the government. I went to this home again recently and the deck has been removed and replaced with a cedar one. The family who have faced many problems since having this deck built were certainly not capable of replacing it financially so I inquired into who had done the work. I was told she could not release that information but that her family had not paid for it. While I am most pleased this deck has been removed and other clean up was undertaken I am left with some concerns. This wood is produced in very large quantities. If someone in authority saw fit to remove this wood then certainly their are others who are in danger as well. Have they been notified?
According to the inspection standards for treated wood in our country the Lafantasie deck should have been dealt with immediately, it clearly was not. How many others may be in danger and have not put together their health concerns with their cca wood purchase? How many batches of this wood that are over-treated are out there? Why is the public not being warned? I have a copy of the inspection document for anyone interested as well I have posted the MOE report but if you can not read it I can fax it. In addition I can provide anyone with a fact sheet where this quote can be found. This was sent to me by a government source. "-Contact of CCA with zinc or aluminum (e.g. galvanized steel) may form arsine, an extremely poisonous, but non-irritating gas (CCA Poison Sheet).
33" this quote can be found here on the effects of arsine gas http://www.origen.net/tox.html "Arsine Gas: Arsine gas (AsH3), is produced when elemental or inorganic arsenic reacts with zinc compounds or certain fungi. Even at concentrations as low as 3-10 ppm, Arsine gas can cause toxic effects in a few hours RAIS data . Where Arsine gas is encountered at very low levels the onset of illness is slow and insidious. After a period of months, cumulative hemolytic effects present as resting dyspnea (breathlessness), severe exercise intolerance and a tachycardia (rapid pulse rate). These signs may be coupled with vague neurological symptoms with a strange feeling in the legs. Hypoxia resulting from exposure to low levels of Arsine gas can lead to blackouts of varying duration. At this stage removing the source of contact with Arsine gas may not help, because of the 'latency period' of one to six months in the development of neurological symptoms. Recovery from the hemolytic effects leads to a compensatory condition 'polycythemia' an excess of red blood cells, in patients with normal RBC metabolism. Lengthy low-level exposure to Arsine gas leads to a third stage of the illness which has similarities to the onset of acute arsine gas poisoning, including brown urine, dizziness, headache and delirium. This is followed by progressive paralysis of the legs and arms leading to 'foot drop', 'wrist drop', 'ataxia' and generalized symptoms including problems with 'proprioception' or position sense. Recovery from sub-lethal Arsine exposure is slow: six months of variable paralysis followed by a recovery time of two to four years. Depending on exposure, there is a possibility of permanent nerve damage affecting the extremities, particularly the hands and fingers. " Furthermore, If aluminum and zinc are actually ingredients in cca wood then we have a whole new issue of concern and a clear picture of why people are reporting symptoms that could only be accounted for by offgassing. The report from the CHMC on treated wood foundations offgassing written about in one of my letters and responded to by their agency is posted here
They at that time reported the methylation of arsenic but were unaware of its dangers. A recent study showing concern can be read here. http://www.chemie.de/news/e/33349/
It makes it very clear we do not yet fully understand what happens to the arsenic that enters our bodies and how accurate present tests are at diagnosing the true load the body has accumulated. I have reported to the Ottawa medical officer of Health my findings on the danger of arsine gas from this batch of wood and my concerns that it could be found in all cca wood. I have also reported that this wood did not match cca wood standards for A,B or C formulas. I have asked him to issue a warning to the public so others who may be in danger have an opportunity to get their wood tested. In conversation with a cancer specialist I told him of the levels of metals and minerals found in my hair analysis. He asked how could I be so toxic. I explained the burning of cca wood but I did not know where some of the metals had come from. He was most alarmed and said, the wood, they are in the wood. I asked him for a copy of the metals and minerals in the wood and he did not offer it. That list is now apparent from the MOE report. I have posted the hair analysis done on me a little over a year after the burning of cca wood in my neighborhood ended. It was too late to show the arsenic levels but further urine tests confirmed that. According to the cancer specialist the MOE report may not even be a complete list. So have a look at my hair analysis realizing that I was poisoned by smoke and that not all metals are carried in smoke in equal proportions as in the wood itself. Also remember certain metals only show up for various lengths of time. Then have a look at the MOE report and realise what a danger cca burning is and how little we really understand about the real dangers of cca wood. On a final note for those who will write asking for faxes, I have lost much of the sight in my right eye and am awaiting surgery so bear with me. I am spending a much-reduced schedule at the computer because of eye strain. My problem is believed to be the result of mineral depletion caused by my poisoning and is expected to be taking longer to attack my other eye because the first one had a weakness already.
Take care everybody and please keep safe.
Deborah Deborah Elaine Barrie 4 Catherine Street Smiths Falls, On Canada K7A 3Z8 (613)284-8259
deborahbarrie(at)hotmail.com