ALCOA: POINT HENRY SMELTER/ANGLESEA COAL MINE
For information on Victoria's other Alcoa aluminium smelter (with more details on greenhouse emissions and taxpayer subsidies) at Portland please click here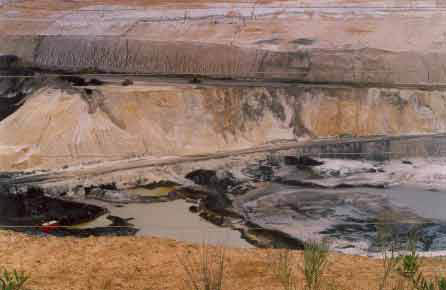 Lets hope the site it properly rehabilitated.

23 April 2011: Over 100 people attend a rally at Anglesea opposing the renewal of Alcoa's Anglesea mining leae for a further 50 years.
The rally organised by Anglesea Air Action is calling for 1. Recognition of the adverse health effects of the open cut coal mine and coal fired power station upon Anglesea residents and visitors, 2. A shorter 'transitional' lease, 3. An environmental impact study on any planned mining expansion into the heathland as a condition of the lease renewal, 4. A public consultation process.
Do Anglesea Residents Know About This Coal Mine Water Pollution Incident Near Sydney?
"The State Government knew more than two years ago that a river feeding Sydney's water supply was being contaminated with high levels of toxic metals and poisons including arsenic...Cox's River near Lithgow... 'We are concerned that there is no requirement for monitoring by Springvale Colliery... of water pumped from underground workings and transferred into Sydney drinking water catchment' the catchment management authority told the department in 2007... independent tests on water discharged from the power station have found high levels of heavy metals including copper, boron, aluminium and arsenic. Aquatic ecosystems in the river have suffered severely, but there is no known risk to human health...The environmental licence held by Delta Electricty has been modified in the past two years to reduce some of the discharges and the company had to pay a pollutant fee of $397,000 for releasing 6500 tonnes of salt into the water in 2007..."
"The New South Wales Government has tightened the pollution licence of a coal-fired power plant near Lithgow that is releasing toxic metals into a river that feeds Sydney's drinking water supply. Delta Electricity, the owner of the Wallerawang power plant, must now monitor heavy metals and pollutants such as arsenic flowing into a channel that enters the Cox's River and report back to the government every three months. But the latest results show that Delta is still polluting the river above safe guideline levels in some instances, more than two years after the government was warned that discharges from the plant were killing aquatic life. The amount of copper leaching into the river remains above the Australian and New Zealand Environment and Conservation Council guidelines, at levels that can be deadly for fish and other river creatures...The latest discharge results come as Delta appeals against a Land and Environment Court ruling that could allow it to be prosecuted by a local environment group, in a test case for emissions around the state..".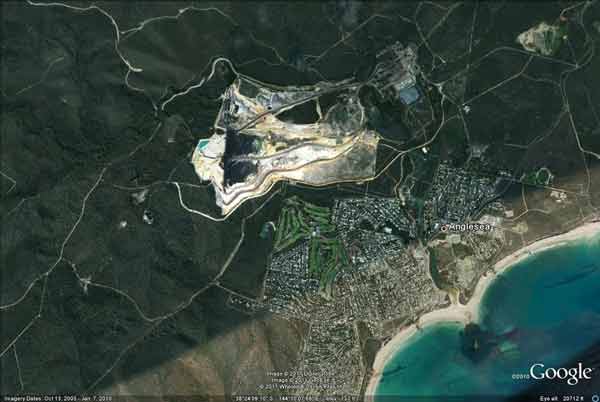 Otways coastal town of Anglesea in proximity to Alcoa power station and coal mine. 20th Century Industrial Visions will have ecological impacts for centuries to come.
"Alcoa's smelters in Portland, Western Victoria, and Point Henry, in Geelong, use 18 to 25 per cent of Victoria's electricity production. Brown Coal, which creates Greenhouse gases, fires most of the state's power plants." Age 21/5/06.
Aluminium is created from the mining of bauxite. Alcoa's bauxite is 'stolen' from Western Australia, where the bauxite underlies Old Growth Jarrah Forests.
CLICK HERE TO SEE WHERE ALUMINIUM COMES FROM IN WA?

For more information on Fluoride see here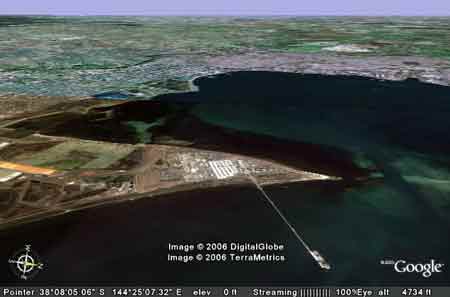 Point Henry Aluminium Smelter and its proximity to the City of Geelong
Aluminium is created from the mining of bauxite. Alcoa's bauxite is 'stolen' from Western Australia, where the bauxite underlies Old Growth Jarrah Forests.
CLICK HERE TO SEE WHERE ALUMINIUM COMES FROM IN WA?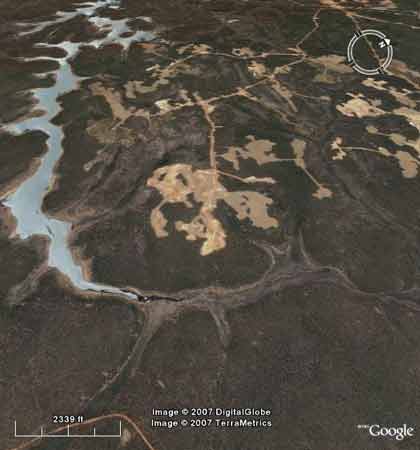 Bauxite mining Western Australia in close proximity to the main water supply for Perth, South Dandalup Reservoir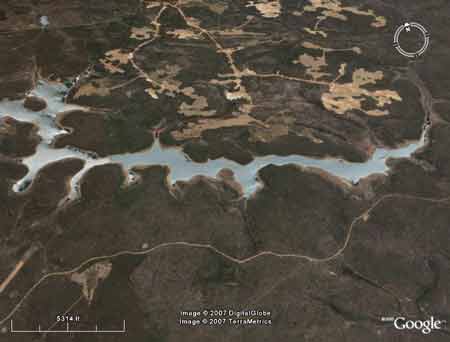 Another view of the extent of bauxite mining in close proximity to South Dandalup Reservoir. Perth's largest.
History Lesson - 1
Source: Fluoridation Poison on Tap By Glen S.R. Walker 1982
p175/6 "Geelong, the largest city in Victoria outside Melbourne, has been host to an aluminium smelter at Point Henry for the last ten years. The smelter is operated by ALCOA; since commencing operations it has been pouring out fluoride emissions at a rate of up to 4.1 kilograms fluoride per tonne of aluminium produced. Their fluoride emissions from the Victorian Government permits 120 tons of fluoride annually into the atmosphere, plus 1 1/2 tons per day at Corio Bay - MORE THAN THREE TIMES THE AMOUNT THAT WOULD BE PERMITTED UNDER U.S. CLEAN AIR ACT REGULATIONS.
Dr. Pleackhahn, one of the members of the Victorian Committee of Inquiry into the safety of Fluoridation, is a specialist at the Geelong Hospital. As a pathologist he should know all about the health hazards associated with fluoride emissions and the NON existence of studies by the Hamer Government into this problem at Geelong. The Victorian Government's Environmental Authority (E.P.A.) does not monitor fluoride pollution at Geelong or in fact anywhere else.
The latest Official Air Monitoring Report from the Government Environmental Protection Authority (November 1980) is a volume of 64 pages, mostly tables of air monitoring in the State of Victoria.
THERE IS NOT ONE MENTION OF FLUORIDES IN THAT REPORT!
Fluorides are just not monitored! Even in Geelong where the Alcoa aluminium smelter is located the E.P.A. does not monitor fluoride in that atmosphere. They do, however, monitor other pollutants in Geelong but only in the western suburbs, NOT in the eastern suburbs where the Alcoa aluminium smelter has a licence to emit hundreds of tons of fluorides.
The fluoride pollution problem is so large that the E.P.A. recently asked Professor John O'Donnell of Melbourne University to study the condition of Corio Bay. Professor O'Donnell is quoted in the Australian and the Geelong Advertiser, 14th February, 1981 as stating that 1.7 tons of waste fluorides are being dumped into Corio Bay every day.
Do not despair. Our Government will not stand any nonsense from these polluters. Victorian people now have a Government that is so interested, so concerned, (or embarrassed) with the huge fluoride pollution dump in Corio Bay, that according to the E.P.A. they have ordered polluting companies to do their own survey on marine life and report it to the E.P.A.!
... Another interesting angle to this comedy is more serious. It should be noted that not one mention was made in the newspaper reports of the effects on the HUMANS living in nearby Geelong, a city built on the shores of Corio Bay.
Can you imagine a beautiful bay almost land-locked, with a fertiliser factory on one side and an aluminium smelter on the opposite bank, both emitting fluoride wastes some of which is poured directly into Corio Bay; and the gaseous and particulate fluoride emissions enter the atmosphere, all of which is hazardous to humans and the polluters appointed by the Government to monitor their own pollution.
Within the vicinity of a smelter, particles containing fluoride are deposited in the immediate area, whereas gaseous fluorides, mainly hydrogen fluoride and silicon tetrafluoride are dispersed over a wider range. In an atmosphere thus polluted, the fluoride entering the human body from air and food could exceed the amounts consumed from fluoride in water, as was shown from a fluoride-emitting aluminium smelter in Czechoslovakia..."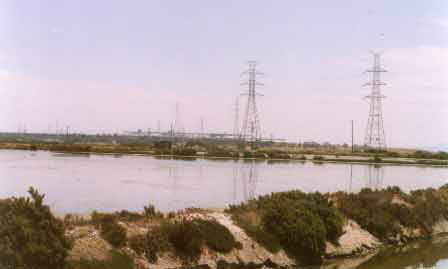 View looking towards the Alcoa Point Henry aluminium smelter - south of the Victorian City of Geelong. Note power lines transporting Greenhouse Effect causing brown coal produced electricity.
End destination of the power line at the Alcoa Point Henry aluminium smelter.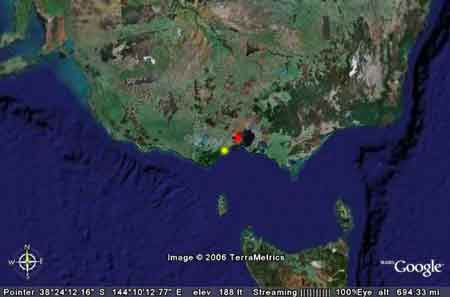 Point Henry's location (red dot) and Anglesea open cut (yellow dot).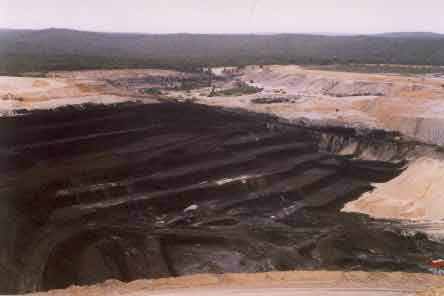 The source of most of the power for the Point Henry Aluminium Smelter. The brown coal mine located just north of the Victorian coastal town of Anglesea. How will this site be remediated once the party's over? Anglesea supplies most of the smelter load, running in parallel with the SECV system.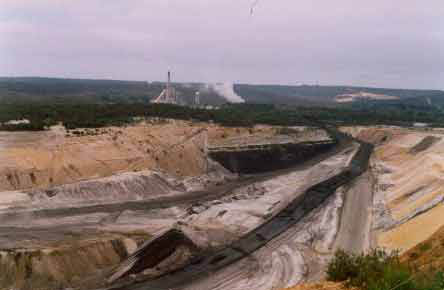 View of the Anglesea power station at Anglesea. Brown Coal is the worst emitter of greenhouse effect gases. This coal mine is privately owned and generates 150MW.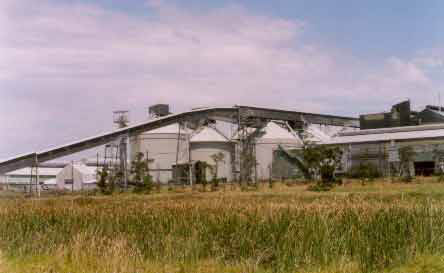 Point Henry conveyor belt.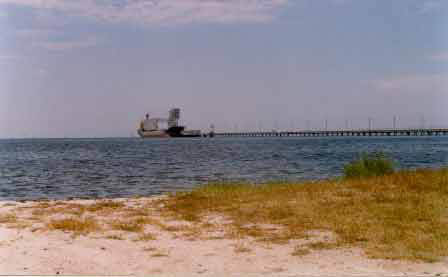 Wharf at Point Henry. Point henry has a capacity of 185,000 tonnes/year of aluminium.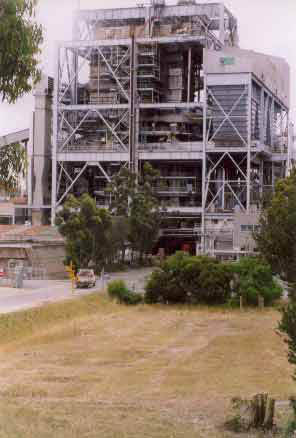 Anglesea power station. Power generation and aluminium smelting at Anglesea and Point Henry produce about 33 Kt/y of Sulfur Dioxide.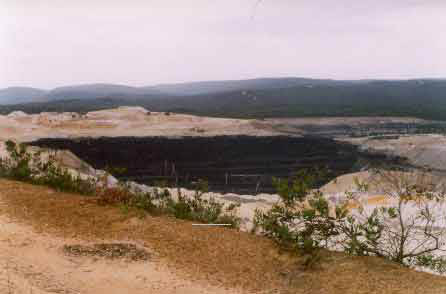 Coal mine at Anglesea. More earth destruction for the profit$ of Alcoa. 1958 exploratory mining uncovered brown coal. In 1964 Alcoa of Australia began construction of a mine and power station to supply electricity to its aluminium refinery at Point Henry in Geelong.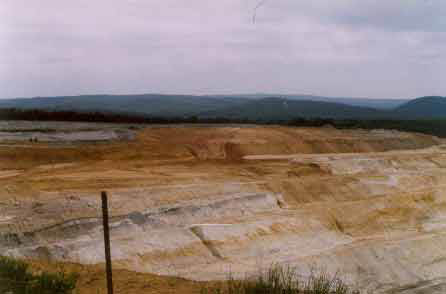 Future coal fields at Anglesea.