NNNN BAD DEVELOPERS NNNN
EXPOSING DEVELOPERS WHO FAIL TO APPRECIATE AND RESPECT COMMUNITY, ENVIRONMENT AND SPIRIT OF THE LAND
Deltrex Chemicals/Pivot Fertilisers

July 29 2009: Fluoride Protesters outside Parliament House Melbourne. Concerned about fluoridation of water supplies in rural Victoria, including Geelong.

Fluoride sourced from Pivot's fertiliser factory, from scrubbers in factory chimneys.
For information on fluoride from Aluminium smelters see here and here

Aug 5 2009: "Mr Murphy said the shut down of the Geelong plant at the end of June had been a surprise to the Portland staff, and a decision about whether or not it would start up again would be made next season. He said Portland's operations were more flexible and able to employ more staff quicker than in Geelong. The Geelong plant used to be involved in the production of fluoride for sale, but Portland would be taking that role over soon. M Murphy said a $1 million system that had nearly been completed would allow the Portland plant to capture fluorosilicic acid instead of returning the production by-product into some of its end products. The product would then be sent for further processing to remove silica and solids. "Portland would provide 2000 tonnes a year of product, which would ultimately be used in fluoridating water supplies", Mr Murphy said."
Fluoridation of Melbourne's water is required by State leglislation under the Health (Fluoridation) Act 1973. This act specifies the levels of fluoride to be added and the reporting of results from fluoride monitoring of the water to the Department of Human Services. The Act requires that the long term average fluoride ion concentration in consumer supplies does not exceed 1 mg/l, as measured over any 12 month period. A mg/l is one milligram per litre, so 1 mg/l is equivalent to 1 part fluoride per 1 million parts water.

Above: March 05: Pivot's complex in Geelong.
Fluoride is added to Melbourne's water either as fluosilicic acid (sometimes known as hydrofluosilicic acid) or sodium silicofluoride.
Deltrex Chemicals supplied Melbourne Water in the past with Sodium Silicofluoride. (Other names include: Sodium Fluorosilicate, Sodium Hexafluorosilicate, Disodium Hexafluorosilicate). (Deltrex is a division of the Australian multinational Campbell Brothers Limited).
According to Australian Fluoridation News Melbourne Water's new fluoride supplier is Consolidated Chemical Company.
Incitec Pivot supplies Melbourne Water with Hydrofluorosilicic Acid. (Other names include: HFSA, Fluosilicic Acid, Silicofluoric Acid, Fluorosilicic Acid, Sand Acid).
Interesting Facts of Silicofluoride (Source of Information: Mr Glen Walker & Australian Fluoridation News, April-June 2009.
"...That chemical, sodium silicofluoride, has to be taken out of superphosphate in the manufacture of that fertiliser because...if it were left in the fertiliser, IT WOULD KILL EVERYTHING ON THE FARM AND POSSIBLY THE FARMER.
So by international law, all superphosphate must have most of the fluoride produced in the manufacture of that product removed. And isn't it interesting, also by international law that same product (sodium silicofluoride) which you drink every day, is not allowed to be dumped in the oceans, the rivers, and not even into landfills. So the question is, why do they put it in the water?
...Then the government went further and stated that there was already fluoride, naturally, in the drinking water... But its NOT the fluoride from superphosphate, it's totally different. It's a natural calcium fluoride that comes out of the rock formations where water flows. One is almost insoluble, that's the calcium fluoride: whereas the other (sodium silicofluoride) is used because it is so soluble.
It's put into water at one part per million (1 ppm). That quantity is 'considered' safe, but has never been scientifically PROVED to be safe.
In 2001, in the US Congress a question was asked to the Food and Drug Administration (FDA), the leading group in the world for controlling drugs. So the FDA representative was asked:
Q: "Will you supply scientific evidence that this material, sodium silicofluoride is perfectly safe for human ingestion?"
A: We have NEVER given permission as sodium silicofluoride as being safe. We have NO scientific evidence or patents of any sort in our organisation to say that this material is safe".

Above: March 05: Pivot's complex in Geelong.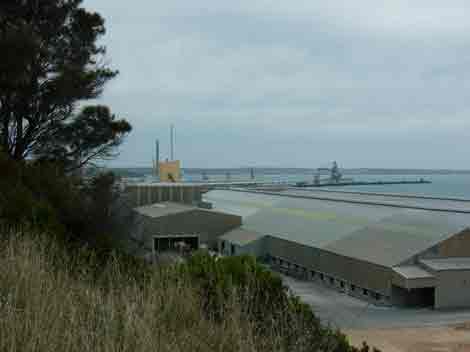 Above: March 05: Pivot's complex in Portland.
Information will soon be added about Deltrex and Pivot, meanwhile check out these great links;
Poison drains into river daily
It is illegal for anyone to dump fluorosilic acid (FSA/hydrofluorocilicic acid) into the environment because it is a very toxic S6 poison.
FSA can also be classified as an S5 or S7 poison depending on its toxicity as stated in the National Drugs and Poisons Schedule.
It is illegal to allow even one litre of this substance to enter the environment, which includes waterways.
Any individual or business caught doing so is prosecuted.
Fluoridation of Wodonga's water supply will add an average 6445 litres of pure industrial fluorosilic acid (an industrial waste by-product) to our water supply every year.
Ninety eight per cent of that fluorosilic acid then ends up in the river.
If the health department deliberately dumped any FSA into the river it would be a crime.
But through Wodonga's water supply, FSA will be dumped at a rate of 17.66 litres of FSA every day of the year.
The EPA does not appear to care and does not monitor the fluoride levels in the river.
How many towns along the Murray River have water fluoridation?
How much fluoride is added to the river?
The EPA says that monitoring the levels of fluoride, or fluorosilic acid, entering the river is not its job.
The EPA stated that it did not know who monitored fluoride.
But it suggested that I contact the Department of Sustainability who in turn referred me back to the EPA because its not their job either.
Marilyn Edgar,
Fluoride Education Awareness Team, Wodonga.
November 25 2004: Members of Water Quality Australia with Professor Paul Connett (second from left), outside the Department of Human Servics, after a meeting with the Chief Health Officer of the Department of Human Services, Robert Hall. The meeting discussed the Victorian Government Fluoridation Strategy. Hall was basically 'knocked for six' by the arguements of Professor Connett, the world's leading expert in the problems of fluoridation of water supplies.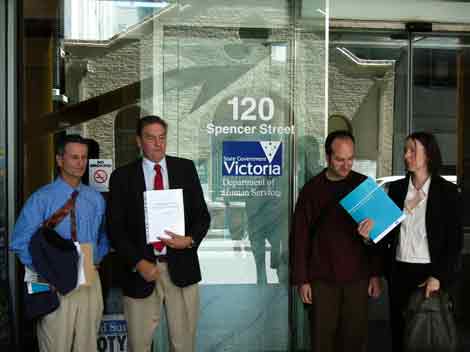 Other 'experts' at the meeting who witnessed Professor Connett's demolition of Mr Hall included; Robyn Batten, Chief Executive Officer, DHSV, Jan Bowman, manager Environmental Health, Department of Human Services, Vlad Hardi Past President of Australian Dental Association, Associate Professor Mike Morgan, Deputy Head - School of Dental Sciences, University of Melbourne, Jan Norton, Director Social and Environmental Health, Department of Human Services, Professor Eric Reynolds, head - School of Dental Sciences, University of Melbourne.
"Dentists, on qualifying, do not take the Hippocratic Oath, nor do politicians, or multi-nationals in commercial corporations" p22 Fluoridation Poison on Tap By Glen S. R. Walker 1981
History Lesson
Information sourced from: Fluoridation Poison on Tap By Glen S. R. Walker 1982
p 124/5 "Soon a big spin-off developed from an increased endorsement by bureaucracy backed by the rapidly growing, very rich Aluminium Industry.
What better business arrangement than to convert a poisonous waste product (fluoride) from being a financial liability into a great money spinner to the tune of millions of dollars each year.
This scheme by industry, backed by the medical bureaucracy, using humans as waste disposal units was the financial dream of the century.
Nothing was going to stop the promotion of such a dream and on the band wagon climbed all the fertiliser companies of the world because they also had fluoride as an embarrassing by-product very difficult to dump, and so the plan was evolved. The greatest scientific hoax in history gave the bureaucracy more control, plus the addition to their ever growing empires. It took fluoride dentistry into the realm of science, even though it was the mumbo-jumbo of pseudo-science. Universities assured of huge grants to prove fluorides safe and effective, and sufficient funding to bulldoze and disgrace all opposition thereby making fluorides not only the wonder drug, but a very respectable chemical that nobody dare suggest could ever be dangerous from emissions at Aluminium Smelters or Fertiliser Factories.
The promotion gained medical support not from medical research but from some university professors, acting as consultants to the side of fluoridation promotion, and having the time and position to indoctrinate medical and dental students with fluoride dogma.
It was from this inverted pyramid of mass endorsements and propaganda, resting on a very small base of unscientific observation, that fluoridation was born."
Information sourced from: Fluoridation Poison on Tap By Glen S. R. Walker 1982
p158 "In 1953 The public was indifferent to fluoridation; the bulk of the dental profession were apathetic, but the U.S. Public Health Service was intent upon launching a world-wide promotional campaign at full speed ahead with utter contempt for warnings by some scientists.
Let's ask a very pertinent question.
Did anyone stand to gain financially from fluoridation?
On the 7th July,1951, an article had appeared in the influential publication Chemical Week, under the heading: "Water Boom for Fluorides", in part it read:
'All over the country, slide rules are getting warm as waterworks engineers figure the cost of adding fluoride to their municipal supplies. They are riding a trend urged on them by the U.S. Public Health Directors, the American Dental Association, the State Dental Health Directors, various State and local health bodies and vocal women's clubs from coast to coast.
It adds up to a nice piece of business on all sides and many firms are cheering the U.S. Public Health Service and similar groups as they plump for increasing adopting of fluoridation.
The beneficiaries named in the article included: General Chemical, Harshaw Chemical Company, American Agricultural Chemical Company, and the Aluminium Company of America, ALCOA.
Also in 1951, ALCOA ran a series of advertisements in the Journal of the American Water Works Association, proclaiming:
Fluoridate your water with confidence, use high Purity ALCOA sodium fluoride.
Just consider this twenty year sequence of "coincidences".
-In 1931, a chemist identifies fluoride, a by product of the aluminium industry, as a harmful pollutant and toxic to children's teeth.
-In 1934, American authorities commission a Public Health Service dentist to survey those areas of the States where endemic fluorosis is prevalent, so that new restrictive standards for fluoride levels permitted in water can be established.
-In 1939, a scientist under contract to the Mellon Institute comes up with the inspired suggestion - add fluorides to water instead of taking them out.
-In 1944, an Attorney, Oscar Ewing is put on the payroll of ALCOA for an annual salary of $750,000.
-Some months later he joined the Public Service to become Federal Security Administrator, which made him Head of the U.S. Public Health Service at a salary stated to be about $120,000.
-In 1945, the first proposed ten year artificial fluoridation experiment began in Grand Rapids, USA.
-In June 1950, half way through the experiment, the U.S.P.H.S. under its Chief, Oscar Ewing, "endorsed" the safety and effictiveness of artificial fluoridation; and encouraged its immediate adoption through the States.
-In 1951, Ewing persuaded the Congress to release $2 million for the - "Promotion of Artificial Fluoridation".
-In the same year, at a conference in Washington, every State dental director was lectured to by dentist Francis Bull on: How to Sell Fluoridation (to hell with science and medicine).
In 1953, the name of the Australian National Health and Medical Research Council was added to the growing list of important-sounding organisations endorsing the safety and effectiveness of fluoridation, despite the sparcity of supporting scientific evidence...".
Victorian Communities Drinking Flouride 2007/8
The Health (Fluoridation) Act states that annual average fluoride level should not exceed 1mg/L, yet the Australian Drinking Water Guideline (Health) Guideline is 1.5mg/l
Naturally Occurring Fluoride
| | | | |
| --- | --- | --- | --- |
| Community | Water Authority | Water Source | Maximum Reading mg/l |
| Waubra | Central Highlands Water | Groundwater Bores | 2.1 |
| Learmonth | Central Highlands Water | Groundwater Bores | 1.8 |
| Clunes | Central Highlands Water | Groundwater Bores | 1.2 |
Artificially Added Fluoride
| | | |
| --- | --- | --- |
| Community | Water Authority | Maximum Reading mg/l |
| Balnarring | South East Water | 1.3 |
| Parkville | City West Water | 1.3 |
| Richmond | City West Water | 1.3 |
| Taylors Lake | City West Water | 1.3 |
| Werribee South | City West Water | 1.3 |
| Bayswater North | Yarra Valley Water | 1.2 |
| Caroline Springs | City West Water | 1.2 |
| Cora Lynn | South East Water | 1.2 |
| Deer Park | City West Water | 1.2 |
| East Keilor | City West Water | 1.2 |
| Hallam | City West Water | 1.2 |
| Lilydale | Yarra Valley Water | 1.2 |
| Maribyrnong | City West Water | 1.2 |
| Mernda/Hurstbridge | Yarra Valley Water | 1.2 |
| Moonee Ponds | City West Water | 1.2 |
| Ridge/Monbulk | Yarra Valley Water | 1.2 |
| Tullamarine | City West Water | 1.2 |
| Werribee | City West Water | 1.2 |
| Williamstown | City West Water | 1.2 |
| Altona | City West Water | 1.1 |
| Beaumaris () | South East Water | 1.1 |
| Belgrave (South East Water) | South East Water | 1.1 |
| Chelsea (South East Water) | South East Water | 1.1 |
| Croydon (Yarra Valley Water) | Yarra Valley Water | 1.1 |
| Devon Meadows (South East Water) | South East Water | 1.1 |
| Dromana (South East Water) | South East Water | 1.1 |
| Echuca (Coliban Water) | Coliban Water | 1.1 |
| Eltham (Yarra Valley Water) | Yarra Valley Water | 1.1 |
| Frankson (South East Water) | South East Water | 1.1 |
| Garfield (South East Water) | South East Water | 1.1 |
| Hastings (South East Water) | South East Water | 1.1 |
| Kew (Yarra Valley Water) | Yarra Valley Water | 1.1 |
| Lang Lang (South East Water) | South East Water | 1.1 |
| Little River | City West Water | 1.1 |
| Mitcham (Yarra Valley Water) | Yarra Valley Water | 1.1 |
| Mordialloc (South East Water) | South East Water | 1.1 |
| Mornington (South East Water) | South East Water | 1.1 |
| Pakenham (South East Water) | South East Water | 1.1 |
| Rye (South East Water) | South East Water | 1.1 |
| South Melbourne (South East Water) | South East Water | 1.1 |
| Strathmore | City West Water | 1.1 |
| Warranwood (Yarra Valley Water) | Yarra Valley Water | 1.1 |
| Bayswater | South East Water | 1.0 |
| Berwick | South East Water | 1.0 |
| Bittern | South East Water | 1.0 |
| Brighton/Heatherton | South East Water | 1.0 |
| Bundoora | Yarra Valley Water | 1.0 |
| Bunyip | South East Water | 1.0 |
| Carrum Downs | South East Water | 1.0 |
| Caulfield | South East Water | 1.0 |
| Cranbourne | South East Water | 1.0 |
| Dandenong | South East Water | 1.0 |
| Epping | Yarra Valley Water | 1.0 |
| Ferntree Gully | South East Water | 1.0 |
| Koo Wee Rup | South East Water | 1.0 |
| Moorooduc | South East Water | 1.0 |
| Mount Martha | South East Water | 1.0 |
| Rowville | South East Water | 1.0 |
| Shoreham | South East Water | 1.0 |
| Somerville | South East Water | 1.0 |
| Tallygaroopna | Goulburn Valley Water | 1.0 |
| Tynong | South East Water | 1.0 |
| Upper Beaconsfield | South East Water | 1.0 |
| Wantirna | South East Water | 1.0 |
| Whittlesea | Yarra Valley Water | 1.0 |
| Bendigo Spring Gully | Coliban Water | 0.96 |
| Strathfieldsaye | Coliban Water | 0.95 |
| Axedale | Coliban Water | 0.94 |
| Bendigo Northern | Coliban Water | 0.94 |
| Bendigo Southern | Coliban Water | 0.94 |
| Epsom-Huntly | Coliban Water | 0.94 |
| Junortoun | Coliban Water | 0.94 |
| Maiden Gully-Marong | Coliban Water | 0.94 |
| Big Hill | Coliban Water | 0.93 |
| Tongala | Goulburn Valley Water | 0.92 |
| Dandenong North | South East Water | 0.90 |
| Frankston South | South East Water | 0.90 |
| Karingal | South East Water | 0.90 |
| Kyneton | Coliban Water | 0.90 |
| Toolamba | Goulburn Valley Water | 0.90 |
| Tylden | Coliban Water | 0.90 |
| Malmsbury | Coliban Water | 0.89 |
| Dunolly* | Coliban Water | 0.89 |
| Mooroopna | Goulburn Valley Water | 0.88 |
| Shepparton | Goulburn Valley Water | 0.88 |
| Raywood* | Coliban Water | 0.87 |
also; Horsham 1.00, Haven 1.00 (GMW Water)