Portland Aluminium Smelter
For Information about Alcoa's other aluminium smelter in Victoria at Point Henry (near Geelong) and Alcoa's brown coal mine at Anglesea [click here]
A major power outage at the Alcoa aluminium smelter in Victoria's west has forced the closure of more than half of its manufacturing capacity with fears that the plant may never fully recover. The plant in Portland, 350km southwest of Melbourne, employs about 500 people and the power outage comes as its owner is trying to negotiate a competitive power deal that will keep its doors open. Analysts predicted that the closure of the Hazelwood power station would precipitate the closure of the Portland smelter due to higher power costs. The closure of the smelter would impact 2000 jobs, with the local council predicting Portland would lose 30 per cent of it's population
Alcoa's Portland smelter risks closure and a mass shedding of jobs, with the aluminum plant now running at a loss and facing a huge surge in costs later this year. Analysts estimate the smelter's power costs will rise by about $50 million to $90 million as a government subsidy is removed and a new power contract starts with AGL in November. The smelter is responsible for almost 10 per cent of Victoria's electricity demand. (Age 17/2/2016)
Alcoa Aluminium smelter (below) located in Portland, in the South West of the Australian State of Victoria, uses 25% of that State's electricity. Aluminium is an extremely energy intensive industry and is subsidised by taxpayers.
Smelter planning to increase size by 39%? Will this increase Victoria's Greenhouse Gas emissions by 39%?
"Alcoa's smelters in Portland, Western Victoria, and Point Henry, in Geelong, use 18 to 25 per cent of Victoria's electricity production. Brown Coal, which creates Greenhouse gases, fires most of the state's power plants. Alcoa and the Government have discussed the Portland smelter expansion for more than two years. If approved, significant extra power would be required...In 2004, the government established a subcommittee to examine Alcoa's expansion... Aluminium output would rise from 360,000 tonnes a year to 500,000 tonnes a year" The Age May 21, 2006.
July 15 2008: Aluminium Industry at Risk
Smelter Given Licence to Pollute (Herald Sun), July 4, 2007.
Victoria to benefit from troubles Alcoa deal $100 Windfall. Herald Sun May 30, 2006 by George Lekakis
Victoria is poised to collect a windfall of up to $100 million on its troubled deal to supply electricity to Alcoa's Portland and Port Henry aluminium smelters.
Details of the earnings turnaround, triggered by booming aluminium prices, as expected to be disclosed in budget papers to be released today by State Treasurer John Brumby.
Since 1984 the State Electricity Commission of Victoria has been required to deliver power to the Alcoa smelters at an aggregate loss of almost $2 billion.
The controversial 30-year contract with Alcoa, signed in 1984 by the Cain Labor Government has presented a string of headaches for successive state governments.
But an upswing in world aluminium prices in the past year is set to tilt the formula for calculating electricity prices paid by Alcoa in favour of taxpayers.
Under the supply deal, rises in aluminium prices automatically trigger increases in capital charges borne by Alcoa for the maintenance of power generators and transmission lines its uses.
Aluminium prices were trading below $US2000 tonne a year ago but surged to a near-record this month of more than $US3100 a tonne.
The rally in aluminium prices guarantees that SECV will generate a profit from the Alcoa deal for the first time since 1989 when it netted a gain of $46 million.
The rise in SECV revenue is expected to be enhanced by a recent ramp up of production at Portland.
While the first 520MW purchased annually by Alcoa at Portland is sold at below cost by SECV, Alcoa is required to pay market rates for additional power supplied.
BusinessDaily believes Alcoa has been paying less than $20 per megawatt hour in the past 12 months as a result of the special pricing arrangement under the deal.
That is a discount of up to 50 per cent on average prices paid by other industrial users in Victoria this year.
According to data published by National Electricity Market Management Comapny, the average reference price for Victorian electricity in the past 11 months was $32 per megawatt-hour.
In its 2005 annual report the Victorian Auditor-General found that the SECV has paid $915.8 million to meet its obligations to provide discount energy to Alcoa since 1997.
The supply contract is due to expire in 2016 and the Government is expecting to incur further losses of more than $1 billion between now and then.
Alcoa is the largest single consumer of power in Victoria, accounting for up to 19 per cent of total electricity demand in the State.
It is also one of the State's largest export earners, generating total sales in Asia last year of $1.6 billion.
The company employs more than 1800 staff in its Victorian operations.
The former Kennett government tried to renegotiate the contracts which had cost the Victorian taxpayer $1.022billion in subsidies up to June 1995.
At that time the then Treasurer Alan Stockdale revealed that Alcoa was paying as little as $16 per megawatt-hour - a discount of more than 50 per cent on prices paid by other industrial customers in the state.
In July 2003 Smorgon Steel mounted a High Court action against retail electricity providers, Origin Energy and Powercor, asserting that a state government levy they collected from power users was unconstitutional.
The levy was used to fund the Alcoa subsidy.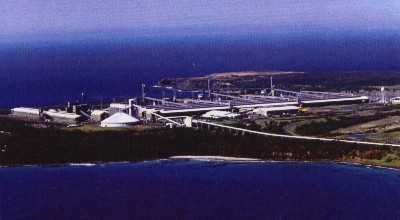 "The aluminium industry in Australia has been perhaps the most forceful opponent of policies to reduce greenhouse gas emissions, claiming that higher energy prices would damage its competitiveness and force it to more offshore" The Aluminium Smelting Industry Structure, market power, subsidies and greenhouse gas emissions By Hal Turton - The Australia Institute Number 44 January 2002.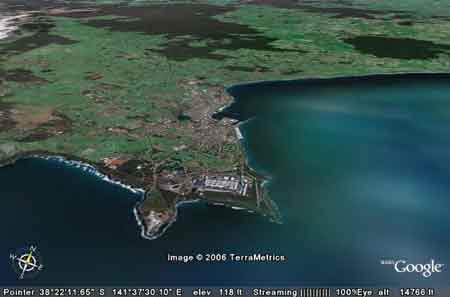 Location of the Alcoa smelter in the vicinity of the town of Portland. What happens to fluoride emissions when the wind blows from the south?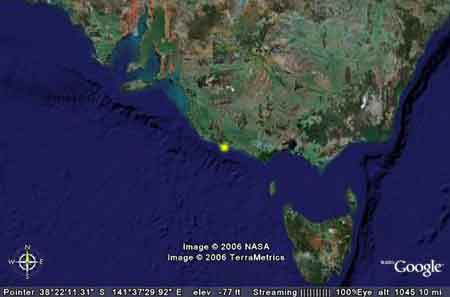 The approximate location of the Portland Aluminium Smelter (in yellow) above.
"Aluminium smelting is responsible for almost 6 per cent of Australia's greenhouse gas emissions partly because it is a reasonably significant industry, contributing 1.3 per cent of GDP from manufacturing, but mainly because it is greenhouse gas intensive... Per dollar contributed to GDP, aluminium smelting produces 5 times as much greenhouse gas as agriculture, 11 times as much as mining and 22 times as much as other manufacturing activities." The Aluminium Smelting Industry Structure, market power, subsidies and greenhouse gas emissions By Hal Turton - The Australia Institute Number 44 January 2002.
Alcoa sources their energy needs from brown coal dug up in the Latrobe Valley in the Central Gippsland Region of Victoria. Brown Coal is a very polluting substance and is the major component of Greenhouse Gases and the Greenhouse Effect. The above photo shows the Loy Yang Power Station (Australia's most polluting power station) in 'full flight'. Traditional owners of this country are the Gunai people.
"Drawing on an extensive range of sources, this paper concludes that smelters in Australia pay, on average, around $21 per megawatt-hour (MWh) of electricity. The notable exceptions are Portland and Point Henry in Victoria, where the smelters pay closer to $14 per MWh. For other smelters, the best estimates are that Bell Bay pays at most $23 per MWh, Tomago $22 and Kurri Kurri closer to $27. These prices are well below the market prices paid by other large industrial electricity customers with similar characteristics, and therefore represent subsidies. The Victorian smelters have been paying at least $110 million per year…Although there is only scattered information available for other smelters, the annual subsidy to the industry in the form of cheap electricity is estimated to be at least $210 million per annum (almost $40,000 per worker) and is probably in excess of $250 million..." The Aluminium Smelting Industry Structure, market power, subsidies and greenhouse gas emissions By Hal Turton - The Australia Institute Number 44 January 2002.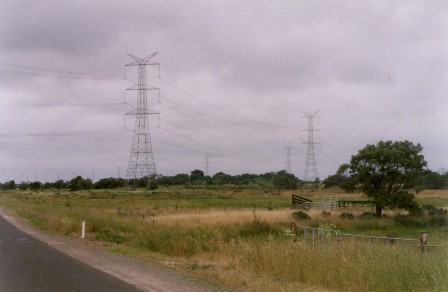 Alcoa's energy needs are transported over 500km from the Latrobe Valley to Portland via a vast powerline system. This is an extremely energy wasting exercise and is totally unsustainable. The above photo shows some of the power lines that keep the Alcoa plant alive. This photo was taken at Tyrendarra (east of Portland) where the powerlines are located on sacred Gournditchjmara land - on some of the oldest archeological remains on the planet! These powerlines straddle the basalt plains.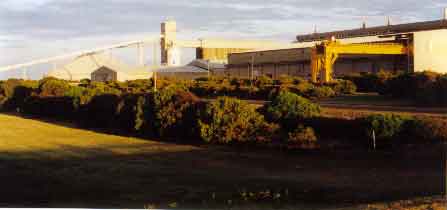 "The State Electricity Commission of Victoria (SECV) (which is now the shell of the organisation that ran the Victorian electricity industry before privatisation) supplies electricity to the Portland and Port Henry smelters under a flexible tariff contract established by the Cain Labor Government in 1984 and running to 2016. Former Victorian Treasurer Alan Stockdale described the contracts as 'manifestly unjust' (Stockdale 1995, p.3) and the Victorian Department of Treasury and Finance agreed, describing them as 'onerous and unfavourable' (Department of Treasury & Finance 1997, p. 19). These arrangements were 'costing the Government over $200 million per year' in 1997, with the actual amount being around $188 million in 1998-99 (Department of Treasury and Finance 1997, p19; Victorian Auditor-General's Office 1999, Section 7.67). Effectively, the SECV operates as a loss-making middleman between the generator and smelters, with the loss funded partly from other electricity customers and partly from the Victorian budget. The Auditor-General has estimated in 2000 that the net present value of Victoria's liabilities under this pricing contract amounts to $1.3 billion (Victorian Auditor-General's Office 2000 Table 7J). . . In sum, based on a range of information, we can make a robust conclusion that the two Victorian smelters pay between $13.50 and $15.50 per Mwh for electricity, which is approximately $17.50/Mwh below the price that would be negotiated in a competitive market. As former Treasurer Stockdale observed, this arrangement 'unfairly benefit(s) Alcoa at the expense of other businesses and household taxpayers in Victoria (Stockdale 1995, p.2)." The Aluminium Smelting Industry Structure, market power, subsidies and greenhouse gas emissions By Hal Turton - The Australia Institute Number 44 January 2002.
"What do governments receive in return for subsidised electricity? In the case of Victoria, the Portland and Port Henry smelters employ around 1,600 people. The Victorian government (through the SECV) spends around $110 million dollars per annum providing subsidised electricity to the Victorian smelters, so each direct job is subsidised by around $70,000 per annum. This is paid mostly from smelter reduction levy revenue (ie other electricity customers). This is an extremely expensive way of supporting regional development. For the same amount of money, more jobs could be created by other projects". The Aluminium Smelting Industry Structure, market power, subsidies and greenhouse gas emissions By Hal Turton - The Australia Institute Number 44 January 2002.
Aluminium is created from the mining of bauxite. Alcoa's bauxite is 'mined' from Western Australia, where the bauxite underlies Jarrah Forests.
CLICK HERE TO SEE WHERE ALUMINIUM COMES FROM IN WA?
Bauxite mining near Perth's largest water supply reservoir.
For Information about Alcoa's other aluminium smelter in Victoria at Point Henry (near Geelong) and Alcoa's brown coal mine at Anglesea [click here]
Page Index
Fluoride Details from Portland Smelter
CCV: Submission on the Alcoa Aluminium Smelter Feb 1980.
FLUORIDE ISSUES - ALUMINIUM SMELTERS AUSTRALIA.
Fluoride Pollution in Western Australia
Alumina gets Alcoa super stake - but has to pay through the nose
Portland Aluminium are not subject to Freedom of Information under the Alcoa (Portland Aluminium Smelter) Act 1980.
Portland Smelter Services Pty Ltd trading as Portland Aluminium.
Allowable Discharges - Air
| | |
| --- | --- |
| WASTE | MAXIMUM TOTAL MASS DISCHARGE RATE (g/min) |
| Nitrogen Oxides | 485 |
| Sulfur Oxides | 17,500 |
| Carbon Monoxide | 91,400 |
| Total Solid Particulates | 7,150 |
| Total Fluorides | 418 |
| Volatile Organic Compounds | 23 |
| Polycyclic Aromatic Hydrocarbons | 25 |
Allowable Discharges - Water
| | | |
| --- | --- | --- |
| Indicator | Unit | Limit(s) |
| pH | pH units | Maximum 9.0 Minimum 6.0 |
| Turbidity | nephelometric turbidity units (NTU) | 50 in dry weather;100 in wet weather |
| Flow Rate | m3/day | 500 in dry weather |
| Total Dissolved Solids | g/m3 | 4000 |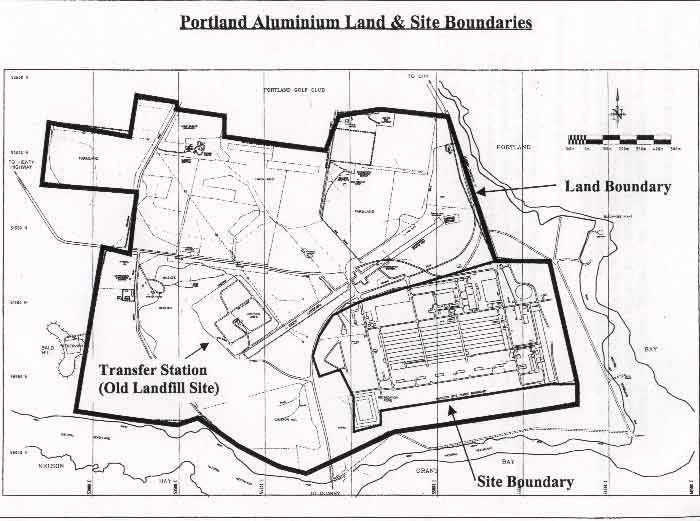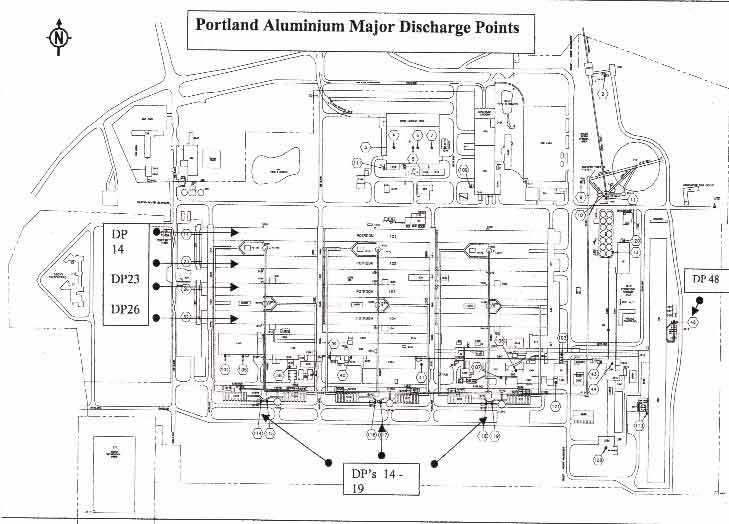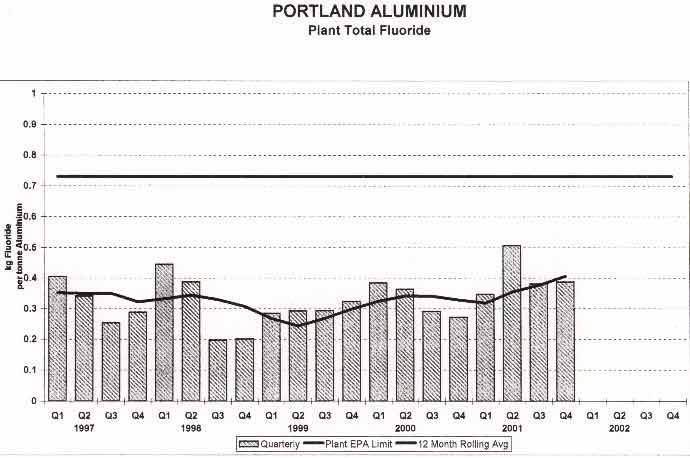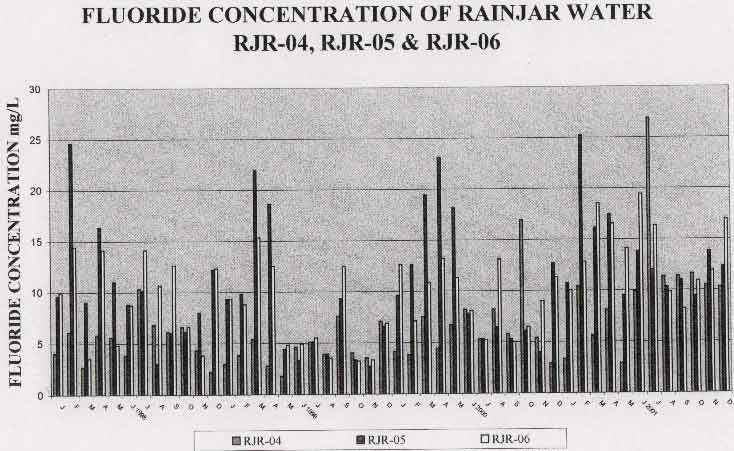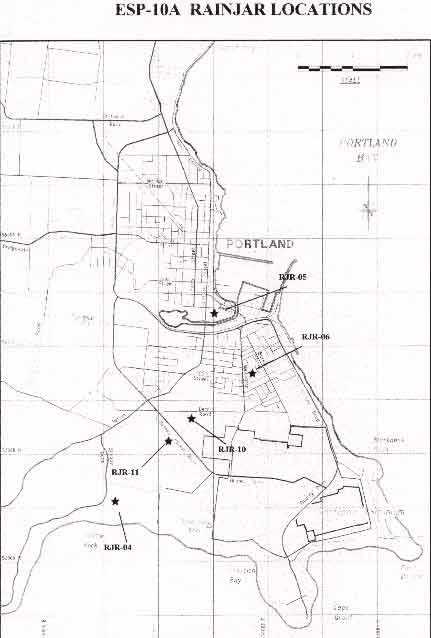 Source for following information: Fluoridation Poison on Tap By Glen S. R. Walker 1982 "On the National Radio News - A.B.C. 7.45am, 19th June, 1980 the following news item was read by Graham Connelly: 'The Report of the proposed ALCOA aluminium smelter at Portland says it will seriously affect the environment and community facilities. The report by the Minister for Conservation says buffer zones in the plans for the smelter are inadequate and warns that vegetation will be harmed. The Ministry says the Environment Protection Authority has warned that the predicted fluoride emissions would be higher than desirable for a smelter so close to a town. The Ministry says regular communication between officials of ALCOA, Portland and local community groups will be essential to cope with problems created by the multi-million dollar plant.'
Source for following article: Fluoridation Poison on Tap By Glen S. R. Walker 1982
p185 "At present, Australia presents a very attractive proposition for multi-national aluminium companies planning new smelters. Not only does this country posses abundant resources of bauxite, the raw material for the manufacture of aluminium, and relatively cheap power, but it has almost non-existent Statutory Regulations controlling fluoride pollution.
Australia is apparently willing to accept lower standards thereby sacrificing the health of the Australian people to save the money of these multi-national companies.
The Hon. Evan Walker commented in the Victorian Parliament, (Hansard, April, 1980):
'It could well be critically expensive for ALCOA to install machinery at Portland to ensure clean air. ALCOA knows, the Government knows, and if the Government were to demand stringent standards on fluoride emissions it could cost ALCOA large sums.'
What a dreadful thought that the mighty International ALCOA should spend "large sums" to protect the people of Australia and its environment!
Consider another sequence of "coincidences".
- During February, 1979, a Victorian cabinet Committee was negotiating with NABALCO - whose parent company is Swiss Aluminium - about building a smelter in Victoria.
-On 1st march, 1979, Premier Hamer had a personal conversation with the Chief Executive of ALCOA of Australia; on the same day he received a letter from ALCOA confirming their intention to build a smelter at Portland.
-Just over two weeks later Mr. Hamer appointed his Committee of Inquiry into Fluoridation of Victorian Water Supplies.
-The Portland smelter project was publicly announced in September, 1979, and ALCOA lodged an environmental impact study for public scrutiny.
-We have since learnt, that after studying this document, five Government bodies in Victoria all opposed the siting of the Proposed smelter.
-The ALCOA Bill was debated during 1980 and became law in September.
-Mr. Hamer waited for one week and then tabled the Report of his Committee of Inquiry into Fluoridation - four months after it had been submitted to him.
Thus, the Fluoridation Inquiry was held at the same time as the Government negotiations with ALCOA, and the debate on the Portland Smelter Bill. One effect of the Inquiry was to persuade anti-fluoridationists that the subject was under serious consideration by the three scientists, thus encouraging them to direct all their efforts toward preparing submissions for the Inquiry, rather than getting too involved in the Portland ALCOA issue.
From the contents and the presentation of the Inquiry's Report it seems clear that Mr. Hamer's Committee had NO GENUINE INTEREST in considering the mass of new evidence presented to them regarding the dangers of fluoridation. Why then did Mr Hamer and his Victorian Government hold the Inquiry? Was it at the suggestion of ALCOA, who in March 1979 almost certainly knew that the first Cornwall Island Study was due to be published and that it would reveal the drastic action of fluoride emissions from Aluminium Smelters?"
The Supression of Adverse Findings
Source for following article: Fluoridation Poison on Tap By Glen S. R. Walker 1982
p207 "During the Parliamentary debate on the ALCOA (Portland Aluminium Smelter) Bill, on 30th April 1980, the Honourable Evan Walker stated (Hansard, 30th April 1980):
'Finally, I shall talk a little about people. There are industrial illnesses related to an industry of this kind, especially for pot room workers. That is a known fact.
At Point Henry, ALCOA closely monitor the health of its workers in and around the smelter because it knows a number of industrial illnesses can occur. It is not yet fully aware of long term results, as with asbestosis. There is evidence that it in the aluminium industry there are longitudinal studies that show the illnesses I will mention.
A paper was prepared by the Parliamentary Research Library in Canberra which shows problems associated with long term effects - overseas studies - of skeletal fluorosis which is a change in bone density, chronic pulmonary disease and cancer.
A 1972-73 team from Prince Henry's Hospital carried out studies in three Australian aluminium smelters. Reports were made to the companies but they have not been made publicly available. This indicates the existence of serious problems. The suggestion is that they were of such a serious nature that the companies decided not to let the public know the results of the studies. The studies did show a correlation between asthma and the length of pot room exposure. It is now a known factor that nay worker who suffers from asthma is not allowed to work in the pot room.
In fact, they are more susceptible to some pulmonary diseases. Honourable members should be allowed to see the Prince Henry Study.
Finally, I deal with cancer. There is evidence from the United States of America produced during the 1970s, and some from Canada and Russia, that work within the pot room environment can be cancer producing.'
Did Mr. Hamer's Committee of Inquiry have access to that Prince Henry Study? One would have expected such a study to be of vital importance to scientists INQUIRING into the effects of fluorides on humans also to the public in general. There is no record of the study in their Report."
1) CONSERVATION COUNCIL OF VICTORIA: SUBMISSION ON THE ALCOA ALUMINIUM SMELTER. ENVIRONMENT EFFECTS STATEMENT. February 1980.
Page 12: 3.3 EMISSIONS
The planned Alcoa/Portland smelter will discharge both gaseous and particulate matter. Gaseous emissions will include fluorides such as hydrogen fluoride; sulphur dioxide; sulphur trioxide; carbon monoxide; carbon dioxide and volatile hydrocarbons. Particulate emissions, whichhave not been discussed in the Alcoa EES, will include alumina dust, carbon dust, particularly burnt hydrocarbons and particulate fluorides. The latter will be particularly significant. According to table 5.11 of the Alcoa EES, particulate fluorides will form 89% of the fluoride emitted from the A 398 reactor, 54% of the fluorides emitted through the ridge ventilators.
page 13: Fluoride emissions should be collected in a duct along the potroom roof line and removed using high efficiency scrubbers, bag filters or precipitators. Bag filters or precipitators should be installed in series with A 446 reactors which are more efficient than A 398 reactors. Without these control measures, Alcoa will ultimately discharge 731 tonnes of fluorides per annum to the atmosphere (assuming 528,000 tonnes A1 p.a. and 1.38kg F/tonne A1). A Canadian aluminium smelter at Kitimat which emits between 625 and 795 tonnes of fluorides per annum has a twenty-plus square mile death band of dead treessurrounding it (5) (C.Gordon (1976) as quoted by Dyson Rose and John R. Maner: Environmental Fluoride 1977 (national Research Council of Canada, No. 16081).
A report in The Cornell Veterinarian of April 1979 by L. Krook and G. Maylin outlines the effects of Fluoride discharges from an aluminium smelter whose annual emissions are about half those likely to be discharged from the Portland smelter. Though results of this study cannot be directly related to the Portland situation due to differing atmospheric conditions and a past history of high discharges, the report certainly throws some doubt on the claim that the reduction on productivity of cattle is likely to be so small as not to be measurable (EES p 200).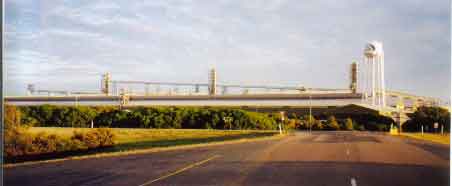 The following quote is part of the summary appearing in the Krook and Maylin paper:
An aluminium plant on the south bank of the St. Lawrence river, southwest of Cornwall Island, Ontario, Canada, has emitted 0.816 metric tons of fluoride daily since 1973; considerably higher amounts were emitted from 1959 to 1973. The plant has been designated as the 'major source of fluoride emissions impacting on Cornwall Island'.
Chronic fluoride poisoning in Cornwall Island cattle was manifested clinically by stunted growth and dental fluorosis to a degree of severe interference with drinking and mastication. Cows died at or were slaughtered after the third pregnancy. The deterioration of cows did not allow further pregnancies.
A level of 15 Ug F/m3 is given as the theoretical maximum 12 hour ground level concentration of gaseous fluorides at the Alcoa site boundary. This figure is invalid because;
1. Particulate fluorides, especially soluble particulate fluorides, should be considered.
p14. 2. The cited adaptions of Gaussian distribution functions ignore atmospheric stratification on a cliff top.
3. The meteorological data cited is taken from Portland Harbour and Mt. Gambier. The Portland airstrip would have been a more logical reference point.
4. Existing fluoride levels were not determined despite the fact that they are probably elevated due to the fertiliser works discharges.
5. The data used in the model (itself only an approximation) was collected over short periods of time (e.g., two years used for the wind variables) and may be atypical.
6. The destabilisating effect of the heat-island produced by the smelter is assumed to be sufficient to disrupt low level atmospheric inversions. However, the strength of the inversions and the smelters radius of influence on them is largely unknown.
Fluoride concentrations within the potroom were not estimated. An upper limit of 2.5 mg F/m3 is dangerously high, as Soviet workers have been found to exhibit increased sensitivity to light, increased toxic symptoms and increased skeletal incorporation of fluoride at less than o.5 mg/m3. (6) Vishnevski (1969).
Through inhalation of airborne fluorides, smelter workers and the general community will be exposed to the risks of:
1. Bone fluorodosis
2. Changes in enzyme activity and metabolite concentrations in soft tissue.
3. Induced manganese and magnesium deficiencies.
4. A possibly higher rate of cancer (7). Dyson Rose and John R. Maner: Environmental Fluoride 1977 (National Research Council of Canada, No. 16081).
p15. The following point should also be considered before Australia becomes committed to increase the levels of fluoride in the environment:
Airborne fluorides have caused more damage to domestic animals than any other air pollutant. A majority of the cases were attributed to the ingestion of vegetation contaminated by fluoride-containing industrial emissions ... Man is much more sensitive than domestic animals to fluoride intoxication. (Air Pollutants Affecting the Performance of Domestic Animals, U.S. Dept, of Agriculture, August 1970).
Gaseous fluorides - especially hydrogen fluoride - and sulphur oxides will affect the community causing acid rain. Tankwater supplies and water held in storage basins will increase in acidity. Deterioration of exposed architectural and other surfaces will be accelerated, and the karstic features surrounding limestone terrain will doubtless be enhanced.
Sulphur dioxide will be the chief cause of acid rain. Alcoa should limit its omission by providing wet scrubbers in series with the previously mentioned precipitators and A 498 reactors. A European study (8) (The O.E.C.D. Observer, 1976) has shown that, regardless of stack height about 50% of the SO2 emissions are dry-deposited; over a small area, 30% are deposited locally as acid rain and 20% is dispersed over a wide area in accordance with conventional infinite dilution models.
Acid rain will compound the problems of local dairymen who could find that their cattle suffer lucrosis. Borderline fluorodosis has been observed in cattle near the Kurri Kurri smelter in New South Wales and near Comalco's Bell Bay smelter in Tasmania.
In conclusion, Alcoa's planned atmospheric emissions are unnecessarily high and potentially hazardous. Mathematical modelling of dispersion of the emissions rests on dubious assumptions.
p16. It is suggested that;
1. Emissions should be collected in a duct along the potroom roofline and processed with the wastes extracted from hooded pots.
2. Emissions should be subject to serial processing by;
(a) A 398 reactors to remove gaseous fluorides
(b) Wet scrubbers to remove sulphur dioxide
(c) Precipitators to remove particulate matter.
3. The standard to be adopted for fluoride emissions should be at least as strict as the U.S.A. standard of 1.0 kg F/tonne A1. (With Alcoa's proposed emission controls the figure for total fluoride is 1.38 kg F/tonne A1).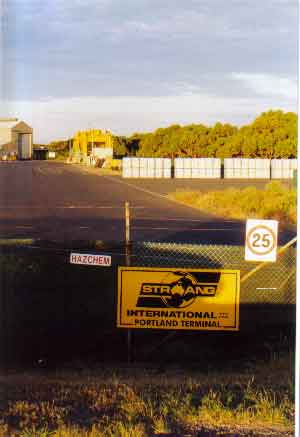 www.rvi.net/~fluoride/smithbook.htm
Many people, particularly those working in pot-rooms of aluminium smelters, are exposed to relatively high concentrations of hydrogen fluoride.
In the spring of 1986, one of the most modern aluminium smleters in the world went into production in Portland, Victoria. The smelter had been built by the Aluminium Company of America (ALCOA), who also owned a much older smelter at Point Henry, Geelong. Two years later, on December 2 1988, the Melbourne Age reported:
SMELTER WORKERS CLAIM FOR ASTHMA.
Twelve workers from the 35 per cent State-owned Portland aluminium smelter have issued common-law claims against the joint-venture seeking damages for occupational asthma.
The chairman of the Aluminium Development Council, Mr Bruce Heister, said the incidence of occupational asthma varied from smelter to smelter but the reasons for this were not clear.
Damages for a case of occupational asthma were claimed against another big aluminium producer, Comalco, at its Queensland smelter a few months ago.
The cause of the pot room asthma is suspected to be an agent, or agents, in emissions from smelter pot lines.
Since production started in Portland in October 1986, 65 workers have been diagnosed as having occupational asthma.
In other words, after just 25 months in operation, 65 workers at one of the most modern aluminium smelters in the world had been affected by mysterious agents in the pot room. Worse was to follow. On 27 April 1989, the Melbourne Herald reported:
ALUMINIUM IS LATEST WORKER HEALTH SCARE.
A senior Victorian union official claims workers at Geelong's ALCOA smelter are suffering respiratory ailments potentially as deadly as those found in the asbestos industry.
Mr. Royre Bird, state secretary of the Federated Iron-workers Association, has called for a national inquiry into respiratory disease in aluminium smelter workers after a report by New South Wales researchers found evidence of long term irreversible lung damage.
The report, by a team from Newcastle University medical school, found workers at Alcan's Aluminium Kurri-Kurri smelter suffered reduced lung function equivalent to smoking a packet of cigarettes a day.
Mr. Bird, who has worked in the industry for 18 years, claimed the findings had serious implications for the aluminium industry world-wide and for workers at Geelong. He said he believed that apart from respiratory diseases, aluminium workers were at risk of contracting cancer.
He claimed to have observed a slow but gradually developing history of cancers at the Point Henry Plant in Geelong.
He also claimed workers at the Portland smelter, partly owned by the State Government, were suffering higher rates of pot room asthma than at Point Henry.
Union solicitors had confirmed 176 cases of pot room asthma at Point Henry since 1964, compared with 76 at Portland. At least 20 more cases were being processed by other solicitors, he said.
A few days later, a cancer specialist supported Mr Bird's claim when the Melbourne Sun published the following article on May 1 1989:
CANCER RISK AT SMELTERS: DOCTOR.
Workers at aluminium smelters are at risk of developing cancer as well as chronic asthma, according to a leading cancer specialist. At least 39 smelter workers across Australia are believed to have already died from work-related cancer.
Dr Cyril Minty, a specialist at the Peter McCallum cancer hospital, said fumes emitted from the smelter's pot rooms could contain cancer-causing chemicals as well as irritants that produced the respiratory condition known as pot room asthma;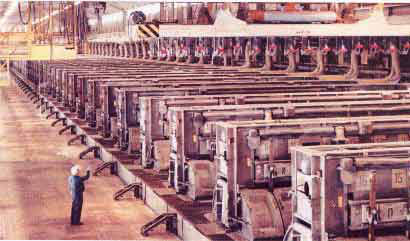 Potroom at Portland Smelter
Dr Minty said more than six sufferers of industrial asthma from Portland and ALCOA's Geelong smelter had been referred to him during the past years.
The major pollutants on the pot room are gaseous and particulate fluorides; and HYDROGEN FLUORIDE is the most common fluoride gas. HYDROGEN FLUORIDE IS THE MAJOR CAUSE OF POT ROOM ASTHMA AND A CONTRIBUTING FACTOR IN THE DEVELOPMENT OF LUNG CANCER IN SOME ALUMINIUM WORKERS.
But, industrialists live in fear of conclusive evidence linking a pollutant to new occupational or Neighbourhood diseases. The reason is obvious. Employers and their insurers will face claims for compenstation. (Note: a Neighbourhood disease is one affecting people living in the vicinity of a pollution producing factory).
Industries with major fluoride pollution problems are amongst the most powerful interest groups in society. Fluoride emissions are amongst the most difficult of all pollutants to control effectively, and in a highly competitive economic system, many companies will fight for their very lives to avoid spending large amounts of money to control pollution since this will. almost inevitably, increase the price of the end-product.
Certain sections of industry will go to great lengths to suppress stories about fluoride pollution. Such reports might encourage people to sue for damages or, result in pressures for tougher anti-pollution laws.
The first symptoms of exposure to trace amounts of hydrogen fluoride are NOT physiological but psychological, and include such symptoms as confusion, fatigue, partial loss of memory and mental dullness. To put it another way, behaviour is exquisitely sensitive to minute traces of hydrogen fluoride (and other pollutants) in the environment. Unfortunately, the tests to which chemical substances are usually subjected in efforts to determine their so-called maximum permissable doses or concentration do not take into account possible changes in mental function, and also would often fail to pick up long-term or chronic effects on their organism.
Minute concentrations of hydrogen fluoride inhaled over lengthy periods of time CAN DAMAGE VITAL COMPONENTS OF THE IMMUNE SYSTEM - this leaves the individual vulnerable to opportunistic diseases.
FLUORIDE POLLUTION IN WESTERN AUSTRALIA
http://www.fluoride.org.uk/ausfnews/marapr02/pollution_in_western.htm
In the Eastern States of Australia the media seems devoid of news about chemical pollution from the Aluminium industry.
Western Australia is well served by their media, especially the Daily West Australian that makes public, incorporating proper journalistic principles, the health problems associated with fluoride pollution from Alcoa's Pinjarra Alumina plant.
The West Australian 19th December, 2001 reports Cancer Street, 6 kilometres from the Alcoa plant where a cluster of cancer has appeared.
The Pinjarra refinery is one of the largest in the world producing 3.2 million tonnes of alumina per year.
The W.A. Health Department senior toxicologist Martin Matisons said the Pinjarra pollutants, arsenic and polycyclic aromatic hydrocarbons were known carcinogens.
The West Australian 10th December, 2001 reported Toxic Block (front page news).
It was noted that almost all emissions testing had been done by Alcoa (similar to other Alcoa plants in Australia).
The Health Minister Dr Edwards said, she had ordered independent testing of the nature and level of emissions.
The Alcoa spokesman, Brian Doy, said the company agreed there was a possibility its emissions were responsible for symptoms such as mucous membrane irritation.
During October 2001, it was reported that more than 500 complaints from residents about emissions were logged in the six months to June.
Among toxins from the Wagerup smoke stacks 24 hours per day are, arsenic, mercury, lead, hydrocarbons, sulfur dioxide, fluoride and nitrogen. (West Australian 22nd October, 2001)
On 20th October, 2001, the West Australia reported that:
Mining giant Alcoa has given government authorities conflicting information about fluoride emissions from the Wagerup alumina refinery.
Fluoride is one of several harmful components released into the air from the plant which is located between Waroona and Yarloop south of Perth.
Recent testing of air quality at homes just outside the refeinery's buffer zone was criticised by residents because fluoride was not measured.
It goes somewhat further when the residents discovered fluoride was not included in the list of emissions to be measured as part of the Licence conditions.
Alcoa claimed only 2.2 kg of fluoride emitted from the plant annually!
However, the Federal Government'sNational Pollutant Inventory Database shows that 390kg of fluoride is released to the air annually through the smoke stacks at Wagerup.
Alcoa spokesman Brian Doy admitted the discrepancy and said the correct information had not been provided to the Federal Database.
Aluminium smelters, giants of industry, shudder at the mention of anything to do with fluoride chemicals knowing historically the health problems associated with aluminium smelters, some proven in courts of law.
The Tasmanian Government admitted that Comalco's Tasmanian Smelter caused health problems resulting in Comalco buying 12 farms adjoining their smelter to use as a buffer zone.
Surely that alone indicates the toxicity of their effluent.
There is no limit to Government (politicians) support for Alcoa. The latest in West Australia is the Government promotion of Alkaloam, and the Government's endorsement of its use as a fertiliser.
The Government's Agriculture Department and Alcoa are promoting a five year plan to spread 340,000 tonnes of refinery waste on farms in the Peel-Harvey estuary catchment area, alleged with no risk to the environment. It seems that their definition of the environment must exclude all vegetation, animals, water supplies and top of the food chain humans, as long term increase in toxic pollutant, even if in ;trace element amounts, must inevitably increase the level of these toxins in living organisms.
Investigating the chemical quality of Alcoa's Alkaloam, Professor of Pathology, College of Veterinary Medicine, Department of Biomedical Science, Cornell University, Ithaca, New York, USA., provided a written statement on the product.
The fluoride content of Alcaloam red mud is 1210 parts per million fluoride.
The Government gave Alcoa indemnification which identifies it as a suspect health product.
Professor Krook's summation:
The statement of clear environmental benefits; is an insult to human intelligence. How could toxic elements, fluoride among them, be of any benefit to the environment? The statement is, of course, not substantiated by any facts.
Professor Krook has provided other Australian Governments and inquiries with scientific data relating to animal damage by fluoride pollution. He is a world authority on the subject and not only author of many papers, printed in scientific journals, but represented farmers and communities so harmed by fluoride pollution, especially from Aluminium smelters.
Pollution of Groundwater
Alcoa has now admitted that water leaking from its stockpiles of millions of tonnes of mining waste is contaminating groundwater at three of its Western Australian alumina refinery locations. These sites include Wagerup, with its recorded air pollutants, as well as Kwinana and Pinjarra.
An Alcoa spokesman would not list substances which had entered the groundwater, admitting only to sodium and some trace elements. The waste from its refining operations is known to contain heavy metals including chromium, cadmium and lead as well as fluoride, radiocative thorium and uranium. Trace elements can include all these contaminants. Reported in the Western Australia" on 29th January, 2002.
Surely it is time for Australian Governments to force politicians to educate themselves with FACTS about fluoride toxicity, especially in so many places including drinking water supplies, otherwise the Australian population will consider a possible covert fluoride agenda in Governments.
Alumina gets Alcoa super stake - but has to pay through the nose by Barry Fitzgerald
Melbourne Age 16/12/03
It has taken more than 20 years but WMC spin-off Alumina has finally been able to get its hands on the 0.75 per cent of Alcoa of Australia stashed away by lone-wolf equities manager Warren McCullagh in super funds for QBE Insurance and, before that, Commonwealth Bank.
Alumina has had to pay top dollar for the stake - 18.4 million of its shares worth $112 million, or 1.6 per cent of its expanded capital. But it at last gets to say its AWAC global alumina joint venture with Alcoa of the US is 60 per cent Alcoa, 40 per cent Alumina.
Before the QBE deal, the joint venture was 60:40 outside Australia, while within Australia it was 60 per cent Alcoa, 39.25 per cent Alumina and 0.75 per cent QBE. AoA owns the global alumina joint venture's best assets - alumina refineries in Western Australia and the Portland and Point Henry smelters in Victoria...
The history of the Commonwealth Bank/QBE investments in AoA dates back to the late 1970s and early 1980s when one of the Collins House miners and a 16 per cent AoA shareholder, Broken Hill South, fell on hard times.
In 1980, when WMC bid for BH South, a since-retired Mr McCullagh was managing the Commonwealth Bank's super fund.
At the end of the WMC bid, the fund held sufficient shares to block compulsory acquisition.
Mr McCullagh was very keen on BH South's interest in Alcoa, arguing that after 20 lean years it was about to make plenty.
In the end, when BH South was carved up between WMC, CRA and North BH, there was a distribution in specie of its assets and the super fund emerged with a direct interest of 0.75 per cent of Alcoa.
That disappeared into BHP's super fund at some point but, when it resurfaced in 1985, Mr McCullagh, by then at QBE, grabbed it again, just in time to capture for the fund a monster flow of dividends.
WMC and Alcoa created AWAC in 1994, with WMC selling down part of its AoA stake and contributing cash to share in Alcoa's global spread of smelter and chemical grade alumina interests. QBE's 0.75 per cent of AoA was not part of the deal.