NNNN BAD DEVELOPERS NNNN
EXPOSING DEVELOPERS WHO FAIL TO APPRECIATE AND RESPECT COMMUNITY, ENVIRONMENT AND SPIRIT OF THE LAND
Western Victoria Bluegums
The Age: "The chief executive of the port of Portland, Jim Cooper, said Portland was now the world's biggest exporter of hardwood wood chips, all of which were freighted to the port by road, many as logs."
Tens of thousands of shareholders and thousands of investor "growers" would get burnt alive in the collapse of what has been dubbed one of the biggest Ponzi schemes in the country. (Timbercorp)
A former Timbercorp employee yesterday told a Senate committee he believed Timbercorp had traded while insolvent, and implied ANZ knew Timbercorp was close to collapse... When you have senior executives of a company [Timbercorp] talk about how the ANZ bank was pumping several hundred million into an organisation that was going down ... it is concerning, and it should be concerning,"(ABC Nov 13 2014)

Feb 2015: Bluegum plantation at Bessiebelle. Scat counts confirm high koala scat numbers in plantations of between 26.7% - 50%. This shows koala activity in every 2-3 trees surveyed. Koala populations could be as high as 1 koala per hectare. Tens of thousands of hectares of plantations have been established in the region over the past 15 years. More information here.

Feb 2015 Bessiebelle: Surviving koala in sole Manna Gum post plantation logging. Up to a dozen koalas have been seen in and near this tree, after a neighbouring bluegum plantations was logged. This tree is now likely to die due to overbrowsing.

Feb 2015: Condah Hotspur Road. A number of koalas seen at this location and a number of scats also were found in nearby bluegum plantations. Up to 7000ha of bluegum will be logged in the Crawford River region over the next few years. Koala numbers could be higher at this location than Bessiebelle.

Feb 2015: Fresh koala scats found in Crawford River bluegum plantations off Morven Road.
South West Victorian Groundwater Plantation Maps Here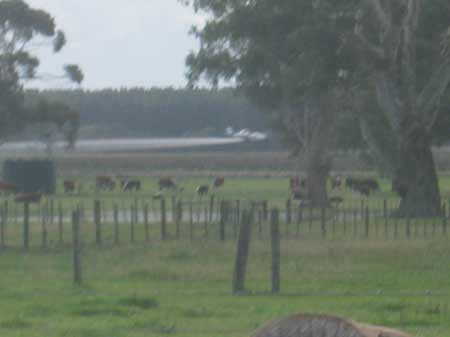 Auspine (Gunns?) plantations getting aerially sprayed with herbicide (Dec 11) South Australia.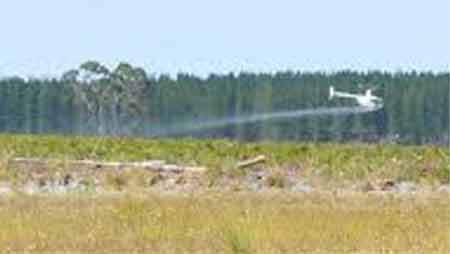 Feb 2015: Aerial Spraying pine plantations Nangwarry SA.
Interesting admissions including a slap over the wrists by FSC certifier Smartwood (Rainforest Alliance). Why didn't Rainforest Alliance pick up koala problems in previous audits? Could it be because Rainforest Alliance had for the past decade been implicated in audits of another Koala Habitat Destruction company, Hancock Victorian Plantations. Look what Rainforest Alliance wrote of the most significant koala population in Victoria and South Australia (and possibly Southern New South Wales as well):
"Koala Bear* Management Plan Another comment from stakeholders was related to the Koala population in the Strzelecki. In respect of the Koala population, they represent a distinct population and would possibly be recognized as a distinct Management Unit (i.e. a distinct phylogenetic lineage). However in Victoria the Koala is not offered additional protection as a species let alone as distinct populations. As such HVP or any other forest manager for that matter is not required to establish specific management plans for this species. Smartwood however would like to suggest that in response to the stakeholders concerns HVP continue with the publication of the Koala Habitat Map#. If the Koala population requires conserving then it is the State Government's responsibility to list the species accordingly and this has not yet occurred. As such there is no specific reason why HVP as a private land manager should be required to establish conservation measures for a species such as the Koala as long as it is not required by the state or federal Government." Source: Page 7 Smartwood Forest Management 2008 Annual audit Report for Hancock Victorian Plantations Pty Ltd in Victoria, Australia. Authors: Christian Sloth/Roy Teale. Operation Contact: Malcolm Tonkin.


September 2006: Extent of bluegum plantations south west Victoria. Bluegum plantations highlighted in yellow. Pine plantations highlighted in brown. Distance Portland to Hamilton approximately 90km.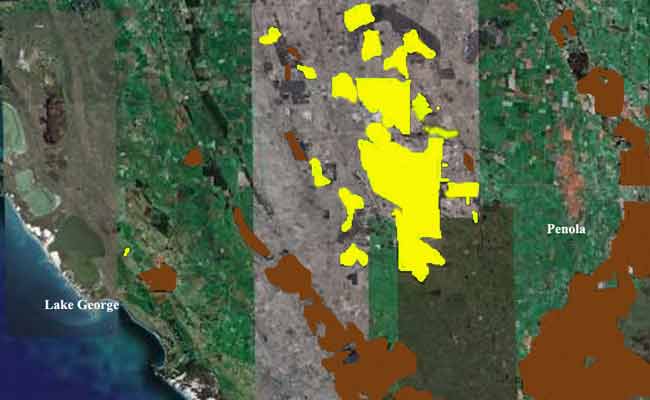 January 2006: Extent of new bluegum plantations (yellow) in south east South Australia, west of Penola. Most of the bluegum plantations have been planted by Timbercorp. Pine plantations in brown. Distance Penola to Lake George approximately 80km. All of the new bluegum (~40,000ha) in this image is located in the Lake George catchment on shallow (0-5m) unconfined aquifers. Much of the Timbercorp bluegum estate will be draining this shallow groundwater resource, diminishing the aquifer for all users. This factor alone will continue to be a major headache for the region. Why were bluegums to this extent allowed to the planted without properly factoring in groundwater consumption? Timbercorp also targeted Hawkesdale GMA in south west Victoria, easily making Timbercorp the most controversial bluegum plantation company in terms of consumption of shallow aquifer groundwater. These aquifers appear to have been deliberately targeted for planting by Timbercorp. Timbercorp are certified by the Forest Stewardship Council (FSC), but FSC pays scant regard to water yield issues.
June 23 2010: Surface and/or Groundwater Interception Activities (CSIRO)
June 2009: Plantations and Bluegums Report released by South Australian Government
"There is a wide range of evidence that runoff and recharge are typically reduced by approximately 80% relative to agricultural land covers". "The scientific evidence supports the use of a 6m trigger value for the depth to which trees extract groundwater in the South East Region. At depths equal or less than this plantations will be directly using groundwater at significant rates."
June 2009: Plantation Forest Use in South West Victoria
"From about 2008 onwards, a reduction in mean annual streamflow of approximately 10,000ML, or 29% is expected from the Crawford River Catchment following conversion of approximately 25% of the catchment from grazing land to plantations in the period from 1998 to 2007."
Corporate Wheeling and Dealing - Capitalism is Cannibalism
Aug 2012 Bluegum Ownership: Global Forest Partners and Australian Bluegum Plantations (subsidary of GFP) own the ex bluegum assets of ITC & Timbercorp, Alberta Investment Management Corporation and New Forests Australia own bluegum assets of Great Southern Plantations.
SA Plantations now owned by OneFortyOne (The Campbell Group) (October 2012)
Gunns Sells Portland Port Assets to Australian Bluegum Plantations (July 2012)
Global Forest Partners to Buy Elders Plantations (April 2012)
Gunns (Auspine SE SA and SW Vic) assets purchased by New Forests (March 2012)
Elders Purchased Plantation Assets of ITC.
Alberta Investment Management Corporation & New Forests Australia purchased plantation Assets of Great Southern Plantations (January 2011).
New Forests Australia acquired 10,000ha of Green Triangle land in January 2011 under lease to Australian Bluegum Plantations (January 2011).
Australian Bluegum Plantations (subsidiary of Global Forest Partners - AIF Properties based in Cayman Islands) purchased the plantation assets of Timbercorp (30 September 2009).
Gunns purchased plantation assets of ITC in August 2009.
For more information about South West Victorian Bluegum plantations see this page here on Hancock Watch website.
Timeline
2016
2015
2014
2013
2012
November 2011
October 2011
September 2011
August 2011
July 2011
June 2011
April 2011
March 2011
February 2011
January 2011
November 2010
October 2010
September 2010
August 2010
July 2010
June 2010
Gum Tax Drop A Bad Blue - Weekly Times June 16, 2010: Glenelg Shire farmers are livid that their rates are budgeted to jump 18.8 per cent while neighbouring plantation land will pay less. Farmers say their genuine businesses are being discrimiated against, while the "false economy" of the managed investment scheme bluegum plantations continues to hurt rural communities. While valuation of open farmland has inceased 12 per cent and rates are set to rise 18.8 per cent in one year, plantation values have dropped 15 per cent in the wake of the spectacular collapse of the tax-driven MIS plantation companies. Plantation rates in Glenelg are now expected to fall 10 per cent. Farmers argue they are paying for the Government's ill-conceived MIS bungle, after the bluegum plantation companies inflated land values. Lake Mundi farmer Kevin Stark said genuine farmers were "unfairly being taxed on their assets, regardless of whether or not they made a return on them". "State and federal government need to come up with a better way of funding local government," Mr Stark said. Casterton farmers Shane and Jodie foster said MIS continued to badly disrupt the economies of rural areas and farmers were still wearing on-going ramifications. Glenelg shire council mayor Gilbert Wilson said it was a hard task to get a fair budget and was "mindful of the hardships in rural areas". He said council would review the budgeted rates next month. "My personal opinion is that forestry industry should be paying more too," he said.
May 2010
March 2010
December 2009
November 2009
October 2009
Class Action on Timbercorp Losses Weekly Times Oct 21 2009
Timbercorp investors are due to drag the failed company's former directors Robert Hance, Sol Rabinowicz and Gary Lidell into court next week in a class action to recover millions of dollars in losses. Macpherson and Kelley lawyer Ron Willemsen said the case would allege the Timbercorp directors knew the company was in trouble last year, yet failed to adequately inform investors of its potential problems. Mr Willemsen said one of the most crucial pieces of evidence centred on directors allegedly failing to inform investors that Timbercorp had breached banking covenants on September 30 for repayments on $235 million of loans. The directors did not make the breach public until November 27, well after the October 1 invoices, amounting to tens of thousands of dollars of management fees, were sent to investors of olive, almond and bluegum projects. The November 27 statement said: "Bank facilities totalling $235 million have been classified as current borrowings in line with the accounting standards as at the reporting date (September 30), the group was considered to be in breach of certain financial covenants." The directors negotiated waivers on covenants, but the announcement was delayed. Timbercorp went into voluntary administration on April 23 this year with debts of $903 million. Yet former Timbercorp director Sol Rabinowicz signed a declaration on behalf of the directors on March 5, stating they believed last year's Timbercorp Olive Project would "be able to pay its debts as and when they come due and payable". Mr Willemsen said investors were encouraged to invest and take up loans in Timbercorp projects without being fully informed of Timbercorp's financial status. Mr Hance did not wish to comment on the class action. The Weekly Times was unable to contact Mr Rabinowicz or Mr Lidell.
September 2009
August 2009
July 2009
June 2009
May 2009
April 2009
January 2009
December 2008
November 2008
October 2008
"...gum trees are seriously stunted by years of drought and a lack of nutrients"
September 2008
Environinvest goes bust (Sep 23 2008)
Owner of Blue Gum timber plantations throughout regional Victoria, Environinvest, has gone into receivership. The company went into administration on Friday and receivers, Korda Mentha, were appointed yesterday. Craig Shepard from Korda Mentha says they'll try to sell off the company's plantations, but all jobs and investments are secure for the time being. "It's in nobody's best interest to close the doors," he said. "We'll continue to trade the business and we'll continue to try and complete a sale process which the directors have undertaken over the last nine months."
Parliament House of Assembly passes Penola pulp mill bill (Sep 12 2007)
The real impact of bluegum plantations (leaflet) see here
Australian and New Zealand Plantation Companies 'hold a gun to the head' of Forest Stewardship Council. Companies unhappy that FSC was proposing to restrict certain pesticides from FSC certified plantation companies suggested the creation of their own plantation standard. Notes from meeting attended by plantation 'bigwigs' reveal their true agenda in regards to dangerous pesticides that were unacceptable to FSC. see below.
Quotes from September 2005 meeting held in Daylesford, Victoria: "I think it is important that we discuss the phase in period and what happens in the interim eg even if we are not satisfied with FSC is it advisable to drop FSC immediately or phase out over time. ie Do we want time to approach the market and sell in the change? ... It is very important that we know what the line in the sand is and that we have a one in all in or a one out all out agreement...Although we feel that our respective national initiatives are a long way off the NZ side have suggested that this is the place to formally introduce the Australia New Zealand Plantation Standard. By then FSC will have got wind of it anyway but this is the opportunity to ask if this could form the basis of an ANZ Bilateral initiative or an FSC endorsed plantations only standard. If not at least FSC will know we have a backstop".
Maps ETC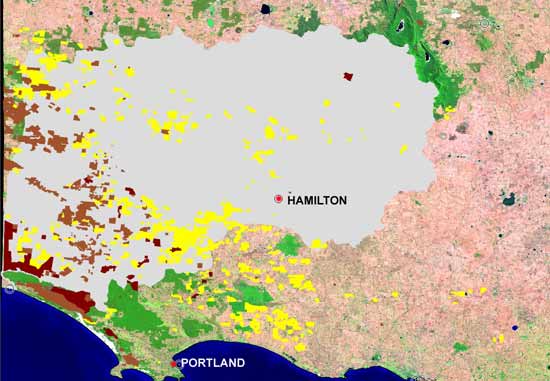 September 2006: Extent of bluegum plantations south west Victoria. Glenelg River catchment highlighted in grey.
September 2006: Extent of bluegum plantations south west Victoria. Crawford River catchment highlighted in blue.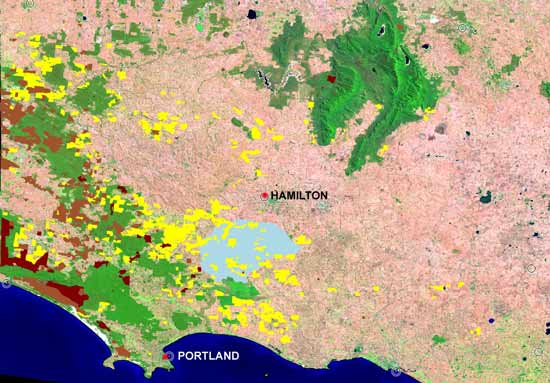 September 2006: Extent of bluegum plantations south west Victoria. Lake Condah catchment highlighted in blue.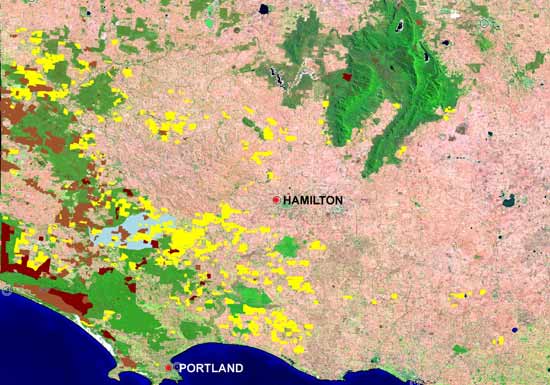 September 2006: Extent of bluegum plantations south west Victoria. Stokes River catchment highlighted in blue.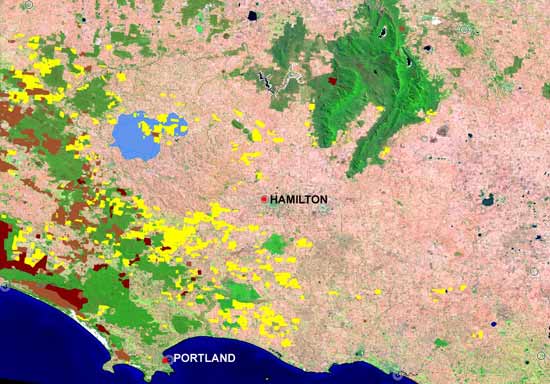 September 2006: Extent of bluegum plantations south west Victoria. WandoRiver catchment highlighted in blue.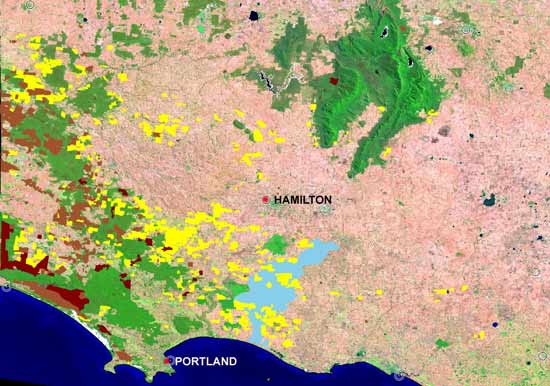 September 2006: Extent of bluegum plantations south west Victoria. Eumeralla River catchment highlighted in blue.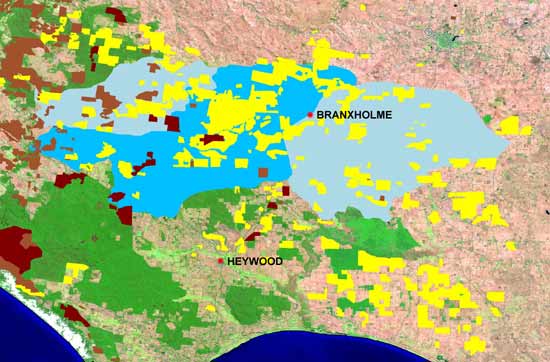 March 2006: Land marked in blue represents the catchments of Lake Condah, Crawford River and Stokes River. All are highly significant waterways with the Crawford containing endangered native fish, such as Ewens Pygmy Perch, Yarra Pygmy Perch and Dwarf Galaxias, which are high susceptible to insecticides. The Crawford River has been inundated with approxiumately 15,000 hectares of plantations in the past few years. Lake Condah catchment has had about 6500 hectares planted in it. Such plantings will contribute to substantial reductions in streamflow particularly between the ages of 5-15 years.

Crawford River, South West Victoria (circa 2001) before the bluegums moved in.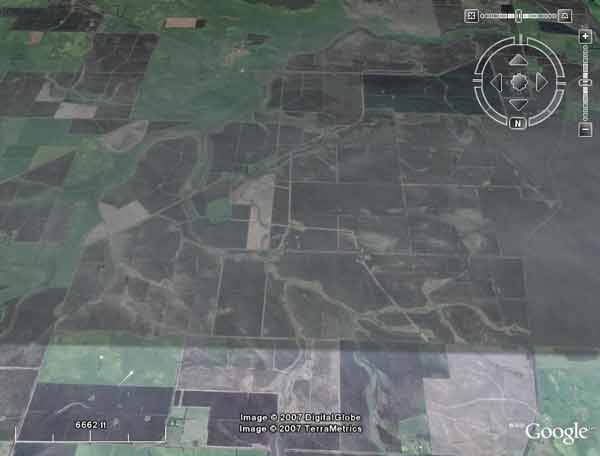 Crawford River, South West Victoria (circa 2005) 5 years after the bluegums moved in. What impact will 16,000ha of plantations have on the hydrology of the Crawford River?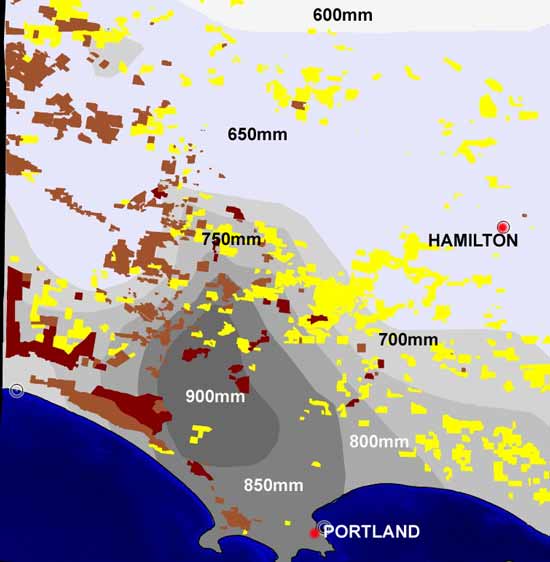 Average rainfall chart for south west Victoria. Note how most of the bluegums are targeting the 700-750mm rainfall zone.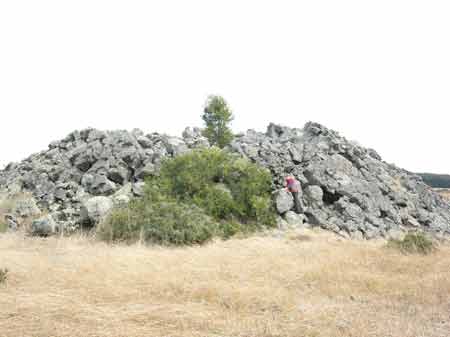 Unique basalt land forms north west of Macarthur. Generally speaking the bluegums avoid the basalt country, which is contained in lava flows which flowed southwards to the Ocean in two major events, directly south of Mount Rouse and Mt Napier.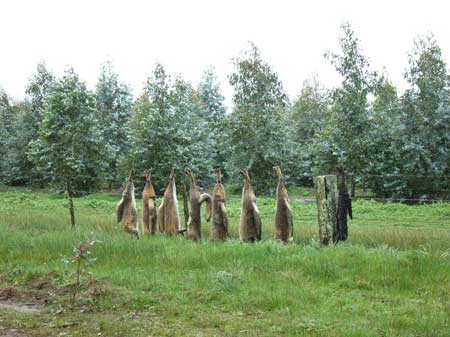 July 06: Dead foxes Wannon River catchment, north of Coleraine. Bluegum plantations offer foxes protection. From the bluegums the foxes can easily do raids on neighbouring sheep properties.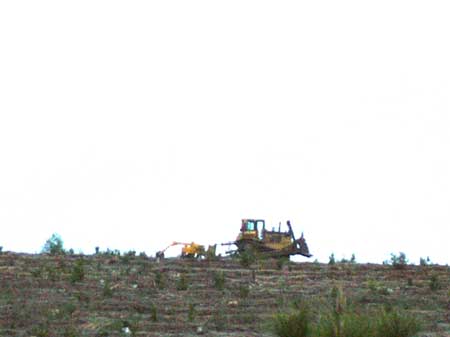 July 06: Ripping the earth, south of Casterton for more bluegums.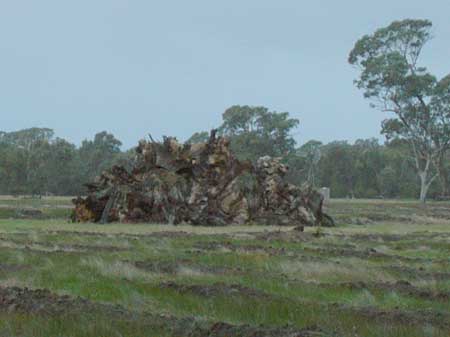 July 06: Native vegetation removal? New plantation south west of Edenhope.
July 06: Hancock pine plantation clearfell - Merino Water Supply Catchment. What is the impact of clearfelling, herbicide application and young tree growth on water supplies relying on groundwater.
Water Protection Call Jason Wallace Border Watch (April 20, 2007)
Proponents of the Penola Pulp Mill should have to pay for any adverse impact they have on underground water resources in the area, according to the South Australian Farmer's Federation (SAFF).
SAFF natural resources committee member and former chairman Kent Martin talked to The Border Watch yesterday about the need for stringent conditions to be attached to the water allocation for the pulp mill.
He said the pulp mill would draw water from the deep, confined aquifer, but this was linked to the unconfined aquifer in an area further south, near Kongorong.
Farmers in the area, including two apple orchards and numerous irrigators, such as dairy operators, use the unconfined aquifer and if the pulp mill impacted on resources, these water users would also be affected, according to Mr Martin.
"There is a convergence between the aquifers south of the pulp mill, which is like a plug between the two and if you take a heap of water out of the confined aquifer, the unconfined will also run down," he said.
"There needs to be special provision for that area for any unforseen implications, similar to at Apcel (Kimberly-Clark Australia) - there are good provisions there where if they do something that affects their neighbours they fix it up."
Mr Martin, who operates a farm at Kongorong, said water resources in the area south of the pulp mill were already under stress and any adverse impact on the aquifer would be a "disaster".
"When it's gone there's no more left," he said, adding that the pulp mill developers should be required to "make good" any impact they had.
"They may have to help farmers access the deeper confined aquifer and cover the cost, pump water from 20 miles away or say we'll pay you out - that's their business."
He said he had raised the concerns in meetings with Member for Mount Gambier Rory McEwen, Environment Minister Gail Gago and the chief executive of the Department of Water, Land and Biodiversity Conservation (DWLBC) and had been assured conditions would be put in place to protect other water users.
The DWLBC was unable to comment by press time yesterday.
Mr Martin said he was also concerned the pulp mill had been granted all remaining water available to industry in the 1200 square kilometre zone, leaving the likes of Safries unable to secure any more allocation, despite being a major component of the region's industry.
"With a major development already there, I thought they would have asked them if they were likely to need more before they made the allocation," he said.
"I would have thought it would have been prudent not to dump it all on a vague, fairly water hungry project."
Mill Planning under fire (April 20, 2007) Border Watch by Jason Wallace
Moves to pass a major expansion of the Penola Pulp Mill through Parliament are continuing to attract criticism, as Jason Wallace reports
Agriculture Minister Rory McEwen's proposed Indenture Act to allow a special approved process for the Penola Pulp Mill would "fundamentally undermine" planning systems, according to the nation's peak planning professionals body.
"State Government moves to pass seperate legislation to fast track the Pulp Mill Project, rather than dealing with it through the Development Act 1993, is disturbing," said Planning Institute of Australia South Australian president Gary Mavrinac.
"We are disappointed that the principles of equity and justice are not being applied by the government."
The association, which has over 5000 members nationally, has written a statement outlining the group's "considerable concerns not related to the pulp mill itself, but the apparent disregard for proper planning process".
"This action by the State Government undermines the value and credibility of the Development Act and planning system," Mr Marvinac said.
"Both the community and developers need to have confidence in an independent process that applies equally to everyone, to provide greater certainty for the future development of the state - ad hoc legislation fundamentally undermines the principles of our system."
He said the Bill would ultimately deny proper community assessment of the proposal and a full and proper assessment of a project of such significance should also involve a proper analysis of broader issues, taking all environmental, economic and social implications into account.
"Declaring this proposal a Major Project under the Development Act 1993 would involve an Environmental Impact Statement, which is a much more appropriate course of action for such a significant project," Mr Mavrinac said.
Mr McEwen told The Border Watch Mr Mavrinac's statement was flawed, but refused to comment further.
Meanwhile, John Roche, the spokesperson for the pulp mill proponent Protavia, has avoided making public comments.
He has not returned calls for comment from The Border Watch for the past fortnight and other media has also reported that they have been unable to contact him.
A Heywood community leader, Craig Keating, the voluntary head of a committee established in the town to support Protavia's development of a proposed pulp mill, broke the news yesterday the Victorian project would not proceed.
He heard the news on Monday night after the group demanded a meeting with Protavia representatives after The Border Watch revealed Mr McEwen's plans to introduce legislation aimed at allowing the Penola plant to double in size after Protavia found development of seperate mills on each side of the border was not viable.
Mr Keating said he decided to make the announcement in the absence of a public statement by Protavia, as people "don't want to be hanging on".
"Uncertainty is the worst part of these things," he said.
"We had some answers and wanted to get that out into the community straight away."
Mr Keating said Protavia was not making any public comment because it was still engineering new plans for Penola and was uncertain what size facility it would build.
Meanwhile, even the Victorian Government was still to hear from Protavia yesterday after being reassured only a week ago the Heywood mill would proceed.
Although revelations the Victorian mill would not proceed disappointed the Heywood community, South East leaders, such as Mr McEwen, Member for MacKillop Mitch Williams and the Limestone Coast Regional Development Board have welcomed the proposed expansion of the Penola mill as a major coup for infrastructure investment in the region.
But the announcement the investment may now be worth $1.5b has not pleased everyone.
Farmers near Penola had invested in engaging a senior legal team, including a Queens Counsel, to challenge the approval process for the original $650 m Penola mill application in the Supreme Court.
Meanwhile, Greens MLC Mark Parnell has renewed his call for the pulp mill to be declared a Major Project with a complete Environmental Impact Statement.
Doubts, but mill wins a green light TORY SHEPHERD (Adelaide Sunday Mail) April 14, 2007
A $650 million pulp mill at Penola has been approved despite mistakes in the application.
A misprint meant the application showed triple the amount of greenhouse gases would be emitted, prompting fears of other mistakes due to "shoddy science" and carelessness.
The application from development company Protavia declared the mill would emit more than 2.1 million tonnes of greenhouse gases a year. This would equate to 7 per cent of the state's overall emissions.
The approval, based on these figures, was granted by the State Government in September last year and by the Federal Government in November.
Now, The Advertiser has been told by the State Government those figures were a misprint, and the emissions are actually about a third of those declared. In a correction by development company Protavia – wrongly posted on the Heywood pulp mill website – the company says the emissions would only be about 740,000 tonnes, or 2.46 per cent of the state's overall emissions.
Project director John Roche has not returned calls from The Advertiser, but he told Mt Gambier paper The Border Watch he had Government and Opposition support to do "anything". He said that included support for plans to double the size of the original $650 million proposal to a $1.5 billion project.
Greens MP Mark Parnell said he had picked up other mistakes in the document. "What we've got is a government that's hell bent on giving this project an approval and they don't seem to care that the science is shoddy. "The way to ensure proper scrutiny is for (Urban Development and Planning Minister Paul) Holloway to declare this to be a major project."
A spokesman for Mr Holloway said a legal challenge being mounted by a local community group prevented him commenting fully on the matter.
Heywood Pulp Mill fears SHANE FOWLES - Warrnambool Standard April 13, 2007
PROTAVIA is being asked to confirm its commitment to the Heywood Pulp Mill amid speculation the $650 million project could be scrapped.
The South Australian Government is preparing legislation to fast-track the construction of a $1.2 billion mega-mill at Penola, the sister site of Heywood.
South Australia Forests Minister Rory McEwen revealed the move was driven by Protavia's plan to combine its projects and build one large mill, sparking fears that Heywood's mill could be lost.
The Glenelg Shire Council is concerned about the developments and has called on Protavia to clarify its intentions for the Heywood mill. ``We are ready to facilitate the mill development at Heywood but we would like to have confirmation from Protavia of their plans now that this has been mooted,'' mayor Gilbert Wilson said.
The company's only media spokesman, director advertisement advertisement John Roche, did not return The Standard's calls.
Mr Roche has pledged that the town's economic lifeline is secure, according to Heywood Pulp Mill community reference group chairman Craig Keating. ``I have been assured that the project is still going ahead... and that nothing has changed as far as the Heywood project is concerned,'' Mr Keating said.
Admitting that some reference group members were concerned, Mr Keating said the group had not formally met Mr Roche since the revelation of the Penola plans. They will meet on Tuesday night without Mr Roche.
Mr Keating expected the group would resolve to hold talks with several parties, including industry and the South Australian Government. Mr Keating said speculation about the likely loss of the Heywood mill was premature.
Citing Victorian Government approval and the choice of Heywood as the first site, he said he was satisfied the project was on track. ``The community has fully embraced the whole idea, which is not the case in South Australia,'' Mr Keating said.
The original Penola mill's approval is being challenged by farmers in the South Australian Supreme Court.
Planning rules to be axed for mill The Australian Jeremy Roberts April 09, 2007
THE South Australian Government is preparing legislation that will pave the way for a $1.2billion pulp mill to bypass state planning laws, gazumping the Bracks Government's hopes to lure the project to Victoria.
The proposed bill has shocked farmers close to the South Australian site, near Penola in the state's southeast, prompting one to liken the Rann Government's treatment of landowners to that of Zimbabwean President Robert Mugabe.
The Penola mill and a twin mill planned for outside Heywood in western Victoria received state government approvals last year.
Government approval of previous plans for a $650million pulp mill on a site south of Penola has been challenged by local farmers in the South Australian Supreme Court. The case was adjourned last week after proponents Protavia announced it was making large-scale changes to the plans for the Penola project.
Agriculture Minister Rory McEwin revealed on Thursday that Protavia planned to join the projects together and build one large mill, rather than two smaller mills. Mr McEwin said he would take a bill to cabinet by the end of the month that would give Protavia certainty of development approval, water rights, forestry rights and an upgrade to rail links. "If you're going to spend that sort of money, the developers want a higher level of certainty," he said.
Saying "time is money", Mr McEwin said Protavia wanted the bill put forward quickly, and that it was urgent because of competition from Victoria. "Victoria are ahead of us ... if we can do this in a timely manner to a higher level of scrutiny I think they (Protavia) would prefer Penola," he said.
Mr McEwin said the bill would be modelled on indenture acts that legislate the rights and responsibilities of large industrial projects, including BHP Billiton's Roxby Downs uranium and copper mine. He promised the bill would enshrine the highest environmental safeguards, but admitted: "We have a lot to work out exactly what we mean by 'world's best practice'."
The expanded project is likely to include a combined pulp mill and a hydrogen peroxide plant. If the bill were passed, planning approval would depend on parliament. Mr McEwin said the massive expansion in the plans outdated previous approvals. The pulp mill project has not been subjected to an environmental impact statement after Planning Minister Paul Holloway declined to declare it a major project.
The Development Assessment Commission approved the Penola plans in September, with input from the Environmental Protection Authority. Mr McEwin said South Australia's parliament would offer "the highest level of scrutiny -- you can't get a higher level than that".
The Liberal Party has indicated it was likely to support the expanded project.
The revelations come in the wake of Tasmanian Premier Paul Lennon's introduction of legislation to fast-track approval of a $2billion pulp mill in Launceston after its proponent, Gunns, complained of delays.
The proposed bill has shocked the group of more than 30 farmers who live near the site, 8km south of Penola. Group spokesman Duan Butler said the move "sucked".
The approval process left no right of appeal for third parties, he said, forcing the group to launch proceedings in the Supreme Court, challenging the state's planning system.
Gunns looking at mill site in Victoria By CHRIS PIPPOS March 7, 2007 (North West and West Tasmania News)
TIMBER giant Gunns Ltd was in Victoria last week investigating a possible alternative site for a pulp mill, it has been revealed.
The Glenelg Shire Council, in Victoria's south-west, has confirmed Gunns representatives toured parts of Portland last week to study a possible alternative option to locating the controversial mill at Bell Bay.
The tour, which included nearby plantations, is the strongest indication yet Gunns could take its $1.3 billion project, which is meeting stiff opposition in Tasmania, interstate.
Shire development services manager Garry Purton said yesterday Gunns had shown an interest in the Portland area, which includes vast blue gum plantations, to build its mill.
"They in fact visited this area early last week and as a result of that visit we are providing some information on infrastructure issues," Mr Purton said.
"They are keen to get some further information from me. "Obviously they came over here and had a few questions, some of which we could not answer on the spot, and we are following up with that information."
Mr Purton said the shire was "well aware" of the opposition to the mill in Tasmania.
The Portland Observer quoted Mr Purton last week saying Gunns had hit a snag with getting planning approval in Tasmania, and there was "an ongoing exchange of information between the council and Gunns".
Yesterday, Gunns Ltd boss John Gay would not be drawn on exactly where the talks with the shire were at or whether Victoria was a serious alternative. "I'm not prepared to make a comment - I can't do it," he said.
Gunns scouts for alternative timber mill site 7 March 2007
Timber company Gunns has confirmed its representatives met a council in south-western Victoria last week to discuss alternative sites for Tasmania's proposed pulp mill.
It is the first time the company has visited the region, after expressing interest in the area earlier this year. Gunns' chaiman, John Gay, will not speak publicly about the meeting, but has previously threatened to take the pulp mill interstate if the assessment process in Tasmania drags on.
The Glenelg shire mayor Gilbert Wilson says the meeting focused on infrastructure needs for the mill. "We're only giving options for if things go wrong in Tasmania and they can't develop there, they know there's an option over here," he says.
"We're not trying to steal Gunns from Tasmania." The Mayor of the Glenelg shire, Gilbert Wilson, says he could not gauge from the meeting how likely it would be for Gunns to take its pulp mill to the area.
Glenelg bids for Gunns pulp mill 13 February 2007
A Victorian council says it has held talks with the Tasmanian timber company Gunns about the possibility of building a pulp mill on the mainland, if Tasmania's Bell Bay site proves too difficult.
Gunns chairman John Gay has previously said he wants the mill approved within six months. The Mayor of the Victorian Shire of Glenelg, Gilbert Wilson, says council officers have had preliminary discussions with Gunns management.
"We're not trying to pinch Gunns but if Gunns felt they couldn't build in Tasmania, then we would offer our shire as the first place to relocate to," he said.
Heywood pulp mill sitting on Limestone Cavern Portland Observer 1 December 2006 By BILL MELDRUM
THE proposed Heywood pulp mill may have to be moved up to one kilometre closer to the town after early geotechnical results have shown the possibility of a limestone cavern at the current site footprint.Protavia project director John Roche revealed the potential bombshell at a public meeting at Heywood on Wednesday night attended by an estimated 100 people.
The company has been given an assurance from the State Government that if it does have to move the mill's footprint, a second Environmental Effects Statement will not be necessary subject to it gaining support from the Glenelg Shire Council and the Heywood community.
Mr Roche gained unanimous council support for the contingency plan on Tuesday night in a closed session of the council. "We are seeking an indication of community support by Monday so we can forward it to the relevant Minister," he said. "It may be the situation we don't have to move the mill, the detailed data from the drilling tests will not be available until the end of the year but we can't run the risk of delays.
"The problem is we have equipment for the mill which weighs hundreds of tonnes, and the mechanical pulping and water treatment plants are particularly heavy. "The drilling tests have come up with some questionable ground conditions on some of the footprint they have drilled 50 metres down and not hit rock.
"We have negotiated an agreement with the adjoining landholder V.O. Graziers to acquire land and we are hoping that land will be rezoned to extend the Special Purpose five zoning."
Despite the potential setback, the Heywood meeting rallied behind the mill, telling Mr Roche the meeting gave him in principle support to do whatever had to be done.
Mr Roche said work on the mill was proceeding at a frantic pace. "Our priority is Heywood, the end time frame does not change we have 200 engineers working on design at the moment," he said.
The meeting was told a second EES was not needed because all monitoring sites regarding noise and other emissions were on the boundary of the site. "All we are doing is possibly moving the mill footprint within the site," he said.
"We foreshadow a smaller chimney stack will be required because it is out of the hill's shadow, thereby the inversion conditions caused by the hill will no longer be a problem." The company, however, does need further approval from the Federal Government under the Environment Protection and Biodiversity Conservation Act.
That decision is expected by the end of January. The pulp mill planned to rely heavily on sprinter short haul trains to transport product to the Port of Portland. The company had a difficult task ahead in trying to secure up to 600 skilled workers from Heywood and district.
Forest Stewardship Environmental Chamber Representatives give Simazine the thumbs up (despite Simazine use contradicting environmental group's own policies!) August 4, 2006
Derogation for continued use of Simazine.
This herbicide is of significant concern because it is one of the group known as triazines, none of which are particularly satisfactory. FSC certified companies have all abandoned the worst of this group - atrazine. Sean (Cadman - The Wilderness Society) and I have supported this decision because the FSC plantation companies are very actively pursing better alternatives, have committed to have a further review after 12 months pending the outcome of the deliberations of an expert committee, a Pesticides Policy Advisory Group (PPAG), that FSC Australia is establishing to review chemical use issues on an ongoing basis and very importantly have agreed to consult directly with any affected individuals and organise a community forum to seek approval for the proposed way forward.
We both believe that such an approach offers a real breakthrough in terms of commitment to change and stands in stark contrast to non FSC companies and agencies chemical use policies.
The proposals for continued use are attached for your information.
Please let us know if you have any further suggestions as to how these processes could be approved in the future as the companies will be seeking further derogations.
Yours faithfully, Lindsay Hesketh (Australian Conservation Foundation).
BD Comment: "The recent simazine derogation, agreed to by sean and lindsay, totally undermines green organisations policies in regards to chemicals and plantations. it undermines the Vic Greens (June 2006) recently announced policy and totally contradicts Wilderness Society policy. Now why have Sean and Lindsay allowed for lesser standards in FSC than what they would get passed the organisations that employ them? (ACF's policy here is a little vague, but i contend that even catchments that are not proclaimed water supplies are often still sourced by local communities for domestic and stock uses). Support for this derogation does not have support from the environmental chamber as noone was even consulted. It makes a mockery of FSC's clean and green 'image'.
Please note: Simazine is a triazine chemical. (also an suspected endocrine disruptor, developmental and reproductive toxin and groundwater pollutant). TWS Plantation Policy (2005): The Wilderness Society does not support any use, including aerial application, of: the triazine group of chemicals, synthetic pyrethroids, any of the other chemicals with known human or ecological toxic impacts, or 1080 poison baiting for herbivores. ACF Plantation Policy (1995): strict controls of chemical and fertiliser use (including a rapid phase-out of pesticide use and replacement with biological control systems and a cessation of the use of the triazine herbicides in all domestic supply catchments); Vic Greens Plantation Policy (2006): All existing plantations and any new plantations proposed must take into account the following; ... The use of broad-scale pesticides that have adverse effects on local communities and water supplies. All aerial spraying and chemicals that are hormone-disruptive or pre-carcinogens will be banned to protect hmes, waterways and aquifers".
No Guarantees for pulp mill The Warrnambool Standard, August 12, 2006
By Sarah Scopelianos
The company proposing to build a $400 million pulp mill in Heywood won't guarnatee it will go ahead. Protavia's project director John Roche said it was still designing the plant and securing investors despite being only months away from scheduled construction.
Mr Roche said the company was spending large sums of money on engineering and design staff but could not give the Heywood community any guarantee the mill would go ahead.
The revelation the company is still locking in financial backers while being months away from wanting to begin construction comes as South West Trades and Labour Council President Mark Solly expressed concerns about the project's future because of a lack of perceived interest. "There doesn't seem to be any more movement on the project for it to go ahead," Mr Solly said.
He said he attended a public meeting about the proposed mill's progress held by the company but was "fobbed off" for asking who was funding the project. "It's very clear there are no backers at this stage," he said. "People are making investments in the town because they think it is going ahead. Without anyone funding it, it won't go ahead. People need to be cautious."
Mr Solly said the situation was similar to the Portland aluminium smelter laying dormant until the State Government bought a 25 per cent share into the project to kick start it again. But Mr Roche said the Heywood community was more positive towards the project than Mr Solly's remarks implied.
He said the company had a lot of detailed discussions with potential investors but would not confirm if money or how much had been secured. "All along we've said the woodchips will begin being harvested by 2009 the mill has to be in a position to take them of they will be exported and the benefit will go to somewhere else," Mr Roche said.
He said the company could not begin designing the mill before the Government issued its Environmental Effects Statement. "It looks like we are stationary at the dock, but we are pedalling like hell underneath," he said.
Rainsford raps water policies By DEAN LAWSON
Tuesday, 1 August 2006 Wimmera Mallee Times
LIBERAL Party candidate for Lowan Dr Katrina Rainsford has accused the State Government of ignoring the future of Lowan electorate wetlands, creeks and rivers.
Dr Rainsford, also a Cavendish district farmer and Southern Grampians Shire councillor, said the government lacked legitimacy in policy over water management in the region.
"Water Minister John Thwaites likes to be photographed next to the opening of McKenzie Falls in the Grampians but the government is missing on real policy to preserve the integrity of the wetlands and waterways of western Victoria," she said. "I have reports of wetlands disappearing and creeks reduced to a trickle at Dergholm, Nareen and Merino. "
At Lake Bolac the community catchment management group is worried the community's iconic lake is under pressure because upper catchments have been planted out to water-hungry blue gum plantations."
Dr Rainsford said western Victorian water management meant more than establishing the Wimmera-Mallee pipeline. "While northern farmers face an explosion in costs of the piping of the open channel system, other Lowan farmers watch with dismay the uncontrolled draw-down of catchment water by large corporations promoting wood-chip plantations," she said. "What will be the impact of the Wimmera River's upper catchment being planted out to woodchip blue gums? "Bracks Labor and the Delahunty Nationals stand by and do and say nothing. "John Brumby's vision for regional Victoria has become `pulping the provinces'."
Dr Rainsford called for `more transparency and fairness' in water management throughout the electorate. "The Bracks Government demands licensing and permits for bores and farm dams while openly promoting and turning a blind eye to blue gum plantations with their acknowledged significant impact on water by reducing run-off and tapping into underground water supplies. "The Council of Australian Governments 2004 Inter-governmental Agreement on a National Water Initiative recognises that a number of land-use change activities have potential to intercept significant volumes of surface and ground water with large-scale plantation forestry having a significant impact.
"The government toys with `carbon sequestration' strategies promoting tree plantations without considering the complete environmental impact and ignoring global studies reporting substantial stream-flow reduction. "The rest of the world is already realising that you can't have carbon credits without water debits. "While there is a celebration of Landcare, it appears with water and plantations there is `no care'.
"Meanwhile, Labor's Department of Sustainability and Environment openly promotes plantations without any total environmental impact assessments. "I look forward to our catchment management authorities serving their communities by independently monitoring the water quality and reporting without fear or favour."
Dr Rainsford said she supported integrated agri-forestry based on the `right species in the right place for the right reason' with the best long-term returns for the people of Lowan.
PULP MILL THREAT Legal challenge could scuttle project 13 June2006
Hamilton Spectator By BILL MELDRUM
THE proposed $650 million Heywood pulp mill has been threatened with the possibility of a legal challenge that could scuttle the project. Sandra Onus, from the Yigar clan of the Gunditjmara Native Title claimants, said on Friday she was furious that Heywood Pulp Pty Ltd had not met with clan members to discuss protection of Aboriginal cultural heritage sites, flora and fauna issues since October last year.
The possible threat to the pulp mill comes not from who may win or lose any legal action, but from any delays caused to the project through being tied up in the courts, given the time frames the company has set itself to meet, including resource supply from plantation company Timbercorp.
Ms Onus slammed the actions of Heywood Pulp Pty Ltd, saying "they have put out their so-called EES (environmental effects statement), had it approved but have refused to meet with us ... I've put in numerous calls to John Roche (pulp mill project director), but nothing, nothing at all," she said. "What I am telling John Roche is for him to meet with the traditional landowners of the area, the Yigar clan, and tell us how he is going to protect our sites, our heritage. "It is okay for him to say he will only deal with the Gunditjmara.
The Gunditjmara cover a wide area, but we are the ones that live here. "I am not against the pulp mill for the sake of being anti-pulp mill, but I warn people that if John Roche doesn't meet with us, we will lodge an interlocutory injunction through the courts, we are determined to see this through."
Ms Onus' concerns did receive support from the Department of Victorian Communities during the EES process. The Planning Panels Victoria panel report said the DVC had raised a number of concerns on Aboriginal cultural issues and expressed concern that the field investigations had not been completed, and the proponent had not detailed the consultation undertaken.
However, the panel concluded the EES had adequately identified the Aborginal and non-Aboriginal cultural issues that need to be resolved during the detailed design and construction phases of the mill.
"In addition, the panel notes that the proponent has clearly identified the need for: "Establishing a formal mechanism for ongoing consultation with the Gunditjmara people throughout the life of the project; "Further detailed survey work and sub-surface testing prior to the commencement of any construction works; and "Establishing a protocol for the protection of cultural heritage values in contractors' contracts," the panel said.
Mr Roche said on Friday, the company had been told by the Department of Sustainability and Environment to deal only with the Gunditjmara on Aboriginal issues. He said they were the traditional owners and currently had an accepted Native Title claim on the region. "We're not going to deal with any other group on this issue," he said.
He also noted Ms Onus was part of the Gunditjmara Native Title Claimants group that attended the field inspection of the mill site on October 6 last year with the consultants, Biosis Research Pty Ltd.
Comments on Heywood Pulp Mill Environmental Effects Statement (2).
Planning Panels Victoria Department of Sustainability and Environment PO Box 500 East Melbourne 3002.
21/2/06 By ***
Heywood Pulp Mill Pty Ltd are proposing a chemi-thermo-mechanical pulp (CTMP) mill for the Heywood area. The mill is planned to produce 350,000 tonnes of air dry pulp per annum, from 700,000 tonnes of bluegum woodchips. It appears that all of the pulp will be exported via Portland harbour through a deal with Cellmark in Sweden. 70% of the pulp will travel by road to Portland and the remaining 30% arriving by rail..
CTMP pulp is used for soft and absorbent tissue, box board (high quality packaging such as perfume boxes, takeaway food boxes, shoe boxes etc) and coated fine paper (used for glossy magazines and brochures). (CTMP is where the lignin in the woodchips is softened by heat prior to mechanical processing).
The mill will be located 5km north of Heywood on the eastern side of the Henty Highway, with a portion of the development located on the Sunday Creek floodplain. The mill will be powered by electricity and gas meaning that a gas line and transmission line will also be required to be built. Electricity will tap into the existing powerline, south east of Heywood, with power sourced from Latrobe Valley Brown Coal.
As far as pulp mills go the proposal appears to be of lesser environmental impact than other mills that FoE has investigated. The mill will source its feedstock from Timbercorp owned (and possibly other) bluegum plantations, not native forest. It will recycle a large proportion of its water and its water use is up to 90% less than existing pulp mills in Victoria (ie Maryvale mill in Gippsland). Water will be sourced from supposed confined ground water reserves from the Dilwyn Aquifer. The mill will not use chlorine bleach, thereby reducing potential contamination of dioxins and organochlorines.
It will however significantly impact on the community at Heywood. Increased truck movements at the mill will mean a truck arrival every 3 minutes.
In regards to CTMP, "Mechanical pulping processes retain the lignin to obtain a higher yield. To the extent that these pulps are bleached, hydrogen peroxide or some other non-chlorine process is generally used. The lignin content causes the paper to yellow relatively quickly when exposed to light, and so papers from mechanical pulps are generally used in products such as tissues and newsprint, which have short lives… the main alternative to chlorine bleaching involves a mechanical pulping process followed by bleaching with non-chlorine compounds such as hydrogen peroxide. Although this process avoids the formulation of organochlorines, these processes have other environmental impacts. For instance, their effluents are toxic unless treated. Further, mechanical pulping requires high levels of external energy. Generating energy can have environmental impacts through emission of fossil pollutants and in other ways" Industry Commission Pulp and Paper: Bleaching and the Environment May 1990.
"Chemi-mechanical pulping involves a chemical pre-treatment to soften the woodchips (for example with sodium sulphite) before mechanically pulping. The chemi-thermo-mechanical pulping process is similar to the chemi-mechanical process except that the chemically treated woodchips are mechanically pulped at high temperature. Because lignin is retained in mechanical pulps, these processes result in a higher pulp yield from pulpwood than do chemical processes. However, mechanical pulping requires a greater input of external energy per tonne to pulp produced." Industry Commission Pulp and Paper: Bleaching and the Environment May 1990.
The Pulp will also be exported. This fact is outlined in a deal signed between Timbercorp and Swedish Company Cellmark in 2005. It would appear to Friends of the Earth that the pulp manufactured at Heywood will most likely be marketed by Cellmark as a possible alternative to Indonesian grown acacia pulp currently marketed through Cellmark subsidiary Singapore Pulp (Pte) Ltd. Other Indonesian pulp (eg PT Tel) sold in Japan through Cellmark, may also be impacted by pulp sourced at the Heywood mill. With Timbercorp operations being certified by the FSC, it would be understandable that some producers would be interested in pulp sourced from Heywood. However if Timbercorp were to lose their certification, these alternative international markets may 'dissolve'. This certification delisting is a definite possibility as Timbercorp continue to use FSC prohibited herbicides such as Simazine.
Friends of the Earth has always campaigned on sustainability issues. In this regard our organization believes that Australia must become sustainable through improving its manufacturing standards in Australia and reducing the need to import unsustainable products into Australia. Whilst Friends of the Earth accepts that Australia currently has a trade deficit of approximately $2 billion dollars in wood and paper products, we would have thought that a new pulp mill being built in Australia would look at replacing imports of paper products from dubious overseas and local sources. This is not the case with the Heywood mill. Therefore this major potential in securing a more sustainable paper supply in Australia will not occur with the building of this pulp mill.
Friends of the Earth is also concerned that unless the EES also includes the environmental impacts of the bluegum plantations that feed the Heywood Pulp Mill, then the EES will only go part of the way of dealing with the long term sustainability of the mill. We are currently working with communities already being impacted by new bluegum plantations. To not factor in the environmental and social concerns of these plantations, before agreeing to a process of building a pulp mill which these new plantations will supply is premature. Who really knows what the long term impact will be of converting predominately grassland/woodland ecosystems into tree plantations?
What happens if Timbercorp does not reach their 'magical' MAI of 27.5? Will they be facing a supply shortage of bluegum, which will have to be met by other bluegum companies who for instance may not be certified by FSC?
Timbercorp's influence already stretches as far east as Moriac. They are already impacting on communities such as Swan Marsh where there was a recent 4 day VCAT hearing with the Colac Otway Shire opposing plantation developments by Timbercorp and Great Southern Plantations on land zoned as LSIO (Land Subject to Inundation Overlay). Decisions regarding this case have not as yet been decided and it is not a given that other communities impacted by Timbercorp plantations view the company in a positive light. (see VCAT Reference Numbers: P1641/2005, P1643/2005, P2095/2005, P2102/2005).
Friends of the Earth also has concerns that the new mill will be a greenhouse gas emitter of over 800,000 (t CO2-e) each year. We estimate that each year the mill owners would have to grow about 10,000 hectares of mixed species indigenous forest (@300 trees/ha) to offset the emissions from the mill each year. The companies associated with the mill would be unlikely to fund such an initiative, especially if the logging of such replanting was not allowed. The mill itself will increase global warming and could be a factor in possible decreasing growth rates in bluegum plantations through impacts of climate change at a regional level. Decreasing growth rates could occur due to rainfall decreases as forecast under Greenhouse scenarios.
Friends of the Earth also has concerns about the impact of bluegum plantations on native fish in waterways downstream of the mill and waterways downstream of bluegum plantations. FFG listed and EPBC listed Yarra Pygmy Perch has been recorded in the Fitzroy River and could well inhabit Sunday Creek, particularly in the wetter months. The Sunday Creek is regarded as sub-optimal for the following EPBC listed species; Growling Grass Frog, Dwarf Galaxias, Yarra Pygmy Perch and Australian Grayling. Full fish surveys need to be undertaken, especially in the wetter months in both the Fitzroy rivers downstream of the confluence with Sunday Creek and Sunday Creek in its entirety. Other native fish in the Fitzroy River include; Southern Pigmy Perch, Short-headed Lamprey, Pouched Lamprey , Short-finned Eel, Tupong , Common Galaxias, Mountain Galaxias, Flat-headed Gudgeon, River Blackfish. All of these species are susceptible to sedimentation of habitat through construction activities. A large flood event during construction could prove catastrophic. Baseline studies urgently need to be determined.
FFG and EPBC listed Ewens Pygmy Perch, Yarra Pygmy Perch and Dwarf Galaxias have been recorded in the Crawford River. Yarra Pygmy Perch have also been recorded in the Darlots Creek upstream and downstream of Lake Condah. Glenelg Spiny Crayfish listed under the EPBC act and FFG act are also found in the Crawford River. Friends of the Earth fear that these fish populations are facing imminent environmental problems.
1) Comments on Hydrogeological impacts
Normal operations will see the mill using between 1460ML/yr and 2190ML/yr (Between 1.46GL/yr and 2.19 GL/yr) of water per year. One GL=1 GigaLitre=1000 ML = 1,000,000,000 litres. One GL = 444 Olympic Sized Swimming Pools, therefore the Heywood Pulp Mill will be using enough water to fill between 648 and 972 Olympic sized swimming pools of water each year. (Between 1.78 Olympic Swimming Pools of water per day and 2.66 Olympic Swimming Pools of water per day).
In comparison the existing PaperlinX paper mill at Maryvale in Gippsland uses 22GL of water per year or 60 ML per day) and produces 423,000 tonnes of pulp and 540,000 tonnes of paper. Therefore the Heywood mill will be using 90% less water than that used at Maryvale, although the Heywood mill will not be producing paper.
2) Comments on Geology and Hydrogeology and impacts of plantations
Considering that the bluegum plantations will be the prime source of woodchips to make the pulp, we would have expected that the EES would also look at investigating the environmental impacts of the many thousands of hectares of bluegum plantations that Timbercorp (and other companies) have recently established in the region. If the EES does not extend to the plantation issue, then Friends of the Earth would regard the process as being woefully inadequate. For instance we understand that the Crawford River, upstream of Hotspur has been targeted by bluegum companies in the past 5 years. We also understand that the Crawford River is significant in regards to native fish, including the FFG and EPBC listed Ewens Pygmy Perch, Yarra Pygmy Perch and Dwarf Galaxias. Does the scope of the EES include the impact of likely reductions in streamflow of anywhere between 9-15 GL's to the Crawford River and associated impacts of pesticides which are used on bluegum plantations during their lifecycle? I understand that one particular insecticide, used in bluegum plantations, Alpha-Cypermethrin is toxic to freshwater species at 4 parts per trillion (http://msds.fmc.com/msds/100000010328-MSDS_US-E.pdf). With such a large plantation base in the Crawford, the risks to the river associated with pesticides cannot be discounted.
Given that thousands of hectares of plantations have been established in the region, what are the environmental risks associated with the use of such insecticides in the region, particularly those in catchments which contain endangered or threatened freshwater species? Timbercorp claim that 3% of their plantations are sprayed with insecticides each year, meaning that if their plantation estate in Victoria expands from ~35,000 to 50,000 ha, we could expect aerial spraying of approximately 1,500 ha each year by Timbercorp – not including other bluegum companies in the region.
Given that most insecticide spraying in tree plantations can occur at up to 15 metres of height, in comparison to other forms of agriculture at 3 metres, Friends of the Earth feels that the risks associated with aerial spraying of plantations would be large. This is of special concern for local communities living downwind or downstream of these plantations in locations such as Myamyn, Condah, Branxholme, Hotspur, Digby, Heywood etc. What of communities relying on tank water or bore water?
We understand that bluegum companies are already using some insecticides in an off-label capacity. One particular insecticide is Dimethoate. Such was the outcry by members of the public about the use of Dimethoate in Western Australian blue gum plantations, that in 2000 the West Australian Government placed a moratorium on its use in bluegum plantations (http://deh.gov.au/land/publications/forestry/case-study-7.html)
We need more information about where the Dilwyn Formation outcrops. It is FoE's understanding that the Crawford River, particularly east of Hotspur has been inundated with thousands of hectares of bluegum plantations in the past 5 years.
Bluegum plantations, in comparison to pasture, can use up to an average of 1 ML/ha of water more per year (if cut on 12 year rotations – higher water usage occurs in plantations cut on longer rotations) with greater losses recorded the older the plantation becomes (especially from years 6 to 12) . This potentially means that thousands of ML of water could be used by these plantations in possible recharge areas for the Dilwyn aquifer. Friends of the Earth is concerned that possible Dilwyn Aquifer recharge points south of Wannon have been targeted for planting by bluegum companies including Timbercorp, ITC and GPEL. (This statement is based on ground surveys by Friends of the Earth and interpretation of the following document: Glenelg Hopkins CMA Groundwater Flow Systems – Peter Dahlhaus, Dahlhaus Environmental Geology Pty Ltd, David Heislen, Centre for Land Protection Research, NRE Phil Dyson, Phil Dyson & Associates Pty Ltd). We would expect that a thorough investigation into the Hydrogeology of plantations in the recharge areas would need to be conducted before approvals for the pulp mill would go ahead, as current calculations about aquifer recharge could prove to be erroneous.
It is more likely however, that a proportion (approx 4400ha+) of the recent 15,000ha+ bluegum developments in the Crawford River catchment have been located in recharge areas for the Port Campbell Limestone Aquifer System, which feeds the Heywood PAV. These plantations may reduce recharge to that PAV between 2600 ML (2.6GL/yr) to 4400ML per year (4.4GL/yr), especially after the plantations are older than 6 years of age (ie between 2006-2010 if most of the plantations were established in 2000. However further hydrogeological studies are definitely warranted. We estimate that plantations in the Crawford Catchment would be using between 9 GL & 15 GL per year above what was being used as pasture, over 5 times more water than what the pulp mill proposes to use. (1 GL = 1000 ML = 1 000 000 000 litres).
Timbercorp does own plantations in the Crawford River catchment, however their holdings are also substantial in the Lake Condah/Darlots Creek catchment where the environmental impacts of these plantations on the local ecosystem is 'unknown'. (Lake Condah catchment has approximately 6500 ha of bluegums as of Feb 06). It should also be pointed out that Lake Condah is of extreme importance to native title claimants in the region who may want to reintroduce eel farming as a means to become economically self sufficient.. We understand that Timbercorp has already established plantations within only a km or so of Lake Condah. Has Timbercorp been granted permission from native title claimants to build the pulp mill and to establish bluegum plantations in the Lake Condah catchment? Why weren't cultural heritage issues included in the pulp mill EES? What will be the long term impacts on indigenous fisheries of the bluegum plantations?
Bluegum companies are targeting land that has traditionally been used as dryland pasture for grazing with sheep and cattle. Pesticides are not routinely applied in all dryland pastures (see Agriculture and Victoria's Environment – 1991 State of the Environment Report) and the use of pesticides associated with bluegum plantations, may be a more widespread phenomenon that local communities, facing bluegum expansion in their area, would have to contend with in regards to management issues of dryland pasture. Plantation companies often rip the soil at least 5 feet deep across contour lines. These rows then make it very difficult for rain to percolate down slopes and into local creeks and rivers. The plantations will act as giant 'sponge's retaining most rainfall and are also likely to retain most groundwater as well, as when the young trees grow they suck up water retained in the soil. Within a few years streamflows will most likely be decreased by well over 100mm+. Could it be that plantation companies are deliberately targeting the properties located in the upper reaches of catchments? Once the plantations get growing, neighbouring downstream farms will find it difficult to keep running due to lack of water, meaning that in time they will also be forced to sell to plantation companies.
Research determining impacts of bluegum plantations on groundwater are still in their infancy. Most of the work associated with groundwater loss underlying plantations has been done in pine plantations. Results of monitoring groundwater reduction under pine plantations include the following statement published in the South Australian – Victorian Border Groundwaters Agreement Review Committee Twentieth Annual Report to June 2005 p27
"1. Caroline, Nelson to Kentbruck and Nangwarry. Long-term declining groundwater trend (30 years as observed by the hydrographs) in the Caroline area and in the area between Nelson and Kentbruck. Since 1972 the total change in water level over that period is ~3.5m, which equates to a rate of decline of 0.11 m/yr. The seasonal fluctuation in water levels is negligible indicating little recharge from rainfall or seasonal extraction from groundwater extraction. These areas are located beneath plantation forests and are indicative of the impact that plantation forests have on rainfall recharge.
At Nangwarry, water levels rose after plantation forests were burnt during the 1983 bushfire (Stadter 1992). The water level information collated since then shows that groundwater levels are in decline under the plantations and a cone of depression is forming in response the re-establishment of plantations".
Most aerial spraying and pesticide use in agriculture in Victoria has traditionally occurred in the Broadacre Cropping and Crop Pasture regions of the Wimmera and Northern Mallee regions of the State, where population densities are lower than where the new bluegum plantations are targeting. Horticultural areas have also used considerable amounts of pesticides. By classifying bluegum plantations as an agricultural crop, Friends of the Earth would argue that this does not make distinctions between areas of traditional high use of agricultural chemicals and areas where there has been limited use. Under this scenario, bluegum plantation companies can move into a new area, use a form of weed and pest management that has rarely been used in that area before, increasing chemical loads and the possibility of exposure, and there is nothing the local community can do, other than seeking often legally unenforceable agreements with companies, if the company feels like it. Broadscale ground based spraying of the following herbicides occurs in the first 1-2 years of plantation establishment; Glyphosate, Metsufuron Methyl, Sulfometuron Methyl, Simazine, Amitrole, Clopyralid, Oxyfluofen, Haloxyfop, Metosulam as well as surfactants/wetters, and anti-antagonists such as Liase or Boost. Use of fertilisers also occurs. Insecticides include Fipronil, Alpha Cypermethrin and off label use of Dimethoate.
3) Comments on impacts of Greenhouse.
What is the impact of long term reductions in rainfall associated with greenhouse effect? This could see groundwater recharge falling because of a decrease in rainfall. Decreases in rainfall associated with greenhouse effect are also of concern. Decreases appear likely in south western Victoria, (http://www.greenhouse.vic.gov.au/climatechange.pdf) with decreases likely to impact most in summer. Yearly rainfall reductions of 10-15% could eventuate in the region by 2030. Under this scenario, expected decreases in steamflow and groundwater recharge from both greenhouse effect and the new bluegum plantations could see major problems for many waterways in the region, especially ephemeral waterways and wetlands. This in turn will impact on other businesses and rural activities.
According to the following map; http://www.bom.gov.au/cgi-bin/climate/cgi_bin_scripts/annual_rnfall.cgi Heywood and its environs receive about 800-1000mm per year. However bluegum plantations are growing mainly in the region covering rainfall of 600-800mm per year. A 10-15% reduction in rainfall, particularly in bluegum plantation areas currently closer to 600mm could make some unviable. One must also remember that there are a number of other bluegum companies operating in the region, all competing with Timbercorp for available farmland. When one considers the impact of all the players in the region, then there is definite grounds for concern.
The impact of greenhouse effect could well jeopardise many plantations currently growing in 700 mm rainfall zones. With lower rainfall we could well see reduced MAI's (MAI=m3/ha/yr = Volume of Stand (m3/ha)/Age of Stand (yrs)). According to some documents that we have seen (Stock Analysis Hardwood Plantation Offerings May 2005) Timbercorp use an optimistic MAI of 27.5.
According to The Weekly Times Dec 14, 2005; "A tree-grower and retired timber industry veteran has questioned the returns on bluegums being planted in what he considers marginal country…Mr Jowett said many plantations were now going in on marginal, lower-rainfall land outside the ideal growing area. He said farms rejected for bluegums two years ago had now been bought for plantations… Mr Jowett questioned whether some land being sold for blue gum plantations would produce predicted returns. He said one prospectus predicted an average of 250 tonnes gross of timber a hectare after 10 years… Mr Jowett predicted average yields of 120 tonnes/ha (green) on land he once managed. He said some paddocks in the region would produce low yields and smaller trees. "I believe some won't even be harvested" Mr Jowett said.
What happens if Timbercorp does not reach their 'magical' MAI of 27.5? Will they be facing a supply shortage of bluegum, which will have to be met by other bluegum companies?
These impacts need to be thoroughly investigated before allowing the pulp mill to proceed. We have also heard rumours that other pulp mills are planned to be built in the region. Will these also be using water from the confined Dilwyn Aquifer? Have greenhouse scenarios been properly factored into the estimation of groundwater yield from the Dilwyn Aquifer? This lowering of rainfall, may see impacts on growth rates in the bluegum plantations, potentially seeing vast areas of bluegums drought affected where they may be more prone to insect infestation.
It is also apparent that the pulp mill will create 815,030 (CO2-e) of Greenhouse Gas Emissions per year, with the largest portion of the emissions created by the co-generation plant which is powered by gas. Have the greenhouse effect of burning solid waste and chip fines been included in the Operations State Greenhouse Gas Emissions summary? Greenhouse emissions of 815,000 (Co2-e) is equivalent to the greenhouse gases emitted by170,000 cars!
How does the estimated increase in greenhouse gases produced at the mill, reduce greenhouse emissions into the atmosphere and therefore not contribute to global warming? According to our calculations, based on the methodology used for example by Green Fleet where one vehicle emits 4.7 t/yr of carbon and Green Fleet suggests planting 17 mixed species indigenous trees for each car (0.276 tonnes per tree), the mill owners would have to plant approximately 2.953 million mixed species indigenous trees each year to offset the emissions for this new pulp mill (At a hypothetical planting rate of 300 trees per hectare, 9843 hectares of land would be required each year). This may possibly negate the greenhouse emission impacts of the mill, but how realistic is this scenario?
The argument that plantation trees would more than compensate for the creation of pulp mill emissions would be a fallacy, because after one decade these trees would still have to be logged and the carbon contained released back into the environment through paper decomposition.
In regards to the argument that because plantation companies are reliant on fast growing trees that absorb carbon dioxide from the atmosphere and are therefore greenhouse friendly, a study in 1996 by the IIED (International Institute for Environment and Development -Towards a Sustainable Paper Cycle p246) dismissed this argument concluding that the paper cycle results in a net addition of some 450 million CO2 equivalent units per year.
CTMP processes may also mean that recycling initiatives are lessened due to the groundwood techniques employed by the process tearing the wood-fibres, reducing the recyclability of the pulp.
4) Comments on the Geotechnical Impact
There is a concern that erosion of construction material including sediment could occur during the construction phase. In the event of a large rainfall event, this material could be washed into Sunday Creek and in turn the Fitzroy River. It is very important that fish surveys be conducted in both Sunday Creek and the Fitzroy River to determine what species inhabit these waterways. Species, including native fish are highly susceptible to sedimentation of streams. Fish surveys need to be undertaken in order to determine what level of protection will be granted to the waterways during construction. This issue is of the utmost importance seeing that there is a possibility of Acid Sulphate Soils and High Plasticity Clays in the vicinity of Sunday Creek. We would also urge for a fish survey to take place in Darlots Creek and Lake Condah to assess the impacts of sedimentation on species that inhabit these ecosystems including surveys done in the wetter months ie winter/spring..
Flood flows need to be determined before construction occurs, as does the hydraulic modelling.
When will the 100 year ARI on Sunday Creek be confirmed?
Are the bunds that stop chemicals entering Sunday Creek able to withstand major flooding? What is the location of the bunds and the chemical facilities? It appears an odd place to establish a pulp mill on land in very close vicinity or on a flood plain.
Friends of the Earth also has concerns about the impact of bluegum plantations on native fish in waterways downstream of the mill and waterways downstream of bluegum plantations. FFG listed and EPBC listed Yarra Pygmy Perch has been recorded in the Fitzroy River and could well inhabit Sunday Creek, particularly in the wetter months. The Sunday Creek is regarded as sub-optimal for the following EPBC listed species; Growling Grass Frog, Dwarf Galaxias, Yarra Pygmy Perch and Australian Grayling, however that does not preclude the chance that these species do inhabit the river. Full fish surveys need to be undertaken, especially in the wetter months. Other native fish in the Fitzroy River include; Southern Pigmy Perch, Short-headed Lamprey, Pouched Lamprey, Short-finned Eel, Tupong, Common Galaxias, Mountain Galaxias, Flat-headed Gudgeon, River Blackfish. All of these species are susceptible to sedimentation of habitat through construction activities. A large flood event during construction could prove catastrophic. Baseline studies urgently need to be determined.
FFG and EPBC listed Ewens Pygmy Perch, Yarra Pygmy Perch and Dwarf Galaxias have been recorded in the Crawford River. Yarra Pygmy Perch have also been recorded in the Darlots Creek upstream and downstream of Lake Condah. Glenelg Spiny Crayfish listed under the EPBC act and FFG act are also found in the Crawford River.
5) Social Impact Assessment
Our only comment here is that the mill will have a significant impact on Heywood and environs.
Friends of the Earth have concerns about the emissions likely to come from the mill including; carbon monoxide, nitrogen dioxide, sulphur dioxide, PM10, Phosphoric Acid, PM 2.5 and particularly Benzene, which is a known carcinogen. This could be particularly bad to breathe in for both local residents near the mill, who will probably leave the area and the people of Heywood, particularly on days when a northerly wind blows. There may be increases in breathing difficulties amongst sensitive people living in Heywood and surrounds. We also fear pollution of local water tanks from some of the emissions.
6) Odours
http://www.rfu.org/Hirsch.htm
Some people are predisposed to the health effects of odours to a far greater degree than others. Eg asthma – hyperactivity of the airway/bronchioles of the airway.
Mill odours could cause malodour problems with sensitive individuals.
Mill odours can create impairment of olfactory ability which means a negative ability to smell. Olfactory loss and associated chemosensory effects have been recorded in people living near pulp mills. Olfactory loss has been associated with chronic impairment, depression and anxiety, impacts on the nervous system, psychological problems, increases in blood pressure and negative impacts on the cardiovascular system.
Impact on the trigeminal nerve at the top of the nose if stimulated can cause an adrenalin release. Can cause people to be more irritable, particularly those who are emotionally unstable. Worse cases can trigger violent behaviour and psychiatric disorders.
p13 Commercial Freight movements estimate; 110 Wood Chip trucks arriving and departing each day (14 per hour) 38 Pulp Bales arriving and departing each day (5 per hour) 15 Chemical loads arriving and departing each day. 163 Trucks arriving and departing per day (20 per hour). One every three minutes.
The real impact of bluegum plantations (Friends of the Earth Melbourne leaflet April 2006)

In 1996, both the Federal and State Government's embarked on a program to treble Australia's plantation base. This program, called the '2020 Vision' has led to a sharp increase in the number of tree plantations throughout Australia. Generous tax concessions for plantation growers are also creating an environment allowing for the rapid growth of the plantation industry.
Recent research by the CSIRO gives more grounds for concern, where they conclude; "that commonly grown Eucalypt species and P. radiata are able to use groundwater under a combination of light or medium textured soil and shallow depth to a low-salinity watertable."
Bluegum plantations in Victoria
Victoria already has more tree plantations than any other state. In 1996, Victoria had approximately 250,000 hectares of plantations, most of them being softwood radiata pine plantations. By 2020 this area will increase by 500,000 hectares, most of which will be bluegum plantations. Bluegums are used for woodchips in paper production.
Legal aspects of plantations in Victoria
Since plantations are regarded by most Shire Councils as an "as of right use", planning permits are not required, except in East Gippsland Shire or in Shires where there are significant overlay issues. It would also appear that plantation companies are now exempt from native vegetation controls due to recent changes in Native Vegetation Guidelines. To help faciltate the surge of new plantations, plantations supposedly must apply with the Code of Forest Practice, which the State Government is currently weakening in favour of less restrictive prescriptions in plantations.
The effect of land acquisition on communities
Plantation companies that are hungry for new land often use aggressive purchasing strategies, targeting individuals in communities that may not want the new plantations. If an individual decides to sell the land, it is the community remaining in the area who has to deal with the consequences of the land sale, including the plantation 'management issues'. Plantation companies usually seek land that receives more than 700 mm rainfall per year and is located on deep soils. Examples of 'management issues' are: aerial spraying, the use of dangerous chemicals and increased water demand, feral animals etc. Plantation companies often target land in the upper reaches of sub-catchments, which in turn cause a problem for people reliant on water supplies downstream. As more land is purchased by the plantation companies, rural communities can suffer the effects of social dislocation, especially if families start to leave the area.
Water Issues
Ploughing and subsequent run-off
Once a plantation is established, local waterways can record a lowering of stream flow. The land is usually ploughed, over 1-2 metres deep, along contour lines, several metres apart. The dislodged soil often remains in rows about half a metre deep. The contour ploughing lessens the runoff from the land, meaning that almost all rainfall is retained on site and local waterways therefore lose water. This problem also increases as the young bluegum trees grow, with runoff that once went into creeks instead being consumed by the young trees. The bluegum trees may also tap into groundwater reserves, especially in times of low rainfall.
Plantations use more water than the pasture they replace.
Bluegum companies state that plantations will be logged at 10-12 years of age. As the young trees grow, they require water to sustain growth rates. At one year of age the plantation will use very little water, but as the plantation gets older, evapotranspiration rates increase, particularly once canopy closure is achieved. By year 10, the plantation water usage will be closer to 1.5 million litres of water per hectare per year, more than what was being used as pasture. Over a 10-12 year lifecycle, in areas of 800mm annual rainfall, it has been calculated that bluegum plantations will use an average of between 600,000 and 1 million litres of water per hectare more than pasture (streamflow reductions between 60 to 100mm), with water usage increasing with plantation age. This water use is likely to have negative impacts on downstream waterways, which may dry up more than before the plantation was established. This decrease in water flowing downstream is compounded in regards to the impacts of climate change where it has been predicted that rainfall in southern Victoria is likely to decrease by about 15% in 2020 and up to 50% by 2070.
In a recent article published by the CSIRO - Australian Journal of Botany 2006 "Impacts of tree plantations on groundwater in south-eastern Australia", the authors write' "In the Green Triangle (SA), under a combination of permeable soil over groundwater of low salinity (>2000 mg L-1) at 6 m depth or less, in a highly transmissive aquifer, annual evapotranspiration at eight research sites in ... and Eucalyptus globulus plantations averaged 1090mm year -1, compared with mean annual precipitation of 630 mm year -1. These plantations sites used groundwater at a mean annual rate of 435mm year-1."
Effects on water quality
Large scale plantations grown in upper catchments can slow the flow of water down, meaning that streams will not be able to flush out toxins and salts, leading to a decreasing water quality in some instances. To lower salt tables strategic revegetation needs to occur in medium to lower rainfall areas. Retiring heavily grazed farmland and planting that land out with trees, where erosion of streamsides and gullys is a serious environmental problem, can put a brake on worsening erosion in some instances.
Pesticides in plantations
How much pesticide is used?
The establishment of blue gum plantations in many regions of Victoria will lead to an increase in pesticide usage in those areas. The plantation industry sometimes supplies figures stating that only 5% of all pesticides used in agriculture are used in forestry. It should be kept in mind that forestry land use is approximately 5% of all agricultural land use. The main use of chemicals in agriculture is in cropping, cotton, rice and in growing fruit and vegetables. Many regions where the plantations are now targeting are dry land pastoral areas where pesticide use has been minimal. Therefore, the spread of bluegum plantations will greatly increase the use of chemicals in those areas.
Impact on communities
*House roofs, water tanks and people are exposed to pesticides through spray drift or chemical leaching, with children, people with compromised immune systems and pregnant women being at most risk. It should also be remembered that aerial spraying in other agricultural crops occurs at a height of 3 m. In plantations, spraying can occur at heights above 15m, potentially increasing the risks of spray drift.
*Water supplies can be impacted, particularly if rain falls soon after spraying.
*Spikes of chemical residues may be recorded in water draining from recently sprayed plantations.
*Runoff from plantations can have an impact on neighbouring properties and businesses.
Herbicides
Pre-planting herbicide application in plantations is sometimes used as a means of killing pasture grasses and other weeds. Generally speaking, one application of herbicide (usually glyphosate) will be used as a broadacre spray to kill existing grass and pasture. Sometimes land will be aerially sprayed to kill off exisiting pasture. This will be followed by a pre-establishment strip spray application of herbicides onto the ploughed mounds after a couple of months.
Post establishment application of herbicide strip spray is also highly likely. In the second year, weed control will occur to kill weeds growing between rows, as will another strip spray onto the ploughed mounds.
Herbicides in bluegum plantations are generally used only in the first two years. Common herbicides used in bluegum plantations include: Glyphosate, Metsulfuron Methyl*, Sulfometuron Methyl*, Simazine*, Amitrole*, Clopyralid*, Oxyfluorfen*, Haloxyfop, Terbacil* and Metosulam. Common herbicides used in radiata pine plantations include; Glyphosate, Hexazinone*, Metsulfuron Methyl*, Sulfometuron Methyl*, Haloxyfop, Carfentrazone-ethyl, Glufosinate ammonium, Triclopyr and Clopyralid*. Fertilisers, adjuvants and anti-antagonists are also used by plantation companies. (*Residual in aerobic or anaerobic soils for longer than 100 days). In terms of human health the underlined pesticides are of most concern. In new plantations, trees can be established right up to existing drainage lines, increasing the likelihood of pesticide runoff into waterways during rainfall.
Insecticides
Insecticides are sometimes used in bluegum plantations (infestations of Monterey Pine Aphids may lead to insecticides being used in pine plantations). Generally speaking, these insecticides can be used at any time after the second year, up to several times per year. Insecticides are almost always applied from the air, increasing the risk of spray drift. Insecticides can impact on the nervous system. Insecticides used in bluegum plantations include: Alpha-Cypermethrin, Fipronil* and Dimethoate. Please note that Alpha-Cypermethrin is toxic to some freshwater species at four parts per trillion, meaning that if this insecticide reaches water it could have devastating impacts. Insecticides are rarely used in radiata pine plantations, although the fungicide Copper Oxychloride, which is toxic to native fish, is sometimes used. Such was the concern about aerial spraying of the insecticide Dimethoate in bluegum plantations in Western Australia, that the West Australian Government placed the insecticide under a moratorium in 2000.
also see: http://www.hancock.forests.org.au
Impacts of Climate Change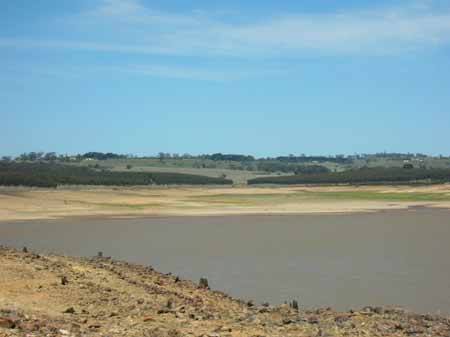 October 2006: Bluegum plantations planted in close vicinity to the Upper Coliban Reservoir in Central Western Victoria. This reservoir has about 250 hectares of bluegum and 100 hectares of pine planted around the reservoir. In a good rainfall year these plantations would use a large amount of water. In low rainfall events almost all rainfall falling onto these plantations will be absorbed by the plantations, leaving no runoff for the reservoir.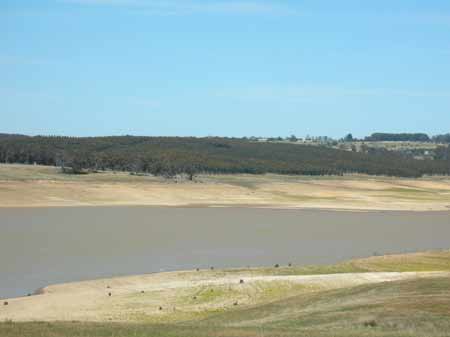 October 2006: Bluegum plantations planted in close vicinity to the Upper Coliban Reservoir. How will climate change impact on tree growth? Will stressed trees be more vulnerable to insect attack, leaving open the option of aerial spraying of insecticides? Do plantation prospectus' which advertise MAI's of 25 factor in lack of rainfall and drought? It could be that MAI's could be as low as 8. This is already the case for some bluegums in places like Gippsland which hasn't been as hard hit by drought as Western Victoria. MAI's this low are 68% less than what was initially predicted.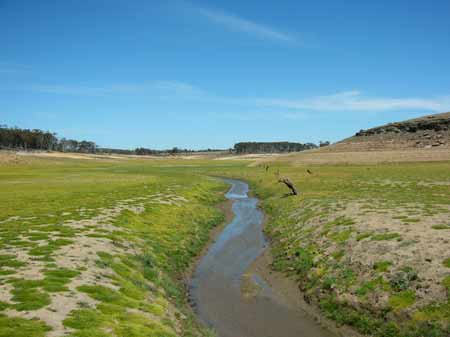 October 2006: What remains of the Coliban River inside a normally flooded Reservoir.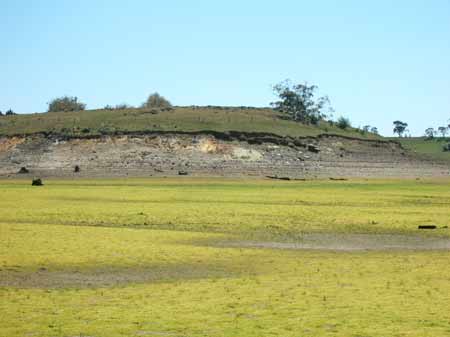 October 2006: What remains of the Coliban River inside a normally flooded Reservoir.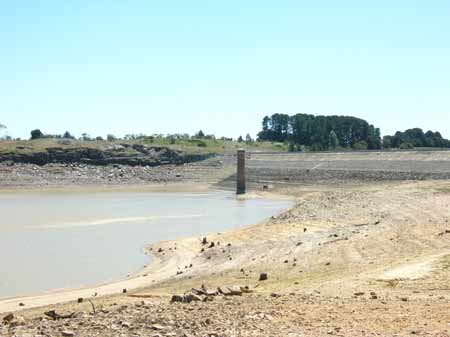 October 2006: Upper Coliban Dam. Upper Coliban Reservoir and Lauriston Reservoir supply drinking water to communities like Kyenton, Malmsbury and Trentham.
Auspine warns on forestry water cuts ABC Online News August 14, 2007
Timber giant Auspine has joined protests about the South Australian Government's new water restrictions for forestry plantations. Last week developers of a proposed pulp mill for Penola said the new limits on the use of ground water could jeopardise the $1.5 billion project. Auspine chief operations manager Andrew Jakab says the policy is misplaced and could affect investor confidence in the industry as a whole. "People are wary of putting up money where retrospective changes to the rules undermine the value of your investment," he said. "If you're looking at pine for example, that's a 30-year prospect before you realise the full value of your investment, and a lot of things can happen in 30 years, so investors need that level of confidence." Mr Jakab says Auspine now wants to work with the State Government to come up with a more sensible agreement. But he will not say whether it could hinder a possible sale, with the company now focussing its push on getting the rules changed. "It's never a good time to have your resource perceived to be diminished by legislative changes that allow retrospective amendments that may affect the value of your resource," he said. "But we are confident that we can work with the Government on this, and we look forward to doing so."
Last Gasp for Penola Pulp Mill Border Watch 10 August 2007
The $1.5b Penola Pulp Mill is on the ropes, reveal letters obtained by Chris Oldfield
A proposed $1.5b Penola Pulp Mill is at a stand still and only Premier Mike Rann can resurrect the project.
The project has faced turmoil and turbulence since it was announced in November 2005.
But now the death knell has sounded in response to Environment Minister Gail Gago's decision to lob water licences on plantation forestry, treating it the same as irrigation.
Timber companies have advised developer Protavia and Mr Rann thay can no longer guarantee supply.
And without that guarantee, Protavia's financial backers are moving on to another part of the globe.
Protavia managing director Graham Chappel has made one last ditch effort to re-fire the project by appealing for a meeting with Mr Rann.
Among documents obtained by The Border Watch is a letter Mr Chappel sent to Mr Rann on Wednesday.
Mr Chappel said Ms Gago's announcement "came as a surprise to us also".
"As we understood the process we, timber growers and the government were in discussions to try to find a solution which might have been identified as win-win," Mr Chappel said.
"To finalise our pulp mill we must have resource security for a minimum of 20 years.
"Yet, the timber growers cannot enter into contracts of this tenor where they have a significant uncertainty on water availability or are placed at an economic disadvantage to other users of land in the region."
Mr Chappel said the pulp mill had to perform on the world stage.
"We already face challenges about the cost of Australian grown wood resources when compared to other countries," he said.
"But if the question of cost is overlaid with a question as to longevity, then we face perhaps an insurmountable hurdle.
" Mr Chappel said a meeting with government was required "to try to find a solution which gives the timber companies enough certainty as to their water resource security and cost".
"This matter now has a high degree of urgency," he said.
"We have international and major national companies whi have decided to dedicate significant - and scarce - resources to finalising the design, construction program and cost for the delivery of the pulp mill.
"These companies demand of us progress reports.
"As their levels of commitment increase while we face the uncertainty as to wood supply, they become more and more unsettled.
"If they decide the risk of the project proceeding within a very tight window is too high, and decide to reallocate those resources, we might never be able to re-generate the enthusiasm necessary for the successful delivery."
Mr Chappel said timber companies had an alternative for their investors.
"They can agree to sell the first rotation to the Japanese trading companies and then sell their South Australian land and offer the next generation of investors (their) forests in other states," he said.
Indeed, timber companies have not waited or relied on Protavia to get its project up and running.
Timbercorp posted an ASX announcement on April 10 advising it had achieved a 4.6pc increase in price for its wood chips.
Yesterday Timbercorp chief executive officer Rob Hance joined Great Southern Plantations executive director Cameron Rhodes and ITC Limited chief executive officer Vince Erasmus, to also seek a meeting with Mr Rann.
Among the documents obtained by The Border Watch was also a letter to the Premier signed by Mr Rhodes, Mr Hance and Mr Erasmus.
The CEOs said Ms Gago's announcement was counter to the need for resource security for a sustainable wood fibre industry and basis for new value-adding industries, including the pulp mill.
"Indeed, the licensing announcement seems to contradict the policy intent of the government's Plantation Threshold Policy and the Penola Pulp Mill Authorisation Bill," the CEOs said.
"Moreover, the consulatative process working towards a new SE Water Allocation Plan has yet to reach conclusion.
"(Ms Gago's) decision pre-empts that process before the draft plan is delivered for comment.
'This is counter to a letter she wrote to Timbercorp in April this year which in part said: "I do not wish to pre-empt the outcome of the board's water allocation planning process."
The CEOs said their industry was participating in both inquiries in good faith.
"This decision severely tests our confidence that we will be consulted and receive an equitable outcome from these processes," they said.
"The cost of water licences and the limitations licensing places on finding land suitable for plantations must have an impact on development of new plantations and cast doubt over the prospects for future rotations of the plantations already established.
"In these circumstances, our companies cannot guarantee long term supply to any potential value adding development, including the proposed Penola Pulp Mill and fulfil our responsibilities to our shareholders, staff, suppliers, customers and lenders."
The CEOs slammed the Department of Water Land and Biodiversity Conservation and the South East Natural Resources Management board.
"These agencies have failed to consider the full range of scientific opinion available to them."
They said the industry was at risk and over 30 years was set to add an economic value of between $30b and $40b to the state.
What a bore August 28, 2007 - The Age Vignerons are worried that forest expansion will short-change their irrigation. By Jeni Port.
COONAWARRA, Australia's most famous cabernet sauvignon region, looks set to get a new neighbour - a $1.5-billion pulp mill.
A site has been selected south of Penola, in the heart of the Coonawarra region, and the South Australian Government is in the process of having a special act of Parliament (the Penola Pulp Mill Authorisation Bill) passed.
Vineyards have been growing next to pine forests in the region since the late 1800s and the two industries have enjoyed a distant but polite relationship.
And while wary of the proposal, winemakers have been reassured as to its environmental bona fides. Growers have been assured there will be no chlorine bleaching undertaken at the site and none of the associated environmentally damaging emissions, which are concerns that have been expressed about the proposed $2.5-billion pulp mill for Tasmania's Tamar Valley.
The forestry industry has been authorised to expand plantations in the region by almost a third, an additional 59,416 hectares of trees, to guarantee future wood supply. There are about 140,000 hectares of existing forest plantations.
Winemakers say the viability of the irrigation systems serviced by the underground aquifer is threatened by stands of trees this size. "We are not fighting the pulp mill," says president of the Coonawarra Vignerons Association, Nick Zema. "We are fighting water allocation and usage."
Water and water management is the biggest issue in Australian winemaking today.
In Coonawarra it has been of concern for decades because of the uncertain size of the underground aquifer that lies below the region's famous layer of terra rossa soil. Coonawarra sits on a ridge of limestone. The surface layer is rich, red soil, then comes a layer of clay and below that a vast water table.
No one knows just how large the aquifer is, but bores sunk across the region reveal that it can be deep in some parts (about 300 metres) and shallow (6 metres) in others.
"Because you can't see it, unlike the River Murray, it's hard to know what's going on," says general manager of viticulture for the Wingara Group, Chris Brodie.
Mr Brodie is also a spokesman for the Limestone Coast Wine Industry Council's Water Resources Committee and he recently gave evidence to the Federal Government select committee on the proposed Penola pulp mill. Mr Brodie says the level of the aquifer is dropping.
Anecdotal evidence suggests this has been happening for some time. Winegrower Banks Kidman told the select committee that the water table on his property had dropped 2.4 metres since 1968. "What of the next 40 years?" he said.
Local vignerons say the proposed increase in plantation planting under the Penola Pulp Mill Authorisation Bill is unsustainable. The South Australian Farmers Federation agrees. The Federation's Natural Resources Management Committee chairman, Tony Beck, has suggested that the pulp mill would be better suited to an area close to Mount Gambier and the Donovan's water management district, in the so-called "green triangle" of forest plantations (on the Victoria-South Australia border).
Coonawarra vignerons lobbied for logging companies to be required to obtain water licences, as vignerons do and on July 31 the Victorian Government made it mandatory for all new plantations to obtain water licences in areas where the water table is six metres or less below ground.
The decision followed the discovery that 45,000 hectares of forest was extracting ground water from shallow water tables at an annual rate of about 80 megalitres.
Protavia, the proponent of the Penola pulp mill, says the Government's decision puts the mill's future in doubt. Tree Plantations Australia, which represents Australia's main hardwood companies, suggests that at least 14,000 hectares of trees will now not be replanted and 270,000 tonnes of carbon offsets will be lost.
With the select committee report due out any day, a lot is riding on its findings. Project director of the proposed mill, John Roche, was interviewed on the ABC's 7.30 Report on July?17. "We're generating $600 million in revenue which equates to about $300,000 for every megalitre of water we use compared to $3000 you would get if you were doing agriculture," he said.
Nick Zema of the Coonawarra Vignerons Association says he cannot put a figure on the annual value of Coonawarra's wine production (it was later estimated at about $520 million by another source) and is sceptical of Mr Roche's accounting. "You would have to seriously question that they are making $600 million a year," he says.
"If they're making $600 million a year that's a 30 per cent return. "A 30 per cent return is better than anything I've ever heard going anywhere. "Every man and his dog would want to be part of something like that." Coonawarra: water to wine The Coonawarra wine region is planted to about 5500 hectares of vines.
On average, winegrowers use between one and two megalitres of water from the underground aquifer to support one hectare of grapes during the growing season (October-April).
In the past, with flood irrigation, the amount was six to seven megalitres. The rate of water usage depends on the soils and grape varieties planted.
Coonawarra's terra rossa intermingles with heavy black loams that are notoriously poor draining. Grape varieties such as shiraz and cabernet tend to use less water than chardonnay and sauvignon blanc.
Coonawarra's unconfined aquifer is part of a large underground body of water throughout south-eastern South Australia taking in the wine growing regions of Wrattonbully, Padthaway, Mount Benson and across to Mount Gambier.
A separate confined aquifer sits under the unconfined aquifer.
Alarm over pulp mill builders - The Australian
Jeremy Roberts January 05, 2008
ONE of Queensland's biggest councils has boosted its development vetting processes after being "let down badly" by two businessmen, who now want to build a controversial wood pulp mill in South Australia's legendary Coonawarra wine district.
Ipswich Mayor Paul Pisasale said the developers, John Roche and Graham Chappel, had "burnt their bridges" after the collapse of their plan for a $1.2billion paper mill at nearby Swanbank.
An investigation by The Weekend Australian revealed that the men had a history of project failures in Queensland, intensifying concern about their latest proposal to use technology untested in this country for the Coonawarra pulp mill, near the town of Penola, in South Australia's southeast.
Mr Pisasale accused them of being "speculators" who lacked the financial backing to deliver on the Swanbank mill and promises they had made to the local community to drum up support for the development.
The developers insisted, however, the project had failed because of factors beyond their control, principally insufficient water supply.
Describing the episode as the "worst case" he had dealt with, Mr Pisasale said the Ipswich City Council had established new processes to vet development proposals. "Now, when people come to us with a project, we do a full background check," he said.
Mr Roche and Mr Chappel rejected the criticism. "If you went around and looked at industrial projects, far more projects fail than succeed," Mr Chappel said. But Mr Roche conceded that success at Penola would be his first with an industrial project.
Following the collapse of their planned Swanbank paper mill, the businessmen formed another company, Protavia, to lock in funding for the massive but still evolving Penola project. They settled on the site, 8km south of Penola, in the heart of the Coonawarra district, after negotiations with the Victorian and South Australian governments.
Critics have accused the developers of attempting to play the two governments off each other to gain more favourable development terms. The South Australian parliament in October passed special legislation to allow Protavia to sidestep state planning requirements, including an environmental impact statement.
While the Authorisation Act had bipartisan support and was preceded by what the state Labor Government described as a rigorous assessment and approval process, the fast-tracking of the Penola project has been compared to Gunns's bitterly contested pulp mill planned for northern Tasmania.
Farmers and wine producers in Coonawarra maintain that a full environmental assessment is required. Protavia intends to use "zero liquid discharge" waste technology never before employed in Australia and team the pulp mill with an on-site hydrogen peroxide plant.
South Australian senator-elect Nick Xenophon said Mr Roche's and Mr Chappel's record in Queensland "should set the alarm bells ringing".
State Greens MP Mark Parnell, a consistent critic of the South Australian parliament's scrutiny of the project, said the Rann Government should have treated Protavia with "a very healthy scepticism".
However, South Australian Forests Minister Rory McEwen strongly defended the assessment and approval process. "The state Government believed this project to be of such significance that it warranted use of the legislative process to prove key elements of the proposal," he said in a statement.
Politicians and business figures familiar with the two developers' history in Queensland variously describe them as enthusiastic and ambitious. In addition to the failure of the Swanbank paper mill project, which according to Ipswich City Council was finally abandoned in July, the businessmen unsuccessfully pursued development of a water desalination plant near Gladstone in 2003.
Before that, Mr Roche worked as a senior project officer with Multiplex. Between 1999 and 2002 he was engaged in two failed projects: a pulp mill in Bundaberg and a bulk carrier port in Townsville. He was later the main project manager for the Bundaberg mill, dubbed B2K, which foundered in 2001.
Mr Chappel defended his record, saying other executives were involved in the projects, which had succumbed to market and weather factors. He pointed to a successful 30-year career in international finance and property development.
The developers have confirmed they don't envisage being involved in the venture at Penola long term. Mr Chappel said Protavia would sell the project as soon as feasibility work was completed.