NNNN BAD DEVELOPERS NNNN
EXPOSING DEVELOPERS WHO FAIL TO APPRECIATE AND RESPECT COMMUNITY, ENVIRONMENT AND SPIRIT OF THE LAND
World's Tallest Trees

Thorpdale (Gippsland) Monument 'The World's Tallest Tree', should read 'The World's Seventh Tallest Tree'
| | |
| --- | --- |
| | The fixed wing aircraft of the 1970's have now been replaced with helicopters. The helicopter in this image (2010) is spraying the herbicide simazine on a newly planted bluegum plantation, much of which was washed into a nearby farm dam. Environmental organisations Australian Conservation Foundation and Wilderness Society campaigners approved the use of Simazine in FSC certified plantations in 2006. Why? |
Typical aerial spraying image of 2,4,5-T in 1970's - Far from being a green alternative, plantations do have a toxic legacy. Only trouble is that barely no environmental groups will openly state this. Could this be because they are now entirely captured by the plantation industry due to the fact that they have been lobbying for plantations since 1991?
The Other Elephant in the Room is Fire.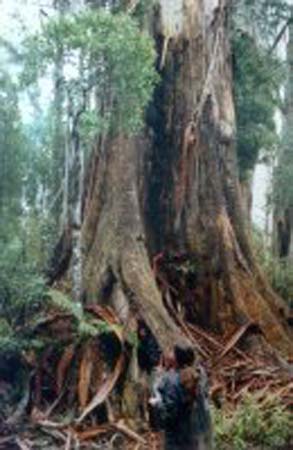 Largest tree in Australia (by girth) currently located in Strzelecki Ranges Gippsland Victoria. The Big Tree ~22m girth, a priceless relic of what was.
Logged and Burnt - Never to Return
The largest tree on Planet Earth is not the California Redwood, but the Mountain Ash (Eucalyptus Regnans).
The largest trees ever recorded were located in southern Australia near present day Melbourne.
The world's largest tree was the Ferguson Tree at over 500 feet (154m). It was measured by Surveyor Ferguson in 1872 in the Watts River Catchment near Healesville.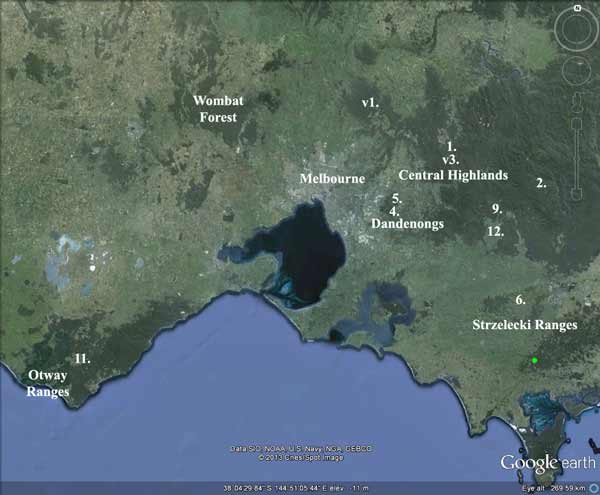 The above image represents the approximate location of the world's tallest ever recorded trees. It is based on information sourced by Darcy Duggan in 2005. Numbers 3, 7, 8 and 10 are not listed as they refer to trees in California and Canada. Green dot shows approximate location of 'Strzelecki Big Tree', now under the control of US Multinational John Hancock Financial Services.
February 4 2013: Fluke Of Fire Behaviour Spares Kings Of The Forest
''Wallaby Creek was a beautiful stand of largely intact mature mountain ash. These were trees that mostly still had their tops, they were still healthy and vigorous, they were still growing in height, though slowly by this stage,'' he says of the forest before Black Saturday. ''It was, to my mind, the best stand of mature mountain ash in Australia,'' he says. ''A wonderful place. There was nothing else quite like it … this was a big area of very mature mountain ash.''
V1. Refers to Victoria's two tallest trees [up to February 2009], grown in the Wallaby Creek Catchment 'Big Ash 1' & 'Amabalis'. They stood at 92.4m+ and 91.1m and were killed in the 2009 bushfires. V3 refers to Victoria's third, fourth and fifth current tallest trees, grown in the O'Shannessy catchment. See Mifsud Report (Please note that Wallaby Creek and O'Shannessy Creek catchments were heavily burned during the February 2009 bushfires. Impacts on O'Shannessy tall trees unquantified as yet)
The numbers in the following table relate to the numbers in the Google Earth image (above).
Tallest tree in U.S. now the Hyperion Tree in Redwood National Park discovered in September 2006. It stands 115.55m (379 feet) making it the 6th tallest ever recorded tree and tallest currently in the world.
Australia's tallest tree (as of October 2008) is the Centurion Tree measuring 99.6m (located in south eastern Tasmania).
Name
Location
Height
Girth
Measurement Details
1.
Ferguson Tree
Healesville, Watts River Catchment, Victoria Australia
Over 500ft (154m+)
56.5ft (17.5m)
Measured by Surveyor Ferguson. Fallen tree 435 feet to tree (top broken by fall). 3 feet thick at break. Recorded in 1872
2.
Not Named

Mt Baw Baw,

Victoria, Australia

470 ft (145m)
N.A.
Measured by Surveyor G.W. Robinson. Prior to 1889
3.
Lynn Valley Tree
British Columbia near Vancouver Canada
417 ft (128m)
53ft (16.4m)
Past Specimen, not well verified (Ref. Dr A.C.Carder)
4.
Centenial Exhibition Tree
Menzies Creek, Victoria Australia
400ft (123m)
72 ft (22m)
Measured by sawmiller after felling. Prior to 1888
5.
Not named
Dandenongs, Victoria Australia
392 ft (120m)
N.A.
Fallen tree measured by Surveyor David Boyle in 1862. He added 30 ft for its broken top giving it a total height of 420ft.
*
Hyperion Tree
Redwood National Park
379.1ft (115.55m)
World's Current Tallest Tree
6.
Thorpdale Tree
Thorpdale, South Gippsland, Victoria, Australia
375ft (115m)
N.A.
Accurately measured by surveyor, G. Cornthwaite. Felled 1880.
7.
Not named
California Redwood
368ft (113m)
66ft
Felled in 1992.
8.
Howard Libby Tree
California Redwood, Humbolt Country, California
360ft (111m)
52ft (16m)
*Largest known tree still standing in the world
9.
Gerraty Tree
Toorongo Forest, Noojee, Victoria Australia
348ft (107m)
N.A.
Fallen tree measured by Inspector of Forests, F.G Gerraty, 1939
10.
Not named
Wellington Pine, Redwood Mountain Grove, California
347ft (107m)
101.5ft (31.2m)
Past Specimen (Ref: Dr A.C. Calder)
11.
Olongolah Tree
Beech Forest, Otway Ranges, Victoria Australia
347ft (107m)
N.A.
Felled tree, measured by Colac Shire Engineer (pre-1900)
12.
Neerim Giant
Neerim Victoria
325 ft (100m)
48ft (14.7m)
Measured by Government Surveyor. Broken top. Destroyed by fire.
Book Review (and an alternative view of the History of Campaigns to Save Victoria's Native Forests)
Dr Rod Anderson's 'Cheap as Chips - A History of Campaigns to Save Victoria's Native Forests' Published by Dr R W Anderson 2006

Old growth forests near Mt Wong East Gippsland
This attempt to tie together the history of Victorian forest campaigning is fundamentally a flawed undertaking, as the inherent bias of the editor ultimately weakens the overall package.
Rod Anderson was Environment Victoria's (EV) forest campaigner from 1997-2000 and therefore his views are heavily influenced by his experiences and networks gained at EV during that time. It appears that a lot passed him by. As a forest campaigner myself during the 1990's, a host of other people would need to be included if such an ambitious project could ever be called authorative.
As a historical document, the book ultimately fails the test, as the selective nature of the contributors makes one question Anderson's real intentions. For instance two of the contributors use the book in a cowardly manner to attack other forest campaigners that they (& the editor?) disagree with. This fundamentally weakens the credibility of entire book as the criticisms are based on misguided political assumptions.
The book totals 337 pages and up until page 167, the book is quite excellent and provides a wealth of information regarding forest campaign history in the 1970's and 1980's. I found the campaign development in East Gippsland through the late 1970's to the late 1980's to be quite fascinating as it was an era I knew little about. The 1990's is covered fairly well, however a number of key issues are missed, most notably the infamous 1994 DNRE pressure hold action which made global news. Photos of this action made front page news for several days and also won the Herald Sun photographer a Walkely Award. The image was also used by the Herald Sun in a centrespread feature published on the last day of the 20th century, with the heading, Images of the 20th Century. See here for a copy of the image. Victorian Police were also hauled over the coals for this attack on the civil rights of Victorian citizens. The action was largely co-ordinated by Friends of the Earth Forest Network (FoEFN).
There is no real input from GECO and the fezza contingents, the piece on Goolengook (the longest running forest blockade in Australian history - 7 long years!) should have been written by actual blockaders who were there and there is almost no input from indigenous people which perhaps is the books greatest failing (The first idea about blockading Goolengook also came from a FoEFN meeting). No information is presented on either Rainforest Action Group or the Nomadic Action Group and very little is offered from other direct action forest groups.
The largest protest arrests for a Victorian Forest Action occurred in 1991 in the timber yards of the company Timber Sales (see photo above). In one day 66 people were arrested over Timber Sales importation of rainforest timbers from Malaysia. The action was organised by the Rainforest Action Group which organised hundreds of actions, including 29 ship actions between 1988-1992. Timber Sales was later sold off to the 'plantation' company, Auspine. Auspine continued the lucrative rainforest timber import side of their business as well as producing vast quantities of toxic timber, a fact totally avoided by forest groups who began promoting Auspine as an outstanding corporate citizen in the mid 1990's.
After page 167, the book's credibility is weakened as it provides uncontested interviews with 'key people', selected of course by the author and selected no doubt because of their political position of no native forest logging. Anyone with a different assessment is of course not invited to comment, although to be fair some of FoE's (Friends of the Earth) concerns are broached by selected quotes from FoE Fitzroy newsletters and reprinted extensively through the text. FoE comes out looking pretty good which is odd considering the attacks that have been made at FoE over the years because of our forest policy. A policy which, a decade later, some of those same critical groups are now reluctantly accepting as the way forward.
It should be noted that the Victorian forest movement has effectively been split since the early 1990's by the No Native Forest Logging agenda, which was driven largely by Environment Victoria, The Wilderness Society, Australian Conservation Foundation and later in decade by the Greens. The rift is of course not mentioned in the book in any detail. It's as if the rift never existed.
The first public shot in this 'rift' was actually fired in Feb March 1996 by Concerned Residents of East Gippsland in their very odd piece published in Potoroo Newsletter "Are you a Stop-the Chopper... or a Friend of the Earth - rapers". The timing of this attack was pathetic considering that in 1995 FoEFN had organised numerous direct forest actions and in 1996 organised over 50 direct actions in support of forest protection. CROEG later evolved into Environment East Gippsland who in late 2006 were apparently attempting to make alliances with timber workers, something that FoEFN has always supported, which makes the decade old criticism even harder to stomach. Such criticism however should always be taken with a 'grain of salt'. Essentially the criticism was probably a lame attempt to make FoE 'toe the line' into accepting the dogmatic NNFL views which certainly were not entertained by notions of holistic environmental thinking.

Charming Title published by Concerned Residents of East Gippsland (Jill Redwood) in Potoroo No.149 Febuary (Sic)-March 1996 p8. This is how the supposed elite in the forest movement treat people who do not support No Native Forest Logging, despite the fact that between 1993-6 FoEFN (Friends of the Earth Forest Network) organised hundreds of actions in support of native forest protection including the infamous pressure hold action of February 1994, where protesters lives were threatened by police violence. The hypocrisy in this heading is even worse when one realises that CROEG themselves never adopted a no native forest logging agenda despite Ms Redwood giving the impression that they did. Is this the reason she also became a spokesperson for The Wilderness Society? More here.
First person featured in 'Cheap as Chips' is Linda Parlane who was EV's director from 1990-97. Linda had been active on forest issues since 1975 which is quite an amazing effort against overwhelming odds. What is fascinating about Linda's spiel is that she gives a detailed explantation of why the national environmental movement got totally sold on plantations in the early nineties. Linda was the driving force of this change in direction for the movement, which effectively was a top down approach not endorsed by all groups and certainly not by communities impacted by plantations. To be a success it also would have to rely on the environment movement keeping very quiet about the many ecological downsides of plantations.
For instance in 1993/4 FoE groups in Tasmania were already up in arms about atrazine in their drinking water at Lorinna and Derby and were at that time being put under pressure by NNFL advocates. Atrazine had been recorded at 12.6 parts per billion. According to Annie Willock who has embroiled in a major fight with Forestry Tasmania over plantation mis-management; "We had two calls from a member of The Wilderness Society who said cool off; we support plantations. It didn't go down well at all". (Source: Helen Gee For the Forests The Atrazine Campaign). How could FoE endorse a 100% plantation position when our members were being poisoned by plantation chemicals? Due to the controversy and a similar incident at Derby in 1995, Forestry Tasmania stopped the use of triazines in the mid 1990's.
Between the 1968 to 1978 vast areas of Victoria's plantations were aerially sprayed with dioxin tainted 2,4,5-T mixed with diesel. How many people suffered the consequences of being exposed to 2,4,5-T in the air or their drinking water and how many of these people are suffering health effects from this chemical legacy? In 1978 birth deformities were recorded near Yarram. 2,4,5-T sprayed on blackberries and pine plantations was regarded as the prime suspect. A subsequent government enquiry relied on statistically erroneous assumptions to hose down concerns. Widespread use of Atrazine & Amitrole, particularly in plantations, occurred after 1978. It would be a very interesting exercise to ask people suffering from health problems associated with plantations, what they think of the environment movement now supporting the landuse that may have made them ill in the first place.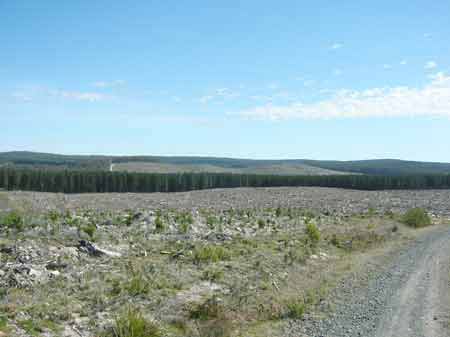 Korweinguboora: 1400 hectares of pine plantations in the headwaters of Geelong's water supply. Low levels of the herbicide Hexazinone was found leaching, as far as 50km downstream, from this plantation between December 2004 - October 2008. 2,4,5-T was also likely used in this plantation in the 1970's. Many species targeted by spraying are actually regenerating native forest species. Native forest spraying?
In 1993 the hundreds of square kilometres of the Ballarat region was 'accidently' sprayed with Hexazinone by Victorian Plantations Corporation. Between 1997-2000 Gawler's (and Adelaide's) drinking water was contaminated with Atrazine and Hexazinone by Forestry South Australia for a period of at least 3 years in possibly the most serious incident of its kind ever recorded.
Geelong's drinking water was polluted from a pine plantation for 46 months between 2004 and 2008. In 2005 the Federal Regulatory Body the APVMA, placed health bans on pine treated with Copper Chrome Arsenate. The list goes on and on, yet none of these toxic issues are ever raised by promoters of the plantation ideology. An ideology fully supported by advocates of NNFL. Monitoring for pesticides in Victoria is lax. Plantation companies may monitor water quality once or twice after herbicides are used, but some the herbicides, particularly the residual ones can actively leach from plantations years after application with noone monitoring for offsite impacts. Information contained by such private pesticide monitoring is never published. For people relying on stream water - outside of proclaimed water supplies - there may never be any monitoring done at all. Residents may not even know if their water supply has been sprayed. In 2004 only one Victoria water authority had started testing for hexazinone. By 2007 this number had increased to two.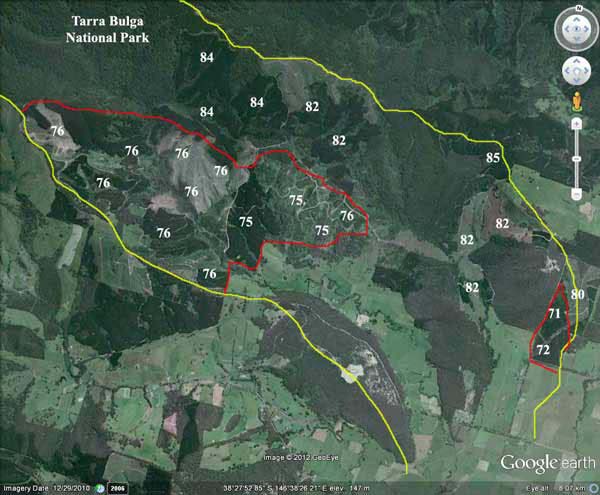 Macks Creek Catchment, South Gippsland (between yellow lines) showing extent of plantations within catchment (numbers eg 76 refer to the year of plantation establishment). Most (approximately 300ha) appear to have occurred in 1976. Post September 1976 a concoction of Amitrole (Weedagol T.L. Plus) and (Gesaprim 500) Atrazine may have been sprayed. In 2002 scientists in the United States found that Atrazine at levels as low of 0.1part per billion altered hormones in frogs. Since then Atrazine has been found to have the same effect across a range of animals. 75ha would probably have been sprayed with the Atrazine (4 l/ha/Amitrole 7l/ha) mixture. Totals 300 litres Atrazine, 525 litres Amitrole).
The highest risk years for drinking water quality would have been between 1975-8 & 1982-4. Prior to September 1976, it is highly likely that aerial application of 2,4,5-T @ 1.1 litres a hectare occurred. ~70ha would have been aerially sprayed with 2,4,5-T in 1975 south of Roberts Road. One could concur that 295ha of pine plantations in Macks Creek were aerially sprayed with 2,4,5-T in 1975/6. The areas marked in red show likely areas where 2,4,5-T would have been used. Total amount used 1975/6 would have been 321L mixed with 14,750 litres of diesel. How much of this ended up in Macks Creek? Plantation establishment in the early 1980's may also have used atrazine/amitrole, hexazinone also likely to be used.
Between 2007-12 the following pesticide volumes could be used in Hancock's Macks Creek plantations: Clopyralid 931kg, Glufosinate ammonium 365kg, Glyphosate 1314kg, Hexazinone 1460kg, Metsulfuron Methyl 21.9kg = 4091.9kg
Perhaps 30 people rely on Macks Creek for drinking water. Many other rural Victorian's also rely on untreated water for drinking.
Copper Chrome Arsenate (CCA) Treated pine playground. Such playgrounds leach copper, arsenic and chromium. Where oh where are the NNFL elite when health issues concerning treated timber are publicised?
In 2002 NNFL groups opposed Forest Stewardship Council (FSC) certification in native forests in Australia. The main groups endorsing this position were The Wilderness Society and the Tasmanian Greens. As consensus about this issue could not be agreed by environmental groups, FSC has since been confined to plantations in Australia based on weaker FSC interim standards, rather than stronger national standards. In late 2005 FSC plantation companies operating in Australia and New Zealand, threatened to pull out of FSC on mass, unless their demands to keep using pesticides that had recently been added to the FSC prohibited chemicals list were not met. Eight pesticides used by the plantation industry in Australia and New Zealand were of concern. As a result of pressure mounted by FSC certified plantation companies, FSC reviewed its chemical policy, for an argueably weaker process which gives more scope for plantation companies to be allowed continued use of FSC prohibited chemicals through the derogation process. It will be interesting to see the development of this issue within FSC over the next few years.
In February 2006, members of the Wilderness Society and Australian Conservation Foundation were appointed to FSC environmental chamber (both groups have vigourously been advocates of NNFL in favour of plantations) and in August 2006 both representatives without consultation with other environmental chamber members allowed the derogation of Simazine to occur for FSC certified plantation companies in Australia. According to UCLA Professor Tyrone Hayes, who visited Australia in 2007, Simazine chemically castrates amphibians at levels as low as 0.1 parts per billion. Simazine and its relative Atrazine, convert testosterone into oestrogen via the aromastase enzyme. These herbicides are known 'gender benders' and their effect on people is unknown. Even Forestry Tasmania had stopped using Simazine in the mid 1990's. What message does this send out, that conservation groups will allow FSC certified companies to use dangerous pesticides that have even been banned by Forestry Tasmania? What message does this send to non-FSC companies who will now keep using Simazine knowing that green groups have supported its use via the FSC process? In their haste to get the entire timber industry into plantations, NNFL advocates have basically now become apologists for an industry addicted to pesticides. Simazine is regularly turning up in water sampling in Tasmania.
| | |
| --- | --- |
| | Atrazine induces gonadal malformations in males. The testes in this Northern leopard frog have been feminized. Not only have eggs developed,but they have accumulated yolk and are bursting through the surface of the testes. Source Here |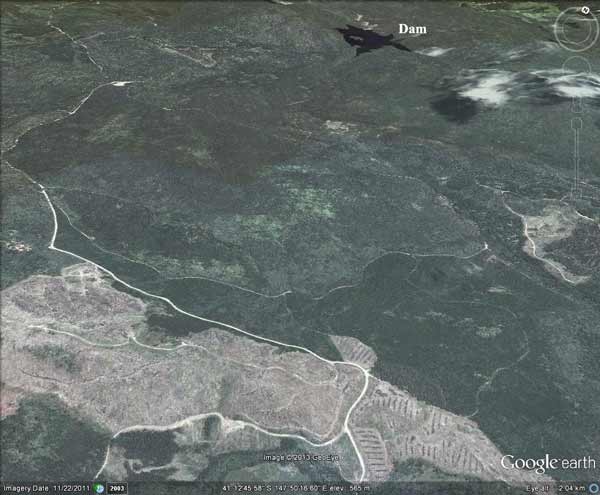 Cascade River Catchment Tasmania (Derby's Water Supply). Atrazine was detected in 1994 and the furore led to Forestry Tasmania ceasing the use of Atrazine and its close relative Simazine in timber plantations in the mid 1990's. Note plantations in the southern portion of the catchment. Conservation organisations, Australian Conservation Foundation and the Wilderness Society however recommended the use of Simazine in plantations certified by the Forest Stewardship Council in 2006.
Linda explains that "The fact that we no longer needed to log native forests to meet our wood needs meant that the whole strategic perspective of the forests campaigns had to shift..." EV used this plantation information to start influencing the national agenda."In 1993, Conservation Councils and National Groups ... agreed to ... speed up transition from native forests to plantations. John Faulkner funded the Conservation Councils to undertake a national plantations study..". This study was the infamous Judy Clark report which provided over-optimistic estimates about plantation yields. The Clark report was an economic document rather than an ecological document and it was heavily quoted as the truth by supporters of no native forest logging. There was basically no debate about this change of direction in the movement with groups that didn't support plantations. It effectively meant that at a time when the plantation industry was growing at its fastest rate, green criticism would be muted without offering any social or ecological criticism about one of the largest land grabs Australia has ever seen. Effectively the forest movement had been voluntarily captured and even by 2007 criticism of the plantation expansion throughout many regions of Australia has barely raised a comment from ENGO's.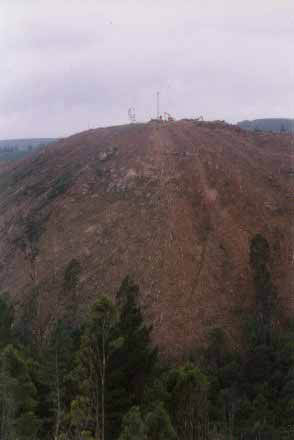 December 2003: Strzelecki Ranges - Merrimans Creek Domestic Water Supply. NNFL advocates remain mute about plantation activities, including activities in domestic water supply catchments such as cable logging and aerial spraying.
Linda also claims that "...the issue of pesticides in plantations will be dealt with at the right time". Linda then gives no explantation about what the right time is? Plantations by their very nature are reliant on pesticide props for their survival. Without the props the plantations in many instances will fail. There never will be a right time, so what Linda is actually endorsing is an unsustainable industry based on non-ecological criteria and as explained earlier environment groups are actually now supporting the use of pesticides in plantations. When exactly is the right time?
If you live downwind or downstream from these plantations, bad luck, because you won't get any support from conservation groups who recommend plantations as the only solution. After 20 years battling for forests, Linda effectively retired from the scene in 1997, leaving others to plod on and deal with the woodchipping fiasco that was increasing both in native forests and plantations. Was EV's support for plantations a desperate attempt for change from a burnt out elite that was fast running out of steam? Rod Anderson came into the scene at this point of time, well after the no native forest logging controversy had been ignited.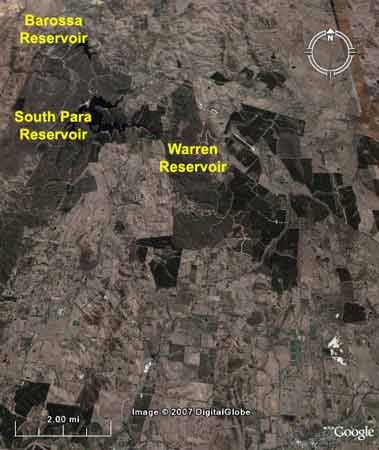 In 1997-98 northern Adelaide's drinking water was contaminated with Atrazine and Hexazinone leaching from plantations managed by Forestry South Australia, again no comments from the NNFL elite. More information here.
The book then includes a detailed 24 page history by Jill Redwood in East Gippsland which is written in a dull but informative manner. In contrast, Simon Birrell from Otways Ranges Environment Network (OREN) is given only 2 pages. Unlike the trench warfare in East Gippsland, the Otways campaign argueably was the most successful Victorian grassroots forest campaign ever, with the Bracks Government eventually handing over 150,000 hectares of forests in 2005. It is odd that this victory is given such short attention in 'Cheap as Chips'.
The politically ambitious Greens Forest Spokesperson and failed upper house candidate, Marcus Ward then is given freeboard by Rod Anderson to do a 15 page rant on the plight of the Wombat Forest, including a complete uncontested hatchet job on Wombat Forest Society (WFS). (Marcus has long been viewed suspiciously by members of Forest Network after his unprovoked sledging of Friends of the Earth in front of 5000 people at the Victorian forest rally on May 18 2002. Marcus was also loosely involved with conservationists (including Doctors for Native Forests, a group supported by Dr Rod Anderson), in setting up an investigation of Wombat Forest Society in the late 90's by the Australian Securities and Investments Commission. ASIC found nothing untoward about the financial management of WFS and one really has to wonder why supposed forest conservationists would stoop so low in 'dobbing in' another forest conservation group to government authorities. Did the Victorian Greens support these activities? Marcus Ward has also raised problems for other environmental organisations in 2002 including the Otways Environment Network, who claimed that Ward's politics could have meant that Greens candidates preferences would help Otway native forest woodchippers.)
Why was there no input into Ward's article from Wombat Forest Society whose members, Tim Anderson and Loris Duclos managed to get licenced sawlog volumes reduced by over 33% throughout Victoria in 2002? Loris was the instigator of determining that logging was occurring way above sustainable yield throughout Victoria and after crunching the figures for a year, managed to convince the Bracks Government that logging had to be reduced significantly across the state. No easy task! Two respected forest commentators (see below) have acknowledged the brilliant work done by Duclos and Anderson in unravelling these numbers however none of these references were sourced by Anderson in 'Cheap as Chips';
"For the record, the impetus for this new policy can largely be attributed to the modeling work of two community forest activists, Tim Anderson and Loris Duclos rather than existing monitoring and review processes. Though neither has formal expertise in the field of resource modeling, they produced statistical analysis which debunked the sustainable yield estimates of the government's own departmental experts and external consultants, damaging the credibility of the Regional Forest Agreements in the process." Nicastro 2003
"Loris Duclos and Tim Anderson of the Wombat Forest Society were crucial to these events in the 1990s by analysing wood resource estimates for the Wombat forests and throughout Victoria. Loris Duclos credits TFFTF (The Fight for the Forests) with providing the philosophical and analytical framework they used to unravel the complexities of forest management systems: Considerations such as overly optimist growth rates and standing volumes have been proven in the Wombat. The industrial models described by (TFFTF) in the early 70s have become a reality in the Wombat, both in terms of native forest and plantation logging. With the use of modern computers, WFS developed methods that can analyse forest management figures and demonstrate flawed as-sumptions in the industrial forestry model." Penna 2003
This successful campaign strategy not only stopped logging in key forest areas througout Victoria, it also led to the shutdown of close sawmills throughout Victoria, as the mills could not be guaranteed a supply of timber into the future. An impressive achievment, yet Ward and Rod Anderson refuse to acknowledge any positive contribution from Wombat Forest Society at all. Why?
In 2006 Ward, applauded the closing down of the last small sawmill (Dwyers) in the Wombat Forest, yet each year, 500% more timber is being cut as firewood than what was being sawn by Dwyers from the Wombat. Why isn't Ward campaigning to shut down all firewood harvesting in the Wombat? The Dwyer sawmill was never a shareholder in the largest forest destroyer of the Wombat, Midways Pty Ltd who own the export woodchip mill at Geelong. Woodchipping of the Wombat went into overdrive in the early to mid 1990's after logging syndicates closely aligned with Midwys got access to the Wombat.
The remaining large sawmill in the region Black Forest Timbers, based at Woodend, which closed down in April 2007 (who were large shareholders of Midways), were being supplied by forests from the Central Highlands after being kicked out of the Wombat in 2005-7. Even Ward acknowledges this in the book, "Sadly, the victory is a hollow one. The solution has come at the cost of shifting the woodchipping and logging to other, and arguably more environmentally significant forests". Effectively Black Forest Timbers cut their own throat by profiting in the 1990's by the over sustainable logging of the Wombat.
It should also be noted that the Greens forest campaign in Victoria was initially set up only to support a no native forest logging agenda. Anyone not agreeing with this hypothesis was effectively not invited into the party, leaving people like Marcus to 'rule the roost' and people like Wombat Forest Society, FoE and many others as perpetual outsiders. Wither democracy and common sense? This black and white analysis of a complex problem also feeds paranoia amongst no native forest logging advocates who consider any form of native forest logging as being the arch enemy which must be eliminated at all costs. Any gradual reforms to the logging industry (including restoration forestry) are ultimately seen as failures by the NNFL elite who want the entire industry shut down immediately. With this as their ideological underpinning, anyone pushing for reform of the native forest industry, is immediately looked upon suspicially by NNFL advocates. One could define such attitudes as being fanatical or absolutionist, whereas the other position could be described as incrementalism.
The real reason why WFS was targeted by Ward and others was that they were reformists (incrementalists) who were not happy that the only option left for their community in regards of green forests policy was logging confined to pine plantations which were foreign owned and were also not being managed in an ecologically sustainable manner. The issue of community based forest management where a community takes control of logging based on what the forest can ecologically sustain, is a non event for Marcus and the Greens who by being locked into a plantations only ideology have effectively painted themselves into a limited corner. WFS did not want to be in such a corner.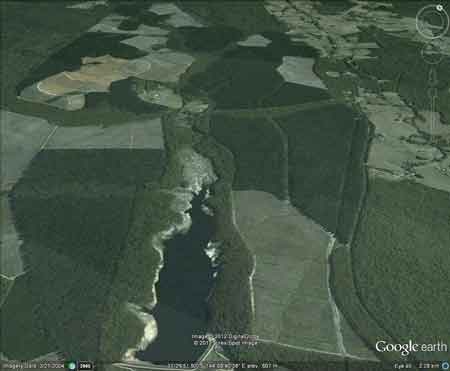 Spargo plantation located around Korweinguboora Reservoir (Geelong's Water Supply) in the Wombat State Forest. Traces of hexazinone were recorded 50km downstream from this site after spraying by Hancock Victorian Plantations. Hexazinone was detected over a 46 month period between December 2004 and October 2008. Is this really the only solution to the logging debate that the Victorian Greens are supporting?
Vandana Shiva coined the phrase 'Monocultures of the Mind' and it is clear to this writer that this ideological framework is the dominant theory that has entrenched itself in forest campaigns in Australia since the early 1990's. First espoused by the Wilderness Society in 1990/91, Conservation Councils in 1993 and the ACF in 1996, this ideology has meant that it is wrong to criticise plantations in any shape or form (including aerial spraying of pesticides and water loss due to plantation establishment) because such criticism apparently undermines attempts to save native forests which according to NNFL advocates is the only supreme concern. The timing of such a blinkered approach could not have come at a better time for the plantation industry who in 1996 was given the go ahead to treble in size by the year 2020, when Federal and State Governments endorsed the 2020 plantation vision. Effectively then the 'big end of town of the conservation movement' remained mute as plantation companies embarked on what is probably the largest corporate land grab in Australia's history. The black and white forest analysis has failed dismally and people for decades to come will suffer from the impact of such short sighted policies.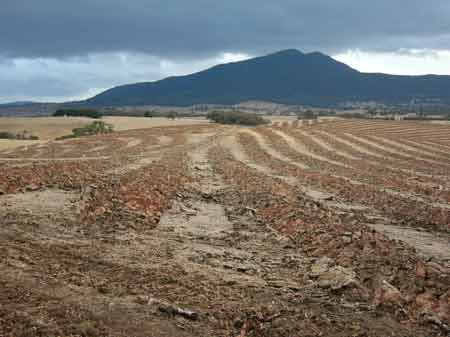 Bluegum plantations being established in central Victoria. MIS schemes between 1996-2006 amounted to Australia's largest ever corporate land grab. By 2010 however, 5 of the largest funds had collapsed and in effect were set up in a manner similar to Ponzi Schemes.
After the Wombat piece, the 'Cheap as Chips' includes Doug Phillips giving a decent 12 page view on Cobbobooneee Forests, Box Ironbark gets 5 pages, EV does 3 pages on boycotts, Wendy Radford gets 3 pages on Doctors for Native forests (please don't mention pesticides in drinking water) and Lawyers for Forests get 3 pages.
Julie Constable makes for an overdetailed rave (46 pages!!!) on the Strzeleckis, whereas the main movers and shakers in the Strzeleckis, Friends of Gippsland Bush (FOGB) only get a couple of very small mentions. FoGB's non-appearance in the book is due to EV's (Rod Anderson) unintended? role of helping split FOGB members in a very torrid 1997 after an 8 point agreement was signed with Amcor and FoGB over logging 2000 hectares of land that Amcor wanted to clear to establish plantations. This agreement helped stop logging in almost 90% of the contested area, yet was attempted to be torn down by EV supporters in Gippsland and members of the infamous A-Team. See here for further details.
The book then closes off with chapter 7, a 44 page rant by Gavan McFadzean from the Wilderness Society (TWS). Gavan uses the book for all its worth pushing the historical importance of TWS in saving the world. For over 15 years (1990-2006), TWS were the main exponents of the NNFL ideology in Australia. The simple fact is that if you did not accept this ideology, you did not gain employment at TWS.
TWS are probably the second largest ENGO in Australia giving them considerable influence. Such influence also means a larger capacity to raise funds, and a larger capacity to employ people. By dominating the amount of employed staff in a notoriously under resoured area, such as forest conservation (where most blockading work has traditionally been done by volunteers), TWS more than any other group has the means at its disposal to spread its influence. This can be done by maintaining a funding base which assures that despite the fickle funding opportunities, TWS can maintain well paid workers who do not have to suffer the dole queues or time consuming employment opportunities which may be the only means of financial support that many forest volunteers 'enjoy'. This funding cushion in turn makes TWS staff more pliable to the demands of its own elites in the organisation and allows the TWS elite to 'outlast' concerned individuals outside of the TWS 'umbrella'.. TWS also uses the simple NNFL message to successfully get people donate to their cause.
Gavan saves his worst in 'Cheap as Chips; to discredit and undermine the work of OREN and WFS. Totally unethical behaviour knowing full well that this may well be the only history of the movement written. WFS is attacked because of their support of limited native forest logging and their influence with the Labor Party. Similarly, OREN's influence with Labor is also criticised, an influence McFadzean could only dream of.
McFadzean for years has endorsed the TWS position of no native forest logging, which in 2006 was overturned by TWS backing certification of native forest logging via the Forest Stewardship Council. This was done under the proviso that the State Government grant a new 960,000ha forest reserve. Forests outside of the reserve (possibly 500,000ha+) would then be theoretically managed under systems that were FSC certified. This meant TWS accepting FSC in an order to win a 'larger prize'. This policy backflip was of course not broadcast widely to the public but it was known amongst forest campaigners. See maps of 2006 Reserve Agenda Here.
Therefore by late 2006 TWS were working from an acceptance of some native forest logging under an FSC model, a position that WFS had always supported. Ironically this is the very issue that McFadzean critically slams WFS for in 'Cheap as Chips'. One has to wonder why McFadzean did not include this interesting piece of history in 'Cheap as Chips' which was actually written after TWS's native forest logging policy backflip. Perhaps the editor would not have been amused.
It appears that McFadzean, by being so critical of OREN and WFS in 'Cheap as Chips' is attempting to shift blame from himself and the forest elite in their role in the 2002 Election Fiasco. OREN and WFS cut deals with the State Government in order to get what they wanted. OREN eventually won a large forest reserve in the Otway Ranges, whilst WFS managed to get sustainable yield sawlog rates cut across regions in Victoria. In 'Cheap as Chips' McFadzean heaves blame on these two organisations for giving the State Government an apparent easy way out in the lead up to the State Election over the issue of logging native forests, particularly in East Gippsand. By cutting deals, McFadzean argues, these organisations undermined efforts to protect forests in East Gippsland, particularly old growth forests.
During the lead up to the election the Bracks Government was willing to also cut a deal with the logging of old growth in East Gippsland. An offer was put on the table by the Government, which was basically a phase out of logging old growth in 5 or 6 years time, with immediate protection for thousands of hectares of old growth. The deal was not an immediate shut down of all logging of old growth forests and for this reason the supposed forest elite did not take up the offer. The decline was not broadcast widely around the forest movement. The forest elite responded to the Government claiming that the offer would have to include an immediate shut down of all old growth logging. The Bracks Government could in no way agree to such terms, due to union and worker pressure. Bracks probably considered the offer and found that it was politically unworkable. The deal therefore fell through. Since that time thousands of hectares of old growth forests earmarked for protection under the plan have been lost forever and continue to fall. To try and foist blame on WFS and OREN for this turn of events is simply bizarre. More information can be found here.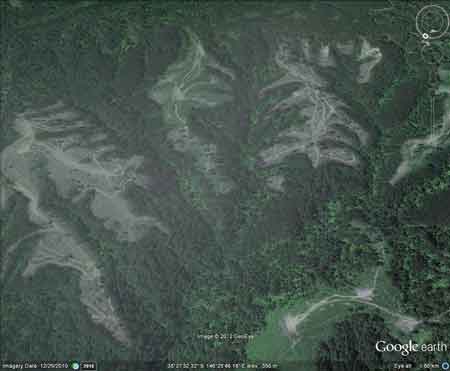 Google Earth Image 2010: Strzelecki Ranges - College Creek. In May 2008, Gavan McFadzean from Wilderness Society effectively gave support for a plan to clearfell 300ha+ of this site of National Conservation Significance. See here for press release supporting deal that would eventually lead to destruction of College Creek. After this sell out, McFadzean was promoted by The Wilderness Society to work on Northern Australian issues. The College Creek debacle was possibly the first time The Wilderness Society publicly endorsed plans to clearfell in sites of National Conservation Significance. For more information on College Creek see here.
McFadzean along with ACF in 2003 was also supportive of corporatisation of VicForests, the entity in charge of managing native forests in Victoria, a position far more extreme than that of WFS. According to 'Defining, Idenifying and Protecting Old-Growth Forests in Victoria (Poulton 2006)';
"The Australian Conservation Foundation ran a campaign since 2001, supported by The Wilderness Society (TWS), to encourage the state government to fully corporatise public forestry. This strategy gambled on the hope that corporatisation would lead to a dramatic increase in sawlog and residual log prices thereby fast tracking a shift by the timber industry out of public forestry into the arms of a supposedly cheaper and more competitive private plantation sector... In September 2003 select environment groups were invited to make submissions to DSE Public Land Policy Branch in response to the Directions Paper titled Delivering Sustainable Forest Management... ACF and TWS made a joint submission, contrary to the position of other environment groups, supporting the state government's proposed corporatisation of VicForests. Their submission included the following statements:
"The resolve to achieve better compliance for state forestry within the micro-economic reform principles of the National Competition Policy is high applauded. It is a much needed and long overdue reform agenda with the outcomes giving greater transparency, stronger incentives and more opportunity for broader private sector investment in the Victorian timber industry...The establishment of VicForests as a State Business Corporation under the State Owned Enterprises Act is a progressive reform for perfomance". "
It has been rumoured that McFadzean was also influential in lobbying the Environment Victoria CEO to shut down its long running forest campaign in 2003, because the then EV forest campaigner was contemplating a position more sympathetic to that of WFS and FoE (ie very limited native forest logging). More blunders from the TWS camp occurred in May 2008, when Victorian Environment Minister Gavan Jennings announced that 1500ha of rainforest reserve in the Strzelecki Ranges would be logged including sites of national conservation signifance. Effectively this meant that for the first time in their history TWS were publicly endorsing clearfelling in sites of National Conservation Significance. Wilderness Society supported the logging "The Wilderness Society (TWS) and the Victorian National Parks Association (VNPA) welcomed the deal. TWS campaigns manager Gavan McFadzean said without it, the Strzelecki Ranges were under threat from logging and woodchipping. "We are pleased to see the Victorian Government moving to protect native forests in the Strzelecki Ranges," he said. (Age 30/5/08).
In August 2009 The Australian Conservation Foundation and The Wilderness Society published a report prepared by the National Institute of Economic and Industry Research.Not only did this report include quotes from Hancock Victorian Plantations (including erroneous and out of data Hancock graphs such as (page 30) Plantation Hardwood Resources, which did not factor in supply shortfalls caused by the February 2009 bushfires which destroyed ~6000ha (25%) of hardwood plantations in the Strzelecki Ranges nor poor growth rates in Hancock bluegum plantations (50-60% less than anticipated), but the report included direct quotes from the pro-plantation agenda of the Bureau of Rural Sciences published in 1997. The 1997 report suggested that over 300,000ha of land is available for the growing of Shining Gum plantations in the Gippsland region alone! In The Wilderness Society's submission to the Victorian Climate Change Green Paper, author Gavan McFadzean suggests that an inventory is required into Hancock's plantation size and quality so that Hancock can continue to supply timber to Maryvale Mill in the long term. He also suggests the building of a Nippon pulp mill in the Green Triangle region of Victoria, despite the protests from local communities in the Penola region opposing the construction of such a mill. Is the new mill McFadzean is suggesting a seperate mill to the ill fated Penola Pulp Mill?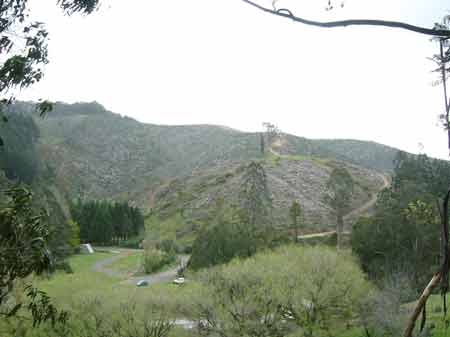 Stevensons Falls Otway Ranges October 2007: 300 hectares of pine has been recently logged in this popular tourist destination which also supplies drinking water to 50,000 people in the State's south west. The pine has been replanted with bluegum which will be logged on rotations of 10-12 years, possibly meaning a trebling of herbicide use on what would have existed with pines over a 30 year period (one rotation in comparison to three with bluegums). The water authority only tests for Simazine twice a year. What happens when it rains?
These double standards and contradictions are not unusual in Victorian forest campaigns, some would argue that they have been the movement's greatest weakness, however to publicly attack a group in a supposed historic document, over supposed policy differences, when they were soon to be the similar policies being used by TWS as a matter of political expediency is a total disgrace. One has to wonder what the real intentions of these attacks are?
What value did Rod Anderson see in publishing contributions critical of groups that have successfully campaigned in their regions? Ward, McFadzean and Rod Anderson have actually done the movement a great disservice by using the book as a means of reinterpreting their narrow blinkered view of history. How will supporters of OREN and WFS view 'Cheap as Chips'. Not highly I would venture to say. Maybe in time someone will write a definitive history of the Victorian forest movement, but 'Cheap as Chips' definately is not it. 3/10.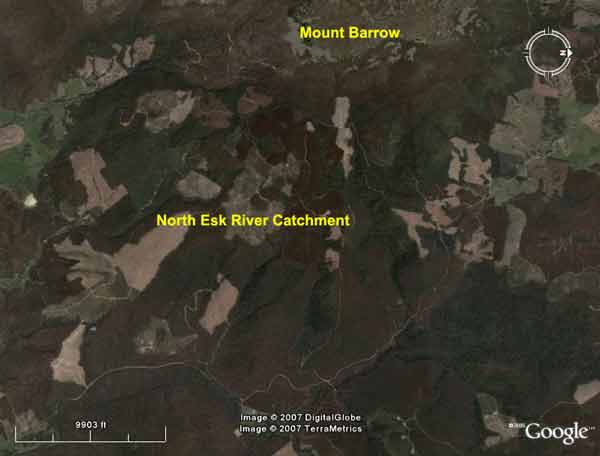 Launceston's water supply being converted into plantation monocultures. One of the risks of pushing a pro-plantation mantra can be explained by this simple explantation. 1. Native Forests are good. 2. Logging Native Forests is bad. 3. Converting Native Forests to plantations is bad. 4. Plantations are good.
What this esstentially means is that once a native forest is converted to plantations, the plantations are regarded as being a good thing, because they supposedly lessen pressure to log native forests!? This feedback loop has backfired on the NNFL elite in Tasmania where full scale conversion of native forests to plantations escalated significantly between 1996-2006. By promoting plantations in such a positive light, the fight against conversion was made almost impossible.
Anthony Amis – Friends of the Earth Melbourne (March 2007 - Edited January 2013).
Native Forest Aerial Spraying History (incomplete)
Also see here for historical information about plantations, aerial spraying and birth deformities in the Gippsland Region in the 1970's
19/20 January 1961: [Forests Commission Experiment] Aerial application of 1 lb of DDT/1 gallon diesel fuel per acre, over 500 acres to control Phasmatids in the Nariel area (Myrrhee Sawmill Company's Logging Road), Corryong Forest District. (4 miles east of Nariel Upper and 40 miles from Corryong). [The aircraft failed to apply an even coverage]. Trial runs only using Diesel were conducted at Gembrook and Moorabbin in 1960.
January 27 1966: 45 acres of "scrub" aerially sprayed with 2,4,5,-T/Diesel oil near the junction of Bunyip and Learmonth Roads (Powelltown district). "Aim of the operation is to kill the scrub, mostly wattle, so that it can be safely burnt at a time when the surrounding vegetation cannot. Following this aerial sowing of eucalypts will be done".
February 1966: Proposal to spray 200 acres north east of Powelltown (Headwaters of the Ada River) with Malathion at the rate of 5 1/2oz in 3 gallons fuel oil per acre to prevent defoliation caused by Phastmatid Didymuria violescens. Spraying was conducted 250 feet above the ground.
11 January 1968: Forests Commission to Pesticides Review Committee: "To protect long term growth study plots you area dvised that the Commission wished to apply Malathion at the rate of 5 1/2oz. in 3 gallons No.2 Fuel oil per acre... The Brittania Creek area is about 1 1/2 miles upstream from the the take-off weir of the Yarra Junction water supply... Past aerial spraying operations particularly in the Tarago-Bunyip River areas have been conducted with no detectable effect on water..."
1 February 1968: Forests Commission to Pesticides Review Committee: "...apply Malathion to 280 acres of Mountain Ash forest in the Powelltown area, subsequent studies of insect population have shown that the boundaries of four areas to be sprayed will have to be extended..." Brittania Creek 146 acres, Fitzpatricks Road 74 acres, Ada River 110 acres, Dowey's Spur 140 acres.
1 March 1968: 15th Meeting Pesticides Review Committee: Application from the Forests Commission to spray areas with Malathion for the control of phastmatids in the Powelltown area.
22 November 1968: 22nd Meeting Pesticides Review Committee: 31. Letter received from Forests Commission advised of spraying program at Brittania Creek, Fitzpatricks Road, Ada River, Dowey's Spur, Learmonth Creek Road. FCV letter dated 11 October 1968 - aerial spray 4676 acres "...The Brittania Creek area is of particular concern is about 1 1/2 miles upstream from the take-off weir of the Yarra Junction water supply. It is intended that no insecticide will be released within two chains of the water course - due to start 3/1/69 to 17/1/69.
7 February 1969: 23rd Meeting Pesticides Review Committee: Letter dated 23rd December received from Forests Commission requesting extension of area to be sprayed - Amalgamated Chemicals to supply "Dibrom" as comparison to Malathion area to be sprayed 100 acres.
6 Nov 1970: 40th Meeting Pesticides Review Committee: (b) State Electricity Commission. Letter received from SEC dated 27 October advising the Commission proposes to aerial spray 2000 acres in the Kiewa Area to control phasmatids with Malathion .
11 Dec 1970: 41st Meeting Pesticides Review Committee: Item 31 Aerial Spraying by Forests Commission: "The Chairman advised the meeting that after discussion with Dr MacKenzie he had rung Dr Moulds concerning the area to be sprayed. It was thought that it might be too close to the water take-off of Brittania Creek. Dr Mackenzie advised that he had gone to the area to watch the spraying. He said that there was no difficulty with the water and advised the Forests Commission that it would not be necessary to provide water samples as the water take off was more than a mile away..." Letter dated 30th November received from Forests Commission advising of the proposed spraying of 15,000 acres, for the control of phasmatid insects. The chemical compound to be used is Maldison. Decision. To advise the Forests Commission that the Committee has no objection to the conduct of the spraying as outlined.
5 Feb 1971: Meeting of Pesticides Review Committee: Letters dated 24th December and 8th January received from Forests Commission requesting permission to spray further areas for the control of phasmatids.
24 Nov 1972: 90th Pesticides Review Committee Meeting: Item No31(a). Letter dated 13th November, received from Forests Commission Victoria advising of Commissions proposed control measure against the plague populations of phasmatids Didymuria videsceus in areas in the Upper Yarra and Neerim forest districts. Decision 24/11/72 To advise the Forests Commission that the Committee has no objection to the spraying program as set out.
16 Feb 1973: 91st Pesticides Review Committee Meeting: Item No31(a) Letter from Forests Commission dated 13 December 1972 received advising of spraying to control phasmatids. The area is adjacent to the water catchment for Warburton township water supply. Letter received from MMBW dated 13 December confirming information provided by Forests Commission.
1 Feb 1974: MINUTES OF THE ONE HUNDRETH MEETING OF THE PESTICIDES REVIEW COMMITTEE 1/2/74.Letter from Forests Commission 20th Nov to spray plague proportions of phasmatids in the Upper Yarra and Neerim forest districts (catchment areas).
29 Nov 1974: MINUTES OF THE ONE HUNDRETH AND EIGHTH MEETING OF THE PESTICIDES REVIEW COMMITTEE 29/11/74.(1) Letter dated 7th November received from Forests Commission advising of proposed spraying of areas in Upper Yarra (New Turkey), Neerim (Carters Creek) and Erica (Western Tyers A,B & C) for control of plague proportions of phasmatids, during Jan 75. Total area to be sprayed 1070 hectares (2640 acres).
13 Dec 1979: Letter from FCV to PRC to aerially spray Maldison/Malathion to control a plague of phasmatids affecting 90ha of forest in the East Kiewa Catchment (561ml in 11.2 litres fuel per ha) - [couple of km's east of Bogong].
30 March 1982: Chlordane (an organochlorine) coated eucalyptus seed spread over 3000ha of native forest to regenerate forests by killing ants. Chlordane (2% Chlrodane 18g-36g per ha). 3396ha throughout the east of the state. 2253ha East Gippsland (comprising Cann River, Bruthen, Nowa Nowa, Omeo, Orbost and Corryong Forest Districts), 350ha North East Victoria (comprising Bright and Mansfield Forest Districts), 336ha Heyfield (comprising Heyfield, Maffra and Erica Forest Districts), 457ha Marysville (comprising Alexandra and Marysville Forest Districts). "The Forest Commission Victoria proposes to conduct a program of aerial seeding during autumn 1982 using coated eucalypts seed to regenerate forests utilised in 1980-82. The seed coating technique involves the addition of the insecticide Chlordane to control the activities of seed harvesting insects. Seed harvesting insects (mostly ants) may remove large quantities of eucalpyt seed from the site prior to germination, thus seriously affecting the amont of regeneration achieved on an area.
9 Nov 1982: Forest Commission Victoria aerial spraying of Mt Ash site dominated by Silver Wattle. 15ha to be sprayed with Lontrel L. Location: south east of Warburton. Big Pats Creek Catchment.
21 Dec 1982: Forest Commission Victoria: Control of plagues of phasmatids affecting 345ha of forest in the SEC works area and 284ha of forest near Mt Spion Kopje in the Bogong National Park... the treatment will be aerial spraying of Malathion insecticide at the rate of 561ml in 11.2 litres of distillate per ha...
26 Oct 1983: Letter from FCV to ADCRC. 6ha sprayed at Nowa Nowa (10km south east Nowa Nowa) on three experimental plots. 8 litres/ha (2.88kg Glyphosate ha).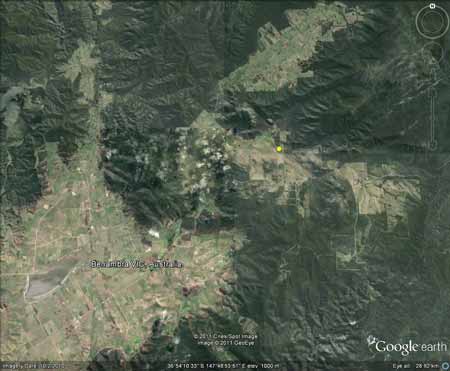 Google Earth image showing East Gippsland Township of Benambra, 16km south west of area aerially sprayed by DSE on 25 January 2005. 12ha of land was aerially sprayed with Chem-Ag (Propyzamide) to control blackberries, apparently after the 2003 bushfires. 3 loads were sprayed at a cost to the department of $1386. According to the Pesticide Action Network, Propyzamide is a carcinogen, a potential groundwater contaminant and suspected endocrine disruptor.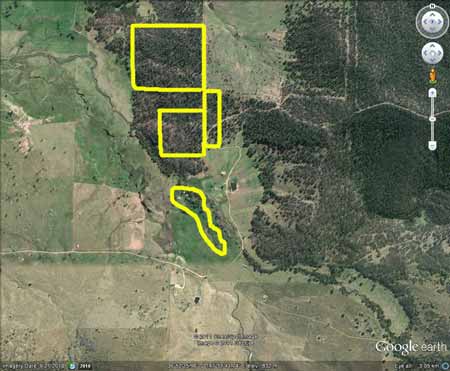 Close up of the areas aerially sprayed, including a farmhouse and approximately 1km of the Morass Creek, which flows into Benambra Creek (Mitta Mitta River Catchment). No monitoring of Morass Creek was conducted for pesticide residues. Propyzamide has a half life in water of 42 days and a soil half life of between 392 - 762 days.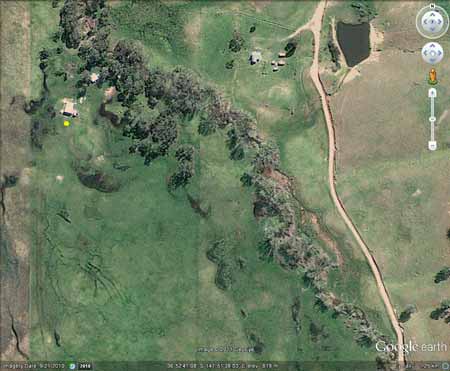 Spraying would have occurred in very close proximity to the residence marked with yellow dot. Probably Allotment 2B3. Will this be DSE standard practice in the future across larger areas of bushfire affected country?