May 04: Piles of sand on 13th hole. Potentially many thousands of tonnes of sand will be imported onto the golf course over the next year. This will be a serious concern when development hits the floodplain. If this example is anything to go by huge amounts of sand may well be washed into the Yarra if a flood event occurs. This sand will also be easily traced back to this development - meaning huge headaches for all concerned.

Macquarie Perch facing EXTINCTION!
Silt Kills Native Fish (see here)
FRIENDS OF THE EARTH MELBOURNE PRESS RELEASE 30/6/04
Environment Australia and Audit Concerns 1/7/04
Letter from FoE to EPA 26/7/04
What happened to the State Environment Protection Policy (SEPP)?
Excellent Summary of Impending Disaster by Victorian Field Nats Feb 2004. Click here.
Thwaites disallows Interim Conservation Order to stop works (2/12/03). Click here for details.
UPDATE : WORKS APPROVED - http://www.deh.gov.au/minister/env/2003/mr16sep03.html
NILLUMBIK COUNCIL HERITAGE GOLF - PROPOSED DEVLOPMENT PLAN (Aug 2002)
UPDATES on this terrible decision by The Federal Environment Minister David Kemp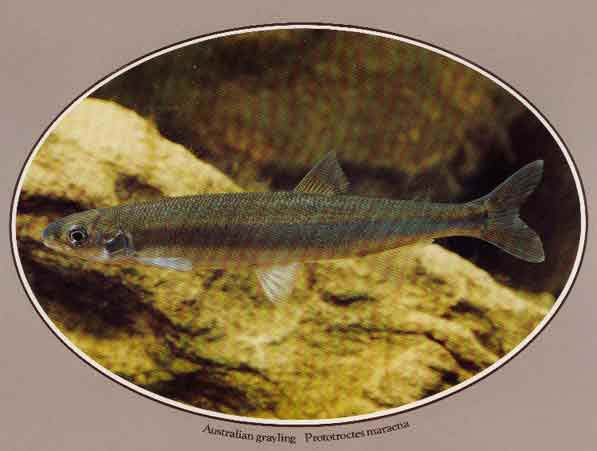 Nicklaus signature will mean thousands of tonnes of sand dumped on the floodplain
Recent analysis of water quality conducted at Henley (May 04).
Waringah Golf course has to pay out $500,000 over fish kill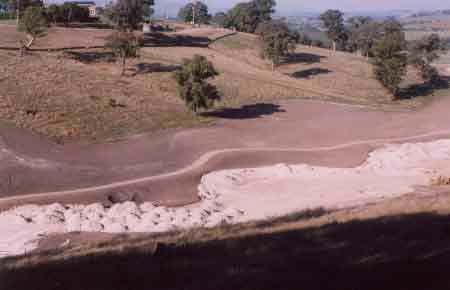 May 04: Another view of the 13th hole with dumped piles of sand.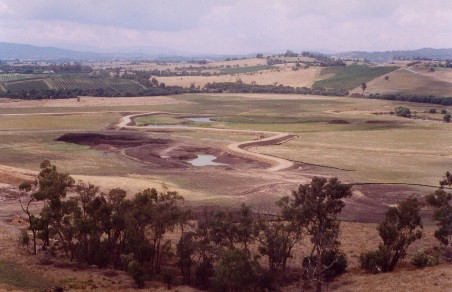 January 30 2004: Henley missed out on a drenching again. Huge floods hits inner Melbourne suburbs such as Hawthorn on January 29. Kew received 91.4 mm. If these storms hit the Yarra upstream of Henley we could have seen widespread flooding of the floodplain. Sediment Dam (centre photo) will soon be excavated to create a 10 hectare lake on the floodplain. Developers have already hit groundwater, thereby meaning that the lake will be linked to the Yarra. This means that if contaminants (pesticides) leach into lake there is a high possibility of them eventually leaching into the Yarra River. see here How the developers propose to seal the lake is still a mystery. The alluvial aquifer underlying much of the floodplain lies between 1.5 and 3 metres. Much of the floodplain shown in this photo is planned to be bulldozed in the near future. see here for more info. Also of concern are the haulage roads. Are they too heavy for the floodplain?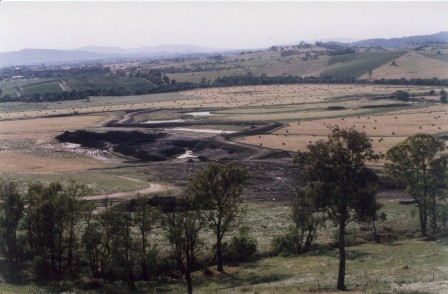 December 3, 2003: Photo of Henley Flood Plain, a few hours a massive storm dumped hundreds of millimetres of rain in Melbourne suburbs downstream of the floodplain and caused $100 million damage. Experts stated that the storm event caused 1:100 year floods and missed Henley by a mere 10-15 km. 120mm was recorded at Doncaster. The flood caused widespread flooding in the suburbs of Northcote and Preston. see here for more info.

November 12, 2003: Destruction of Henley flood plain going full steam ahead. Have the developers already hit groundwater with their excavation for the main golf course reservoir? According to Environment Australia 11/12/03 in regards to developers breaching the aquifer, "... a site visit was held this morning 11/12/03 by the Environmental Monitoring Committee (comprising representatives from the local community, the Shire of Nillumbik, the Department of Sustainability and Environment and Yarra Valley Golf Pty Ltd) . . . Following this site visit, it is this Department's understanding that the Environmental Monitoring Committee has decided to refer this matter to Melbourne Water for more detailed scientific investigation (involving further site visits and information gathering by experts). The Department of Environment and Heritage intends to consult with Melbourne Water thoughout this investigation and will respond to you once an outcome is known."
DEVELOPERS NOW GOUGING UP FLOODPLAIN!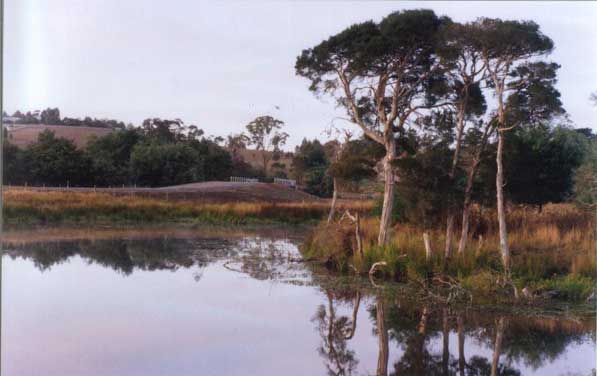 Mar 2003: A billabong of State Significance. Note controversial bridge in background. Who granted the permits for the bridge?
See our UPDATES on this terrible decision by The Federal Environment Minister David Kemp at the bottom of this page.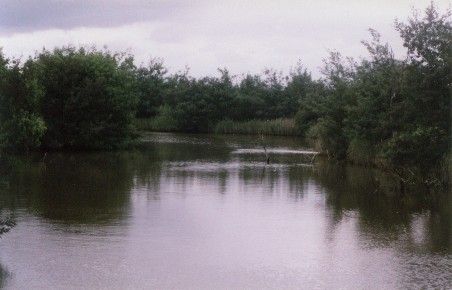 Yarra River just upstream of the Bend of Islands. Victoria's most important river for freshwater fish. 15 known species exist in the river including threatened and endangered Macquarie Perch, Australian Grayling and Murray Cod.
June 2003
Concerns that a links golf course development could threaten populations of endangered native fish have stalled Yarra Valley Golf Pty Ltd from beginning work on their $11 million development of the Henley floodplain - upstream from the Bend of Islands.
Who's Who of You Know Who (March 2004)
Yarra Valley Golf Pty Ltd formed on the 30/9/94. Directors include: John Mervyn Tickell, Peter Charles Bennell, Mark Ronald Letten, Brian Antony Monahan & Paul James Lane.
Yarra Valley Golf Pty Ltd have a share structure of 50 shares (reduced from 100 in 2003).
25 shares are owned by Keywear Pty Ltd (302-308 Russell Street, Melbourne, Vic, 3000).
25 shares are owned by LGH Holdings Ltd (Level 6, 118 Queen Street, Melbourne, Vic, 3000).
Keywear Pty Ltd have two directors: Susan Valma Tickell and John Mervyn Tickell of Kew. Both Susan and John Tickell own one share each of Keywear Pty Ltd. For more information about John Tickell click here.
LGH Holdings Ltd have five directors: Lea Gaye Letten, Mark Ronald Letten, Ronald James Letten, Paul James Lane and Sheridan Myrtle Fanning. Ultimate Holding Company for LGH Holdings Ltd is LGH Administration Pty Ltd. For more information about LGH Holdings click here.
FBN Investments Pty Ltd (associated with Mark Letten) were listed as shareholders in 2003. The company is now deregistered. F.B.N. Investments Pty Ltd had two directors: Ronald Leslie Kiene and Mark Andrew Stanley. FBN had two shareholders owning one share each. Those shareholders were: Mark Andrew Stanley* and Mark Ronald Letten.
Letten is also associated with: Acumen Asset Management, Reefhouse Resort Queensland
*According to the ASIC website; "05-150 Bankrupt property developer arrested and charged in Melbourne Monday 6 June 2005 Mr Mark Andrew Cyril Stanley, of South Yarra, Melbourne, was arrested today by the Victorian Police in relation to charges resulting from an investigation by the Australian Securities and Investments Commission (ASIC). The charges allege that Mr Stanley dishonestly used his position as a director of St Leonards Property Pty Ltd (St Leonards) with the intention of gaining an advantage for himself or someone else. St Leonards was a joint venture company involved in the purchase and development of a multi-level office block in Crows Nest, Sydney. It is alleged Mr Stanley used funds totalling $238,361.97, payable to St Leonards, for purposes unrelated to the company. Mr Stanley was bailed at the Melbourne Magistrates Court. He is required to re-appear at the Melbourne Magistrates Court on 6 July 2005. The matter is being prosecuted by the Commonwealth Director of Public Prosecution)."
"A PONZI firm is a "front" for the real motive of preying on clients and sucking as much moneys from them... All seems normal and above board as any accounting practice would operate, all the while the firm recruits its unwary victims/clients in by offering them sophisticated accounting and tax return advice and services. Once management establishes how much moneys the clients have available and after gaining the victims trust, clients are pushed into taking investment advice from in house spin doctors. Continuous amounts of pressure is put on junior staff to help convert customers to go into an investment and hand over life savings that are invested either into an overhyped in-house unlisted property investment or into a fast devaluing equity portfolio in the share market run by closely associated companies...For the little people who are unlucky and get hooked into the property investment project they then must suffer a very long and drawn out process. Prior to entering an investment the "honeymoon" phase is a story of astronomical returns and high interest payments to investors. The only thing that is astronomical is the overstated property valuations, the large borrowings from financial institutions, big management fees and trailing commissions to the in-house individuals who sign up these poor unsuspecting peoples... To attempt to get out of a property investment project early, a client is given very little choice but to take a big "hair cut" to their investment. Even after repeated attempts to convince them to stay in, eventually the repayment of what's left of the individuals investment is pushed out to as long a time horizon as the company feels they can get away with...Unfortunately if the little investor is one of the many "little" peoples invested they are "marked" as low priority from a repayment perspective. It is only a small number of high profile, high net worth "friends" who take first priority on profits. There is often a continual misuse of funds raised from investors in exchange for promised unrealistically high returns that are not achieved along with priortity payments to the "friends" out of new funds raised and a continual need to bring in more new moneys for unwary clients to support the ongoing operation. Unfortunately it will be the banks who have provided funds to purchase the 10 to 20 properties that will also get their fingers burnt because of overinflated property valuations used as collateral to prop up the many business loans..."
For detailed corporate background information about Mark Letten, John Tickell and past shareholders of Yarra Valley Golf Pty Ltd please contact us.
In February 2003, Environment Australia (A Federal Government Department) decided that under the Environment Protection Biodiveristy Conservation (EPBC) Act, the golf course development would be a 'controlled action' meaning that no works could proceed on the course until an assessment was carried out by Environment Australia. This assessment will conclude on June 19.
Two native fish species found in the Yarra River, The Australian Grayling (Grayling Prototroctes) and Macquarie Perch (Maquaria australasica) are listed as threatened under the EPBC Act. Macquarie Perch photo can be viewed here.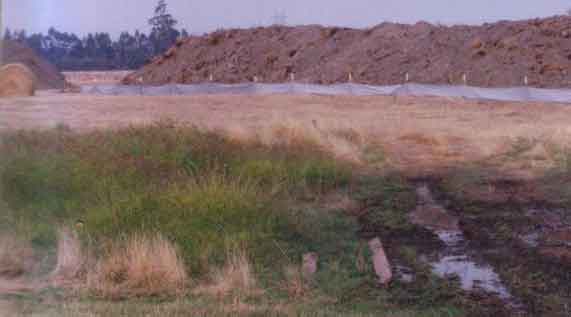 Feb 2003: Large soil dumps already put on floodplain
A subsequent fish survey in the Yarra River, found 37 Macquarie Perch and 9 Grayling at 11 sites between Henley and Pound Bend (downstream from Warrandyte). The survey observed a further 6 Macquarie Perch.
This survey confirms that the Yarra River upstream of Warrandyte has argueably the largest breeding population of Macquarie Perch left anywhere on the planet. This stretch of the Yarra is of national environmental importance. Unfortunately there is no management plan for these fish species at state or federal level. The middle reaches of the Yarra contain at least 15 native fish species and 6 decapod crustacean species also meaning that the Yarra has one of the most diverse freshwater fish assemblages within Victoria.
Macquarie Perch were once quite common in the Murray Darling Basin. However, due to environmental problems in the Basin including dam building, snag removal, sedimentation, destruction of habitat (and more recently drought and bushfires), the fish is now being considered to be listed as critically endangered. The Yarra population was actually introduced into the river in the 1920's, most likely by recreational fishermen taking wild fish from a source from over the Great Divide.
March 2003 : Riparian zones sprayed with Garlon 600 which is toxic to fish. About 1km of the northern side of the Yarra River riparian zone was sprayed recently to kill blackberries. Spraying was done by hose at a distance of between 3-5 metres away from the riparian zone. We believe that herbicide must have been hosed into the Yarra.
The major threat to the long term survival of the Macquarie Perch is siltation. "Siltation has probably been an important factor in the decline of this species in Victoria: erosion silt fills in deep holes, thereby destroying preferred habitat, and blankets the substrate, thereby providing unfavourable conditions for the demersal eggs and affecting the composition of the benthic fauna which forms the main part of the diet" Codwaller and Backhouse 1983. A Guide to the Freshwater Fish of Victoria. Both Grayling and Macquarie Perch prefer clear cool water flowing over gravel river beds in sections that alternate between rapids and pools. These are characteristics of the Yarra River, especially downstream from the Henley floodplain.
Two submissions opposing the golf course development and its potential impacts on native fish were submitted to Environment Australia by Native Fish Australia and Friends of the Earth.
The current proposal involves massive modification of the floodplain with the construction of 3 metre high 'levees' and haulage roads. The 'levees' will apparently withstand a one in one hundred year flood and will be 'removed' after construction of the course is completed.. A large irrigation water storage lake (10 hectares in size) will be built on the floodplain, and other artificial water bodies created. Mounds will also be built in order to create the links type course. Up to one million cubic metres of earth will have to be moved to create the course - equivalent to 100,000 truckloads of soil! If there is a flood event during the construction phase, a potentially huge amount of silt could enter the river. This could be catastrophic for the creatures living downstream.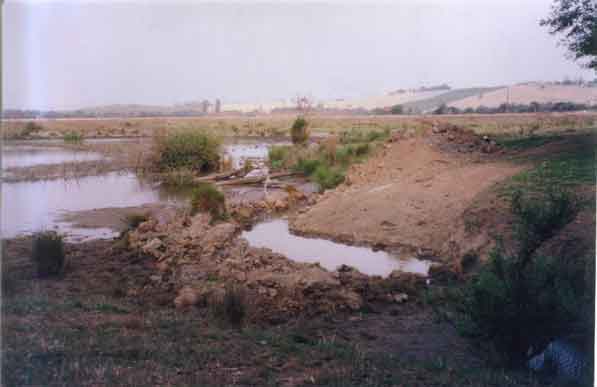 Feb 2003: Machinery has operated in this billabong of state significance.
It would appear that state planning processes have been conveniently sidetracked by this development. The development contravenes Schedule F7 of the State Governments' Waters of the Yarra document. Clause 16.1 states that no works are to be carried out on a floodplain if there is a risk of siltation. John Thwaites, the State Conservation Minister, intervened to support the construction of the development when he was Planning Minister in January 2002. Effectively his intervention gave the developers the green light to go ahead with construction without adequate attention being placed on the impacts that the development would have on the endangered fish species. 2003 is the International Year of Freshwater. If Mr Thwaites gave a damn about the health of the Yarra River he would stop this atrocious development.
It appears that the precautionary principle has been ignored by state authorities. At no stage has there been an environmental impact statement. No responsible authority can categorically say that the risks have been eliminated. There are also concerns about the potential sediment and herbicide impacts upon populations of platypus, frogs, turtles, migratory birds and microfauna. The development appears to defy common sense, sound science and government promises to restore our rivers.
The floodplain and associated billabongs are one of the last relatively intact floodplains left on the Yarra which act as a natural flood retarding basin. The levy banks may well concentrate the flow of a flood and increase the velocity of flood flow. This in turn could concentrate sediment loads into the Bend of Islands gorge which would have naturally been deposited on the floodplain. Construction of a bridge linking the existing course to the Henley course has recently occurred. This bridge, with adjoining earth embankments at a narrow point in the river could cause flood waters to bank up behind the bridge, leading to increased water velocity, with the potential to create massive scour and riverbank damage.
The development sets an ugly precedent. If this development goes ahead, further consortiums will also start targeting the Yarra flood plains above Yering Gorge. The Henley development will concentrate future subdivision into this area and with development comes increased pressure on the river and ultimately increased pressure on Macquarie Perch and Grayling. This development shows a substantial failure of due public process at State and Local Government level. It has been extremely difficult locating documents and plans.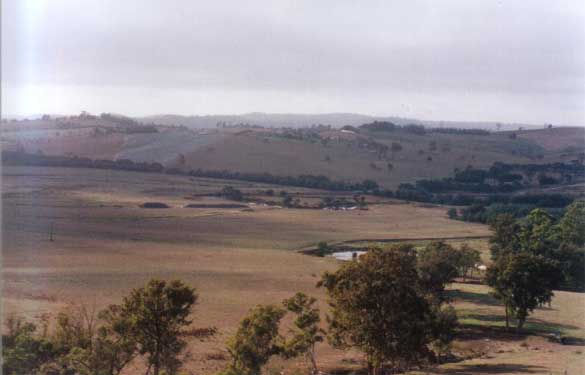 March 2003: Henley flood plain. Between 500,000 and 1 000 000 cubic metres of soil will be scoured from the floodplain.
To construct the links course, requires massive reconfiguration of the existing floodplain, filling in, or modifying existing billabongs and wetlands. Herbicide applications during and after construction of the course are worrying. Lakes to be built on the floodplain may flush into the Yarra in flood and could connect to the Yarra River through groundwater. These wetlands may be able to filter out phosphorous loads from the course, but nitrogen may not be filtered out. The Yarra river is already stressed by nitrogen. Some of the herbicides to be used on the course can contaminate groundwater and fertilisers may contain heavy metals, which in turn could enter the groundwater and potentially also the Yarra River.
It would be a tragedy of national significance if we lose the Macquarie Perch. The fact that such a massive development has received the greenlight without adequate safeguards is an appalling oversight. The Yarra River has so much to offer. We are very lucky to have such an ecologically important river flowing through our city. We have to remain vigilant against schemes that threaten the unique biodiversity of this wonderful natural treasure.
UPDATES OCTOBER 2003
HOIST THE JOLLY ROGER ON TOP OF PARLIAMENT HOUSE.
WE ARE LIVING UNDER PIRATE LAW!!!

November 12, 2003: Yarra Valley Golf Pty Ltd ripping up the Henley floodplain.
In Mid September 2003, the Federal Conservation Minister, Dr David Kemp signed away the Henley Flood Plain forever to 'bad developers'. Read below for the gory details.
By signing the approval Kemp has stuck the final nail into the withering coffin of the Environment Protection Biodiversity Conservation (EPBC) Act. If anyone reading this thinks that the EPBC Act will actually stop environmentally destructive practices from occurring, well you better think again, because from our experience the EPBC act is a mere 'rubber stamp' on any development that lobs onto the desks of Environment Australia.
Do you know that since the EPBC Act came into existence it has failed to stop ANY development from occurring. If you don't believe us give Environment Australia a call and ask them. At best all the EPBC can do is stall a development for a few months.
If you want to protest the Federal Ministers decision, you have the option of going to the Federal Court at the cost of many thousands of dollars and sit before a judge who probably hasn't got the foggiest notion about what you're talking about.
This decision is another in a long line of bureaucratic bumblings that is the hallmark of this development project first agreed to by the now 'exiled' former state planning the Rod Maclellan under the now disgraced Kennett regime.


Maclellan and Kennett. The original planning approval was granted by Maclellan in March 1995. Planning Scheme amendments were gazetted in April 1995 for the St.Johns Course. Was Maclellan 'Tickelled'? Of course he was.

Was John Thwaites 'Tickelled'? Of course he was.
The current Victorian Conservation Minister John Thwaites wins no friends at Bad Developers after he signed a planning amendment in January 2002, which guaranteed that the course be built. Thwaites had the opportunity to step in but wouldn't - even when 2003 is known as The International Year of Freshwater. So much for the much mooted water conservation credentials of the Bracks Government!
Local media has been almost complicit in its silence. Apart from the Warrandyte Diary and a small article in the Age Newspaper noone in Melbourne's beloved media scrum was the slightest bit interested. Where was John Fayne? Where was Rex Hunt? Both were contacted several months ago and both of these supposed 'passionate' fishermen sat on their hands and did bugger all. Rex knows that if this development goes belly up, the potential costs to the Yarra River and Port Phillip Bay will be enourmous. Forget bagging the Greens on your radio show Rex, why don't you have a go at these developers instead!!! (Is Mirvac building the hotel for the golf course? Of course they are!!!)
The smell about this fiasco is definitely starting to fester, with big development plans on the drawing board for the area, with road widening occurring soon (thanks to Federal Party grants). Stay tuned!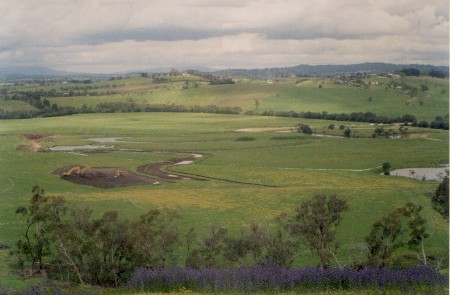 October 27, 2003: Yarra almost runs a banker just after construction/destruction begins. The Yarra was running very high after a couple of weeks of above average rainfall - almost spilling over the floodplain. Developers must be crossing their fingers that above average rainfall doesn't happen for the next 2-3 years over the life the development or much of their sediment will end up in Macquarie Perch spawning grounds!
SHORTFALLS OF KEMPS EPBC DECISION
The following information was forwarded to us by Friends of the Earth Melbourne on the 3rd of November 2003. (foe@foe.org.au)
Yarra River almost floods Henley Floodplain, only 14 DAYS after controversial construction begins on $11 million golf course.
Complain to Federal Environment Minister David Kemp D.Kemp.MP@aph.gov.au
And State Environment Minister John Thwaites john.thwaites@parliament.vic.gov.au
Endangered fish living in the Yarra River near the Bend of Islands had a close call on Monday October 25th, when the Yarra River was running close to bankfall level, along some areas of the Henley floodplain.
Construction on the controversial course began in late September. Large areas of the floodplain have already being dug up, with large piles of soil 'dumped' on the plain.
The Yarra River is of National Biological Significance with associated floodplains and wetlands at Henley also of National Significance.
Friends of the Earth remains unimpressed with substandard erosion control measures existing on the floodplain at the moment. There are a host of problems that Minister Kemp has overlooked with this development.
It would appear to us that Minister Kemp has signed off on the golf course without adequately addressing soil control measures needed during the construction phase of the golf course. If a flood occurs within the construction phase of the course (2-3 year time period), there is little information provided by the Federal Minister in his recent approval decision which assures us that the health of the Yarra River will be looked after. If a flood event occurs during this critical time we believe that the Macquarie Perch may be in grave danger of extinction and that the health of the Yarra for a host of users downstream will be severely compromised.
FoE is particularly concerned about fragmentation of habitat. The population of Macquarie Perch may be the most secure population left in Australia and is too precious to lose.
It is an outrageous decision that the Minister has made. It is the belief of Friends of the Earth that the Environment Protection Biodiversity Conservation (EPBC) Act is not worth the paper that it is written on. In regards to the survival of native fish throughout Australia, this decision may undermine conservation efforts on a national basis. If this decision is the 'benchmark' that will be used elsewhere, Australia's inland rivers and the fish that inhabit them will be guaranteed no protection under Federal leglislation. The decision to support construction of the Henley Golf Course has national ramifications.
After long periods of drought, Australia is renowned from going from very dry to very wet periods. Large rainfall events could inundate the floodplain. With successions of low pressure systems coming across Victoria recently, the chance of large rainfall events is very much a possibility. It is FoE's understanding that the weather bureau has said on radio that this pattern/cycle of continuous low pressure systems in spring hasn't been seen for some years. These type of weather systems in November are not uncommon in normal rainfall years.
The golf course will apparently be constructed within two years with protection to the Yarra supposedly occurring only for 1 in 12 year flood events. We could be moving into an above average rainfall cycle meaning that the 1 in 12 year protection may very well be inadequate added Mr Amis.
Another problem with Mr Kemp's approval for the course, has actually meant that the Federal Environment Minister has overridden the recommendations of his own Department.
According to the 'July 2003 Environment Assessment Report - Henley Golf Course Development written by the Environment Assessment and Approvals Branch of the Department of Environment and Heritage' (DHE), the authors spoke of supporting many recommendations listed in the Arthur Rylah Institute for Environmental Research (ARI) report "Fish Fauna and aquatic habitat in the Yarra River and Potential Impact of the Henley Golf Course" which was completed in April 2003.
For instance on page 28/29 of the DHE report they state;
"The ARI report recommends that during construction, monitoring should also encompass periodic assessment of sedimentation within the river bed below the site to detect sediments coarser than those transported as suspended material. This would require pre-construction baseline monitoring against which to compare changes over time and this should encompass seasonal variation in sedimentation within the bed. It would be necessary to initiate monitoring well before construction begins… Given that sediment deposition in the Yarra River can result in a decline in the availability of suitable spawning sites for the listed threatened species, the Department endorses the recommendations in the ARI report with respect to monitoring of sedimentation before and during construction. The Department proposes that the proponent submit a sediment monitoring program for approval."
Nowhere in Minister Kemp's approval of the Henley Golf Course has he stated that the company has to conduct baseline monitoring of sediment and pesticides in the Yarra River or baseline monitoring of gravel spawning beds at the Bend of Islands!Without this baseline monitoring it will be almost impossible to determine the extent of sediment deposition on the habitat of the endangered fish that inhabit the Yarra River. These fish include the Australian Grayling, Macquarie Perch and Murray Cod. This glaring oversite undermines the integrity of the EPBC Act which Minister Kemp administers.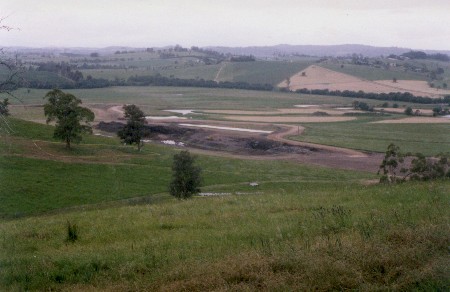 November 3 , 2003.
If there is flooding the Company and the Minister may argue that because there is a lack of baseline data it will be impossible to prove that silt associated with the golf course development has entered the river. The developer and the government will be able to 'wash their hands of any onus of proof' that the development has caused the problem.
The EPBC Act claims to include the Precautionary Principle, but Minister Kemp by granting approval for this development is avoiding even acknowledging the existing environmental condition of the Yarra River, let alone the possible inundation of the Yarra River with sediment from this development. He also ignores the large chance that substantial flood events may occur over the construction time period of the golf course. It appears that Mr Kemp is gambling with the health of the river and the endangered species it contains.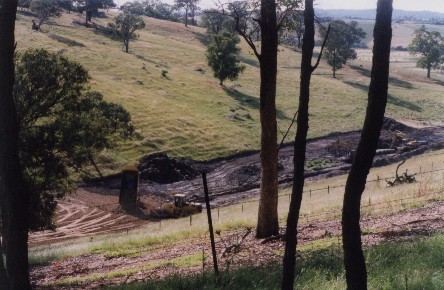 December 03: Pipe laying and massive reconfiguration of drainage line.
The golf course planners plan that the flood plain is made up of stiff clays with an erosive limit during flood flow of 1.2m/sec. The Hydrology Report anticipates that the highest velocity flood events will occur between a 1 in 10 and 1 in 20 year flood event. Erosion control bunds will presumably hold a 1 in 12 year flood, but flood velocities can reach 1.29 m/sec in some areas between the 1 in 10 and 1 in 20 year floods. These discrepencies are another major shortfall of the project planning.
Why is there only 1 in 12 year flood protection, when consultant studies have shown that the erosive limit of stiff clays can be exceeded between a 1 in 10 and 1 in 20 a.r.i. (average recurrence interval)? Recent observations at the floodplain by our group concern us that the floodplain doesn't only include stiff clays. It may also contain natural alluvial deposits whose erodibility hasn't yet been determined.
Friends of the Earth will be writing to State Conservation Minister John Thwaites asking him to evoke an Interim Conservation Order under the Flora and Fauna Guarantee Act in order to stop the potential catastrophe. FoE will also be writing to the sitting state members for Yan Yean - Danielle Green, Warrandyte - Phil Honeywood and Eltham - Steve Herbert, asking for them to support the Interim Conservation Order in order to halt works on the floodplains until baseline monitoring is carried out and until flooding precautions are assessed independently. Ideally an Environmental Impact Statement needs to be carried out.
FoE will also contact sitting federal members for McEwan - Fran Bailey and Menzies - Kevin Andrews asking why Minister Kemp overrode his own Departments' recommendations in terms of baseline data. FoE will also be detailing to all sitting members the inadequacies of the EPBC Act and the potential problems that may eventuate from this bad development. The whole of the Yarra River downstream of the Bend of Islands is threatened by this development.
Message from John Thwaites MP - Dec 2 2003
". . . The Department of Sustainability of Environment (DSE) has had a long history of involvement in this area, beginning with the Stage 1 development for the St John of God Course located immediately opposite, on the south side of the Yarra River in the mid 1990s. DSE continues to be involved in the project and is represented on the Environmental Monitoring Committee established to oversee the development of the various stages. The initial construction works on the site are compliant with the Sediment Control Program and the construction of the course is staged to minimise the extent of exposed areas with stabilisation, as soon as practicable after completion of works.
In relation to the ARI report to which you refer, the key finding was that the proponents have addressed the potential risks to the significant fish populations in terms of sedimentation, erosion and runoff, and the impacts of the altered floodplain topography, and have taken steps to enhance riparian habitat quality (p.iv). . .
Several Authorities have been involved in the development proposal. The proponents have adopted all the conditions required by Melbourne Water as part of the planning approvals process and Environment Australia has conducted an investigation into the degree of impact on the nationally listed Macquarie Perch, Murray Cod and Australian Grayling as part of a referral process under the Environment Protection & Biodiversity Convention (EPBC) Act 1999 . . .
Accordingly, my Department is satisfied that sufficient detailed environmental planning has been undertaken to ensure minimal risk to the floodplain and aquatic species and that an Interim Conservation Order is therefore not warranted . . . "
Article from Field Nats News No.128 February 2004.
Watershed
Under the Federal Constitution land and waterway management is a State responsibility. The intention of the Federal Government, when it created the Environment Protection and Biodiversity Conservation Act (EPBC Act), was that the Act would be administered by the States under an agreement, however the Federal Government has failed to obtain such an agreement from Victoria. Although Victoria has its own environment and species protection legislation, where it conflicts with the Federal EPBC Act, the Federal Act prevails.
The EPBC unit of Environment Australia, the Federal environment agency, has no staff in Victoria so has to rely on State agencies or others for information. State agencies, as in the case of the Henley Golf Course Proposal, often have their own agenda.
The main problem with the EPBC Act, as with the Victorian Flora and Fauna Guarantee Act, is that governments are very reluctant to enforce the provisions potentially available under these pieces of protective legislation. The legislation looks good, makes a great decoration, but when it comes to implementation the resources and the will is not there.
Under the EPBC Act a State Minister or State agency can refer a proposed development to Environment Australia, and in general, if the proposed development appears to fall within the terms of the Act the proponent is obliged to make a referral. In the Henley case the construction of a two lane concrete bridge over the Yarra, as part 2A of Stage 2 of the development, clearly should have been referred but wasn't. Neither State Government or any of its agencies, nor the proponent, felt inclined to make a referral. Environment Australia did not impose a penalty on the proponent for not making a referral.
Although community groups including the Field Nats sought an Environment Effects Statement process under the EPBC Act for the proposal at Henley this was denied and a Preliminary Documentation process was instituted. The latter is a weak process under which objectors to a proposal must make comments and submissions directly to the proponent who then has the opportunity for rebuttal and forwards the comments and rebuttals to Environment Australia. Opponents of the proposed developments do not get to see the rebuttals or any further submissions by the proponent as according to Environment Australia they are confidential. This flies in the face of natural justice and gives a major advantage to the proponent who can say whatever they like without fear of contradiction following the initial comments.
Under the Preliminary Documentation process the public does not get to see all the documents, as I have already discussed. Further than this the proponent is not even obliged to provide complete details of the project. Construction of a two lane concrete bridge over the Yarra took place without any public scrutiny because the project was served up in discrete bits. Melbourne Water said they approved the bridge after due scrutiny, but this was the same Melbourne Water that didn't know there were endangered native fish species at this site. In the Henley case the public never got to see final detailed plan drawings of some of the infrastructure proposed. This included such important items as irrigation and drainage infrastructure. As far as I know an irrigation plan was not produced. From such drainage plans as we saw it appears that drainage from the golf course will be directly into natural waterways i.e. into natural billabongs and then into the Yarra. Given the heavy use of fertilisers, herbicides, fungicides and pesticides on modern golf courses, this is not good enough.
Why are we at a watershed? The Henley development has opened the way for urbanisation of the whole Yarra Valley. Croydon Golf Club has recently bought land on the Yarra floodplain above Yering Gorge where they plan to relocate their golfing operations. They will sell their present course for housing development. The two land concrete bridge over the Yarra at Henley seems to be larger than needed to service a golf course, suggesting that the developers may have other ambitions, such as housing development on the north side of the river. Meanwhile Stage 3 of the Henley Golf Course development is on the drawing board, and Yarra Valley Golf has apparently made it clear to governments that referral of Stage 3 will not be made.
We are at a watershed because of failure of governments to make effective use of their own legislation. The administration and resourcing of the EPBC Act, as with the Flora and Fauna Guarantee Act, has not adequately protected endangered species, let alone protected the environment. This is not to say that these Acts are completely useless, but that their use is very limited. It is easy to get legal standing under the EPBC Act, and the recent High Court decision in the Nathan Dam case may mean that in future it will not be so easy for developers to avoid environmental scrutiny by opting for staged developments. Invoking environment laws always gives the opponents of a development more time to explore and discuss the issues, and to lobby for the desired result.
We are at a watershed beacuse most of our streams are being rapidly degraded. A recent series of articles in The Age newspaper proclaims the return of platypus to urban streams. The presence of platypus in a stream doesn't mean the stream is healthy, even if the platypus have returned to places previously abandoned. Platypus don't have to breathe the water as do fish and many other aquatic species, and platypus eat many critters that are fairly tolerant of dirty water.
We are at a watershed because unless urban and rural waterways become much more of an issue politically, especially in urban areas, they will soon all just be drains. All streams from the smallest to the largest need buffers of native vegetation and adequate water flows. Discharge of stormwater drains directly into streams must cease. Snags have to remain in the stream bed for habitat and barriers to fish migration need to be abolished.
Jim Walker.
The HGCC (Heritage Golf and Country Club) development was planned as a private, golf country club modelled on exclusive golf country clubs in the USA. Such clubs have members only policies for golf course access and often provide a wider range of other recreational pursuits, club-house amenity and accomodation.
HGCC was conceptualised in the early 1990's by Dr John Tickell, a director of YVGL (Yarra Valley Golf Ltd), with experience in the Hyatt Coolum development in Queensland. Land for the resort was secured by option by YVGL in 1993 and re-zoning took place to allow the development to proceed. Envisaged as a prestigous golf and country club, development proceeded after an amendment to the local planning scheme was granted by the then Liberal State Government. To date the development has been entirely funded through private interests and revenues received from strat-titling of the hotel and the sale of the residential lots.
The development was split into two stages. The first stage was the golf course and associated club-house, hotel, heath retreat and 120 residential lots. Construction commenced in 1997 after a four-year approval process and began with the first golf course, designed by Jack Nicklaus. Construction of the remainder of the resort commenced in November 2000 when the hotel development was undertaken. With two key components of the resort largely in place, construction of the health retreat began in November 2001. The Golf course opened in late 2000, with the hotel opening in April 2002. The Health retreat opened most recently in October 2002.
Residential development (120 lots) took place simultaneously with the golf course and hotel and health club. State Two, which was due to commence in early 2003, allows for the addition of another golf course and 120 condominiums/villas. Income from residential sales and the strata titling of the accomodation allowed the financial investment of YVGL to remain at levels, which were not reliant on large bank loans. The total estimated development cost to date (late 2002) is in the vicinity of $60 million dollars, (excluding land, legal and administration costs) yet bank loans approximate $2 million.
"World class golf courses are often distinguished from others by the quality/type of soil on which the course is constructed. The type of soil and the course base were therefore two important features to consider when planning a facility such as the HGCC.
The Yarra Valley is known for its clay based soil, which for the quality of golf courses being considered, combined with the regional weather patterns, was not appropriate. The poor drainage quality of clay and its impact on the general playing surfaces necessitated the laying of an extensive and very expensive sand base for fairway construction. A sand base of 300mm was required, at an approximate cost of $1.5 million, for the course to be of world class standard and in fitting with the Nicklaus signature design brand. This illustrates the significant additional costs required in developing built attractions which are often integral to a resort's appeal". - Heritage Golf and Country Club Case Study (www.ttf.org.au)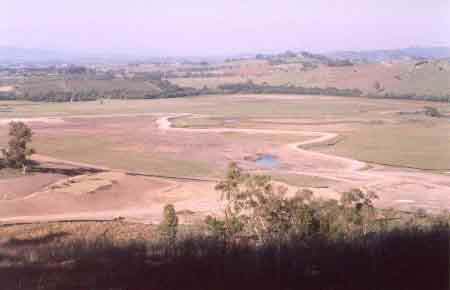 May 04: Developers will be hitting the floodplain soon.
Updates:
October 04:"... Several logistic and technical difficulties in weed control may be encountered in the wetlands and along the river. The first relates to environmental risks inherent in herbicide treatment of weeds in aquatic environments (i.e. toxicity to wetland and instream biota, of particular concern fish species) and secondly the accessibility of weeds on the steep river bank. Only herbicides registered for use in wetland situations are acceptable and they must be used with the utmost caution ... It may be necessary to access some weed populations by boat along the river.
The feasibility of control of several aquatic weed species occurring along the river is not known because of the above difficulties, combined with the potential for continual reintroduction from upstream (dispersed by seeds or vegetative material in the river)." p12 Henley Golf Course Management Plan Yarra Valley Golf Pty Ltd & Ecology Australia. April 2004.
September 04: Herbicide application and management is certainly an eye opener, with scant details of the toxics to be used and no details about pesticides to be used on playing surfaces. In the event of flooding after the course is built, details about the chemical soup likely to be discharged into the Yarra River are non-existent.
In the Henley Golf Course Weed Management Plan, prepared by Ecology Australia and Yarra Valley Golf Pty Ltd, it states; p1 "Play areas ... are excluded from this report because golf-course weed management is a specialised task implemented by grounds staff as a routine activity..." These play areas are located mostly on the floodplain and are therefore most at risk of flooding.
p15 "Specific herbicides have not been recommended here because of "off-label" legalistic considerations, and because of readily availability of new information on control techniques and herbicide use via the Enviroweeds Discussion Group ... and the appearance of new herbicides. The actual control techniques used - for particular species or in particular locations - will be determined by the weed management contractor(s) when devising a weed control implementation plan.
Although the approach taken is that the selection and application of pesticides is the responsibility of the weed management contractor(s), the use of the following pesticides will not be permitted on the Henley (Stage 2B development area (and the St Johns Course).
Simazine - (Simazine) - herbicide
Argenstem - (Chlorpyrifos) - insecticide
Gusathion - (Azinphos ethyl) - insecticide
Nemcur Turf - (Fenamiphos) - insecticide
Penncozeb 750DF - (Mancozeb) - fungicide"
So we know what the course won't be using on non play areas, but don't know the types and volumes of chemicals that the course will be using on play areas and non play areas. Nillumbik Shire is also sidestepping this matter "Council has asked Heritage Golf to add a list of herbicides/pesticides and other chemical which will not be used." (Heritage Golf and Country Club Environmental Monitoring Committee Minutes 16 July 2004). This problem increases when surface monitoring of water does include pesticide monitoring either (lipid soluble or soluble) on or through the water column. The onus on all pesticide use will therefore rest on the contractors, with noone monitoring pesticide residues that could enter the Yarra River - especially in times of flood.
Yarra Valley Golf were originally intending to use the insecticide Chlorpyrifos on the course. Common sense has prevailed and the course has wisely decided not to go ahead with using this insecticide. Click here for more information about the dangers of Chlorpyrifos. How many other farms and golf courses on the Yarra continue to use Chlorpyrifos?
Commonly used Pesticides that pose High Risk to Salmon, other fish, and aquatic life in urban streams.
| | | |
| --- | --- | --- |
| 1,3-dichloropropene | cypermethrin | metolachlor |
| 2,4-D | diazinon | metribuzin |
| acephate | dicamba | naled |
| atrazine | dichlobenil | norflurazon |
| bensulide | diflubenzuron | oryzalin |
| bentazon | dimethoate | oxyfluorfen |
| bifenthrin | disulfoton | paraquat dichloride |
| bromoxynil | diuron | pendimethalin |
| captan | esfenvalerate | permethrin |
| carbaryl | fenamiphos | simazine |
| chlorothlonil | iprodione | tebuthiuron |
| chlorpyrifos | linuron | triclopyr |
| cyhalothrin | malathion | trifluralin |
This list is based on US EPA hazrd level for fish and fish habitat. It is subject to change as pesticide registrations are updated and as more environmental data becomes available.(Originally published on the Salmon-Safe website: http://www.salmonsafe/urban/urban-salmonsafe.doc)
There are still concerns about which pesticides/fungicides and insecticides the course intends to use in the future. Of big concern is the herbicide Simazine which may be used on fairways and has been known to contaminate groundwater. The following list of chemicals will likely be used on the course. Click on each chemical for further details.(Note that Simazine is a known groundwater contaminant and 7 of the chemicals listed here are possible groundwater contaminants. Also note that Simazine has 5 known breakdown products and Mancozeb 1).
It is also of concern that a new turf grass nursery proposed to be located on the floodplain will use Bentazon. "Particular caution should be exercised with the use of Bentazon & Acifluorfen. Bentozen is very soluble in water and does not bind to soil well, leading to potential groundwater contamination issues". (http://www.fs.fed.us/database/feis/plants/forb/allpet/management_considerations.html).
The turfgrass nursery will also use
1 ton
of agricultural lime, 250kg of Patons Blue 13-4-16 quick release fertliser,
2640 kg
of Incitec Round up 20-0-16 N:K fertiliser,
810 kg
of Lebanon Nx-Pro 29-2-8 slow release fertliser,
2.5 tons
of Dynamic Lifter,
450 kgs
of Best U-Maxx 46-0-0 nitrogen fertiliser,
1.5 tons
of Dolomite Lime,
250 kg
of Incitec Canopy 10-8-20 fertilizer,
250 kg
of Paton's Trace Element,
480 kg
of DAP 15-20-0 phosphorus fertilizer,
700 kgs
of Ammonium Nitrate,
60 litres
of Weedmaster Duo (Roundup),
8 litres
of Basagran (Bentazon),
80 litres
of Nutri-Gro (Eucalyptus and Tea Tree Oil),
200 kgs
of Restore Wetting Agent - Non-ionic Surfactant,
20 litres
of Agri-Fos Phosphoric Acid,
90 gms
Monument (Trifloxysulfuron-sodium).
Bacillus Suptilis GB03
Not only do we have very hazy details of the pesticide and fertilizer regimes to be used during construction of the course we also have no details about what will be used and sprayed on the course post construction (ie forever).
In the event of flood events even after the course has been built, it is possible that a lethal cocktail of chemicals could be released from the course directly into the floodwaters and the Yarra itself. The fact that no details of the Weed Management Plan have been completed is a disgrace and it is a further disgrace that environmental departments in Victoria and the Federal Department Environment Australia signed off on this development without knowing all of the chemical details. Each flood event after the course is built may mean that a concentrated toxic soup enters the Yarra.
A recent groundwater report was recently written by Nolan-ITU.
In regards to conclusions the report says (p8);
"... Based on the results from the field investigations the following conclusions are made:
1. The depth to groundwater in the bedrock aquifer in the lower part of the western catchment is around 5 metres below ground level.
2. The depth to groundwater in the alluvial aquifer varies from 1.5 to 3 metres below ground level.
3. Groundwater salinity in the bedrock aquifer is 4200 mg/L TDS and between 620 mg/L to 1200 mg/L TDS in the alluvial aquifer . . .
Section 3.3
Regional groundwater in the bedrock aquifer would be expected to flow in a generally southerly direction, ie to mirror the surface topography. Regional groundwater in the alluvial aquifer would be expected to flow in a generally westerly direction, ie the drainage direction of the Yarra River.
Locally, groundwater in the bedrock and alluvial aquifers would be expected to discharge to the Yarra River as baseflow when the groundwater level was higher than the Yarra River water level. Groundwater would be expected to be recharged at times when the Yarra River water level was higher than the groundwater level.
Groundwater recharge to the alluvial aquifer would also occur via direct infiltration of rainfall."
FRIENDS OF THE EARTH MELBOURNE PRESS RELEASE 30/6/04
OUR WATER NO FUTURE?
YARRA RIVER FACING IMMINENT DISASTER
Friends of the Earth Melbourne today warned that the recent Victorian Government White Paper on Water will not be worth the paper its written on unless both State and Federal governments' seriously start to address issues of poor planning decisions and cross government apathy, confusion and incompetence.
"Existing Government safeguards on environmentally risky developments are almost non-existent" said Friends of the Earth spokesman Anthony Amis. "This poor state of affairs was highlighted last weekend with residents being flooded and massive siltation of the bays inshore areas to the detriment of marine life at Safety Beach by the Marina Cove Development. What is the White Paper doing to scale down or stop inappropriate developments throughout Victoria which will continue to impact on waterways - especially in the Greater Melbourne region?" asked Mr Amis.
"One very risky development which could seriously impact on the Yarra River and Port Phillip Bay is the Henley Links Golf Course development upstream from the Bend of Islands. If this project is flooded over the next few years during construction, much of the Yarra River downstream will be blanketed with silt, potentially smothering vital gravel riffle spawning areas immediately downstream of the floodplain in the Bend of Islands gorge. Threatened species will be jeopardised including those listed under State and Federal laws, including Australian Grayling, Murray Cod and the last viable population of Macquarie Perch left on earth" said Mr Amis.
"To build a links course on a flat floodplain will involve cut and fill earthworks where hundreds of thousands of tonnes of topsoil will be gouged and then stored on the floodplain. The development will also see the construction of levees on the floodplains which is against Melbourne Water policy. This is a recipe for a major environmental disaster. What will the White Paper do to assure us that this disaster will not eventuate? No responsible authorities (Local, State and Federal Government) will guarantee the safety of this proposal in the event of a flood. Despite these obvious risks, the project has been given the green light by Federal Environment Minister David Kemp and State Environment & Water Minister John Thwaites. Thwaites even allowed for changes to the local planning scheme to allow the existing development to go ahead and has recently refused to put an Interim Conservation Order on the development, despite it being located in prime habitat for the three federally and state threatened native fish species" Mr Amis added. "Both State and Federal Agencies have refused to do Environmental Impact Statements in regards to the Henley proposal".
It appears that all responsible authorities are ignoring the fact that two aquifers exist under the floodplain at construction depths which link with billabongs, wetlands and the Yarra. Pesticides proposed to be used include those which are known to pollute groundwater and have varying levels of toxicity to aquatic life. None of these pesticides have been tested for their impact on threatened native fish in Australia.
In regards to Henley, the project also highlights the failure of the EPBC (Environment Protection & Biodiversity Conservation) Act 1999. The Federal Act does not have bilateral or reciprocal assessment agreements for Victoria to do assessments for the Commonwealth under Commonwealth criteria. In regards to Henley, the Federal Government also tell us that due to lack of resources in the Environment and Heritage Department, they rely on state agencies to do assessments, yet these State Agencies have done nothing. This leaves the Yarra River in a no-win position in regards to this particular development.
In regards to the fact that both State and Federal Government agencies have not even seen all plans and documents regarding this dubious project, yet both Governments have allowed the project to go ahead is a disgrace. Friends of the Earth also argue that in relation to Environment Australia (EA), we question whether EA has properly assessed the documents that they say they have assessed. Concerned members of the public have been on a 'wild goose chase' for over 2 years trying to access documents which should have been avaliable to the public and should have been fully assessed before any approvals for the project were granted" concluded Mr Amis. "If this state of affairs is to continue to be 'par for the course' then our organisation is not convinced that our wasterways will continue to be safeguarded, despite Federal and State Government rhetoric".
Environment Australia and Audit Concerns (from a letter kindly sent to us from Friends of the Earth Melbourne
1/7/04
Auditor Approvals & Audits Division
Environment Australia GPO Box 787, Canberra, ACT, 2601
Dear ***,
Thanks for the opportunity to meet with you at the Henley Golf Course Development on Friday June 11. We feel that it was a worthwhile opportunity to discuss some of our concerns. However there are a number of issues that we did not get time to discuss. . .
b) *** *** telephoned you on the 26th of June and you confirmed a previous enquiry that Mark Jenkins has assessed or read Appendix 5 – Billabong Wetland and River Management Plan by Ecology Australia which was part of the original documentation in conjunction with the main development plan.
Concerns we have include; Appendix 5 – Section 8 - Waterway Management and Water Quality – Section 8.1 The Main Lake p43;
"The lake level needs to accord with the likely regime of river floods, for the following reasons:
*Over the large expanse of the lake there is a very high probability of intersecting gravel/sand lenses during excavation. At least some of these are likely to hydraulically connected to the river/floodplain groundwater system so that rises in lake level could follow the river rises even if no overtopping of the banks occurs. It may be difficult to effectively seal such lenses;
*It is also likely that the excavations will intersect lenses which are hydraulically connected to the wetlands systems which currently have normal water levels of between 57.5 and 58 m AHD. Due to the close proximity of the wetlands there may be a possibility of increased drainage efficiency to the detriment of their ecological values if lake level is too low …
p44 If excavations are carried out at depths as would appear necessary to win sufficient fill for the construction of the fairways, there is a significant risk of intersecting deeper aquifers which at present have no connection to the shallow floodplain aquifers likely to be connected to the river. The interception of deep, confined aquifers has implications for water levels in the lake and wetlands, and may also have water quality implications as deeper groundwater often has different chemical attributes to surface waters. A more detailed assessment of local/regional groundwater systems may need to be carried out before final lake level is decided upon."
According to page 7 of Mark Jenkins (Environment Australia) Environment Assessment Report July 2003; P7
"Soils on the floodplain are silty clays and weathered silt stone with low dispersion characteristics. Geotechnical investigations do not indicate the presence of sand lenses at construction depth in the proposed development areas or in the vicinity of existing billabongs. There is no evidence of any subsurface interconnection between the billabongs and the Yarra River."
We seek confirmation re: *** ***' phone conversation with yourself date 25/6/04, that Mark Jenkins actually assessed/read Appendix 5. If this is the case, given the above quotations, how did Mark Jenkins arrive at his comments on page 7 of the Environment Assessment Report?
c) Under the EPBC Act, does Environment Australia need to ensure full and timely access of all relevant plans/documentation to public participants at the Federal assessment level? As we have pointed out to you and Mark Jenkins over a considerable length of time that there are many plans and documents that we seemingly not privy to.
These include;
*The Nolan ITU Groundwater Report March 2004.
*Lawson & Treloar Hydraulic Study (Construction) 2003.
*Ecology Australia Weed Management Plan
*Current drainage plans.
*Irrigation plans (if they exist at all).
*Paroissien Grant & Associates Henley Golf Course Design Contour Information.
*Paroissien Grant & Associates Henley Golf Course As Constructed Contours
*Original bore drilling details (done prior to the Nolan ITU Report).
*Engineering Drawings and Details re: Bridge, levees, fairway heights and cross sections, main lake & riverbanks.
*Engineering details regarding excavation and sealing of all artificial water bodies.
*Engineering details re: How proponents intend to deal with possible breaching of aquifers during cut and fill excavations for the course on the floodplain.
Considering that we have never any of these documents, we request EA to furnish us with full copies of the above for our reference. What if any of these documents does EA have in house or have assessed?
(Response from Lynden Ayliffe Director Approvals and Audit Section Assessment and Approvals Branch [Department of Environment and Heritage] 19/7/04 "...many of the documents listed in your letter have not been provided to this Department." DOES THIS MEAN THAT ENVIRONMENT MINISTER DAVID KEMP SIGNED OFF ON THE DEVELOPMENT WITHOUT BEING FULLY INFORMED BY ENVIRONMENT AUSTRALIA?
d) In regards to the Weed Management Plan; Our diary shows that the Shire of Nillumbik gave their approval for works to start on the 20th of January 2003. To date as far as we are aware the Council as responsible authority has not approved any weed management plan despite construction having been underway for approximately 9 months. Within Appendix 5 Summary p 2 "Weed control is perhaps the major management issue and will apply to all Five Management Zones". Recent conversations with yourself has indicated that you expect to receive a copy of the plan once the Council has assessed and approved this document. Therefore we can only assume that your Department have never seen a Weed Management Plan let alone assess it. Given the prior stated importance of this issue and clear evidence of aquifers beneath the floodplain why did your Department approve commencement of construction without anybody having seen/assessed or approved this plan?
e) Soil Erodibility Issues; Documentation states in referral that the floodplains consist of stiff clays with erodibility limit of 1.20 m/sec water flow. Clearly there is considerable amount of alluvial soils on the floodplain with lower erodibility perimeters. What has your Department done to look into this serious matter, given the projected amounts of fill to be placed on the floodplain during construction? Could you please tell us what is the erodibility limit of 3 metre high times 200+ metre long topsoil stockpiles on the floodplain, also including various containment measures which may be used? We ask this question, as documentation states that flood flow velocities during Stage 1 can reach 1.29 m/sec to 1.37 m/sec (different figures that we have seen through documentation). We note that these above figures even exceed the erodibility limit of stiff clays.
f) In regards to water quality testing/parameters, documentation states that water quality testing will be done before and some three days after major rainfall or flood events. Why not during rainfall events? Parimeters to be tested do not include pesticides intended to be used. Given our above comments regarding aquifers what is your Department going to do about this?
g) Turf Grass Nursery. You have previously stated that EA has asked the proponents to submit a separate referral regrading these plans. Have you received a referral, if so when can we expect public notice so we can comment? If not, when do you expect to receive it? If the proponents do not send in a referral what will EA do about it?
You have often stated to *** *** that the Federal Act is in a constant evolutionary/improvement process. We have complained for two years regarding poor access to plans/documentation. Given this what is your Department going to do about ensuring full access for us as due proper process should necessitate? Re: Weed Management Plan. Will you bring to the project to a stop until this document has been approved and we have opportunity to access it and comment on it.
We look forward to your prompt response,
*** *** – Friends of the Earth Melbourne
*** *** – *** ***
What happened to the State Environment Protection Policy (SEPP)?
Victorian Government Gazette - No 589 Tuesday 22 June 1999
Variation of the State Environment Protection Policy (Waters of Victoria) - Insertion of Schedule F7 - Waters of the Yarra Catchment.
"... 16. Flood plains and Flood detention
Protection agencies (including local government) responsible for drainage and waterway management must ensure that floodplains are managed to protect beneficial uses, and in particular that -
(1) land use or works on flood prone areas do not increase the risk during flood events of transportation of materials which could pose a risk to beneficial uses; and
(2) waterways and their flood plains retain sufficient flood detention capacity to moderate peak flows to protect the beneficial uses and downstream waterways".
Henley is located in the REW zone: Rural Eastern Waterway
p11 "In-stream Environmental Quality Indicators and Objectives
| | |
| --- | --- |
| Temperature | <2 degrees Celcius |
| pH (pH units) range | 6.0 - 8.5 |
| max variation (pH) | 0.5 |
| Salinity | <200 (Yarra main stream), <500 (tributaries of Yarra) |
| max variation (salinity) | 10% |
| Dissolved Oxygen | >6.0 |
| Minimum % saturation | >80 |
| Turbidity annual 50th percentile (NTU) | <15 |
| annual 90th percentile (NTU) | <30 |
Prime Minister John Howard visits
In a large advertisment on the back page of the Age Newspaper July 31 2004, Robert Walls writing in his Heritage piece "Chipping In" wrote; "Interestingly, the Prime Minister, the Honourable John Howard was between commitments in the Yarra Valley recently when he popped in for a meeting in the Sebel Lodge Hotel at The Heritage". Also of interest "Very generous of Heritage Director Dr John Tickell to offer substantial monetary and moral support to the Fat Club Boys of 3AW. Rex Hunt, Tony Leonard, Gary Brice, Dipper and yours truly need to lose a combined 50kg between now and Grand Final Eve."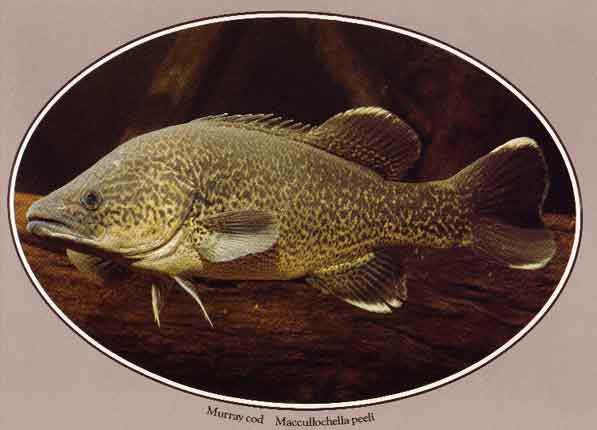 Recent analysis of water quality conducted at Henley.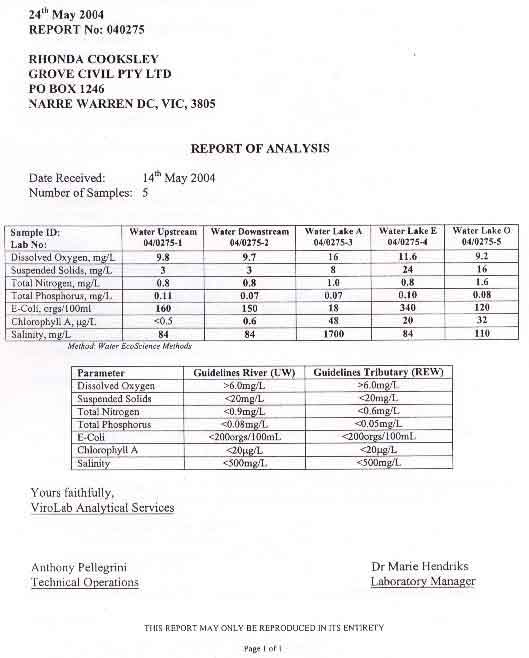 Letter from FoE to EPA 26/7/04
Mick Bourke
Chairman Environment Protection Authority, Herald Weekly Times Tower, 40 City Road, Southbank, 3006
CC: John Thwaites Minister Environment & Water, Mary Delahunty Minister for Planning.
Dear Mick,
I am writing to you concerning the Henley Golf Course Development, located on the Henley Flood Plain at Kangaroo Ground South.
Recent tests at the site recorded high levels of salt in a recently excavated Lake. The salinity readings as of 24 May 2004, were 1700 mg/L (see attachment). This reading is more than 3 times that of the recommended level according to the Schedule F7 Waters of the Yarra Catchment 0 (re: page 11 Table 2 In-stream Environment Quality Indicators and Objectives) which recommends levels of 500mg/L in tributaries of the Yarra River in the Rural Eastern Waterways.
Our organisation has concerns that if further excavation of the Lake occurs, there could be increased levels of salinity. We fear that two aquifers located under the floodplain may have already been breached by recent golf course excavation. The bedrock aquifer which lies about 5 metres under the floodplain has salt levels of 4200mg/L and the alluvial aquifer lies between 1.5 and 3 metres below the floodplain and has salt levels of 620 mg/L to 1200 mg/L. We fear that this development already breaches the State Environmental Protection Policy which says "use of changes in use of natural resources do not contribute to increasing salinity of the land or waters of the scheduled area". Further works on the floodplain could lead to higher salt readings.
We also fear that newly constructed Lakes on the floodplain may be linked to naturally occurring wetlands and the Yarra River, by sand lenses which most likely occur on the floodplain. If this is the case then high salt levels from the development may reach the wetlands and Yarra River. This situation could be made worse by the extensive use of pesticides on the new golf course. Many of the holes on the course will drain into the newly constructed lakes. If contaminants enter the lakes which are connected to the Yarra via sand lenses, pesticide contamination could occur. Pesticides will also be a real worry when floods hit the floodplain with the high possibility of pesticides being washed directly into the Yarra River via floodwater.
Has the EPA contacted developers to work out the exact location of sand lenses on the floodplain? Has the EPA determined whether aquifers underlying the floodplain have been breached by this development? If sand lenses have been found, how does the developer propose to seal the sand lenses? Is the EPA aware of such plans and does the EPA have to grant approvals to seal sand lenses?
Final lake excavation at the site will mean that almost an additional 10 hectares of floodplain will be gouged from the floodplain with most of the soil stored on the floodplain. Up to 500,000 cubic metres of floodplain soil will be dislodged during construction. Imagine what could occur if a large flood event occurs?
The Henley Golf Course lies directly upstream from perhaps the only viable population of Macquarie Perch left in Australia. Sediment and pesticides associated with floods could potentially tip this species over the edge of extinction. It is alarming therefore that it in the Schedule F7 Waters of the Yarra, p13 Objectives for Ecological Indicators of Environmental Quality - Rural Eastern Waterways - Blackfish and Grayling are listed, but Macquarie Perch and Murray Cod (another threatened fish species occurring in the Yarra River) are not listed. Does this mean that under EPA Objectives the Macquarie Perch and Murray Cod do not receive protection?
Our organisation also feels that the Henley Golf Course Development breaches;
Victorian Government Gazette - No 589 Tuesday 22 June 1999 - Variation of the State Environment Protection Policy (Waters of Victoria) - Insertion of Schedule F7 - Waters of the Yarra Catchment.
16. Flood plains and Flood detention
Protection agencies (including local government) responsible for drainage and waterway management must ensure that floodplains are managed to protect beneficial uses, and in particular that -
(1) land use or works on flood prone areas do not increase the risk during flood events of transportation of materials which could pose a risk to beneficial uses;
According to the 2003 Waters of Victoria SEPP; "45 ... Conversely, groundwater managers and those who use groundwater need to ensure that their activities do not pose an environmental risk to surface water beneficial uses, particularly through the excessive extraction of water and subsequent prevention of surface water environmental flows, & through reducing the quality of adjoining surface waters".
P23 "...where saline water cannot be practicably avoided ... its impact on surface waters needs to be minimzed... by discharging saline wastewater to artificial drains and evaporation...
P28 "In regards to new wastewater discharges; ... (3) not approve any new discharges (a) to the Aquatic Reserves, Wetlands and Lakes or Estuaries and Inlet's segments or to waters in areas of High Conservation Significance including those species listed in Schedule B*...". (Macquarie Perch, Australian Grayling and Murray Cod are all listed under the FFG Act, so therefore this site qualifies under SEPP's as Schedule B - Areas of High Conservation Value).
Could you please update Friends of the Earth about the role EPA has played in the Golf Course Development, including current and future monitoring roles? Could you also let us know what role the EPA will play if the lakes being constructed on the flood plain continue to record high levels of salinisation above SEPP Objectives? Would it also be possible for the EPA to inform us what pesticides will be used on the course and the risks that such pesticides will have on the threatened species of the Yarra River? Will these pesticides be monitored by the EPA? If so how will this monitoring take place? It is possible for Macquarie Perch and Murray Cod to be added to Schedule F7 Waters of the Yarra River, p13 Table 3 Objectives for Ecological Indicators of Environmental Quality - Rural Eastern Waterways? Is it also possible for the EPA to give us information regarding what you will allow developers to do in regard to saltwater discharges?
Yours sincerely,
**** **** Friends of the Earth Melbourne.
Reply from EPA Chairman 22/9/04
Thank you for your letter of 26 July 2004 regarding the Henley Golf Course development at Kangaroo Ground. I apologise for the delay in responding to you.
EPA, along with a number of government agencies and community representatives, is represented on the Environmental Monitoring Committee (EMC) for the development. The Terms of Reference for this committee include that the EMC will "Provide feedback and advice to the operator on any environmental problem associated with the development." and "Provide a discussion forum for environmental matters arising from development.". It is appropriate for the issues you raise to be addressed via the EMC. I encourage you to forward your concerns to Nillumbik Shire Council, as the coordinator of the EMC, so that they may be tabled for future discussion. All relevant paries can then consider the issues you raise and identify any necessary actions.
EPA advised the EMC of your correspondence and the issues you raised at the previous meeting. At this stage, measurements of salinity upstream and downstream of the Henley Golf Course Development do not indicate a significant impact (in terms of salinity) to the Yarra River from the lakes within the development. EPA, along with other relevant EMC members, will continue to review the results of monitoring program for the Yarra River and development lakes.
The Macquarie Perch and Murray Cod are not specifically referred to in table 3 of State environmental protection policy (Waters of Victoria) - Schedule F7, Waters of the Yarra Catchment. The species listed are intended as indicators of water quality from a biological perspective and are not intended as an exhaustive list protected or threatened species. EPA welcomes your input regarding the need for changes to the SEPP at the time of the next policy review, currently scheduled for 2007/08 for Schedule F7....
Mick Bourke Chairman
Melbourne Age August 28 2004 (page 8 Insight) Proposals with plenty of holes by Royce Millar and Martin Boultan "... In golfing circles, there is a growing concern that the wave of new courses in Victoria threatens established clubs already struggling to maintain membership and viability. There are too many holes and not enough golfers, they say ... Critics, including local councils, planners, academics and environmentalists, say the new golf "estates" are producing urban sprawl by stealth... In today's competitive world, golf is increasingly viewed less as an end as a means to an end - residential development. Ad hoc golf housing estates, they say, are undermining the State Government's bid to protect greenwedge and rural land around Melbourne and beyond. "Golf is no longer about golf", explains Jeff Blunden, senior manager of Ernst and Young's national Golf Advisory group. "It's been driven by real estate." Blunden says the Victorian golf estate boom is creating a highly competitive market. "Participation in golf in Victoria is actually flat ... new developments aren't growing new demand, they're simply trying to share a piece of pie that's getting no bigger."
Business Paper for the Ordinary Meeting of Council 21 August 2002
4. Policy and Services
4.022/02 HERITAGE GOLF - PROPOSED DEVLOPMENT PLAN
Author: Mr Peter Mollison, Strategic Planner Authorised: Mr Bill Forrest, Group Manager Environment and Community Services
File: 40/30/045
Summary This report assesses a proposed Development Plan (DP) for Stage 2 of the Heritage Golf project.
Stage 1, called the St John Course, is located on the south bank of the Yarra River, Chirnside Park, in the Shire of Yarra Ranges. Stage 2 is on the north side of the Yarra River, Bend of Islands, in Nillumbik Shire. Stage 2 is called the Henley Course. If the devlopment is to proceed, Council must approve the DP. Detailed reqirements for the Heritage Golf course are set out in the Nillumbik Planning Scheme, in the Special Use Zone 1 (SUZ1), and in the relevant Schedule 1 to the zone. The proposed DP has been made available for public comment and has a long history of local community concerns and dispute. This report summarises the public submissions and recommends conditional approval. The conditions include specific matters required by Melbourne Water as the authority responsible for drainage, flooding and waterway management. The recommendations also include a range of changes to the proposal based on a careful assessment of submitter issues and expert advice on environmental, landscape and traffic issues.
Committee Recommendation Cr Lex de Man Cr Michael Hall
That:
1. Council approve the Development Plan (to be known as Stage 2B) generally described in the following documents and subject to the conditions set out below:
a) The Heritage Golf and Country Club Stage 2 Development Plan Main Report, WSC Planning Pty Ltd, revised June 2002.
b) Appendix 1 - Archaeological Survey of the St John of God and Henley Farm properties in the Yarra Valley, Austral Heritage Consultants, September 1995.
c) Appendix 2 - Heritage Golf and Country Club 'Flood Flow Storage Lines', Henley Course, Paroissien Grant and Associates Pty Ltd, January 2002.
d) Appendix 3 - Henley Golf Course Hydraulic Investigation, Lawson and Treloar Pty Ltd, December 2001.
e) Appendix 4 - Heritage Golf and Country Club Flora and Fauna Management Plan, Stage 2 - The Henley Course, Ecology Australia Pty Ltd, October 2001.
f) Appendix 5 - Heritage Golf and Country Club Billabong River and Wetland Management Plan, Stage 2 - The Henley Course, Ecology Australia, October 2001.
g) Appendix 6 - Heritage Golf and Country Club Environmental Management lan, Henley Course Construction, Paroissien Grant and Associates, December 2001.
h) Appendix 7 - Review of Landscape Conditions and Recommendations, Contour Design Australia Pty Ltd, November 2001.
i) Appendix 8 - Planting Schedules for Landscape and Wetlands Henley Golf Course, Yarra Valley Golf Pty Ltd, January 2002.
j) Appendix 9 - the Heritage Golf and Country Club Yarraview Road, Chirnside Park Traffic Engineering Assessment, Grogan Richards Pty Ltd, October 2001.
k) Course Layout Plan, Anthony Cashmore and Associates Pty Ltd, Hen 100, Version 01, 29 January 2002.
l) Aquatic Planting Plan, Anthony Cashmore and Associates Pty Ltd, Hen 401, Version 01, 29 January 2002.
m) Landscape Planting Plan, Anthony Cashmore and Associates Pty Ltd, Hen 402, Version 02, 29 January 2002.
2.
2. this Development Plan apply to all the land with the Special Use Zone 1 at the time of approval. It allows only that development, buildings or works shown in the approved plans. This Development Plan details Stage 2B (Stage 2A was for approval of the bridge linking Stage 1 to Stage 2).
3. approval of the Development Plan is subject to the following conditions included at the request of Melbourne Water:
a) Prior to commencemnt of the Henley Golf Course works a pre-commencement site meeting to discuss the Environmental Management Plan must be arranged between the Contractor, Yarra Valley Golf's project manager, the successful contractor/s and Melbourne Water's Waterway Officer.
b) The owner shall enter into an agreement with Melbourne Water Corporation, under Section 269A of the Melbourne and Metropolitan Board of Works Act 1958, for the provision of drainage works and the acceptance of surface water and storm water from the subject land directly or indirectly into Melbourne Water's drainage system and comply.
c) No polluted and/or sediment laden runoff is to be discharged directly or indirectly from the site into Melbourne Water's Yarra River.
d) A seperate application in writing to Melbourne Water is required for all new stormwater outlets to the Yarra River.
e) A seperate application in writing to Melbourne Water is required for any modification to an existing outlet to the Yarra River.
f) The existing billabongs must not be used as temporary sedimentation ponds and shall be protected from any sediment-laden runoff during construction.
g) Engineering plans are to be prepared and forwarded to Melbourne Water for the works involving the existing Tributaries of the Yarra River and works carried out to the satisfaction of Melbourne Water. Plans are to include existing feature plan, areas to be filled, long section and cross-sections, detail of diversion pipeline design and connection with new lake/s.
h) A seperate application to Melbourne Water in writing for a diversion licence to divert flows from Melbourne Water's waterways for the Henley Golf Course lake and wetland system is required.
i) A seperate application to Melbourne Water in writing is required for the proposed bridge crossing of the Yarra River and the preperation of a bridge agreement.
j) The depth of the main lake shall be reduced to avoid stratification and final plans are to be submitted to Melbourne Water for approval.
k) Detail engineering plans showing construction methods for sealing the main water body shall be submitted to Melbourne Water for approval.
l) The walking track within the 25 metre revegetated riparian edge (along Yarra River) for public access shall be an informal track located along the fence line to avoid disturbance to riparian edge planting. Where practical this fenced area should be increased in width to accomodate the access track rather than decrease the revegetated area.
m) The public walking track shall be provided with safe access around the private bridge crossing the Yarra River to the satisfaction of Melbourne Water and Responsible Authority as the bridge is not for use by the public. Engineering plans of the walking track to be forwarded to Melbourne Water for comment and approval.
n) Engineering plans indicating the as constructed details (i.e. connecting pipes, channels/swales) particularly finished surface levels are to be forwarded to Melbourne Water for information. Plans to be endorsed by a licensed surveyor.
4. The following conditions are imposed by the Shire of Nillumbik as the Responsible Authority. The following requirements must be met before buildings or works commence:
a) Modified plans must be approved to the satisfaction of the responsible authority showing the following:
i) Revised landscape plans showing terrestrial, aqauatic and other planting, existing trees to be retained or removed, significant remnant vegetation to be retained or removed and landscape works; consolidated on one set of working drawings;
ii) Changes to the design of the 13th hole to increase the area of retained wetalnds in the gully this hole follows and specifically the redesign of the lake at the head of the gully as an ephemeral wetland retaining the existing gully wetland plant community;
iii) All planting plans and schedules modified to show the use of local provenance plants unless otherwise approved:
iv) Details of elevations, materials and finishes for buildings, paths, roads, bridges and other structures;
v) Modification of the riparian zone on all plans to be a minimum of 25 metres wide and an average of 30 metres;
vi) Modified public pedestrian/cycle access arrangements specifically showing the path along the riparian zone relocated to be generally located at the edge of the zone adjoining the golf course and away from the river but with opportunities for access to the river bank at specific locations;
vii) Plans showing how the pedestrian path will pass under the new brige across the Yarra River;
viii) Details of any fencing proposed but modified to be consistent with fauna access across fencing and any environmental management program or strategy (see below) and preferably temporary fencing to be removed when planting is established;
ix) Alignment of roads modified to achieve a minimum of ten meters seperation from existing wetland boundaries; and
x) Traffic measures to satisfy conditions e, f and g below restricting traffic entering Skyline Road, Bends of Islands and the private carriageway to Victoria Road, Coldstream;
b) The maintenance depot shown on the submitted plans is not approved as part of the Development Plan. Any development or use of the site for this purpose will be the subject of a seperate planning permit application.
c) Modified plans must show the deletion of the maintenance depot.
d) An environmental management program must be submitted and approved to the satisfaction of the responsible authority addressing the following:
i) Weed management for all areas, including all the wetland waterbody areas;
ii) Staging of planting and management of areas not subject to specific planting in the approved plans;
iii) Fauna management, specifically including kangaroo management, fencing design and protection of planting areas with temporary fencing;
iv) A program of fauna surveys including but not limited to the Australian Darter, Nankeen Night Heron and Little Pied Cormorant to determine roosting/nesting sites and expert advice on potential impacts of endangered fish species in the Yarra River are mitigated against;
v) Use of local provenance planting indicating sources of seed stock and plant materials; and
vi) Water quality testing and monitoring to satisfy SEPP requirements and demonstrate minimal impacts on pollutants and nutrient levels from the establishment and operation of the development.
e) All normal access by golfers, visitors, the public (as pedestrians or cyclists) and course staff must be by the private bridge linking the St John Course and Henley Course.
f) Access from skyline Road and the Bend of Islands road network must be restricted to emergency vehicles, during and after construction of the course, and during the building process, to construction vehicles necessary for the construction of the new bridge linking the St John and Henley courses. Arrangements must be made for agreed CFA access for fire fighting or evacuation purposes including access to gates normally locked. Strictly limited staff light vehicle access may be permitted by prior written agreement with the Responsible Authority.
g) Access to Victoria Road via the existing private bridge and carriageway is restricted to emergency access or residents of the Henley homestead;
h) A staging and timing program must be submitted setting out the likely timing and sequence of construction and overall development to facilitate coordination and minimize environmental management risks.
i) This Development Plan will expire if the development it permits is not commenced within three years of the date of approval or not completed within five years of the date of approval or within any extension of those times sought before expiry or within three months of the expiry date and granted in writing by the Responsible Authority.
CARRIED